The Best Time to Visit Maldives: A Comprehensive Guide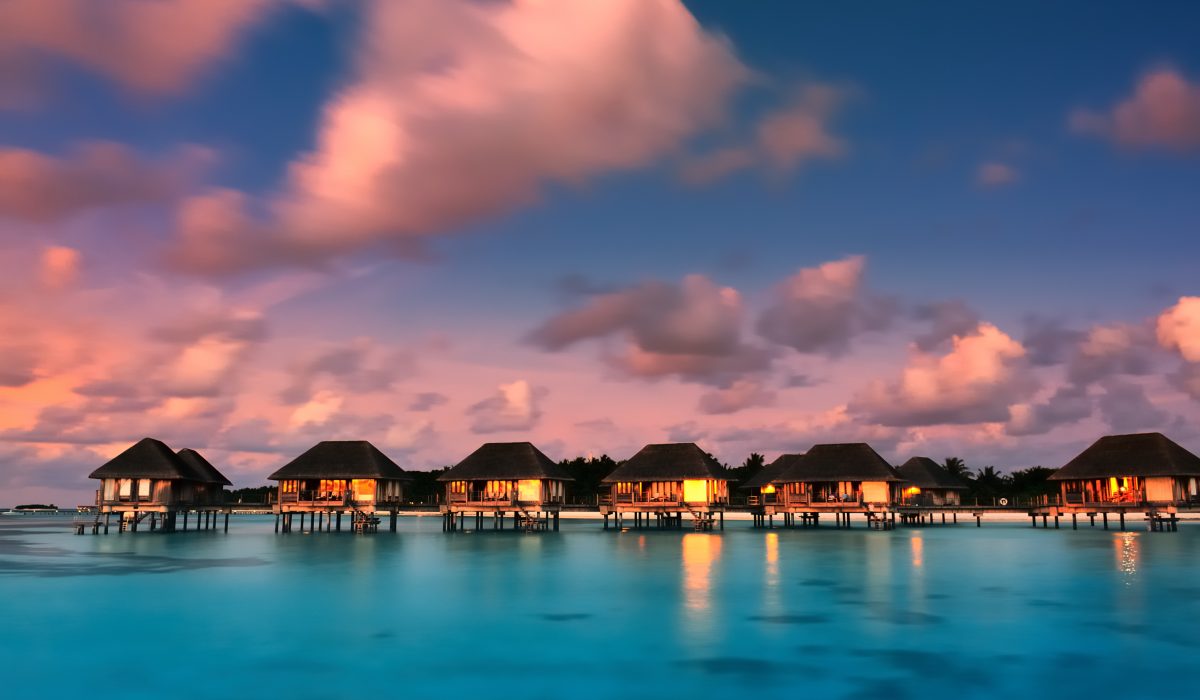 Knowing the best time to visit Maldives can make or break your dream vacation. With its swaying palm trees, white-sand beaches, and turquoise waters filled with marine life, this archipelago in the Indian Ocean is a coveted travel destination. And thanks to its tropical climate, you don't have to worry about chilly winter weather dampening your beach holiday.
Despite being a top year-round destination, it isn't always sunny days and blue skies in this tropical haven. To fully enjoy all the best things to do in Maldives, you need to get acquainted with the weather and temperature during your visit. After all, you wouldn't want to visit during monsoon season if scuba diving is at the top of your itinerary, right? Or worse, timing your visit during peak season means not being able to relax in the beaches and resorts you are so looking forward to
In this guide, we break down the weather in Maldives each month, as well as the tourist seasons, so you can better plan your trip to the Maldives!
Best Time to Visit Maldives
Weather-wise, the best time to visit Maldives is during the dry season, between the months of January and March. On average, the country experiences ten to 11 hours of sunshine. The average Maldives temperature varies between 81°F and 84°F. With plenty of sunshine, little rain and low humidity, it's the perfect time to hit the beach and enjoy a tropical getaway. Just note that January to March is also the tourist peak season. As such, expect an influx of visitors who want to enjoy the same ideal weather conditions and outdoor activities.
Best Time to Visit Maldives for Honeymoon Vacations
Many consider Maldives as one of the most romantic destinations in the world. As such, it's no surprise it's a haven for honeymooners and newlyweds. Couples who wish to spend a romantic honeymoon here can do so around December through April. It's in the middle of the dry season, so expect sunny days with low humidity. Note that these months are also peak season, so hotels and resorts can be costly.
For couples looking to save money, consider planning your honeymoon between May and August, when prices are more reasonable. Days are still warm but just note that there's higher chances of rainfall.
Best Time to Visit Maldives for Water Sports
For scuba diving and snorkeling enthusiasts, February through March offer the best visibility. Hence, don't forget to pack your best snorkeling gear to catch sight of the vibrant coral reefs teeming with marine life.
If you plan to dive with manta rays and whale sharks, schedule your trip around the wet season. The higher levels of plankton in the waters around mid-September through November attract both these majestic creatures.
Planning on surfing? The waves and swells are at its finest during mid-February and November. Meanwhile, the calmer waters of December and January are ideal for canoeing and kayaking.
Cheapest Time to Go to Maldives
Maldives is a luxury holiday destination all year-round. If you're looking for fairly reasonable prices, though, the cheapest time to stay in the Maldives is from May to November. These months are generally considered as the low season. Both airfare and lodging prices are lower, making it the best time to visit Maldives for budget travelers.
Maldives Weather by Month
Located in the heart of the Indian Ocean, near the equator, the Maldives weather year-round is typically hot and humid. Unlike in other parts of the world, the country only has two distinct seasons — the dry and wet season. The wet season generally falls under the months of mid-May to November, while the dry season is from January to March. December and April are considered the transitional periods between the two seasons.
In terms of temperature, it typically fluctuates between highs of 88°F to lows of 80°F. Over the course of the year, Maldives temperature rarely soars above 90°F and dips below 77°F.
Here's a breakdown of what to expect during each month in Maldives.
January
January is the official start of the dry season. The average temperature in Maldives fluctuates between highs of 86°F and lows of 80°F. Throughout the month, you can expect around six rainy days with about two inches of accumulated precipitation.
February
Weather in Maldives in February is predominantly dry. As the driest month of the year, there are only three rainfall days with only 0.04 inches of precipitation. Average temperature during this month isn't much different from January, with average highs increasing to 87°F while lows remain at a steady 80°F.
March
With an average high of 88°F, March is one of the warmest months of the year in the Maldives. There's little chance of rain with an accumulated precipitation of just over an inch. In addition, March likewise experiences the calmest wind conditions during the year.
April
April is the transitional period from the dry to wet season. It's still a hot month with average temperatures varying between highs of 88°F and lows of 82°F. Although, April does see slightly higher chances of rain, particularly toward the end of the month.
May
Maldives weather in May still has plenty of warm sunshine, but the arrival of the southwest monsoon around the second half of the month signals the start of the wet or monsoon season. As such, expect higher risks of rainfall and thunderstorms.
June
There's no considerable change in temperature around June, with highs of 87°F and lows of 82°F. However, there is a significant amount of rainfall. That said, expect the Maldives weather in June to be wet, windy, and humid.
July
The Maldives weather in July remains warm, with average highs of 87°F and lows of 81°F, but heavy downpours with strong winds that last hours are common.
August
August is well into monsoon season in Maldives. Temperatures are still warm but the average high does decrease slightly to 86°F, while average lows remain a steady 81°F. The weather in Maldives in August also has higher levels of humidity.
September
September is typically the wettest month in Maldives, with an average precipitation of 5.5 inches and an average of 13 rainy days throughout. The Maldives weather in September is still considerably warm, with average highs of 86°F and lows of 80°F.
October
October experiences practically the same average temperatures as September. When it comes to the Maldives weather in October, there's still high chances of rain storms with high humidity.
November
Despite being the last month of monsoon season, Maldives in November still experiences a good deal of rainy days, with average precipitation reaching six inches. Average temperatures around this month are essentially the same as both September and October.
December
December signals the transition from wet to dry season. Expect the Maldives weather in December to have fewer chances of rain with only an average of 5.4 inches of accumulated precipitation. Temperatures are still primarily warm and dry.
Tourist Seasons in the Maldives
Peak Season
Peak season in Maldives is during the dry season, from late-December to mid-April. Since these months offer the best weather conditions with an abundance of sunny days, it's the best time to visit Maldives for beach bums and sunseekers who want to hit the country's white sand beaches. That said, it can get crowded, with a great deal of American and European tourists visiting in order to escape the cold winter months. Moreover, prices for both airfare and accommodation options can get expensive, so make sure to look up the best time to book flights and check out the best hotel booking sites in advance.
Shoulder Season
May through August mark Maldives' shoulder tourists season. During these months, temperatures are still warm but there's an increased risk of rainfall. As such, you'll find plenty of discounted deals. For some tourists, this offers a good balance of affordable accommodation and lesser crowds in the usual tourist areas. Note that prices and crowd numbers rise around August due to the summer holidays, but they're both still fairly reasonable.
Low Season
Naturally, the low tourist season coincides with the country's rainy season, which is around September through November. Since there are higher chances of stormy conditions that can last for days, there are fewer tourism opportunities. With that in mind, flights to Maldives, hotel prices, and activities are more affordable. Despite the weather not being as perfect as in the high season, the wet season still experiences sunny days with warm temperatures. Nevertheless, be sure to pack your best raincoats and other rain gear if you're planning a trip to Maldives during the low season.
Worst Time to Visit Maldives
There's truly no worst time to visit Maldives, as long as you plan accordingly. Want the full Maldives holiday experience with all its outdoor tourist activities? The worst time to visit is around the rainy season from mid-May to early December. While there's still plenty of warm sunny days during these months, the higher chances of rain showers and thunderstorms can deter you from lounging on the beach all day long and other outdoor activities.
Want to steer clear of crowds? Avoid planning your trip around late-December to April, which is considered the country's peak season. Particularly, the Christmas and New Year holidays bring an influx of visitors to the Maldives. Similarly, the beaches, resorts, and hotels can get crowded during the months of July and August due to summer vacationers. If saving money is your main concern, the worst time to visit is likewise around the peak tourist season of late-December to April. Prices for airfare and accommodations are especially high during these months.
Frequently Asked Questions
Which Is the Best Month to Visit Maldives?
There's no particular best month to visit Maldives. Nevertheless, it's during shoulder season, around May through early August that's generally a good time to plan a trip to the country. These months see fewer crowds and decreases in accommodation prices. Moreover, the Maldives weather during these months is balmy, with a handful of rain showers now and then.
Is It a Good Time to Go to Maldives in December?
Since this month is one of the monsoon transitional periods, a trip to Maldives in December can mean unpredictable weather. While there's still plenty of warm days, there are higher chances of rainfall, especially in the first half of the month. As the month goes on, though, it's when the dry season starts settling in and you get balmy weather with a gentle breeze.
Despite the likelihood of precipitation at the beginning of the month, Maldives is one of the best Southeast Asia holiday destinations for many Westerners who want a warm winter vacation. Particularly, tourists flock to the atolls of the country during the Christmas and New Year celebrations.
What Is the Cheapest Month to Go to Maldives?
There's no denying that Maldives is certainly a luxury destination. Nonetheless, planning your trip during the slower seasons means you can find good deals. The best time to visit Maldives for bargain hunters is around May through November. Both airfare and prices at the best resorts in Maldives are fairly reasonable. It's still advisable to make preparations and book everything in advance.
What Is the Hottest Month in Maldives?
March, April, and May are the hottest months in Maldives, with an average high-temperature of 88°F. However, March has an average low temperature of 81°F, while both April and May experience an average low-temperature of 82°F.
Knowing The Best Time To Visit Maldives
Thanks to its tropical climate, Maldives enjoys warm temperatures and balmy weather all year-round. The bursts of rain showers during the rainy season provide a sense of relief from the sometimes stifling heat. Rain or shine, though, you'll certainly have a once-in-a-lifetime travel experience when you visit the atolls of this nation. It's ideal to know what is the best time to visit Maldives for you based on your budget and the activities you plan to do. This way, you'll certainly make the most of your trip!