The Most Popular Things To Do In Maldives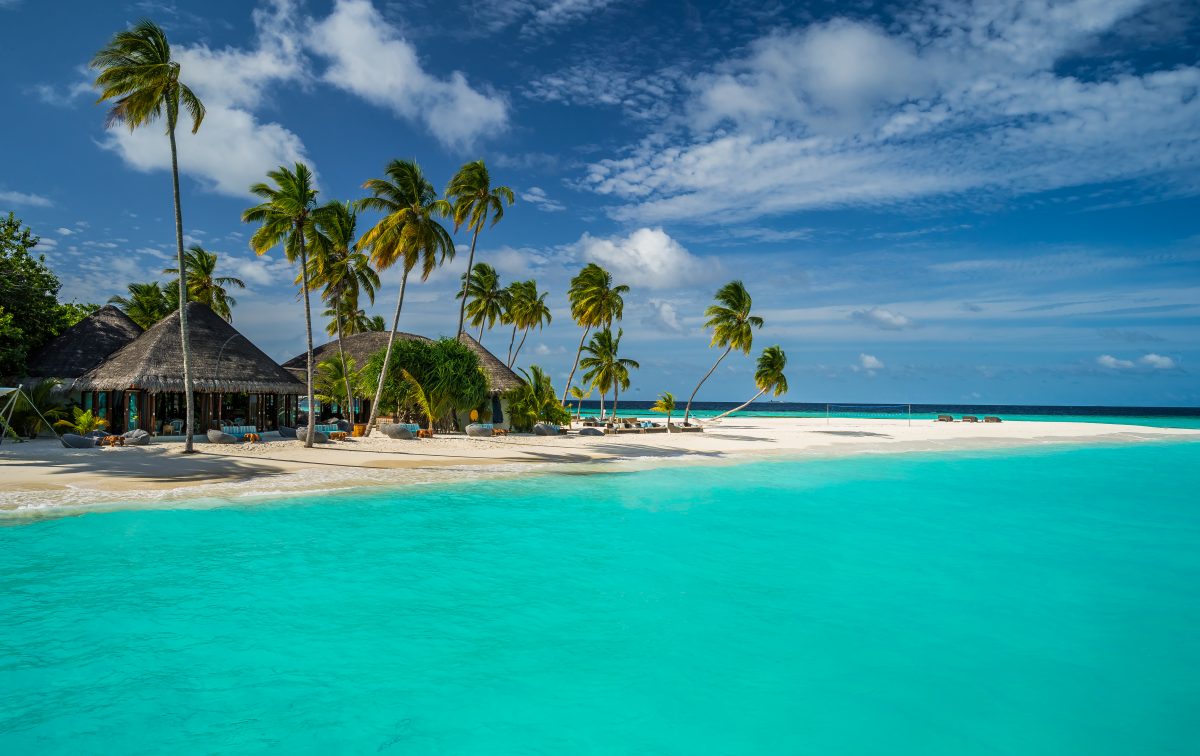 The beautiful Republic of Maldives is one of the world's most popular holiday destinations for beach lovers, outdoor enthusiasts, snorkelers, divers and honeymoon couples. Unlike any other tropical beach destination, the Maldives Islands are made up of 26 ring-shaped atolls, composed of more than 1000 individual coral islands. It's surrounded by swaying palm trees, lagoons, inlets, coral reefs, and magical Maldive beaches. Just close your eyes and imagine paradise! Picture-perfect in every way, the Maldives attracts visitors from all over the world.
Traveling to the Maldives is easy, and there are several airlines that offer flights to the main island of Malé. From there you can travel to the resort of your choice by plane or boat depending on where it is located. Many of the Maldive Islands have hotels and resorts which offer magical over-water chalets to get you as close as possible to the inviting warm waters of the Indian Ocean.
To whet your appetite, here is a list of the most popular things to do in the Maldives.
1.
Have An Adventure Snorkeling Around The Maldives
If you think that the Maldive Islands and beaches are beautiful, you will be entirely blown away by the beauty which lies below the surface of the warm tropical waters. One of the easiest ways to enjoy the underwater world is to pull on a pair of flippers, mask, and snorkel before dropping into a world of outstanding marine abundance. If you are not a good swimmer, do not fret. You will still be able to find a wealth of marine life in the shallow waters of some of the Maldive islands' lagoons and reefs.
While every Maldive resort offers a chance to go on snorkeling excursions, many prefer to have more easily accessible snorkeling right at their doorstep. If you anticipate spending a lot of time snorkeling, you should make sure to choose a resort that has a good on-site reef. Although you can snorkel all year round, the very best months for snorkeling are January to April. This is when the islands experience the least rainfall.
2.
Have A Clasy Glass Bottom Boat Trip Around The Maldives Islands
If you cannot be persuaded to go snorkelling but don't want to miss out on seeing the delightful colourful corals and marine life beneath the water's surface, you have nothing to worry about. You can go on an excursion in a glass-bottomed boat. Many of the Maldive island resorts offer these excursions for non-swimmers and other guests who prefer to keep their feet dry! Here you can sit back and relax while the experienced crew take you to the best reefs in the area. This is an ideal experience if you are travelling with children who can safely learn about the splendours of the underwater world.
3.
Scuba Dive In The Waters Of Maldives
Whether you're an experienced diver or are just starting out learning to scuba dive, during your travel to Maldives, you need to do some research before you go. There are many resorts scattered over the Maldive Islands that offer great scuba dives. However, you need to make sure that you chose one that is close to good dive sites. Also, it should be one that offers professional scuba instruction. A good place to start is the official PADI website. This site lists all the resorts that offer on-site scuba diving instruction and excursions.

One of the best resorts for scuba diving is the adults-only Hurawaldi Resort. This resort offers night, wreck, and fluorescent dives in addition to regular scuba excursions. You can enjoy scuba diving all year round in the Maldives. But, you will experience the best visibility (and dry weather) from January to March. However, each season brings its own rewards and in May, large amounts of plankton attract whale sharks and manta rays in large numbers.
4.
Water Sports On The Maldive Islands
Almost without exception, all the Maldives resorts offer a wide variety of water sports for you to enjoy. In some locations motorized sports are not available in order to protect the fragile coral beds. Here, you will be restricted to kayaking, paddling, sailing and wind/kite surfing. Other resorts offer the full range of motorized fun including banana boats, water-skiing, jet skis and more. If you are mainly interested in spending your days having high-energy fun you should consider Meeru Island, Lily Resort on Huvahendoo Island, West Maldives, Kuredu Island or Hudhuranfushi on the Male atoll.
It may surprise you to find out that the tranquil waters surrounding the Maldives Islands can also offer surfing and kite-surfing enthusiasts a decent ride. However, the best and most consistent breaks are to be found in the North Male Atolls. Also, the best time of year to surf there is from April to October. In terms of specific resorts that offer good surfing, Hudhuranfushi Resort (aka Lohifushi Resort) is reputed to offer the best surfing holidays in the Maldives.
6.
Walking Tour Of Malè or Villemale Eco Tour
It would be a shame to visit the Maldives and leave without learning a little bit about the local culture and traditions of your hosts. A good way to experience the highlights of Malè, the capital city of Maldives, is to join a tour. You have choices between walking tours and private tours. As you stroll the streets of Malé with your tour guide, you will learn all about the history, culture, and religion of the Maldives. Also, during the tour, you can visit the fish market, a local food market, and several prominent buildings. The prominent building includes the President's Palace, Sultan Park, and the impressive Friday Mosque; one of the most ornate mosques in the Maldive Islands.
You will stop along the way for a drink (non-alcoholic of course!) at the Royal Garden Café. The tour costs $40 and takes around 4 hours; you can choose from a morning or afternoon tour and online booking is available.
Another option for learning about Maldivian culture and everyday life is a 4-hour walking tour of the smaller Villimale Island. Here, locals still live much as they did before the arrival of tourism. This is a fun outing which includes travel to the island on a public ferry, tasting local snacks, learning about the island ecosystems and meeting the friendly local people.
7.
Romantic Dining In The Maldives
There is no better way to round off a busy day of water sports, swimming and snorkeling than arranging to have a romantic beach dinner served up in private for you and your partner. Almost all the hotels and resorts include at least one romantic beach dinner for all their honeymooning visitors. However, you don't have to be on a honeymoon to enjoy this wonderful treat. Just have a word with your concierge and look forward to a memorable evening of dining alfresco.
But enjoying a romantic meal at your resort is not where this experience has to end. There are several excursions you can book which will take you off to stunning locations to enjoy dinner as you watch the sunset. A few examples of the most romantic dining experiences in Maldives include Sandbank Dining at Baros Island or the Adaaran Resort on Vadoo Island, Gourmet Beach Dining at the One&Only Reethi Ra.
Also, there's the spectacular underwater dining at the amazing Ithaa Restaurant at the Conrad Hotel on Rangali Island or the Anantara Kihavah Resort in Baa Atoll.
8.
Adventure Excursions And Island Hopping Around The Maldives
It would be insane to visit the Maldives and not take the opportunity to come face to face with incredible sea creatures. Some of these sea creatures include manta rays, whale sharks, and dolphins. There are several tour operators who can take you to the best places to see these amazing marine animals in their natural surroundings. Here you will be the visitor and they will be your hosts.
Also, be sure you have an underwater camera to record your visit. Secret Paradise Tours is just one of several tour operators who can take you to swim with the manta rays, watch wild dolphins at play or dive with the whale sharks. Various tours can be booked online. On Huraa Island you can go snorkeling with turtles, sharks, and rays in shallow waters that are suitable for everyone.
If you would like to see more than just one of the Maldive Islands, you could also consider an Island Hopping holiday. This is where you split your stay between two or three resorts. It is great to see other islands and resorts. However, bear in mind that distances between the various islands mean that you will be spending quite some time traveling from one venue to the other. While it could be a lot of fun, it can also be expensive if you need to travel by plane. Also, it does cut into your beach and relaxation time.
9.
Fishing The Maldives Waters
There are no less than 93 operators offering chartered fishing excursions in the Maldives. The Maldive islands are famous for offering some of the best sport fishing in the world. It has an abundance of game fish such as tuna, dorado, barracuda and swordfish to pursue. Although there are strict fishing regulations you will still have the chance to catch a big one.
Most charters will include the use of all the necessary equipment. Also, for an exciting experience, your catch will be barbecued for you on the beach or at your resort. You can't get fresher than that! Many resorts also offer simple fishing excursions where you will fish Maldivian style with just a hook, line, and some bait. This can be a lot of fun for beginners.
10.
Cooking Classes On The Maldives Islands
If you want the chance to learn how to prepare genuine Maldivian dishes during your holiday, you should consider staying at one of the resorts which offer cooking classes as an activity. A few that do include Naladu Island, Conrad Rangali, Centara Ras Fushi and Anantara Kihavah. Local Maldivian people eat a diet composed almost entirely of fish, fruit, and vegetable. Also, these ingredients will feature prominently in all the dishes you learn how to prepare. Learning how to infuse your cooking with the flavors and colors of the Maldives is a wonderful way to remember your holiday.
11.
Relaxation In Maldives
You may have noticed that there has been no mention of one of the foremost reasons people have for coming to the Maldives; namely rest, relaxation and rejuvenation. This is because we have saved the best for last!
The Maldives is the perfect place to just kick back, relax and do nothing at all. Rest and relaxation can take many forms. Some people find that all they need is a comfortable hammock and a good book for the perfect afternoon of rest and relaxation. To others, however, lazing in the tropical Maldives waters or slipping below the surface with their snorkeling gear offers the perfect escape from the daily grind.
Here, far from the demands of your everyday life, you have the precious gift of time to spend on yourself. Why not use your time in the beautiful and serene Maldive Islands to practice mindfulness, spiritual healing, yoga or Tai Chi to restore balance to your life?
Many of the Maldive resorts offer wellness centers and the One&Only Reethi Ra takes things a step further by offering classes in several different types of yoga, Tai Chi, meditation and Pilates in their outstanding over-water Chi Pavilion. If you would like to turn your travel to Maldives into a full-on yoga retreat there are several brilliant resorts offering yoga and mindfulness retreats.
12.
Spa Experiences At Maldives Resorts
A relaxing spa experience is another wonderful way to shrug off your cares and rejuvenate your mind and body. Nearly all the larger Maldivian hotels and resorts offer spa treatments. These vary from simply massages in your room or on the beach to full-on spa treatments in state-of-the-art wellness centers. Make sure to save part of your budget to spend on a spa treatment or two.