10 Airbnb Boston Rentals To Consider For Your Trip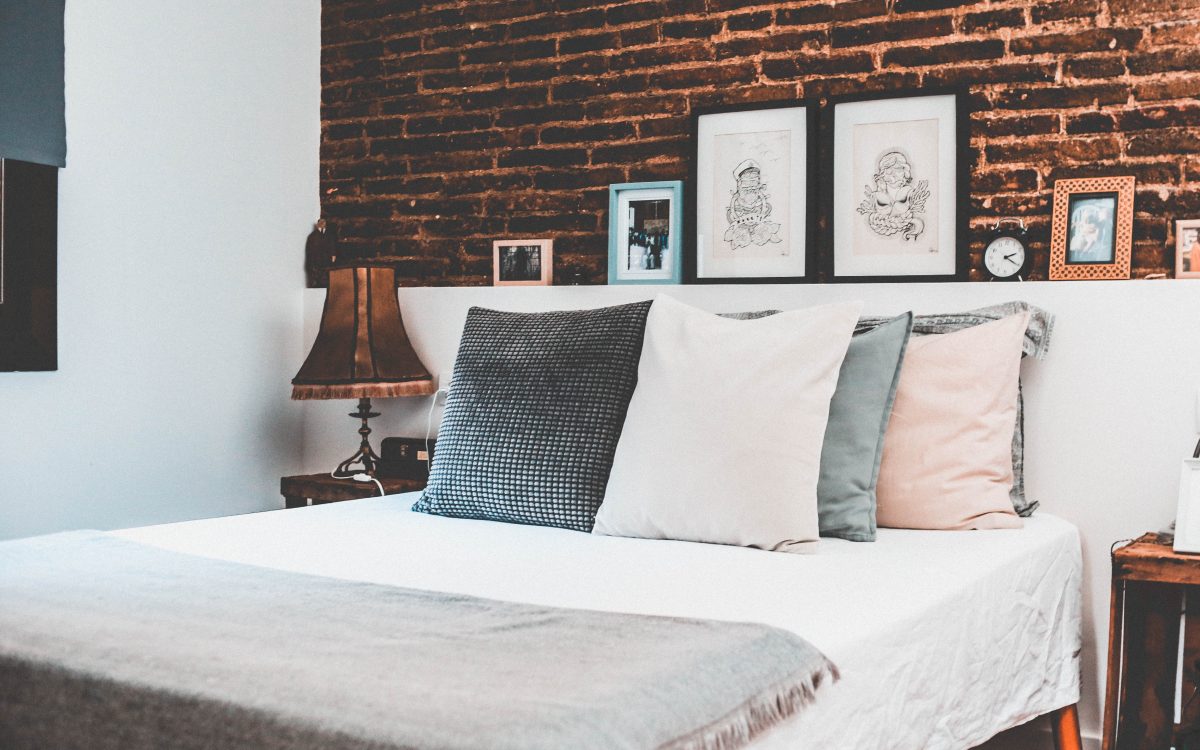 One of the oldest cities in the United States, Boston is where the events that triggered the American Revolution took place. From an abundance of historical sights and inspirational architecture to exceptional food, sporting events and incredible art scene, you will be spoilt for choice of things to do and see in Boston.
After a long day of sightseeing, there is nothing better than relaxing in one of the cozy Airbnb Boston rentals. From tiny houses to luxurious yachts, here is our choice of the best.
Budget Airbnb Boston Rentals
Budget stay doesn't have to equal compromising on quality. These two Airbnb Boston rentals are proof of that.
1.
Stylish Private Airbnb Boston Bedroom
This stylish private room in a four-bedroom unit features a king bed, a sitting area and ample closet space. Guests have full access to the well-stocked shared kitchen, two shared bathrooms and the spacious living room with a workspace for checking e-mails. Plus, this Airbnb Boston boasts a great location. It is minutes from the neighborhood's most popular restaurants and bars, as well as several public transportation options.
Price: $90/ night (minimum stay 2 nights). The parking fee is $15/ day.
2.
Top Floor Airbnb Boston Living
We wouldn't hesitate booking this tastefully decorated private bedroom in the lovely rental unit. It is located steps from Savin Hill, one of Boston's most vibrant neighborhoods. The room comes with a shared bathroom and full access to the kitchen, although note that cooking meat is not allowed. If you are in town for a week, this might be just the right place to stay.
Price: $56/ night (minimum stay 7 nights)
Mid-Range Airbnb Boston Rental
This well-appointed rental is great value for money and one of our best Airbnb Boston finds.
3.
Beautifully Remodelled Airbnb Boston Apartment
This cozy space with modern industrial vibe—think exposed brick walls, leather sofas and high-end steel kitchen appliances—has every amenity you could possibly need for a perfect stay. Its location in the popular North End is a plus: stroll along the streets and check out all the fantastic Italian restaurants, cafes, bakeries and shops.
Price $199/ night (minimum stay 2 nights)
Luxury Airbnb Boston Rentals
If you are in for a luxurious stay, there is no shortage of spectacular Airbnb Boston properties that offer all the amenities you could possibly wish for. These three top-notch rentals are our favorites.
4.
Luxurious Airbnb Boston Victorian Carriage House
This upscale two-bedroom carriage house is located in the peaceful Jamaica Plain neighborhood. It is a mere 20-minute drive to downtown and short walking distance to restaurants and shopping.
This uber-modern space featuring Scandinavian decor with clean lines and incredible attention to detail will assure an exceptional stay. Expect high ceilings with skylights, gas fireplace and dazzling chef's kitchen. The perks of this Airbnb Boston rental don't stop here. With a designer spa bath, towel warmer and walk-in multi-head steam shower, staying here is a real treat.
Price: $295/ night (minimum stay 2 nights)
5.
Historical Airbnb Boston Downtown Loft
Situated in a historical building from 1857, this unique downtown loft with soaring ceilings and a brick wall retains its original warehouse charm. The space is professionally designed and combines the luxuries of high-end homes with features of boutique hotels. The amenities include luxury bedding, plush towels, bathrobes, phone chargers and Amazon Alexa in every room. As an added bonus, you can make an appointment at the acclaimed Le Visage Spa, located next door to the rental.
Price: $299/ night
6.
Upscale Airbnb Boston Apartment With Breathtaking Views
Treat yourself to this one-of-a-kind luxury Airbnb Boston home. One of the several Sonder "hometel" properties in the city, it aims at combining the authenticity of a home with the convenience of a hotel. The rental is ideally located in the proximity of several upscale restaurants and a 15-minute drive from downtown Boston.
This three-bedroom and three-bathroom designer apartment comfortably sleeps six. The best part? Its floor-to-ceiling windows which run around the entire place offers jaw-dropping panoramic views of the city. The building comes with numerous facilities, including a fitness center, a yoga studio, and a game room.
Price: $740/ night (minimum stay 2 nights)
Airbnb Boston Boathouse Rentals
Airbnb Boston boathouse rentals located in the Boston harbor will literally rock you to sleep after a day of touring the city. These two are among the most exceptional ones.
7.
Airbnb Boston Harbor Yacht
Sea Pearl is a two-bedroom and two-bathroom luxury yacht with the nautical theme present in every detail from carpets to duvets and cushions. The yacht is a short walking distance to downtown and in an ideal location for enjoying all that the city has to offer. To recharge your batteries after a long day of sightseeing, how about sipping a cocktail on the deck with a stunning view of the Boston skyline?
Price: $350/ night (minimum stay 2 nights). Parking is available for $25 per night.
8.
Floating Airbnb Boston Home on the Waterfront
M/V Patriot has such a warm, homey feel that you might just forget you are actually staying on a boat. This Airbnb Boston rental features two bedrooms, a spacious sitting area and four decks with fantastic city views. Amenities include no less than three smart HD TVs, a small fireplace and an electric grill.
Price: $444/ night (minimum stay 2 nights). Parking is available for $30/ 24 hours.
Unique Airbnb Boston Rentals
A part of the fun of the Airbnb experience is finding a place as different as possible from the traditional hotel room. Here are two truly unique Boston Airbnbs—both are tiny yet full of character.
9.
Airbnb Boston Tiny House
If you are looking to escape the hustle and bustle of the city, this quaint tiny house in the owners' wooded backyard is the perfect place for you. Located a stone's throw from the picturesque Salem Harbor, it's a mere 30-minute drive to downtown Boston.
Sit back on the Adirondack chairs with a freshly brewed cup of morning coffee and enjoy the company of rabbits, squirrels and wild turkeys. With its 360-square-foot, this bright minimalist space still comfortably sleeps four. It comes equipped with everything needed for an enjoyable stay, including a well-stocked kitchen, a grill, working space and free parking.
Price: $165/ night (minimum stay 2 nights)
10.
Airbnb Boston Home That Runs On Coffee
Airbnbs in Boston don't come any quirkier than this tiny house powered by a blend of coffee oil extracted from coffee grounds. Located in the beautiful Nahant, the rental offers stunning views of the Atlantic Ocean and the Boston skyline.
The owner managed to fit all the essentials into this colorful minimalist space, from a full bathroom with a spa tub to a well-equipped kitchen. As you might expect, you will have at your disposal a choice of coffee brewing equipment, including the unlimited supply of coffee.
Price: The current offer is $10/night (minimum 2 nights stay). The rental is often fully booked, so you might want to contact the host for availability.
Major Tourist Attractions in Boston
Freedom Trail
The 2.5 mile Freedom Trail leads you past the city's main historic monuments and sites, including the Massachusetts State House, Park Street Church, Granary Burying Ground, the Old State House and the site of the Boston Massacre. You can either follow the red brick line on the sidewalk or take one of the fascinating guided tours by a local historian.
Fenway Park
Known as "America's most beloved ballpark," Fenway Park is the home of the Boston Red Sox, the city's American League Team. It is also one of the most renowned sports complexes in the country. One of Fenway Park's most recognizable features is the Green Monster, the 37-foot green wall. The park remains almost unchanged since its opening in 1912. It still houses several remnants of the old times, such as the hand-operated scoreboard.
Boston Museum of Fine Arts
Boston is known for its art scene and it comes as no surprise that it houses the leading art museum in the country. With nearly 500,000 works of art, the Boston Museum of Fine Arts is one of the most comprehensive art museums in the world. It features extensive collections of Impressionist paintings, ancient Egyptian treasures and art from ancient Greece and the Middle East. Don't miss the outstanding collections of American paintings and decorative arts and design from the pre-Columbian period to the Art Deco.
Final Thoughts
With its eclectic mix of old and new, bustling waterfront and diverse neighbourhoods, Boston is a city well worth visiting. Whether you are a history-buff, an art aficionado, a foodie or simply looking for a relaxing stay, Boston has something for you.
With a great choice of amazing Airbnb Boston properties in all price categories, you will have no trouble finding the perfect place to stay in Boston during your next visit to the city.