The Great Gatsby, South Africa's Best Sandwich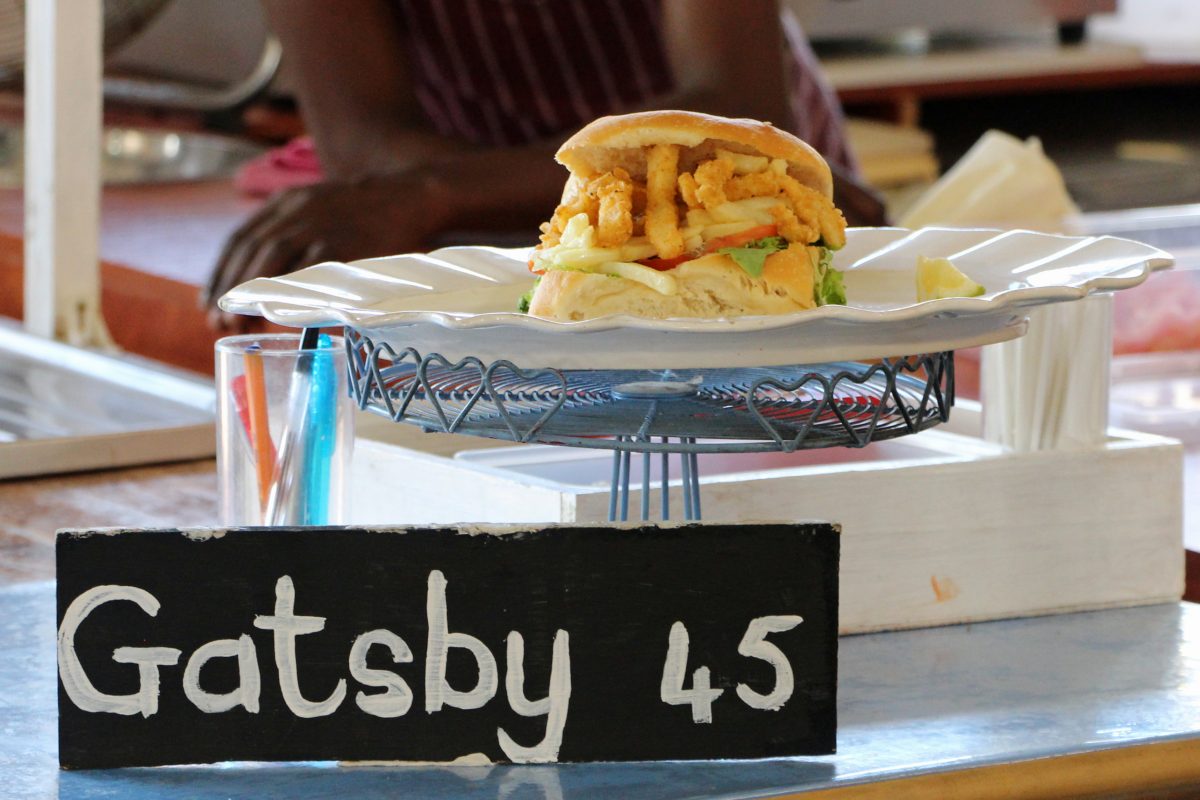 One of the perks of travelling is tasting the local food. That means when you're in Cape Town, you'll have to try the very famous 'Great Gatsby'. We could talk about many South Africa foods, but the one everyone always wants to try is this sandwich.
So, to prepare you for this culinary experience we're going to give you the rundown on this culinary masterpiece of South Africa food. Let's start with the origins of this mighty sub sandwich and what it brings to the world of African cuisine.
What's A Great Gatsby?
South Africa food is a great mix of cultures and influences from around the world and like with all things, food evolved to what it is today. That includes the famous sub from Cape Town. You can now find this sandwich in many restaurants menus.
Nowadays it's usually served on a foot-long white loaf and usually contains some sort of meat product, fries or 'hot chips' and pickles. You can choose to try many variations, but the original is the one you should have a go at first.
This sandwich is the creation of Rashaad Pandy the owner of a fish shop, Athlone. The sandwich was created out of necessity and Pandy's ingenuity.

In search of something to feed some workers that were helping him on a project, he opened the fridge, grabbed a Portuguese roll and took what was available to him to concoct this sandwich. The workers loved the sandwich. One called it a 'Gatsby sash', and the name stuck.
Why You Should Try This South Africa Food
Trying this piece of South Africa's food culture should be as vital a part of your to-do list as hiking Tabletop mountain. To make sure you understand just how imperative it is, check out our list below.
Budget-Friendly
When you're travelling on a budget, sometimes you may feel you can't eat out that much. The Great Gatsby is different. One order is big enough to share.
If you're alone, then you can divide the order into two for your next meal. You can get a fat Gatsby with all the goods usually for a very reasonable price.
Did You Drink Too Much?
If you're travelling and are planning on exploring the nightlife, Cape Town has an amazing nightlife. However this will inevitably lead to hangovers in the morning. So, you'll probably be looking for a hangover cure.
Look no further, 'cause this sandwich will make you feel better in no time. This sandwich will be your best friend and get you up and running for another day of exploring Cape Town.
Easy To Bring Anywhere Else
This sandwich is great for picking up when you're headed out on your daily excursion. It's easy to transport and a great way to keep your energy upon a long day of beach hopping and penguin viewing.
Want To Try One? Drop By These Sandwich Places And Order A 'Gatsby'
Ready to hit the streets and look for the right Great Gatsby? You might find it hard to choose and sure you can always ask a local, but that can be like opening the flood gates after a storm.
Everyone will have their own recommendations and so do we. Here are a few of the best places to find yourself a killer Great Gatsby sandwich.
There's no place like the sandwich's birthplace. It all started the Super Fisheries. In fact, this should definitely be the first place you think of if you want to try the Gatsby.
You can try another version some place else too. Compare and decide for yourself. Most of the great Gatsby's here will have fish as the meat but you can still get the original which uses bologna.
If you're looking for a good variety of Gatsby's or any South Africa food, then dropping by the Golden Dish could be a great idea. This is a small little shop in Athlone that is run by a family who likes to play around with the original recipe to make it their own.
You can get the original here too, but some of the variations are super delicious too! If you're visiting, why not go all out and get a bit wild? You won't regret it!
In the trendy neighbourhood of Bo-Kaap, you find our third choice – Biesmiellah. This restaurant may be small, but it's family-owned serves up some of the great Gatsby variations.
Though you won't be able to swig down a cold beer with your sandwich as this establishment is Halal, you won't mind once you bite into their delicious variations of this great South Africa food.
Final Thoughts…
Food is culture. When travelling to get the full experience, you must try the city's specialities. Taking time to find what the locals eat and where they eat can add so much to your adventure.
Plus, it allows you to build memories and stories that will last a lifetime. That is why when you're in Cape Town, head out and try at least one Great Gatsby.
This sandwich has become synonymous with South Africa food and will be a great addition no matter what you plan on doing for the rest of your day. Take it with you as you hike to the top of Signal Hill. Or pack it as your lunch when you head out toe Boulder's Beach. We promise you won't be sorry.
As you munch that delicious sandwich, why not pack some and have a picnic in one of these beautiful gardens in South Africa?