20 Best Tacos in San Diego, California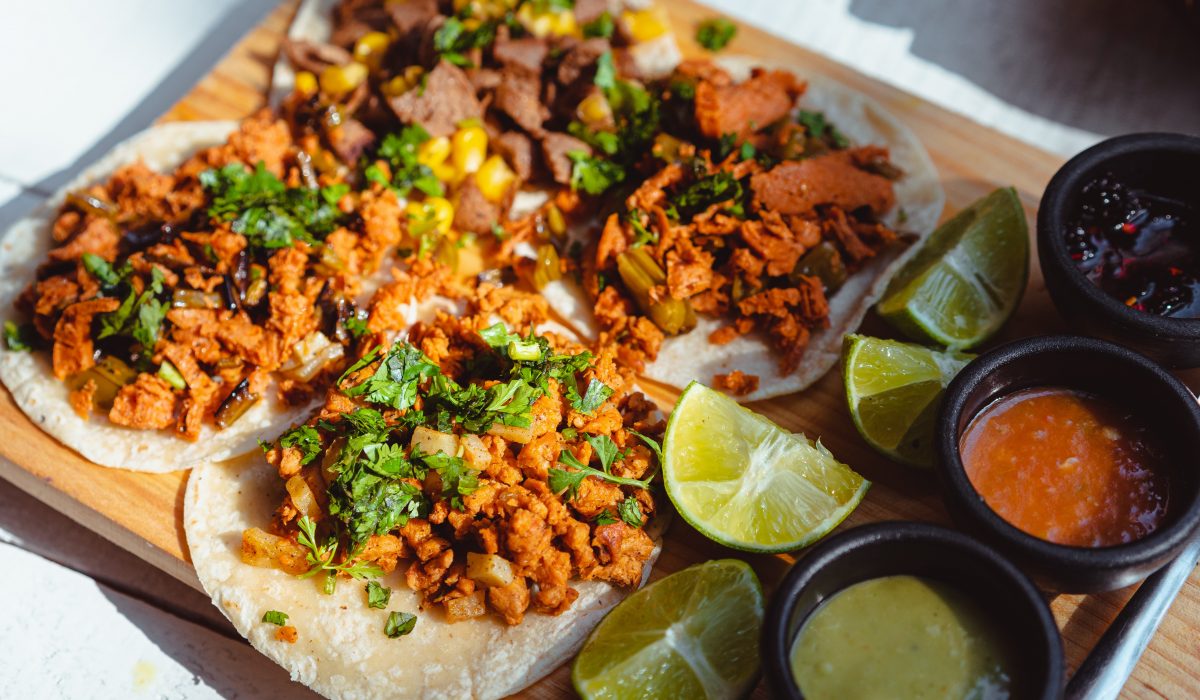 In search of the best tacos in San Diego, California? We've got you covered! Just a few miles away from the Mexican border, America's Finest City is home to an eclectic food scene heavily influenced by Mexican food and culture as a whole. And among the different kinds of food that San Diego is known for, the taco remains one of the most beloved dishes.
You'll find plenty of San Diego restaurants offering their own versions of this dish, ranging from authentic street tacos to those with more innovative takes. There's no shortage of taco spots to add to your list of places to visit and things to do in San Diego. The only challenge is deciding which one to try first. Read on to find the best restaurants in San Diego to satisfy your taco craving!
1. Tacos El Gordo
Address: 3265 Palm Ave., San Diego, CA 92154
Signature Taco to Try: Adobada Tacos
Treat yourself to the best adobada tacos in San Diego when you eat at Tacos El Gordo. While this taqueria boasts an extensive menu filled with authentic Mexican food, this particular menu item is its claim to fame. Who can say no to juicy, charcoal-grilled pork meat on a handmade corn tortilla? Besides being home to some of the best tacos in Chula Vista, San Diego, this spot also offers delicious sopes, quesadillas, and fries you shouldn't miss out on.
2. Blue Water Seafood San Diego
Address: 5083 Santa Monica Ave 1b, San Diego, CA 92107 and 3667 India Street, San Diego, CA 92103
Signature Taco to Try: Mahi-Mahi Taco and Shrimp Taco
Ocean Beach isn't just home to the best Oktoberfest celebrations in San Diego. It's also the place to be if you're on the hunt for the best and freshest seafood taco! Located right along the docks, Blue Water Seafood is an award-winning taco joint, famous for its seafood tacos made with the likes of mahi-mahi, shrimp, swordfish, salmon, and calamari. Not visiting the Ocean Beach area? Not to worry because Blue Water Seafood has a sister branch right in the heart of Mission Hills.
3. Lucha Libre
Address: 3016 University Ave., San Diego, CA 92104 and 1810 W. Washington Street, San Diego, CA 92103
Signature Taco to Try: Surf and Turf Taco and Birria Taco
Another Mexican restaurant where you can find some of the best tacos in San Diego is Lucha Libre. This famous taco spot offers diners classic Mexican food with a unique Californian twist, such as its Surf and Turf taco that combines the bold flavors of steak and shrimp. Want something more traditional? Get the birria taco. It features beef birria, a Mexican dish famous for its flavorsome combination of sweetness, savoriness, and spiciness.
4. Puesto
Address: 789 West Harbor Drive, San Diego, CA 92101 and 5010 Mission Center Road, San Diego, CA 92108
Signature Taco to Try: Filet Mignon Taco
Killer tacos with innovative flavors inspired by authentic Mexican street food await you at Puesto in San Diego. Depending on which location you dine at, the menu might look slightly different. Although, a staple item you shouldn't miss out on is the filet mignon taco. This taqueria marinates the meat and serves it with avocado, spicy pistachio serrano salsa, and crispy melted cheese over your choice of tortilla to create a mouthwatering gourmet taco. You can also ask about the Taco of the Month which differs per branch. Drop by on a Tuesday to take advantage of Puesto's Taco Tuesday deals!
5. La Puerta
Address: 560 4th Ave., San Diego, CA 92101
Signature Taco to Try: Carne Asada Taco
Looking for the best tacos in San Diego's Gaslamp area? Look no further than La Puerta, a local cantina that serves up quality Mexican food and drinks. Its menu features dishes like street tacos, one-pound burritos, and quesadillas. Among its extensive taco menu, a crowd favorite is the flavorful carne asada taco featuring skirt steak dressed in guacamole and pico de gallo. In addition to its food menu, La Puerta is also famous for its bar menu. Drop by the happy hour to take advantage of the discounted deals on the joint's sizable selection of boozy drinks.
6. The Taco Stand
Address: 645 B Street, San Diego, CA 92101, 3000 Upas St Suite 105, San Diego, CA 92104, 4646 Convoy Street San Diego, CA 92111,
Signature Taco to Try: Carne Asada Taco and Al Pastor Taco
Promising an authentic Mexican dining experience, the Taco Stand has an impressive selection of tacos. What is the most popular Mexican taco here? None other than the al pastor taco that features a special ingredient: pineapple chunks! Another note-worthy menu item you should try is the carne asada taco, which will have you munching down on flame-grilled Angus beef. Looking for a sweet treat? Try one of the restaurant's freshly made churros or popsicles for dessert.
7. City Tacos
Address: 3028 University Ave., San Diego, CA 92104, 11045 Roselle St, Suite 100 San Diego, CA 92121, 4516 Mission Blvd, Suite E, San Diego, CA 92109, and 323 Seventh Ave., San Diego, CA 92101
Signature Taco to Try: Angus Steak Taco and Pulled Lamb Taco
Spend Taco Tuesday at City Tacos! Home to some of the best tacos in San Diego, this joint has a variety of options for diners. Try some of the bestsellers like the grilled Angus steak taco, pulled lamb taco with wild mushrooms, grilled chicken taco, and pork chorizo taco. You can even customize the toppings and sauces to add your own unique twist to these classic Mexican food items. This taco shop offers vegetarian, vegan, and even Paleo-friendly dishes as well.
8. La Vecindad
Address: 3827 5th Ave., Hillcrest, San Diego CA 92103
Signature Taco to Try: Costa Azul Taco and Fried Fish Taco
La Vecindad proves that some of the best tacos in San Diego come with a Southern Californian twist. Besides classic taco flavors, this taqueria offers innovative items such as battered fish, grilled shrimp, and even grilled octopus tacos that boast an impeccable blend of Mexican street-style taste and SoCal flavors. Pair your chosen taco with the restaurant's tart and spicy micheladas to get all flavors of Mexico in a single bite.
9. Old Town Mexican Café
Address: 2489 San Diego Ave, San Diego, CA 92110
Signature Taco to Try: Street Tacos
On the hunt for the best street tacos in San Diego? If that's the case, look no further than the offerings of Old Town Mexican Cafe. Be it the carne asada, chicken, carnitas, or adobada tacos, the street tacos here all have big, bold flavors. If you want a heartier dish, try house specialties like the Old Town Famous Carnitas plate.
10. Mitch's Seafood
Address: 1403 Scott Street, San Diego, CA 92106
Signature Taco to Try: Grilled Fish Tacos
Mitch's Seafood in San Diego certainly lives up to its name. While it's not a dedicated Mexican restaurant, it's still home to some of the best seafood tacos in San Diego. Whether it's the shrimp, fried calamari, or fish tacos, you are guaranteed the freshest seafood at this waterfront restaurant. All tacos come dressed with shredded cabbage and pico de gallo and wrapped in corn tortillas. You also get a sour cream sauce mixed with lime for added zest and tang. Order chips, salsa, and beans on the side to complete your meal.
11. Las Cuatro Milpas
Address: 1857 Logan Ave, San Diego, CA 92113
Signature Taco to Try: Pork and Rolled Tacos
Since 1933, Las Cuatro Milpas has been serving up some of the best tacos in San Diego. This small, old-school joint offers home-style cooking with its relatively simple menu of authentic yet inexpensive dishes. Make sure to try the tender and juicy shredded pork tacos topped with lettuce and cotija cheese. This family-owned and operated establishment also has crispy and crunchy rolled tacos slathered with a refreshing sour cream and cheese sauce!
12. Not Not Tacos
Address: 550 West Date Street, Suite B, San Diego, CA 92101
Signature Taco to Try: Kelly's Shrimp Taco and Sam's Cheeseburger Taco
Established in 2018, Not Not Tacos at the Little Italy Food Hall is a newcomer to the San Diego food scene. This taco joint serves up an ingenious variety of Mexican cuisine that is decidedly not your abuela's homemade tacos. Instead of classic carnitas, pollo, or carne asada, you get an interestingly delicious selection of tacos made with mac and cheese, Korean short rib, eggplant parmesan, and mashed potatoes. There's even a cheeseburger-inspired option! Not Not Tacos also offers some of the best shrimp tacos in San Diego.
13. Lola 55
Address: 1290 F Street, San Diego, CA 92101
Signature Taco to Try: Pork Belly Al Pastor Taco and Baja Fish Taco
Looking for Mexican spots that offer the best dinner in San Diego? Swing by Lola 55 in San Diego's East Village! This eatery draws in hip wanderers looking for the perfect balance of fine and fast-casual dining experiences. Of course, the true stars of this restaurant are the gourmet tacos and craft cocktails. Highlights from its menu include the pork belly al pastor taco and the Baja fish taco that some of the best tacos in San Diego.
14. El Tianguis
Address: 2810 El Cajon Blvd. San Diego, CA 92104 and 7995 Civita Blvd. Unit #1 San Diego, CA 92108
Signature Taco to Try: Chicken and Potato Rolled Tacos
El Tianguis is the place to be if you're on the hunt for the best taquitos or rolled tacos in town! Deliciously crunchy and flavorful, these rolled tacos are an instant favorite for many first-time visitors. The best part of this taco shop? They truly have something for everybody! Not only are all items on the menu gluten-free, but they also have an impressive selection of vegetarian and vegan options.
15. Tuetano Taqueria
Address: 2540 Congress Street, San Diego, CA 92110
Signature Taco to Try: Birria Tuetano Tacos and Quesabirria Tacos
Tuetano Taqueria is home to some of the best tacos in Old Town, San Diego. Its birria bone marrow tacos have certainly earned a loyal fanbase, and it's easy to see why! Apart from being made with long-braised birria and fresh tortillas, the dish also comes with a hefty slab of rich and buttery bone marrow on top. If this option is too hearty for you, opt for the quesabirria taco which will have you swimming in gooey melted cheese. Truly, this tiny taqueria is a must-visit for those looking for the best birria tacos in San Diego.
16. Salud Tacos
Address: 2196 Logan Ave., San Diego, CA92113
Signature Taco to Try: Breakfast Tacos, Califas Tacos, and Fish Tacos
The self-proclaimed "King of All Tacos," Salud Tacos provides authentic street-style Mexican food to San Diego residents and visitors. Choose from a variety of classic Mexican tacos to satisfy your craving. This includes street tacos, pollo asado, al pastor, quesabirria, and birria tacos. Want tacos with an Americanized twist? Try the breakfast taco served with bacon and an over-easy egg. Another local favorite you shouldn't miss out on is the beer battered fish taco!
17. The Spot La Jolla
Address: 1005 Prospect St., La Jolla, CA 92037
Signature Taco to Try: Mahi-Mahi Tacos
The Spot in La Jolla is certainly the spot to visit if you're craving the best tacos in San Diego. Located right along the shores of La Jolla Cove, this casual restaurant welcomes customers of all ages and serves up family-friendly Mexican food. Its street tacos will have you munching down on either pulled pork or chicken asado topped with pico de gallo and guacamole. The joint's mahi-mahi tacos are also must-tries!
18. Pokez Mexican Restaurant
Address: 947 E Street Downtown San Diego, San Diego CA 92101
Signature Taco to Try: Tofu, Potato, and Mushroom Taco
Looking for more healthy plant-based dishes? Pokez is a Mexican restaurant that offers just that! While all items on its menu can easily be customized to cater to vegetarian and vegan customers, its tofu, potato, and mushroom taco is the main standout. The veggie taco and potato taco are other items you should get. The rolled tacos are worth trying, as well.
19. Galaxy Taco
Address: 2259 Avenida De La Playa, La Jolla, CA 92037
Signature Taco to Try: Carne Asada Tacos
Galaxy Taco prides itself on its impressive taco menu. Make sure to try the best-selling carne asada taco that's bursting with rich and bold flavors from the smoked bone marrow-salsa macha and guacamole. You should also get the grilled fish tacos, which come with sweet pineapple and spicy jalapeno salsa. And of course, don't forget to pair your food with hand-shaken cocktails and other Mexican-inspired drinks. This Mexican restaurant is located just a few blocks away from the famous La Jolla Shores, one of the best beaches in San Diego.
20. Ranchos Cocina
Address: 3910 30th St., San Diego, CA 92104
Signature Taco to Try: Vegan Carne Asada Tacos, and Vegan Pulled Pork Tacos
Similar to Pokez, Ranchos Cocina is another vegan-friendly restaurant serving up great tacos. Located in the North Park area, it has the best vegan versions of carne asada and pulled pork tacos — both of which are just to die for! If you're not vegan or vegetarian, a bestseller you should definitely try is the fish tacos. Many repeat customers consider these to be some of the best tacos in town!
Best Tacos in San Diego You Need to Try
Does San Diego have good tacos? Absolutely! From the most authentic variations to creative and innovative takes, drop by any of the American-Mexican restaurants on our list to discover the best Mexican food San Diego has to offer.