The Best Antique Stores In The US
A trip to an antique store is like a walk down memory lane. The specialty shops often contain ornate glassware, childhood toys, and even old school propaganda.
But most importantly, they're a beautiful look at humanity's past. They offer a peek into the old world, that many young generations never got the chance to see.
Thankfully, the US has plenty of amazing malls, markets, and shops to find objects with that old-school-cool vibe. So pack your bags, find a car, and start a road trip to visit the best antique stores in the US.
1.
First Stop Is To Wiscasset Antiques Mall In Wiscasset, Maine
Any fervent antique collector has surely heard of Wiscasset, Maine. The small town is wildly famous amongst collectors for its notable amount of antique goods. It only makes sense that Wiscasset Antiques Mall is worthy of this list.
The mall is has a collection of neat relics from the past. The barn-style antique store is full of quality woodworks, vintage lamps, historic sporting goods, and much more.
However, unlike many of the other shops in the industry, the site is not overloaded with goods. The shelves, displays, and rooms are all tastefully organised. That way shoppers can find what they want without sorting through hordes of junk.
2.
Drive Down To Adamstown, Pennsylvania For The Mad Hatter Antique Mall
Even the building Mad Hatter Antique Mall is located can be found in an antique itself.
Adamstown is often thought of as one of the best antique towns in the US. That's why Mad Hatter Antique Mall could not be located in a better place.
The former hat factory offers a wide range of goods that nearly every shopper will love. Child collectibles, Americana products, granite-wares, eclectics, and many more types of goods can all be found resting on the shelves of the classic antique mall.
3.
Prepare For A Long Drive To Springfield, Ohio And See Heart Of Ohio Antique Center
Take a stroll through the Heart of Ohio Antique Center to find an unreal amount of beautiful classic collections. The centre houses countless showrooms with gold jewellery, wooden cupboards, antique signage, canvas paintings, and much more.
The goods found in the multiple stalls are far from ordinary though. Some of the finer merchandise that can be found includes a cherry wood tea table, 19th-century bronze sculptures, and handcrafted silver boxes. Even Martha Stewart has claimed the site is "One of America's best resources for antiques."
Above all, those seeking outdoor wares can wander into the 30,000 sq. ft. outdoor area full of patio furniture and architectural designs.
4.
Check Out Elizabeth Grand Antique Co. In Galena, Illinois
A former schoolhouse and years of history make a trip to Elizabeth Grant Antique Co. more than just a Sunday shopping experience.
The three-story antique mall has something for all, as it blends antiques with modern crafts. More than 200 different vendors can be found in the 28,000 sq. ft. building, peddling their stock to joyful buyers.
Home décor, vintage books, woodwork, and artworks can be found in nearly every corner of the superb shopping mall.
5.
Drive For Five Hours To Stillwater, Minnesota And Visit Not One But Two Antique Malls
Midtown Antique Mall
Over a million different items call the Midtown Antique Mall in Stillwater their home.
The massive shopping centre is certainly one of the best antique stores in the US, as it is filled with authentic goods from nearly every industry. A simple browse through the three-story building reveals classic mahogany furniture, sterling flatware, antique lighting, tools, and countless others.
Similar to most antique malls, the site has 65 different dealers, who all have their own unique wares and prices. No antique collector can dispute the greatness of the Midtown Antique Mall.
Staples Mill Antiques
Staples Mill Antiques is undoubtedly one of the best antique stores in the US. The antique dealer is located right inside of a former sawmill.
The goods inside the mall truly are grand. Thirty different dealers occupy the building, providing a variety of classic wares. Due to the site's fame, new objects are constantly being cycled throughout the shelves, to provide a fresh experience each time.
6.
Find The Granary Mall In Walnut, Iowa
The history of the Granary Mall is nearly as interesting as the goods it sells.
The 1800s building was once home to "Spangler's Livestock and Coal", which was the go-to-market for the German migrants farming the area. Although the building had a string of different owners, it retained a large amount of the original machinery and facilities.
Now, visitors can find an abundance of classic wares and fine antiques in the building. Furniture from the Victorian, primitive, and turn-of-the-century eras can all be found on the show floor.
And of course, it doesn't hurt that Granary Mall has the largest collection of Red Wing Stoneware in the Midwest.
7.
Reach The Paramount Antique Mall In Wichita, Kansas After A Five-Hour Drive
For quaint, quality, and vintage wares head to Paramount Antique Mall in Wichita, Kansas.
Paramount is an antique mall located in the heart of the nation, operating 7 days a week. The mall has vintage products and collectibles from all corners of the country.
It's easily accessible as well. You can simply hop off Route 400 and find the site in minutes.
The facility is full of home décor, glassware, china, and clothing. In any case, the collections are sure to impress even the most seasoned of shoppers.
8.
Find A Relic You Like At Relics Antique Mall In Springfield, Missouri
Relics Antique Mall became one of Missouri's hottest tourist destinations.
Due to the state's central location in the US, the mall became a great place to pick up antiques that have stayed in one spot for years. Relics Antique Mall capitalises on that, by offering more square footage of floor space than any other market in the state.
All of that space is skilfully organised, with rows and columns displaying fine furniture, crafts, glassware, and other old-time wares.
Visitors can also find plenty more item in the attached flea market. Handmade wooden, clay and fabric goods can be found in a variety of stalls. Even the pickiest of shoppers can find something at the mega-market.
9.
Take Your Pick In Corner Antiques In Clinton, Tennessee
Although the building is relatively small, the wares found at Corner Antiques in Clinton are second to none.
The retired 1890s general store takes visitors back in time the moment they step through the doors. Once in, they can find ornate glassware, country primitive, antique furniture, and collectibles. Much of the inventory consists of handcrafted wood furniture and ornate objects that truly are one of a kind.
Best of all, the store is located at the end of the Tennessee Antique Trail. So it's a perfect place to start or end a journey.
10.
Head To Terrace Oaks Antique Mall In Charleston, South Carolina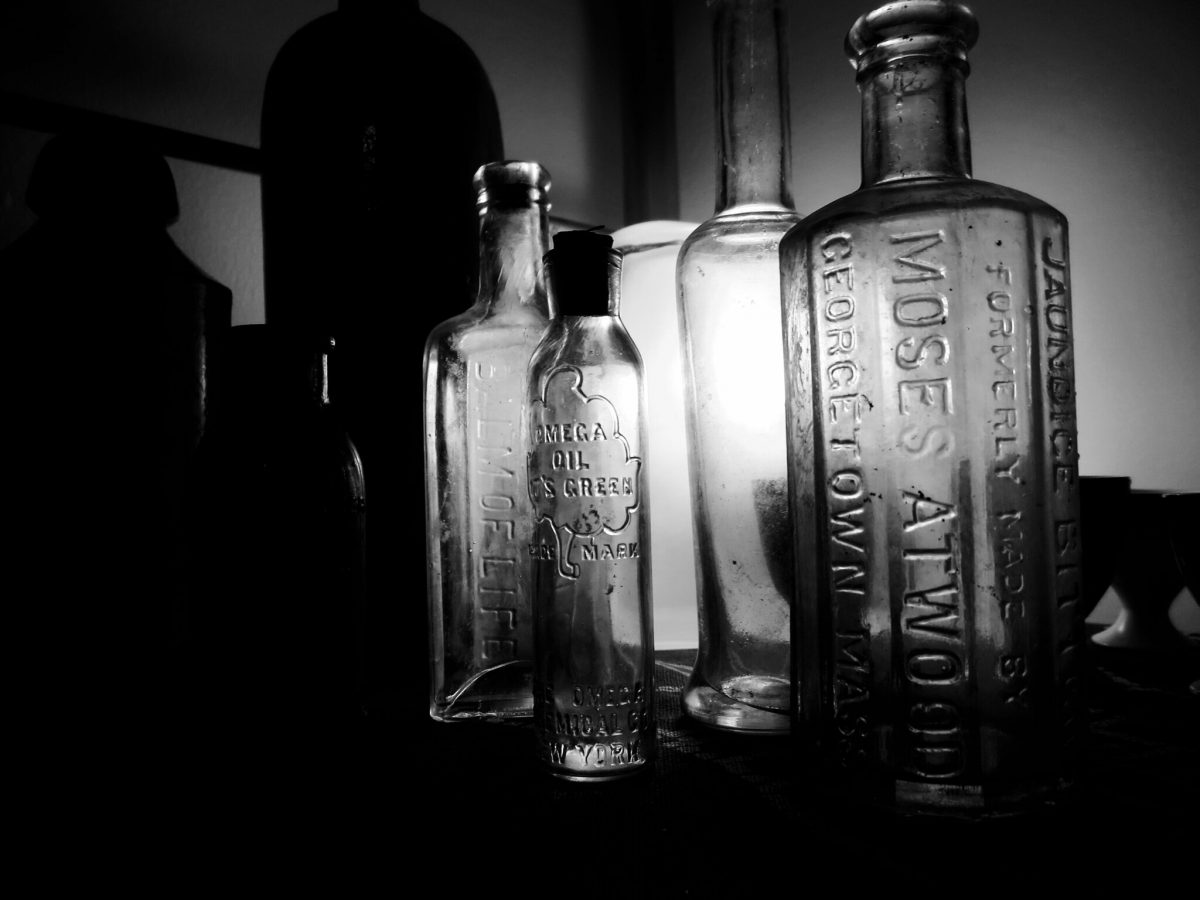 Photo by Mrs. Gemstone on Flickr
Terrace Oaks Antique Mall offers a pleasant mix of southern culture and hospitality that makes visitors feel like family.
The antique mall located in Charleston offers a wide selection of porcelain wares, jewellery, eclectic books, and classic furniture. With over 10,000 square feet of floor space on two separate floors, there is no shortage of interesting finds.
Above all, the city is known for being an antique hot spot. So visitors will surely be able to find glorious goods in the southern style antique mall.
11.
Cruise Down To Mount Dora, Florida And Shop In Renninger's Antique Center
A weekend at Renninger's Antique Center is certainly a weekend well spent.
Make sure to visit this centre on the weekends only. They may be open during the weekends only but the centre is as high quality as any other market.
The centre has two indoor buildings and a number of outdoor stalls. The owners can thank Florida's fine weather for that.
What makes the site so unique is it's added farmers market. Additionally, homegrown fruits and vegetables can be bought right alongside vintage goods. All in all, it makes for a pretty sweet weekend.
12.
Find A Trinket In New Orleans, Louisiana
M.S. Rau Antiques
Fine collections of glassware, jewellery, and handcrafted furniture make M.S. Rau Antiques one of the finest suppliers in the whole country.
M.S. Rau Antiques contains thousands of fine goods. The ultra-high-end antique store isn't for the thrifty shopper though, as the brilliant goods are fairly costly.
Paintings by Winston Churchill, gold watches worn by Elvis Presley, and Victorian-era diamond rings all await the right buyer in the New Orleans antique shop.
James H. Cohen and Sons
Any antique store that specialises in specific goods is bound to hold some treasures. James H. Cohen and Sons is a fine example of that.
The New Orleans based antique store specialises in guns, weaponry, coins, and jewellery. Those browsing through the quaint shop can spot flintlock pistols, Roman-era coins, and diamond bracelets. Similar to M.S. Rau, James H. Cohen and Sons certainly isn't for those on a shoestring budget.
Nonetheless, those searching for antique weaponry and coins will be hard-pressed to find a better dealer.
13.
Drive Up To Brass Armadillo Antique Center In Denver, Colorado
A cool and funky name is enough to catch anyone's attention. Thankfully, the Brass Armadillo Antique Center in Denver offers far more than just that.
While there are in fact five other Brass Armadillo stores across the country, the one in Denver is special. The mega-sized antique mall is home to over 600 different dealers. All of which offer high-quality antiques.
Each stall is home to a member of the community. The result is a warm and friendly atmosphere that keeps customers coming back for years.
Those searching for goods from the American West and the high country will have no problem finding just what they're looking for.
14.
Find The Next Best Thing At Larry's Antiques and Things In Cottonwood, Arizona
Larry's Antiques holds everything from small gadgets to full-sized tractors. The five-building antique mall is run by a mix of employees and dealers, that love to show visitors all of the lovely wares residing inside.
Most of the goods have a Western feel, but you can still find plenty of other unique items.
However, the true specialty that the shop offers is their scrap metal yard. Curious buyers can wander around the area to find a large range of artistic scrap metal pieces.
15.
Discover Interesting Finds at Pasadena Antique Mall In California
The Pasadena Antique Mall takes customer satisfaction to a whole new level.
The mega antique store found in southern California truly does strive to provide shoppers with just what they are looking for. Boundless amounts of old-time goods can be found, such as antique clocks, scales, advertisements, and more.
What makes the store so appealing is its optional 'wish list'. Shoppers simply put whatever they're looking for on the list. Dealers then try to find exactly that piece. Whether it's in their inventory or not, the antique suppliers do their best to play Santa and satisfy each item on the list.
16.
Last Stop Is At Star Center Antique Mall In Snohomish, Washington
Snohomish, Washington is often branded as the antique capital of the Northwest. No wonder that the Star Center Antique Mall is full of precious things.
The small town 30 minutes north of Seattle is a true gem for those looking to pick up second-hand goods. Visitors can find well-preserved assets from decades past that may be purchased from any of the 200 dealers. Additionally, each dealer offers antique merchandise that rotates each month.
Baby boomers can surely be thrilled with the finds at Star Center, especially those keen on Depression glass, sports memorabilia, vintage books, and other old school items.
At The End Of Your Trip
We hope you find lots of items on each stop across the US. May you cherish them and maybe visit again to find gifts for your fellow antique-lover friends.
Planning to buy lots of item for your trip? Take a look at our guide for finding the right RV for you!