Small RV vs Big RV – Our Verdict For Your Road Trip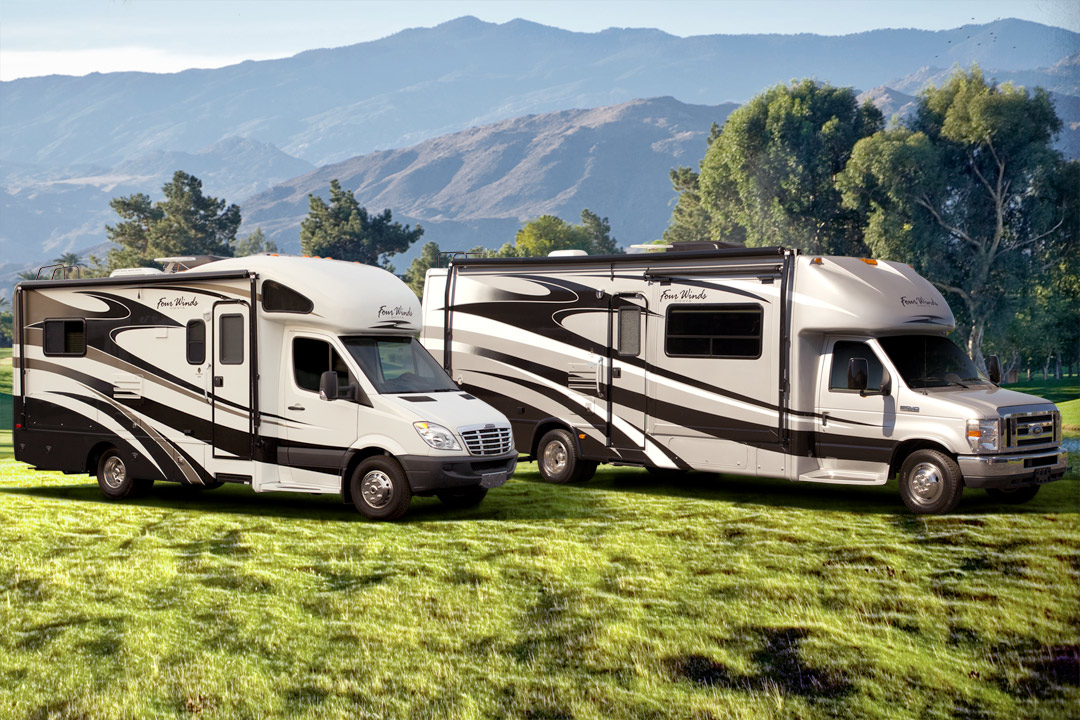 If you have gotten here, well it means one thing, you are ready for your next road trip. You're not new to the RV world. You're here for an honest verdict. And we're happy to clear your confusion on which RV to rent for your next road trip! An RV aka recreational vehicle is a home on the road. The RV Motorhome is super convenient and easy. But, at first, they can seem like a lot! If you're new to the world of RV, read this to know all about the RV and the RV Class variants.
Perfect for Road Trips
What's cool is, apart from using the RV for road trips, a camper or group of campers can work and live together in an RV. This bliss is called RV living. The RVs are excellent and fun if you're travelling solo, but even more so when you have people to share the space with. We're glad that you know you want to rent an RV. The next step is to decide which one!
Small RV or Big RV?
This is the real question. Well, it depends on multiple factors. Both Small RV and Big RV have their Pros and Cons. If you find yourself unable to choose the size of RV you need to rent for your RV road trip, don't fret. Because we have put a little feature preview of both sizes so that you can be well aware of your choices and make the right decisions.
Big RV vs Small RV Motorhome
The first answer is how many people are you taking on a road trip? If you're travelling alone or with 2-3 others, then a Small RV will fit the bill perfectly. But, if you're planning to have a group party, you need more room!
How Many Fit In?
When it comes to the number of occupants the RV motorhome can accommodate, we know that the Big RV motorhome can fit in more. It's bigger and better right? But if you want to know the actual amount of persons it can take, then it's a maximum of 8 for the Big RV Motorhomes. In contrast, the Small RV Motorhome can house 3-5 persons comfortably. As an RV Rental best practice, always take a tour of the RV you decide to rent.
All About Size, Weight and Height
When it comes to the size, the Big RV weighs between 33000 – 40000 pounds. It depends on the model and brand you buy, each of them has a weight specification when manufacturing RV Motorhomes. However, ideally, that is the average weight of the big RV motorhome. In terms of size, the big RV motorhome is about 40 feet long and has a height of 9.5 feet.
The small RV, on the other hand, is usually 18 to 24 feet long. Small RVs also weigh between 16000 to 26000 pounds. They are about 6-7+ feet high. The size of the small RV can be of benefit to you if you are seeking adventure. It's small and compact. So, taking a detour for a little adventure is easy!
Pros of the Big RV
When your mind goes to the benefits of having a big RV, there are a lot of things you need to consider. The Class A RV variant is the big RV. The Class A RV features are designed to make you feel like there is nothing for you to miss at home. For those who enjoy camping with the bus, a term has been made for them which is glamping (camping in a large bus). This doesn't apply to the Small RV though.
Interior of the Big RV Motorhome
Inside the Big RV, you will get slide outs, and the number can vary based on the model you select. but the slide outs are usually between a single to about four slides out and you can extend your space with them. You also have the luxury of storing things because of its design that allows for more storage on the bus. You also have your kitchen that looks so much like a residential kitchen. Let's not also forget the fact that there are also fixtures in the bathroom.
They also come with a washer and dryer, so that you can wash in the bus without having to leave the bus to the campground. Just as you would expect, an RV with this size will help you by providing you with more space. So if you have a large family you should look into investing in some quality Big RV so that you can have enough room for them.
Advantages of the Small RV
One of the biggest advantages you can get from renting a small RV is that you get to beat down a great deal on the cost. Although it might mean, smaller rooms, and a smaller space to do what you want to, but in the end, you have to worry very little about management. What you get is an efficient and economically friendly small RV for you to ride about.
The Small RV usually falls in the category of Class B RV, and once you have them, you get to enjoy easy movement on your road trip. You can make sharp turns, park at small spaces, and you have little to also worry about fuel consumption because they are very user-friendly. When you have this small RV Motorhomes, you know you have a car that is less than 35 feet. This is an ideal size that can be accepted in any park in the country.
The Verdict
There is no wrong, no right. The size and type of RV you want to rent for your road trip depends on your accommodating and experience e preferences. Both RV Classes are comfortable and durable. Both are loaded with accessories to make you feel at home during your travel. But, the Big RV aka Class A RV is better for power, speed, style and comfort. If it fits into your travel budget, go for it! If not, the small RV is here for you. It's affordable and convenient to drive.
Where to Rent an RV?
Now that we've listed the Pros and Cons of the Big RV and Small RV, you can make you pick on RV Trader. RV Trader is the Bible for RV Religion. On RV Trader, you can read honest reviews and compare RVs further. The RV trader online platform eases the renting and selling of RV Motorhomes. You will, in fact, find a lot of sizes here but since you know what you want, you should skip the distractions and follow only the choice you have made in mind.
Before you rent, be sure you have planned well. There's a lot to consider before taking a road trip in an RV. RVing is fun, but you need to know everyone on board feels the same way. We've got your back for this too! To rock your first RV experience, read this to know all our pro tips on RV Rental.
Read our guides, make a smart choice and enjoy your RV road trip! Don't forget to share your best RV moments with us. Happy RVing!