21 Best Resorts in Georgia for a Southern Adventure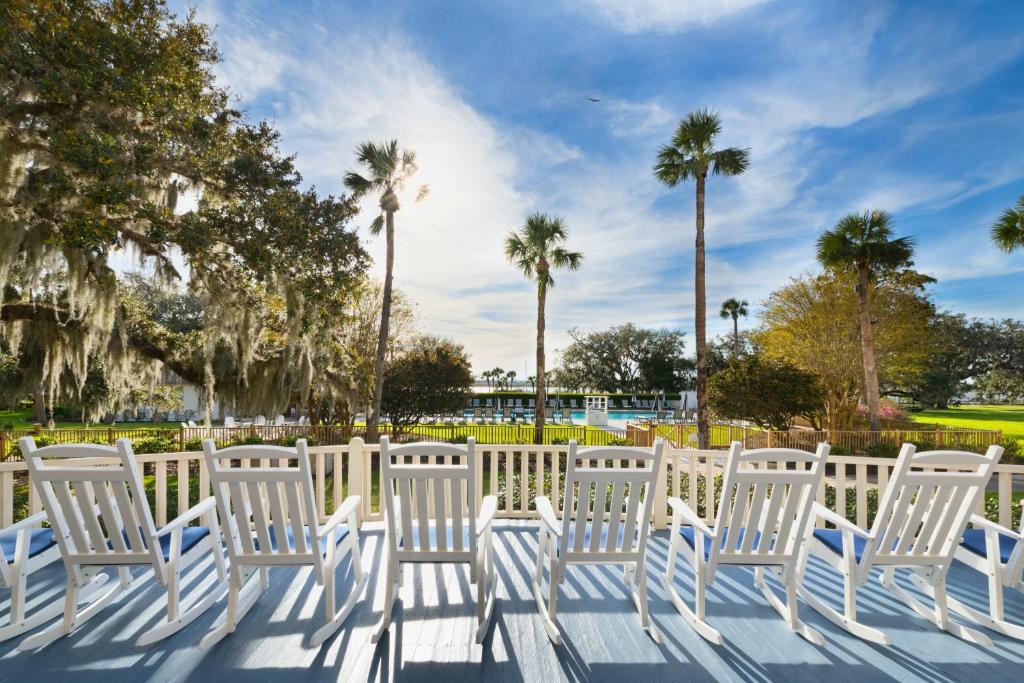 The best resorts in Georgia are well-known for their amazing outdoor sceneries and warm Southern hospitality. The Empire State of the South beckons many travelers with its nature-centric accommodations. Set alongside mountains and beautiful bodies of water, it's no doubt that resorts in Georgia quickly became one of the most frequented tourist destinations to have a weekend of pampering. Some even provide venues to hold weddings and other family events! Notably, their first-rate amenities and services are top-notch, all in all providing you the perfect outdoor getaway.
(Take note that prices per night depend on the season and are subject to change without prior notice.)
1. Great Wolf Lodge
Address:150 Tom Hall Parkway, La Grange, 30240, United States of America
Price: Starts at US$195 per night
Great Wolf Lodge takes pride in being the 'best indoor water park in Georgia' with multiple attractions such as a family raft ride, water playgrounds, and slides. Water-based play isn't the only thing this resort offers. Above all, there are a lot of adventures awaiting the kids. They can have hours of fun playing mini-golf or participating in theMagiQuest adventure. Additionally, let your family bond while navigating through the ropes course, bowling alley, or climbing wall.
Aside from the fun amenities, the hotel even features themed suites that have a cabin or a cave-inspired interior. Dine at various restaurants on the property or have craft beers at The Outpost. If you've grown fond of water slides and playgrounds from your stay, a list of hotels with water parks in Florida is worth the visit for more water-fun experiences.
2. Jekyll Island Club Resort
Address: 371 Riverview Drive, Jekyll Island, GA 31527, United States of America
Price: Starts at US$205 per night

Located at Golden Isles along the Georgia coast, Jekyll Island Club Resort is a historical spot that fulfills the ultimate island getaway. First built in the 19th century, the 5700-acre property still stands and now delivers the luxury of space and privacy. The Island Club offers a number of guest rooms and cottages designed with a vintage flair. Incomparably superior is its oceanfront location which lets you enjoy the sound of the waves and the vista of the beach without stepping out of your suite.
You and your family can enjoy the swimming pools from both the Island Club and its sister hotel, Jekyll Island Ocean Club. However, don't forget to step out to see the pristine beach—a true beauty to behold, and a fun spot to splash and swim in for hours. Weekend getaways will be filled with fun as you ride a bike, enjoy live music, or go horseback riding. Test out your skills at golf, tennis, and croquet with the resort's amenities. The iconic history tours will help you appreciate the island's heritage, as well.
3. The Westin Savannah Harbor Golf Resort and Spa – Marriott
Address: 1 Resort Drive, Savannah, GA 31421, United States of America
Price: Starts at US$150 per night
The Westin Savannah Harbor Golf Resort and Spa is one of the best resorts in Savannah, Georgia, well-known for its gorgeous harbor scenery and first-rate amenities. The accommodations are designed with a soothing and lavish modern interior. The rooms offer either view of the golf course or the Savannah River. The dining scene is a highlight on its own—with guests enjoying delectable coastal dishes with a touch of Southern flair. After a long day, have a heavenly rest at the spa's luxurious treatments such as body scrubs, facials, and massages.
Being on vacation means taking care of your body and health. Having a fitness studio on site, means that you don't have to miss a streak in your workout. Maximize your stay by playing golf at the championship course. During your stay, tick off a few in our list of the best things to do in Savannah such as venturing on a ferry ride or eating authentic local dishes.
4. Valhalla Resort Hotel
Address: 688 Bahn Innsbruck, Helen, GA 30545, United States of America
Price: Starts at US$198 per night
Valhalla Resort Hotel is a luxury resort in Helen, Georgia that will make your fairytale vacation dreams come true. From its breathtaking scenery of the Blue Ridge Mountains to its first-rate concierge service, you'll certainly indulge in a restful getaway here. The all-suite property exudes a Scottish Castle-inspired charm with its extravagant amenities.
Valhalla Resort Hotel's guest rooms offer the utmost comfort and beautiful mountain views. Try out various wines or have a classy fine dining experience. Haven't tried playing at a mountain golf course? Check this off your bucket list at Innsbruck Golf Course during your stay. Additionally, take a dip at the outdoor swimming pool or lounge at the poolside to get your tan on. Lastly, the resort spa offers massages and professional clinical facials to soothe both your mind and body.
5. The Ritz-Carlton Reynolds Lake Oconee
Address: One Lake Oconee Trail, Turnwold, GA 30642, United States of America
Price: Starts at US$440 per night
Just an hour and 20-minute ride from Atlanta Airport, you can reach the world-class Ritz-Carlton Reynolds Lake Oconee resort. Whether you're staying in an elegant lake-facing suite, a charming cottage, or a luxurious lake house, this 19,000-acre property lets you appreciate the great outdoors. Lake Oconee is a great place to ride a boat, kayak, canoe, jet ski, stand-up paddleboard, or even go fishing. Moreover, kids will love freshwater tubing and wakeboarding. You can also enjoy activities on lands such as riding through offroad courses or shooting sports like archery and sporting clays.
As one of the best resorts in Georgia, The Ritz-Carlton Reynolds Lake Oconee has five championship golf courses with scenic views. Enjoy a massage and other wellness treatments at their 30,000 square foot luxury spa. Then, dig in and taste the Southern-inspired cuisine at the on-site restaurants. The fitness center is great for working up a sweat after a hearty meal. If not, you can play at the tennis courts or take a dip in the infinity pool.
6. Apple Mountain Resort Hotel – Holiday Inn Club Vacations
Address: 200 Apple Seed Court, Clarkesville, GA 30523, United States of America
Price: Starts at US$155 per night
Apple Mountain Resort Hotel is among the best branches of IHG hotels in Georgia. You're sure to have a restful stay at the cozy guest rooms and villas. Amenities for playing billiards, air hockey, and other arcade games will certainly hook the whole family up. The fitness area is open for everyone who wishes to burn some calories after eating from the restaurant.
This Holiday Inn Resort is a paradise for families looking for a place filled with outdoor activities. Bond with the kids with a game of tennis, basketball, volleyball, or mini-golf. On the other hand, bring the older kids to the championship golf course to truly hone their skills. To fully explore Georgia's nature, go horseback riding as you take in the beautiful greeneries. After all that adventure, grill up a family feast at the outdoor barbeque pit. Finally, your vacation won't be complete without enjoying the outdoor pool and hot tub with a panoramic mountain view, as well.
7. The Cloister at Sea Island
Address: 100 Cloister Dr, Sea Island, GA 31561-9705, United States of America
Price: Starts at US$750 per night
The Cloister at Sea Island takes pride in being the only resort in the world to acquire four Forbes 5-Star awards in 13 years. Indeed, it is easily one of the best all-inclusive resorts Georgia has to offer. The accommodation offers luxurious rooms and suites with an exquisite Spanish Mediterranean interior. Embark on a culinary trip around the world by ordering Italian, French, and even Mexican meals at the dining outlets. Then, indulge your sweet tooth at the bakeshop or order a few drinks from the pub.
The golf experience alone is extraordinary, with three courses and a 17,000 square-foot Golf Performance Center. Bond with the whole family as you ride through biking trails or play at the bowling alley. Otherwise, ride a kayak, paddleboard, or sailboat at the beach. The Cloister is a great place to go fishing, hunting, or experience falconry for the first time.
8. Coastal Georgia RV Resort
Address: 287 South Port Parkway, Brunswick, GA 31523, United States of America
Price: Starts at US$55 per night

Who said cheap weekend getaways aren't as fun as staying in a luxury hotel? Without spending too much, you can have a memorable vacation at Coastal Georgia RV Resort. This amazing spot is one of the best RV resorts in Georgia due to its quality amenities and restful outdoor setting. They accommodate recreational vehicles of all sizes and provide over a hundred rooms for lodging. There's a store on-site for any RV equipment or supplies you need, as well.
The RV park is perfect for all seasons due to its mild climate—made even more awesome with its beautiful lakeside location. Take cool pictures with the enchanting lake as your backdrop or go fishing there. The game room is open for everyone and the swimming pool is just as fun. Notably, there are lots of nearby attractions such as golf courses, tennis courts, beaches, and more.
9. Foxhall Resort
Address: 8000 Capps Ferry Road, Douglasville, GA 30135, United States of America
Price: Starts at US$215 per night
Foxhall Resort is the place to be if you love the great outdoors. As one of the best family resorts in the Empire State of the South, the property offers Southern-inspired lodgings and villas with lakeside scenery. The restaurants serve scrumptious dishes made from fresh local ingredients. The pools in the area include one for kids, one exclusively for adults, and even a 25-yard infinity lap pool. All of these boast scenic views of Lunker Lake that can definitely level up your vacation.
Of course, you can't miss out on Foxhall Resort's fun outdoor activities. These include a sports lawn meant for playing croquet and bocce ball, as well as four tennis courts. You can also ride off into the sunset on a canoe or kayak. Avid anglers can go fishing and sporting clays enthusiasts will enjoy the on-site shooting grounds. Don't miss exploring the 1100-acre grounds, either through a nature hike or an adrenaline-filled ATV ride.
10. Barnsley Resort
Address: 597 Barnsley Gardens Road. Adairsville, GA 30103, United States of America
Price: Starts at US$275 per night
The Barnsley Resort Georgia destination continues to beckon guests all over with its gorgeous landscaped amenities and top-notch service. Its period-style accommodations have air-conditioned rooms for the summer and cozy fireplaces to keep you warm during winter. The resort boasts a 379-acre championship golf course, spa, shooting grounds, and three boutique shops. Its restaurants range from casual beer gardens to fine dining, with delicious meals made from fresh local produce.
Barnsley Gardens Resort's 3000-acre property offers numerous possibilities for a memorable recreational vacation. Nature-seekers can meander through nature trails on foot, or get the thrill on with bikes, horses, or UTVs. For a more laid-back vacation, visit the on-site farm for a fun interaction with miniature horses and goats, or go fishing at its 10-acre lake. The best part? You can bring your pets along to enjoy its outdoor amenities together.
11. Brasstown Valley Resort and Spa
Address: 6321 US Highway 76, Young Harris, GA 30582, United States of America
Price: Starts at US$165 per night
Take a well-deserved retreat at Brasstown Valley Resort and Spa. Located along the North Georgia mountains, the accommodation offers fresh air and stunning scenery. The guest rooms and cottages evoke a cozy ambiance that makes you feel at home. You can enjoy delicious meals and mountain scenery at the on-site restaurants. The indoor and outdoor pool is a great place to make laps or chill in.
The 503-acre property offers a plethora of activities fit for everyone's preferences and interests. The golf course is great for seasoned players who wish to play and enjoy views of the rolling hills. While the kids are busy making arts and crafts or playing ping pong, adults can enjoy soothing indigenous Cherokee treatments and massages at the spa. At the stables, you can not only enjoy horse riding but also ax-throwing and archery! With these and more, Brasstown Valley Resort and Spa proves to be one of the best resorts in Georgia for the ultimate getaway.
12. Paradise Valley Resort
Address: 49 Valley Dr, Dawsonville, GA 30534-4525, United States of America
Price: Starts at US$795 per night
Let loose and go au naturel at the Paradise Valley Resort. This premier clothing-optional resort offers a wide range of lodging options for singles, couples, and groups. These include RV grounds, condominiums, and even rental apartments. Paradise Valley promotes a non-discriminating and welcoming community, especially for first-timers in the nudist scene. Here, you can enjoy your natural self as you enjoy various activities offered.
The breathtaking North Georgia mountains are the backdrop of your whole vacation at Paradise Valley. Promoting a "Valley Life," the resort evokes a laid-back yet fun place for you to unwind. Summer days are filled with enjoyment as you embark on nature trails or enjoy adult drinks at the tiki bar. Cool off at each of its three pools or soothe your body at the two hot tubs. In winter, you can spend the day dancing with and meeting new people. As one of the best clothing-optional resorts in Georgia, Paradise Valley will certainly let you have a memorable getaway filled with freedom and adventure.
13. Forrest Hills Resort Mountain Resort and Conference Center
Address: 135 Forrest Hills Road, Dahlonega, GA 30533, United States
Price: Starts at US$219 per night
Situated at the foothills of the North Georgia mountains near the scenic town of Dahlonega, Forrest Hills Resort is the perfect place to unwind whether you are looking for a romantic getaway or an enjoyable family vacation. Cozy up by the fireplace or have a relaxing soak at the hot tub in your own private cabin. Book a spacious suite for your family or a private group lodge with friends.
The charming woodland location lends itself to dreamy weddings. Couples can say their vows at the "Chapel in the Woods" or in the outdoor gazebo on a fairytale nuptial accompanied by a horse-drawn carriage and candlelight dinner. For families, a must-try activity is the scenic wagon ride through the forest. After the ride, a cookout awaits at the River House, where you can have a delicious hearty meal of steak and BBQ in the middle of the woods. There are lots of area attractions to visit outside the resort, too. Visit the wineries and vineyards, shopping areas, and zoo and petting farms.
14. Lake Blackshear Resort and Golf Club
Address: 2459-H US Highway 280 West, Cordele, GA 31015, United States of America
Price: Starts at US$85 per night
Lake Blackshear Resort and Golf Club is set in a stunning outdoor setting fit for any nature or adventure lover's taste. There are different lodging options to choose from such as guest rooms, cabins, and villas. They come with sweeping views of the lake and an inviting ambiance. The premier golf course set amongst a dazzling nature backdrop even features a full-service clubhouse. Ultimately, you can have a great culinary experience at the on-site dining outlets that offer splendid garden and lakeside views.
With a wide array of activities at Lake Blackshear Resort, you'll always find something fun to do. For one, you can fish or ride a boat in Lake Blackshear. Learn to shoot air rifles or from a bow, or head straight down to hunt. Immerse in nature as you ride through the biking trails or go birding. The outdoor fitness facilities can help you stay fit as you enjoy the fresh air and beautiful surroundings.
15. Sea Palms Resort: Marshfront Escape
Address: Sea Palms Resort, 515 North Windward Drive, St. Simons Island, GA 31522, United States of America
Price: Starts at US$135 per night
Treat yourself and your loved ones to a much-needed vacation at Sea Palms Resort. This resort gives the best of both worlds—with its marsh-front property offering privacy and its beachside end offering accessibility to shops and dining outlets. If you're fond of modern accommodations, you'll certainly love the fresh and clean look of the condominium-style suites here. Each room has access to WiFi and is equipped with smart TVs and sound reduction devices. They come with amazing ocean scenery or island views of the Georgia salt marsh.
This outdoor haven of fun is perfect for golf enthusiasts and sports lovers. Play unlimited rounds of golf at the 18-hole course on the property. Stay on track with your fitness goals at the fitness center or tennis court. Plunge into cool, refreshing waters at the swimming pool. After a long day, you can enjoy Southern and coastal meals at the on-site restaurant.
16. Atlanta Evergreen Marriott Conference Resort
Address: 4021 Lakeview Drive, Stone Mountain, GA 30083, United States of America
Price: Starts at US$125 per night
Atlanta Evergreen Marriott Conference Resort is your lakeside sanctuary in Stone Mountain Park. The accommodations are designed with grand spaces and revamped interiors that offer the utmost luxury. Walk out of your room to the balcony and take in the beautiful views of the lake or the pool. Here, a premier dining experience is waiting for you at the restaurants set alongside the remarkable Stone Mountain landscape.
Play a round of golf at the two on-site golf courses with first-rate ranges overlooking mountain vistas. You can go swimming all year round due to heated indoor and outdoor pools. Then, cool off and refresh with a drink at the poolside bar. Outside, there are all kinds of adventures, from kayaking and paddleboarding to hiking and biking. From its lavish amenities to spacious rooms, Atlanta Evergreen Marriott is certainly one of the best resorts in Georgia to love.
17. The Lodge at Sea Island
Address: 100 Retreat Avenue, Saint Simons Island, GA 31522, United States of America
Price: Starts at US$395 per night
The Lodge at Sea Island is one of the premier all-inclusive resorts in Georgia. Settle in cozy English-style suites with an elegant wood interior and exposed beams. The rainfall showerhead and deep soak marble tub take your bathing experience to the next level. Moreover, a 24-hour personal butler service completes your stay. To further indulge your senses, book a trip to the spa which features a dry sauna and mineral pool bath.
The Lodge offers a myriad of activities for all types of travelers with three championship golf courses, you won't run out of golf fun and stunning views of the area. Additionally, couples will enjoy biking, horse riding, or kayaking off into the sunset. There are also fun family and children activities like interaction with various raptors and reptiles, baking programs, and archery lessons.
18. Chateau Elan Winery and Resort
Address: 100 Rue Charlemagne Dr, Braselton, GA 30517, United States of America
Price: Starts at US$209 per night
Chateau Elan Winery and Resort is a must-visit spot for wine connoisseurs and travelers who wish to have an exquisite vacation in the Peach State. Its luxurious amenities and distinct accommodations make it one of the best all-inclusive resorts in Georgia. Above all, Chateau Elan's comfortable suites exhibit a French-inspired elegance. For small groups, there are villas that can accommodate up to six guests. Additionally, it houses a conference center that even features an auditorium—perfect for special events and celebrations.
The dining scene in Chateau Elan will be the highlight of your trip. Specifically, the restaurants will take you on a culinary voyage with French-influenced meals to Southern-inspired steaks. Not only that, but you can also taste Georgia's finest wines at Chateau Elan Winery or sip bourbon at a speakeasy. The activity list in this luxury resort is endless. Play some golf or tennis, or engage in wellness activities like yoga or meditation. Meanwhile, avid learners can try out painting, culinary, mixology, and charcuterie workshops offered. As the sun sets in the sky, stargaze using telescopes and cap off the evening with fire-toasted s'mores.
19. The King and Prince Beach Resort
Address: 201 Arnold Rd, St. Simons Island, GA 31522-4258, United States of America
Price: Starts at US$150 per night
Create lasting memories at The King and Prince Beach Resort. This seaside property houses over 190 suites, resort residences, and villas. Experience warm Southern hospitality at its finest from the staff and indulge in a plethora of activities. The oceanfront pools and hot tub offer a great place to swim or relax while enjoying the beach scenery. Similarly, you can enjoy mouthwatering meals by the beach or near the pool.
The King and Prince Beach Resort can arrange either horseback rides at the beach or private shooting lessons. First-timers and seasoned players can enjoy the tennis courts and golf course. Furthermore, there are water adventures to enjoy such as sailing, fishing, kayaking, or snorkeling. Not only that, you can witness marine wildlife up close with guided dolphin tours and a shrimping cruise. Meanwhile, history buffs will delight at the array of St. Simons Island tours, which even includes a ghost walk!
20. Greyfield Inn
Address: 4 N 2nd St, Cumberland Island, GA 32034, United States of America
Price: Starts at US$675 per night
Greyfield Inn is a sanctuary nestled in Cumberland Island where you can rediscover pleasure and relaxation. The secluded beach is a tranquil, private place where you can have fun in the sun. Additionally, this hidden gem provides airy guest rooms and suites with Southern-inspired interiors. Greyfield Inn has no WIFI and limited phone reception. As such, you can avoid distractions and focus on having a much-needed break while here.
Southern dishes are served with fresh ingredients from the on-site organic garden. Meanwhile, the noteworthy beverage collection of Greyfield Inn includes specialty cocktails, beer, and various craft spirits. Wishing to spend time outdoors? You can do just that by fishing or kayaking in the salt marsh. Accordingly, make your trip an educational one by going on a naturalist tour, which spans from birding outings to exploring historical ruins.
21. The Lodge on Little St. Simons Island Eco Resort
Address: 1000 Hampton River Club Marina Dr, Saint Simons Island, GA 31522, United States of America
Price: Starts at US$475 per night
The Lodge on Little St. Simons Island Eco Resort is a one-stop destination for those looking to reconnect with nature. The all-inclusive resort boasts amazing amenities. The intimate cabins and lodges are nestled in a beautiful oak tree setting amongst 11,000 acres of unspoiled landscape. What's more, only farm-grown and freshly caught ingredients are used to provide you with the best dining experience. The saltwater pool is an awesome feature that you must try out during your stay.
In for some adventure? Explore the wilderness as you ride a bike, join shell walks, or go creek fishing. With over 26 miles of trails on the untamed island, your hiking trip will surely be a memorable experience. Lastly, if you're not a fan of traveling on foot, set out on a truck excursion as you learn more about the island's history, ecology, and heritage.
Resorts in Georgia: Best of Both Worlds
With nature-centric accommodations and modern amenities, resorts in the Peach State certainly offer the best of both worlds. The stunning mountain views, lush greenery, and relaxing lake sceneries are just the cherry on top of your stay here. Experiencing Southern hospitality and the amazing services of world-class resorts in Georgia will surely make your vacation worthwhile.