13 Best Places to Stay in Fredericksburg, TX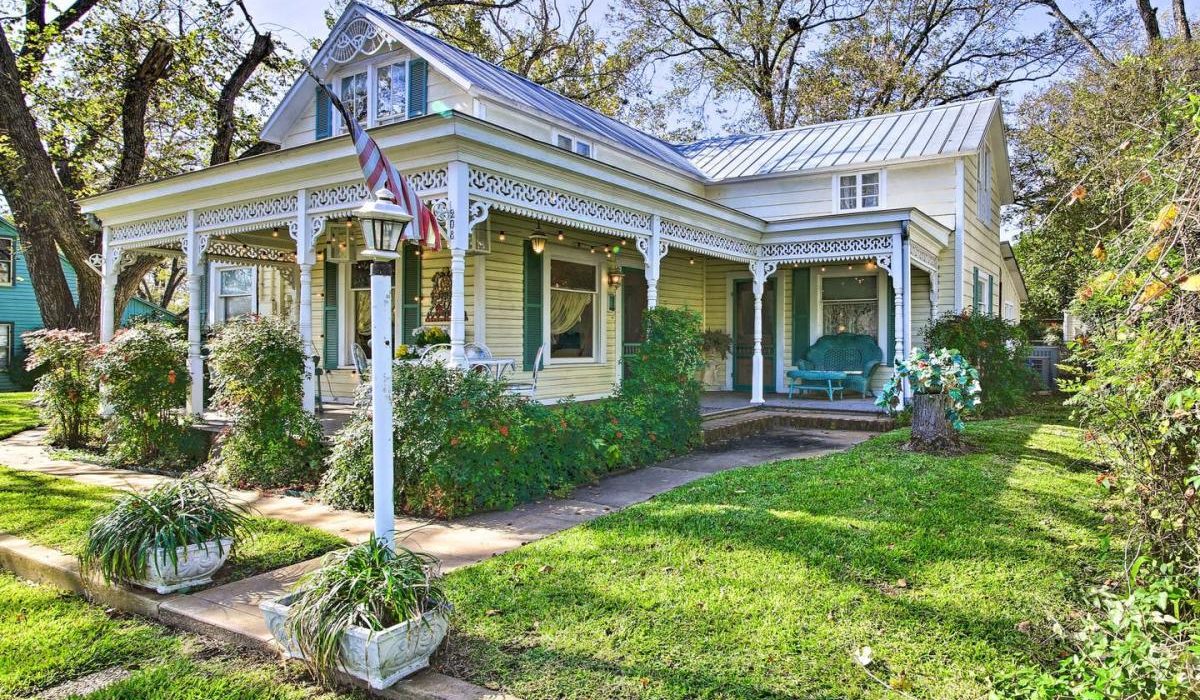 For a relatively small town, there are certainly a plethora of places to stay in Fredericksburg. Situated at the heart of Texas Hill Country, this quaint town offers visitors a small slice of German charm with plenty of Texan hospitality. With its unique history, fantastic restaurants, and abundance of beer gardens and wineries, it's undoubtedly among the premier holiday and romantic getaway destinations in the Lone Star State. If you're not sure yet where to stay for your next vacation, we've got you covered.
Accommodation options in Fredericksburg range from high-end luxury hotels to cozy cabin and cottage rentals. With so many options, you'll surely find the perfect vacation rentals to suit your style and budget. We listed some of the best vacation rentals in Fredericksburg for you to choose from. The best part? A number of these best places are just within walking distance from must-see sights!
(Take note that prices per night depend on the season and are subject to change without prior notice.)
Romantic Places to Stay in Fredericksburg, TX
1. Walnut Canyon Cabins
Address: 503 Deer Road, Fredericksburg, Texas
Price: Starts at USD 175 per night
Want to unplug from the hustle and bustle of the city for your romantic yet cheap weekend getaways? The Walnut Canyon Cabins in Fredericksburg, TX is undoubtedly the place to enjoy peace and tranquility with the one you're with. Perched atop a hill along Deer Road, each cabin provides stunning views of Texas Hill Country. With only seven private lodges available, guests are guaranteed an intimate stay. You can even catch the sunrise and sunset from the roof-top decks of a few. All of these Fredericksburg cabins are fully furnished with well-stocked kitchens for all your cooking needs. Some of the cabins allow pets, so you can bring along a furry companion.
2. Wine Country Cottages
Address: 512 West Main Street Fredericksburg, Texas
Price: Starts at USD 269 per night
One of the best romantic hotels and accommodation options in Texas Hill Country is the Wine Country Cottages. Choose from 12 cottages that marry luxury and comfort. A private hot tub, fireplace, flat-screen TV, wet bar, and a comfy king-size bed await here. You'll get a light continental breakfast in the morning, too.
Situated along Main Street, it is right in the heart of downtown Fredericksburg. Thanks to its location, you can simply walk everywhere you need to go; may this be shops and eateries to museums and other attractions. Wine Country Cottages is primed for a romantic escape. To keep the distinct ambiance of this bed and breakfast, no pets are allowed within the property. Not all cottages allow minors under 17 due to the unfenced pool.
3. Vineyard Trail Cottages
Address: 10296 E HWy 290, Fredericksburg, Texas
Price: Starts at USD 189 per night
The Vineyard Trail Cottages is another one of the romantic places to stay in Fredericksburg if you're looking for a relaxing getaway with your significant other. Located at the heart of the Wine Country, this adult-only property stretches about 12 acres and is home to 13 spacious cottages. In addition to the usual flat-screen TV and free WiFi, all cottages include a kitchenette, walk-in shower, and porch swings.
Hikers will take the delight in the hiking trail along with the property that leads to the Pedernales River. And, of course, you can't fully appreciate the Wine Country without touring one of its vineyards and wineries. Just next door you'll find the Texas Wine Collective, where you can taste the finest wines. When evening comes, return to the estate and enjoy a romantic time by the outdoor fire pits found at the pavilion. After a tiring day, retreat to your cottage and enjoy all its amenities.
4. Fredericksburg Inn & Suites
Address: 201 South Washington Street, Fredericksburg, Texas
Price: Starts at USD 179 per night
A five-minute walk from the city's town center, the Fredericksburg Inn and Suites is one of the hotels near enough to all the exciting attractions, but far enough that it allows its guests to escape the city's hubbub. Take a relaxing dip in the hotel's heated outdoor swimming pool or in-ground hot tub after a day of exploring the city. In the evening, indulge in a glass of wine while you bask in the glow of the hotel's fire pit. The lush landscape of the five-acre property only enhances the peaceful setting. There's also a scenic picnic area perfect for alfresco dining where you can enjoy the hotel's complimentary breakfast. This boutique hotel has 103 spacious guestrooms, which come with either a king bed or two queen beds. All rooms are outfitted with a sleek and modern design, yet are still welcoming and cozy.
5. Cotton Gin Village
Address: 2805 S. State Highway 16 Fredericksburg, Texas
Price: Starts at USD 239 per night
The Cotton Gin Village is more than just your run-of-the-mill Fredericksburg bed-and-breakfast. All of the 14 cottages and cabins of this bed-and-breakfast are designed to sleep a maximum of two adults. As such, it's a fantastic option for couples who want to enjoy quality time together. Constructed from 1800s hand-hewn structures, the log cabins boast a rustic charm, but with all the modern-day amenities you could ask for. This includes a hot tub, central heat, air conditioning, and a flat-screen TV. Meanwhile, the hand-stitched quilts and bamboo sheets of the plush queen-size beds provide luxurious comfort completing a rustic atmosphere.
On the other hand, the cottages welcome their guests with Fachwerk-style architecture and antique Texan decor. They come with a four-poster king-size bed and a private bathroom equipped with a two-person multi-jet rainfall shower. Regardless if you've chosen a cabin or cottage, you'll get an Amish basket with freshly prepared breakfast items each morning of your stay.
6. Hoffman Haus
Address: 608 East Creek Street Fredericksburg, Texas
Price: Starts at USD 190 per night
Hoffman Haus is a luxury bed-and-breakfast just a block away from Main Street. Despite its proximity to the city's town center, it is still one of the most serene places to stay in Fredericksburg. They offer three different types of accommodations — standard rooms, suites, and private house rentals. The lodges exude a homey yet luxurious feel with their soothing motifs and decor. After a relaxing bath using the provided lavender bath products, rest on fluffy pillows and plush mattresses for a good night's sleep.
In the morning, a gourmet breakfast is delivered to your room, presented in a picnic basket. Since the menu changes daily, you'll always have something new to try. Don't forget to pair your morning meal with a cup of trade coffee or organic tea that the rooms are stocked with. Your culinary experience at the Hoffman Haus doesn't just end with breakfast. You'll also get the option of in-room dining, as well, with meals cooked by the inn's private chefs. The on-site day spa is incredibly popular with couples and individuals who want to de-stress and recharge their batteries.
7. Inn on Barons Creek
Address: 308 South Washington Street, Fredericksburg, Texas
Price: Starts at USD 159 per night
Spend a romantic weekend at one of the most renowned hotels in Fredericksburg, Texas. Just a stone's throw away from the city's town center, the Inn on Barons Creek offers 90 rustic suites, including creek-side lodging separated from the main hotel. Overlooking the nearby Barons Creek winery, these lodges allow couples their own secluded area to enjoy their time together. While each room boasts a rustic feel, they are still complete with a wide range of hotel amenities. All of them feature flat-screen TVs, free WiFi, and access to facilities such as a heated pool, spa, and fitness center. Some rooms even come with a hot tub! After a day exploring Downtown Fredericksburg, snuggle in one of its queen or king-sized beds.
Pet-Friendly Places to Stay in Fredericksburg, TX
8. La Quinta Inn & Suites by Wyndham Fredericksburg
Address: 1465 East Main Street, Fredericksburg, Texas
Price: Starts at USD 149 per night
Want to bring along your furry companions during your trip? Guests can bring up to two domestic pets per room at the La Quinta Inn and Suites. Rooms are complete with everything you could possibly need. This includes a mini-fridge, flat-screen TV, coffee maker, and microwave. La Quinta is also among the hotels in the city that offers handicap-friendly rooms and facilities. This includes wheelchair-accessible rooms and bathrooms equipped with safety bars and handles. In addition, the hotel features an outdoor swimming pool, and fitness center, and offers free parking. Traveling for business? Don't forget to take advantage of the hotel's business center and free WiFi.
Located along Main Street, this 55-room hotel is just within walking distance of all the best dining, shopping, and sightseeing options Fredericksburg has to offer. It's also one of the hotels near museums, such as the National Museum of the Pacific War, Admiral Nimitz Museum, and Pioneer Museum.
9. Full Moon Inn Bed and Breakfast
Address: 3234 Luckenbach Rd Fredericksburg, Texas
Price: Starts at USD 150 per night
Have trouble finding Texas wineries with lodging? Why not go for the next best thing? Situated along Fredericksburg's Wine Road 290, the Full Moon Inn is the perfect place to stay if you want to visit the different wineries in the Texas Hill Country. Just a short drive from some of the best wineries in Fredericksburg, this inviting bed-and-breakfast has seven rooms, all decked in a unique Texas theme and motif. Inside the rooms, you'll find basic amenities such as a big comfy bed, high-speed Wi-Fi, a satellite TV, a refrigerator, and a coffee maker.
Moreover, you will find a bar on the property where you can enjoy beer, wine, and live music. Planning to bring your furry friend? Then you'll love the fact that five of these rooms are pet-friendly! Just note that they must be kept on leashes at all times.
10. Best Western Plus
Address: 314 E Highway Street Fredericksburg, Texas
Price: Starts at USD 129 per night
Less than a mile from downtown, you'll find another one of the pet-friendly hotels in Fredericksburg. The Best Western Plus has guest rooms that range from standard rooms with two queen beds to deluxe suites with a king bed and a jacuzzi. All rooms welcome up to two dogs that weigh less than 80 pounds. Other pets, such as cats, are allowed as well, just as long as you get the hotel's prior approval before your arrival. Flat-screen TVs with cable satellite, a refrigerator, microwave, and high-speed internet are other basic amenities that this hotel offers. If you're bringing your baby along, it's also one of the hotels in town that provides a travel bassinet or crib if you forgot to bring one. Make the most of the hotel's other features by utilizing the veranda complete with rocking chairs, an outdoor swimming pool, and free parking.
Cheap Places in Fredericksburg, Texas
11. Peach Tree Inn & Suites
Address: 401 South Washington Fredericksburg, Texas
Price: Starts at USD 89 per night
The Peach Tree Inn and Suites is among the cheap yet unique places to stay in Fredericksburg. This family-owned and operated hotel boasts a park-like setting of the area, with majestic pecan and oak trees scattered along the premises. Guests can enjoy the fresh country air as they dine alfresco at the outdoor picnic area. Cool down and take a refreshing dip in the sparkling swimming pool or relaxing hot tub.
With only seven rooms, guests are ensured a private and intimate stay. Lodging options range from standard queen-sized rooms and deluxe suites with kitchenettes to private cottages with full-sized kitchens. All of which come with complimentary breakfast and outdoor parking that is motorcycle-friendly. Its rooms feature quaint decor that gives off a charming old-fashioned country-style ambiance. You'll find a luxurious queen or king-size bed, a 32-inch color cable TV, a mini-fridge, and a microwave in each room.
12. Sunday House Inn
Address: 501 E. Main Street Fredericksburg Texas
Price: Starts at USD 129.95 per night
Planning on visiting Fredericksburg with kids? Then, there's no better place to stay than the Sunday House Inn! This 121-room hotel is one of the simple and affordable places to stay in downtown Fredericksburg, Texas, for families on vacation. Its extra-large Family Room is great for families of six. It features two queen-size beds, a sofa bed, and a living room area. All guest rooms and suites come with a mini-fridge and a microwave, perfect for late-night snacking with the family. The flat-screen cable televisions also ensure all-night entertainment for both kids and adults.
Furthermore, due to its location on Main Street, you won't have trouble exploring all the great restaurants and attractions the city has to offer. The city's historic district and a handful of museums are just some of the nearby attractions you can visit. Feeling peckish? Twenty-five restaurants and eateries are just within a four-block radius of the hotel. After an exciting day of touring Fredericksburg, lounge by the outdoor fire pit or take a dip in one of the two pools.
13. Comfort Inn and Suites
Address: 723 S. Washington Street, Fredericksburg, Texas
Price: Starts at USD 129 per night
Looking for cheap places to stay in Fredericksburg that welcome pets? For an additional fee, you can bring a maximum of one pet with you during your stay at the Comfort Inn and Suites. As such, you don't have to worry about leaving your dog behind while on vacation.
Conveniently located near Main Street, this family-operated hotel is just a short distance from all the best sights, historic buildings, and attractions. It's even just a short drive from the Enchanted Rock State Natural Area. This Fredericksburg hotel has spacious guest rooms, all of which come with a 32-inch flat-screen TV, refrigerator, and microwave. Enjoy the tasty complimentary breakfast in the morning before exploring the city's wonders. Other amenities you shouldn't miss out on are the hotel's seasonal outdoor pool, spa, and business center.
Best Places to Stay in Fredericksburg, Texas for Your Next Getaway
While you're crafting your itinerary of what to do in Fredericksburg, make sure you also pick the best accommodation for your stay. Sprinkled across this quaint town, you'll find lodging options that offer exceptional amenities and outstanding hospitality. Don't wait until the last minute to book a room at one of the best places to stay in Fredericksburg, Texas. And while nothing is guaranteed, it never hurts to ask front desk staffers for any hotel deals you can get when doing so. Likewise, you can head to the best hotel booking sites to look up more upgrades, discounts, and other perks!