25 Amazing Things To Do In Chiang Rai, Thailand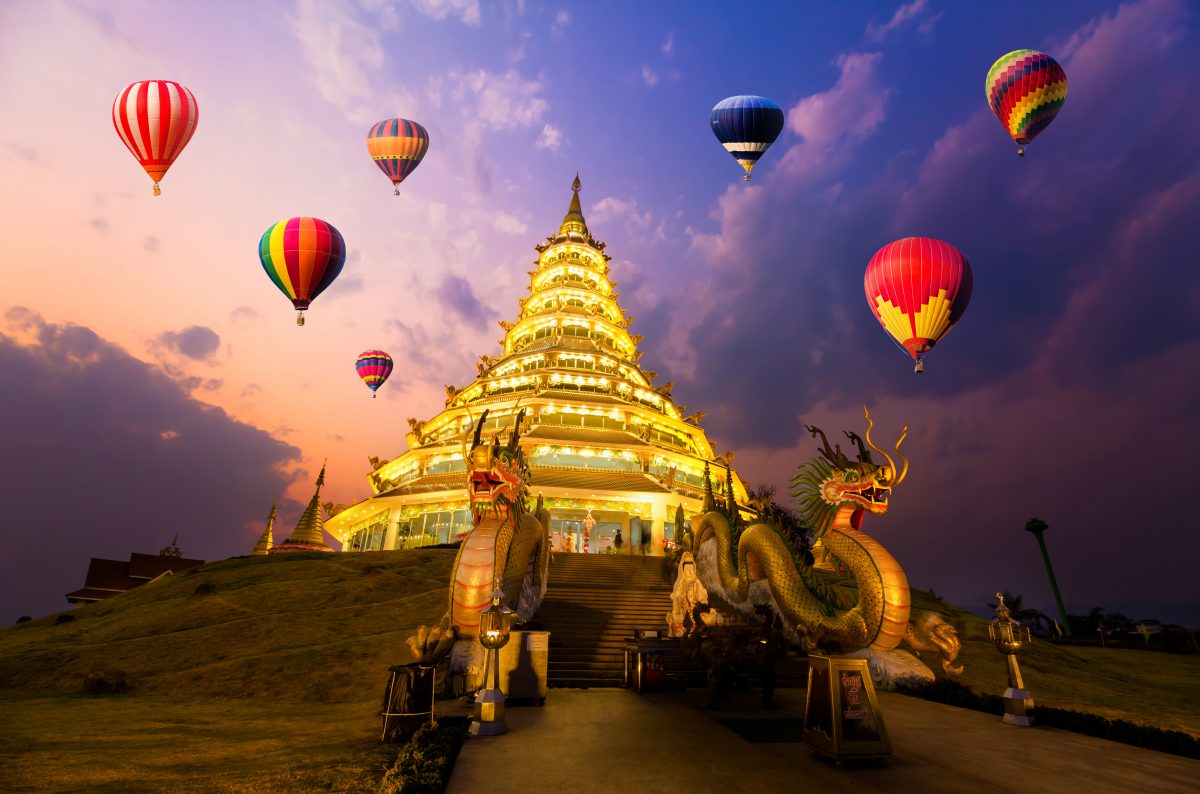 For you avid travelers or newbies who are planning to visit Thailand, you don't want to miss out on this precious gem! Many of you have most likely heard of Chiang Mai, but have you heard of Chiang Rai? If you're a nature lover seeking zen homage, this would definitely be a place for your soul. It's a phyenomenal city with mountains, jungles, and rivers surrounding the grounds! Make your trip worth it and check out these top 25 things to do in Chiang Rai, so you don't waste any time!
Chiang Rai Location
Chiang Rai is located in the northernmost part of Thailand, which is in the Mueang Chiang Rai District. It would take you approximately 3 hours to reach Chiang Rai from Chiang Mai by car, with a distance of 189.6 km, and the cab fare will cost you around 2100 Baht to 2500 Baht.
Why Visit Chiang Rai?
Chiang Rai was founded by King Mangrai in 1262, hence the name Chiang Rai which means "The City of (Mang) Rai". Chiang Rai is a less buzzing city that has a ton of wonderful things to offer – from scenery, cultural activities, to food!
What It's Like To Be In Chiang Rai
Chiang Rai has a tropical wet and dry climate. Winters are fairly dry and warm with the lowest temperature at 10°C. The temperature rises until April, with the average daily maximum at 34.9 °C. The monsoon season runs from late April through October, with heavy rain and somewhat cooler temperatures during the day, although nights remain warm.
The best time to visit Chiang Rai for outdoor activities is from October to February. This period belongs to the cool season in Thailand. This season provides blue clear skies with cool and refreshing weather. In this weather, it's best to pack a light jumper and do pack long pants and long sleeve shirts if you're up for trekking in the mountains. Plus, this outfit will definitely come in handy to prevent all the needless mosquito bites!
Also, it's necessary for temple visits as you are required to cover your shoulders and knees. For such occasions, you can also buy a light silk scarf locally, and some temples, such as the Blue Temple, offer free entry scarves. Besides that, you might need sunscreen as well as body lotion to protect you from sunburn.
Places To Stay In Chiang Rai
If you're already tempted to visit Chiang Rai and you're wondering where to stay in Chiang Rai, fret not! We've listed down a few places to stay with different budget preferences:
1.
Le Meridien Chiang Rai Resort
Le Méridien Chiang Rai Resort is a luxurious 5-star hotel located in Thailand's northernmost province. It is set among acres of green land along the Mae Kok River. The breath-taking mountain-surrounded resort is accompanied by two 100-year old rain trees and a man-made lake. If you have the extra $$$ and feel like having a fancy holiday with a tranquil vibe, then this is the place to be. Also, it's only 12 minutes away from the airport and just a few minutes away from Chiang Rai Clock Tower and King Meng Rai Monument.
2.
La Luna Hotel and Resort
This 4-star hotel deserves to be on the list. Laluna Hotel and Resort is a family-run property providing the utmost in comfort and relaxation. It is located in the heart of Chiang Rai, hence, it's only minutes away from the best tourist spots – 8 minutes from Wat Phra Kaew, 12 minutes from De Blauwe Temple, and 18 minutes from the White Temple. Definitely a relaxing place to stay at a fair price.
3.
De Hug Hotel and Residence
This residence combined hotel is a perfect place for those seeking a laid-back and chill hotel. It is a 3-star rated hotel with modestly comfortable rooms and suites, which is located in the center of Chiang Rai. This hotel is a 2-minute walk from the Oub Kham Museum, 3 km from the lively Chiang Rai Night Bazaar, and 5 km from Wat Rong Seur Ten (Blue Temple).
4.
Baan Mai Kradan Hostel
Set on a tree-lined street an 8-minute walk from the Wat Klang Wiang temple, this laid-back 2-star hostel is 1 km from the Chiang Rai Night Bazaar and 8 km from the Chiang Rai Mae Fah Luang Airport. It's the perfect fit for backpack travelers or those with an adventurous soul!
Travel Tip: If you visit Chiang Rai for the experience, it's best you save up on accommodation and spend more on the activity fees!
25 Things To Do In Chiang Rai
Now for the part, you've all been waiting for! In order for you to optimize your travel plans, we've picked out a few places for you to visit to make your trip an epic one! Let's start with the beautiful scenic places first.
1.
Wat Rong Khun Or White Temple
Wat Rong Khun is a uniquely designed temple that stands out because of the pure white color and the use of pieces of glass in the plaster that makes it sparkle in the sun. The white color signifies the purity of the Buddha, while the glass symbolizes the Buddha's wisdom and Dhamma—the Buddhist teachings.
The Wat Rong Khun was designed by Chalermchai Kositpipat, a famous Thai visual artist. Its beauty is what captivates the eyes of various tourists from all around the globe. If you're aiming to flaunt your photography skills, its best to visit the temple in the morning before it's packed with tourists by 11 am.
Singha Park is a popular agriculture tourist attraction in Chiang Rai, Thailand. In this magnificent park, you can find various agricultural plantations, such as tea, strawberries, pumpkin and also a few animals such as cows and giraffes. The service fee for the park tour is only 50 Baht per person and admission is free for children below 4 years old.
The tour service which is available every day, from 9:30 am to 5:00 pm, will bring you around the enormous park including the Cosmas Field and Swan Lake, Sunn Hemp and Heart Shaped Tree, Zipline Platform, Fruit and Vegetable Garden, Barn House Pizzeria, Animal Attraction, Sports and Recreation Centre, and Bhu Bhirom Restaurant. It'd be worth your 50 Baht for sure.
Travel Tip: It's best to visit in mid-February as the Balloon Festival will be held during that time
Doi Tung Palace was the very first palace of Princess Srinagarindra, the royal mother of King Bhumibol. The architecture of the palace was built according to the Lanna-Swiss Chalet style. Today, it is considered as a fabulous contemporary work of art. Doi Tung Palace is open every day from 7:00 am to 5:30 pm. I'd suggest you go there during the early hours if you want a sip of fresh and sweet, cold air. The admission fee is 90 Baht per person, but elderly people and students are entitled to a 50% discount.

Pha Suea waterfall is a medium-sized waterfall, which is 10 meters high and 15 meters wide, with about 6 levels of mostly granite. Although tourists are not allowed to play in the water due to the harsh current, you can still go sightseeing, stroll around the national park, have a long, relaxing walk in the mixed forest, and admire the blooming plants and wild animals.

Travel Tip: For a better experience, bring a pair of binoculars so that you can see the hidden gems of the forest.
5.
Hoh Nalika Chalerm Prakiat Or Chiang Rai Clock Tower
Chalermchai Khositpipat, who designed the White Temple, designed this clock tower, as well. You can clearly see a similar distinctive style from the White Temple in the Chiang Rai Clock Tower. If you can time your visit for 7, 8, or 9 pm, you'll also be treated to a light and sound show as the clock chimes the hour.
The laser lights with musical accompaniment make for a surreal night-time scene as pick-up trucks, tuk-tuks, and motorbikes continue to buzz around the clock tower as it changes in color from gold to pink to green. It is a sight you don't want to miss!

The borders of Thailand, Laos, and Myanmar (formerly Burma) meet at this point. The landscape is hilly, divided by the Ruak River that flows into the Mekong (Mae Khong) River. These rivers form a natural boundary that forms a triangle between the three countries Laos (to the east of the Mekong), Myanmar (to the north of the Ruak), and Thailand (to the west of the Mae Khong). These days, the place lives on the cultivation of tourists.
7.
Mae Fah Luang Art & Cultural Park

Mae Fah Luang Art & Cultural Park is a large landscaped garden and museum, known for its mature trees, a botanical collection of indigenous plants from the northern region, and its large collection of Lanna artifacts. In the old days, the place was a school for minorities who did not have access to education but today, it holds the region's largest collection of art items from the Lanna culture or Tai culture. This is a perfect place to unleash the nerdy part of yourself!
8.
King Mengrai the Great Monument
This life-size monument, which is considered as the heart of Chiang Rai, is dedicated to King Mengrai the Great, founder of the Lanna Kingdom. This monument will be the first thing you see when you approach the city from Paholyothin Road. To this day, locals still pay their respects to the founder of their city. This would be a great place for you to start off your journey.
Wat Phra Kaew is regarded as the most sacred Buddhist temple in Thailand. It beholds the ancient-believed to be-700-year old Phra Jao Lan Thong, cast from brass and copper in the beautiful Chiang Saen style. A museum with permanent exhibitions on Lanna culture and ancient Buddhist relics can be found on the left of the main chapel. There, you'll get the exquisite knowledge of the origins of Lanna culture and many more!
Thrilling Things To Do In Chiang Rai
Now that we've covered the places to visit, let's move on to what thrilling activities that you could do while in Chiang Rai!

Elephant Steps is a cruelty-free sanctuary, hence, there will be no riding on the elephants nor any dancing elephants. The beauty of it is enrolling yourself into their habitat and experiencing a part of their routine. You can walk, bathe and play with the elephants. They are known to be fun and loving animals so you won't have the chance to get bored!

The distance of the track basically depends on you. You get to choose which track you want and the duration of the trip. The most common package is the '2 days 1 night' trip. This package includes spending a night at Lahu hill tribe village. The highlight of this trip is you will have to cook and eat lunch in the mountains using handpicked ingredients from the forest and the farm. Lanna Trek is for those who love trekking and wants to learn the simple life of hill tribe people. What an appealing adventure and tempting experience for those seeking to bond with nature!
12.
Suwannee Thai Cooking Class
There is no better way to learn how to cook Thai food than taking a Thai cooking class. The cooking class at Suwannee is an ideal home-style learning ambiance that is different than most of the classes provided by hotels and restaurants in Thailand. Rather than just watching and participating in the cooking of traditional Thai dishes – as most cooking classes do – a part of the course requires you to visit the market to learn about local exotic fruits and vegetables. Surely a hands-on experience that you won't regret!
Doy Din Dang is a tranquil place nestled in a quiet hill farmland area that exists to inspire. A walk-in natural studio of huge amounts of creative and colorful artworks fused with Japanese home-style architecture, artist Somluk Pantiboon makes the visitor feel right at home. Pottery that can be both functional and aesthetically peaceful, is displayed across the red soil and bamboo shaded adobe. A magical gem that can have you transfixed on all the beautiful crafts for hours.

Travel Tip: If you have an eye for pottery, you might want to bring extra cash as the vintage pots might be a bit expensive.
Doi In Cee is a mountain about ten kilometers from Chiang Rai. There is a temple where mainly nuns meditate, right at the summit. You will find a seated large white Buddha and facing him is a large terrace with breathtaking views of the Chiang Rai Valley. If the weather is clear, you can see a large white statue of Wat Huay Pla Kung.
15.
Chiang Rai Night Bazaar

What better way to spend the night than to fill your tummy with good local Thai food with free entertainment? The Bazaar provides a fair variety of food- from sushi to local Thai food. And you will not be served with bland performances- you get to watch people perform traditional Thai dance! And of course, loads of clothing and souvenirs that you can buy.
16.
Tree Top Adventure Park
Thailand's tropical rainforests provide a unique setting for adventure activities while enjoying pristine natural environments. Tree Top Adventure Park offers unique natural settings for you to enjoy nature and balance yourself through an assortment of games such as rope bridges, Tarzan swings, flying skateboards, and giant zip lines or just enjoy the canopy walk. What better way to really dive in with nature?

There are various different Hill Tribes in Chiang Rai. One of them is the Akha Hill Tribe. If you want to get a grasp of the tribe's way of living, on the second Saturday of every month, you can enjoy a performance from them which costs about US$ 4.8 per person. This performance highlights the culture and daily life of the Akha hill tribe. Apart from that, you can also visit the village and for a first-hand experience of the exotic culture yourself.
If you're a nature lover, this activity is made for you! While trekking, you'll be able to experience the exceptional flora and fauna in the forest. When you've reached the top- a priceless experience- the breath-taking view, will be feasted through your eyes. Some mountains that you can try exploring are Doi Mae Salung Mountain and Doi Tung Mountain. You may have to endure a tiring journey, but the sight will make it all worth it.
Tham Pla Cave is located at the Pong Ngam district in Chiang Rai, which is filled with 'movie scene' worthy caves with water. The best part of Tham Pla cave is the cool water that constantly flows from the entrance, which creates a fresh and relaxing atmosphere. You can also spot rare species of fish in the water below!
Food To Try In Chiang Rai
Food! Who doesn't love food? To truly experience a culture, you must try their food! Once you're exhausted from the adventures, you will surely beg for good food to dive into! So here are our top picks:
20.
Chivit Thamma Da Coffee House
Chivit Thamma Da Coffee House is a beautiful, family-run coffee house and spa, located on the bank of the Kok River. It offers a stunning view with a scrumptious variety of food and coffee. It eradicates an inviting, cozy and relaxed atmosphere. A great place to have breakfast before you set out for your adventure.
21.
Tid Doi Tid Din Boutique Cafe & Restaurant
If you're looking for a modern boutique cafe in Chiang Rai, Tid Doi Tid Din will make you feel right at home. This cozy cafe and restaurant have been given dozens and dozens of thumbs up from customers and tourists alike. Not only do they serve delicious desserts, but customers also rave about the tofu and salmon appetizer. Most reviews advise you to try everything you can because everything on the menu is a bang for your buck!
22.
Give Green Farm House Restaurant
This homely, family-run restaurant will give you one of the best food experiences you could ever want during your stay in Chiang Rai. A large car park will lead you into an open-air covered terrace restaurant, with plenty of fans to keep the air moving. The best thing about the food, apart from the wonderful flavors, is they do not add MSG.
Plus, all the herbs and veggies used in your meal will be freshly handpicked from the farm! A healthy but delicious choice indeed.
23.
Latest Recipe At Le Meridian Resort
Latest Recipe is Le Meridien's signature restaurant, featuring the concept of inspired world gourmet and interactive buffets that offers modern cuisine with international and local authentic ingredients from around the world. A luxurious way to experience international delights or local flavors, all-day dining in a sophisticated setting.
24.
Restaurant Loo Lam Riverside Dining
Loo Lam is a traditional Northern Thai Cuisine in Chiang Rai. Loo Lam Restaurant provides fresh and hygienic northern food. Don't forget to try the "Nam Prik Ong" or Pork Tomato Chili Dip, which is a delicious typical northern Thai dish. You can enjoy your food while admiring the scenic view of the river.
The Wanderer Café, which is located in the woods, is a nice and relaxing place with tasty food and beverages. It is a beautifully isolated place, surrounded by trees and flowers. A lovely place to cool down after a long hot day!
Enjoy The Best Of Chiang Rai
These places are an absolute must when you visit Chiang Rai. You'll get to experience the Chiang Rai culture as a whole. We've hooked you up with the best of everything in Chiang Rai, so what are you waiting for? Make Chiang Rai your next travel destination. So that sums up the ultimate guide to optimize your stay in Chiang Rai, Thailand – a place you won't regret visiting!