Thai Food – 12 Thai Dishes You Must Try Before You Die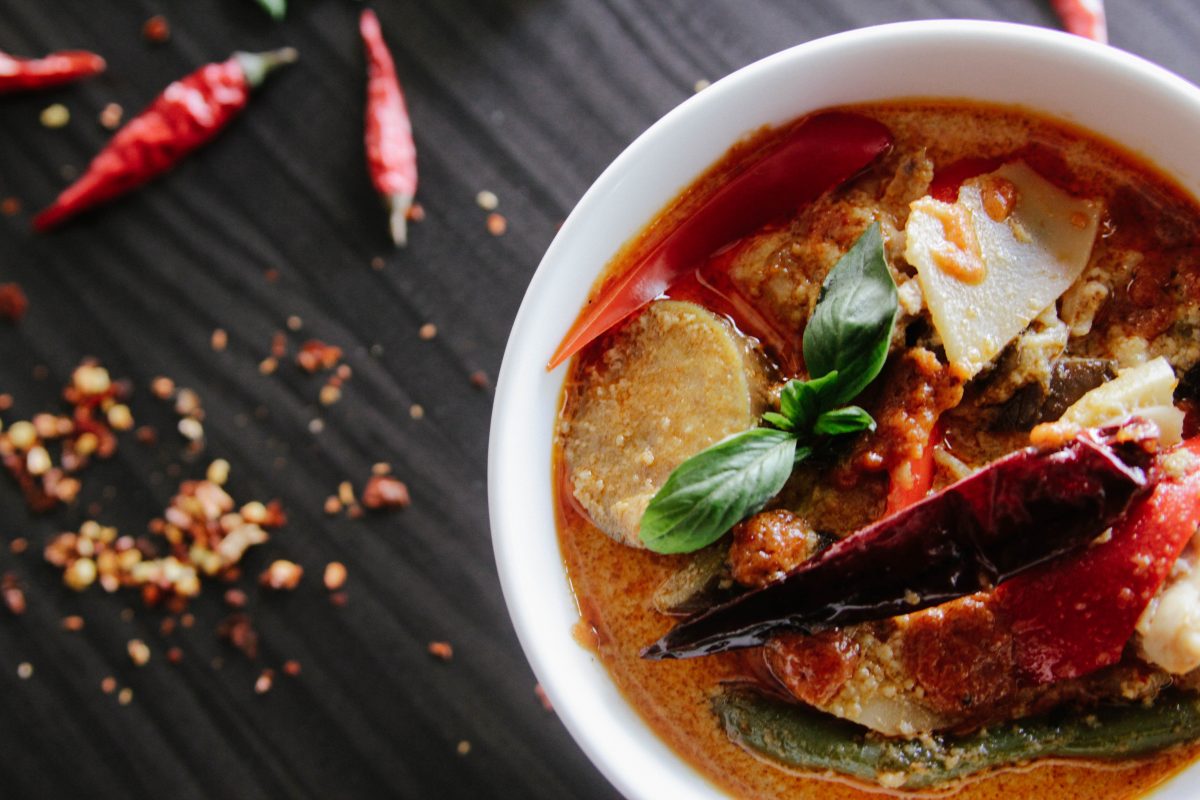 There's more to Thai food than Tom Yum. Regardless as to whether you're at roadside eateries or high-end restaurants, Thailand has an endless selection of dishes that are bound to satiate your palate.
The special thing about Thai food is that there is no single ingredient that gives it its distinctive flavor. It is the combination of spices, herbs, and sauces which makes up the unique taste — that is, spicy, sweet, sour and salty all at the same time.
Feeling hungry already? Let's check out some of the best Thai food you definitely have to try at least once!
What is it? Hot and Sour Prawn Soup
Clearly, it is the starter pack of Thai food. Tom Yum is a clear orange soup, flavored with lemongrass, galangal, and kaffir lime leaves — the three essential herbs which give the dish both its hot and sour punch. Prawns are the most prevalent ingredient to make this soup with, but other seafood or meat is not uncommon, too. Locals usually have Tom Yum Goong with a portion of rice which help offset the heat!
What is it? Green Papaya Salad
Som Tam is a savory salad made from shredded unripe papaya. This dish is created by mixing several ingredients, such as papaya, chili, and long beans. A dash of fish sauce and some lime juice are added, offering all the four tastes at once: spicy, sweet, sour and salty. The special identity of Som Tam is that it can be an appetizer, a side dish, or even an entree. Make sure you have it with sticky rice if this is your main course.
3.
Pad Thai (Or Phad Thai)
What is it? Stir Fry Rice Noodles
Typically served with prawns or other seafood, Pad Thai is one of the best-known dishes of Thailand. Its sweet and sour taste comes from tamarind paste and fish sauce stir-fried with rice noodles and various ingredients such as eggs, tofu, and bean sprouts. Add some crushed peanuts at the end, and it is the cherry on top. Some even add a heaped spoon of chili flakes for that extra kick!
What is it? Noodle Soup
As simple as it sounds, this is a staple go-to Thai food for the locals. The main ingredients of the broth are lemongrass and some fish sauce which gives it the flavor. Choose between rice noodles and egg noodles, followed by your choice of meat.
If you're looking for a quick Thai food fix, look no further. This classic yet delicious noodle soup will leave you with a warm and satisfied tummy.
What is it? Stir Fry Chicken with Cashew Nuts
Cashew nuts in a dish can sound bizarre to some. Have a taste, and we're sure you'd say otherwise. Crunchy, sweet, and salty might be the best way to describe this dish. Stir Fry Chicken with Cashew Nuts is made, as the name suggests, by stir-frying chicken with cashew nuts, soy sauce, and honey. Often, it has a kick of spice, but you can opt for a mild version.
What is it? Green Curry Chicken
Green curry is the most popular curry in Thailand. It is traditionally made from coconut milk and green chilis which gives it its pale green color. Over the years, with the addition of cilantro, kaffir lime leaf, and basil, the green color has become more vibrant. Green curry is usually prepared with chicken, and it is typically eaten with either rice or bread.
You may think that green curry is the safe choice in terms of spiciness, as compared to red curry, but don't be fooled. Always check beforehand as to how spicy the green curry is. You don't know how generous the chef is with the green chilies which often pack more of a punch that you'd think!
What is it? Stir Fry Holy Basil
This national dish, usually with minced pork or chicken, is one of the most popular Thai food. The main ingredients used in this dish are Thai basil and plenty of chilies, stir-fried with soy sauce and fish sauce. Thai basil has a spicy and peppery flavor while the chilies up the spice. For the best experience, order it with rice topped with a sunny-side-up. The creaminess of the yolk balances out the spice from the chillies and pepper.
What is it? A Mild Thai Curry With Persian Influence
Dubbed as the "King of Curries", Massaman curry, a Muslim-style creamy and coconut-based curry, is one unique type of Thai curry due to its Persian origin. Its strong flavor comes from the various Middle East spices, such as cinnamon, tamarind, nutmeg, and many more. Surely, it is the epitome of spicy, sweet, and savoury, all distinct flavors in one dish. Lucky for us, Massaman curry can be found easily in almost all Thai restaurants.
What is it? Thai Fish Cakes
Thai fish cakes are made with fresh fish paste, long beans, red curry paste, and kaffir lime leaves. They are then deep fried until they are golden brown. These simple fish cakes make for good finger food, and they are best paired with a sweet and tangy chilli dip.
What is it? Salt Grilled Fish
You might have seen some white-looking fish being grilled on charcoal. We promise you that they taste better than they look!
This Thai-style grilled fish might not be what you'd imagine it to be. It is stuffed with lemongrass and kaffir lime leaves and coated with a thick layer of coarse salt before they are grilled over fire. You might expect it to be very salty, but on the contrary, it turns out to be nothing less than a delightfully juicy and flavorful dish.
This is all thanks to the salt crust on the fish skin. It locks in the fish's natural moisture. You can also detect a hint of a lemony aroma courtesy of the lemongrass and kaffir lime leaves in the fish. Just remember to peel away the fish skin before you tuck in!
Pair this salt grilled fish with thin rice noodles and some spicy lime sauce, which goes best with seafood, for that extra oomph!
What is it? Mango with Sticky Rice
Time for some dessert! This traditional Thai dessert is made with glutinous rice and sugar paired with fresh mango and coconut milk. The best time to have this dessert is during the mango season which is between April and May, where sweet and huge mango fruits are guaranteed. Make sure you have it with some fried mung beans for a crunchy and savory contrast!
Would you believe that this dessert is available in the Bangkok International Airport? Now you can enjoy some mango with sticky rice even on your way back home!
What is it? Thai Iced Tea
You might think this is not Thai food, but how could we leave it out of the list?
Thai iced tea has a unique and refreshing kick to it. It is a mix of black tea, spices, and condensed milk with lots of ice. If you're a fan of milk tea, then this is for you. Alternatively, you could try some Thai iced coffee. Think of your usual iced coffee but with a dash of cardamom added to it.
It is hard to miss the mobile drink vendors on the streets of Thailand. These vendors sell a variety of beverages, including soda, cordial drinks, as well as iced tea and iced coffee.
It is interesting to note that locals prefer buying their beverages from these vendors despite the numerous convenience stores as they provide a familiar taste of childhood. These drinks are poured into a plastic bag or plastic cup and filled with crushed ice. You definitely have to experience it yourself!
Where can I find them in Bangkok?
The best place to find tasty Thai food at a reasonable price in Bangkok is the food court in the Platinum Fashion Mall. This food court has gathered some of the city's well-known hawkers. So, rest assured you'll be tasting one of the best Thai food in Bangkok. Furthermore, you can enjoy them in a clean and air-conditioned environment. Hunting for an empty table might be a challenge during peak hours though, but we're sure, it's going to be worth it.
Another great place where you can mix with the locals for some good Thai food is Ratchada Rot Fai Train Night Market. This well-known night market is easily identified by its rainbow-colored tents, and it is so large that you may need two evenings to cover the entire site. The food section takes up almost one-third of the whole night market, where you can find diverse choices of Thai food at affordable prices.
Platinum Fashion Mall (6th Floor)
Location: 222 Phetchaburi Rd, Khwaeng Thanon Phetchaburi, Khet Ratchathewi, Krung Thep Maha Nakhon 10400, Thailand
Opening Hours: 9 AM – 8 PM
Traveler's Tip: Make sure you purchase a cash card at the coupon counter first as the food court works on a cashless basis. Don't worry about the balance. You can fully refund it after your meal!
Ratchada Rot Fai Train Night Market
Location: 99 Ratchadaphisek Rd, Khwaeng Din Daeng, Khet Din Daeng, Krung Thep Maha Nakhon 10400, Thailand
Opening Hours: 5 pm – 1 am
Nearest BTS station: Thailand Cultural Centre
Traveler's Tip: Take care of your personal belongings as it is crowded. There might be some who are too close for comfort!
Final Words
You would have noticed by now the extensive use of herbs and spices in preparing different kinds of Thai food. In fact, they play a major role in achieving the balance between the four essential tastes in Thai food: spicy, sweet, sour, and salty. Head down to the nearest Thai restaurant near you to get a taste!
Traveler's Tip: Don't underestimate the spiciness in Thai food. You might want to start mild when ordering before working your way up.
Can't wait to try some authentic Thai food in Thailand? Check out our guide to Thailand's capital city, Bangkok, or Thailand's largest island, Phuket.