41 Best Things to Do in Atlanta, Georgia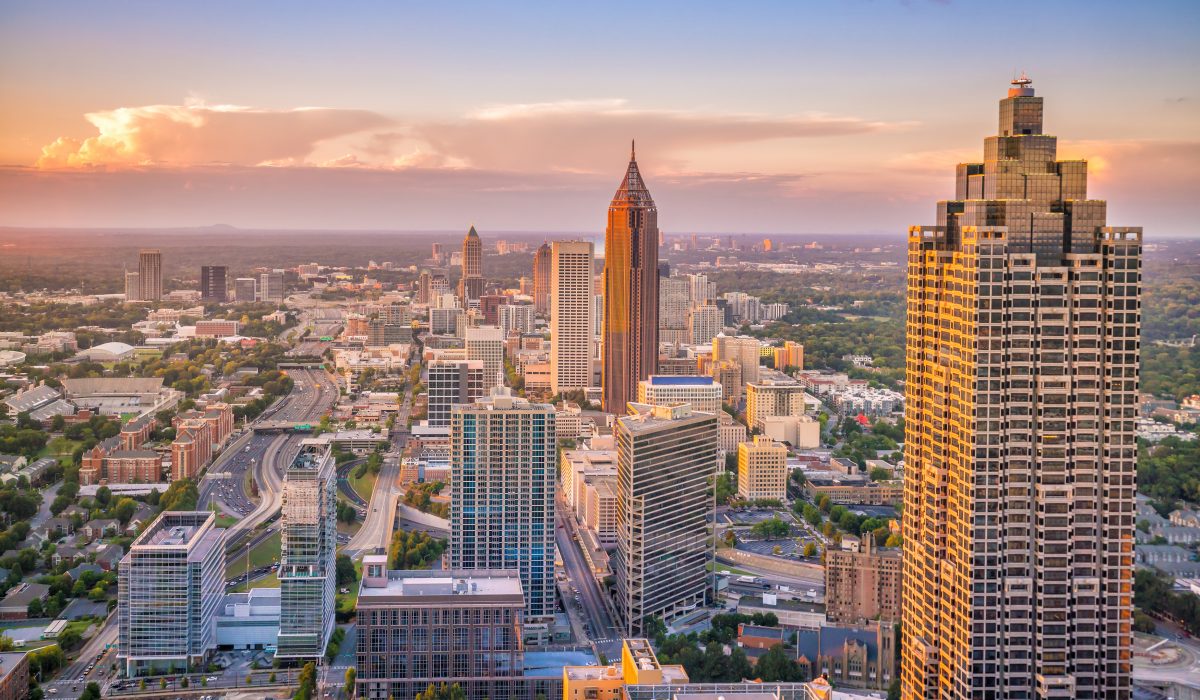 Wondering what to do in Atlanta today? Home to one of the busiest airports in the country, it's no surprise to see that the Georgia capital has become a major business and cultural hub attracting tourists of different tastes. The list of things to do in Atlanta is practically endless. Atlanta, Georgia attractions range from scenic spots, unique entertainment venues, world-class museums, and a thriving art scene. The city is packed with top-notch bars and restaurants with delicious foods that will surely satisfy your tastebuds.
If you're not sure what to do in Atlanta yet, you're in luck. Here are the top activities to do and attractions to see during your next visit to the Big Peach.
Romantic Things to Do in Atlanta for Couples
1. Ponce City Market
At the heart of Atlanta's most established neighborhoods, you'll find the premier spot for couples on the hunt for fun activities in Atlanta during date nights. Ponce City offers locals the best dining and shopping experience. It's a hot spot for foodies who want to experience varied culinary options, with a number of restaurants owned by renowned chefs, such as Chef Arnaldo Castillo and Jiguo Jiang. Don't forget to browse through the mixture of big-name retailers, small local boutiques, and flea markets.
2. Skyline Park
Conveniently located on the rooftop of Ponce City Market is Skyline Park Atlanta. This tourist attraction is among the fun spots in Atlanta to visit thanks to its slew of carnival-style games, like horse derby race and skee-ball. Additionally, the park is home to rides true daredevils will enjoy, such as the Heege Tower, a free-fall drop ride that gives passengers unparalleled views of the city. Afterward, head over to one of the rooftop bars and grab a beer or glass of wine to help you wind down from all the excitement. During the winter holiday season, the area transforms into a winter wonderland, complete with an ice skating rink and igloos!
3. High Museum of Art
The High Museum of Art is one of the most aesthetically pleasing museums in Atlanta. The building itself is a piece of art. Designed by Pritzker Prize-winning architects Richard Meier and Renzo Piano, the structure is covered in white porcelain and the interior has a mixture of intimate and large-scale viewing rooms.
Inside are carefully curated museum art pieces from American South artists, highlighting 19th- and 20th-century American fine and decorative pieces. It also has an extensive and dynamic collection of works of art from other parts of the world, particularly pieces from Europe and Africa, dating back to the 1300s.
4. Atlanta Symphony Orchestra
Treat yourself and your partner to the sweet sounds of world-class musicians at the Atlanta Symphony Orchestra (ASO) the next time you visit Atlanta. Situated in the heart of the city's Art District, regular concerts include the works of Bach, Beethoven, and Mozart, as well as original works by ASO music director Robert Spano.
And even if you're not the biggest fan of classical music, don't worry. You can find several modern musical experiences, including ASO's Movies in the Concert series. Witness the most iconic movies, including the likes of Harry Potter and Star Wars, on a 40-ft screen while the orchestra performs the films' scores live!
5. SkyView Ferris Wheel
There's nothing more romantic than riding a Ferris wheel with a loved one, reaching the top, and admiring the spectacular views of the surrounding area. The Atlanta SkyView Ferris wheel certainly offers that and more. The city's answer to the United Kingdom's London Eye, the SkyView Ferris Wheel, soars nearly 20-stories high above Centennial Olympic Park.
Offering a sublime view of the city's skyline, its 42 climate-controlled gondolas can seat up to six adults. If you want to take it a step further, book one of the VIP gondolas which features Ferrari-style seats, a glass floor, and a longer flight time. Don't forget to check out the Skyview Atlanta light show at night-time.
6. Atlanta Botanical Garden
Located within Piedmont Park, the Atlanta Botanical Garden is a 30-acre garden known for its diverse collection of flowers and plants. Start your journey by getting lost among the treetops as you stroll through the Kendeda Canopy Walk footbridge, which puts you 40 feet above the ground. Afterward, bask in the peaceful tranquility of the Cascades Garden. Not only will you find cascading waterfalls here, but the beauty of the Earth Goddess, a 25-foot tall topiary sculpture is something to marvel at.
7. Chattahoochee River National Recreation Area
Just because you're in the middle of a metropolis doesn't mean there aren't plenty of things to do in Georgia that let you get back to nature. A short drive from Atlanta city, you'll find a nature enthusiast's paradise — the Chattahoochee River National Recreation Area. It features the picturesque beauty of the lush greenery and, of course, the Chattahoochee River. Go fishing for bass and catfish, rafting or tubing down the river, or simply follow one of the many trails and enjoy Mother Nature's beauty. You can find a number of picnic spots, ranging from pavilions to simple picnic tables around the area.
Thrill-seekers can head over to the nearby Chattahoochee Nature Center, where adventure awaits. Explore nature from a whole new perspective by taking on the challenge of the center's ziplines, suspension bridges, and rope courses.
8. Atlanta BeltLine
The Atlanta Beltline is a thriving pedestrian walkway in the heart of the city. What used to be a railway corridor is now among the top attractions in the city. If you're on the hunt for things to do in Atlanta this weekend, why not stroll along parks and trails, all lined with various street art and art installations. Each one offers different amenities, with some providing simple green spaces that allow people to take a break from the hustle and bustle of the city. Enjoy the fresh air and take in the vibrant city views while walking down the trails.
9. Jackson Street Bridge
Fans of The Walking Dead will probably be familiar with the view on top of the Jackson Street Bridge. After all, the vantage point did serve as the backdrop for promotional images for the first seasons of the show. Even if you're not familiar with the show, you can still capture the stunning views of the Atlanta skyline on the bridge. It's also one of the best places to go in Atlanta to watch the sunset or sunrise.
10. Oakland Cemetery
Visiting a cemetery is certainly among the unique things to do in Atlanta. It might not sound as exciting, but there's so much more about Oakland Cemetery than a burial place of many Civil War soldiers and pioneers. This tourist attraction is a hidden gem brimming with rich history, stunning Victorian sculpture and architecture, and local lore. It's also the city's oldest public park and is home to a number of beautiful gardens. The ancient oaks and magnolias make a picturesque backdrop for an afternoon picnic. If you're lucky, you may even catch sight of a wedding held on the grounds!
11. Porsche Experience Center
Get behind the wheel of one of the most powerful cars at the Porsche Experience Center. Experience a thrill of a lifetime on the center's 1.6-mile circuit, with multiple courses designed to showcase the famed functionality of these German vehicles. This Atlanta destination offers courses designed to mimic winding country roads, off-road tracks, roads during inclement weather conditions, and so much more. Not ready for the real deal? No problem! The center features a driving simulator lab, wherein visitors can virtually drive Porsche vehicles, racing against the computer or each other, on some of the most famous racetracks in the world.
12. Fox Theatre Atlanta
Make your date night extra special and catch a show at the Fox Theatre. Built in 1928, the structure was originally home to the city's Shriners' organization, which explains the building's majestic ceilings and ornate design. In 1929, it became the city's turn-of-the-century movie palace, with Steamboat Willie, Walt Disney's first cartoon starring Mickey Mouse, lighting up the big screen for the first time. Nowadays, this 4,665-seat history landmark is still the city's premier entertainment venue hosting a variety of musicals, dance and stand-up performances, and movie screenings.
Things to Do in Atlanta With Kids
13. Children's Museum Of Atlanta
For parents looking for fun places to visit in Atlanta with their kids, look no further than the Children's Museum Of Atlanta. This 3,000-square-foot children's museum features a number of hands-on exhibits designed to spark creativity, artistry, and learning. Let your kid start their own business and run a cafe or a delivery service. Or let them have a mini adventure and explore the layers of the Earth in a 2-story climbing structure. Little artists can dabble in painting walls and building giant castles. Aside from the exhibits that provide sensory play, there are also plenty of programs wherein children can learn through creative activities.
14. Georgia Aquarium
The Georgia Aquarium is among the must-visit aquariums in the world. It's a favorite among kids and adults alike thanks to its fascinating exhibits showcasing creatures from all seven seas. The aquarium is home to the largest single aquarium tank in the world, the Ocean Voyager gallery, which hosts different species of sharks, including massive whale sharks. The other big stars include beluga whales, penguins, dolphins, and manta rays. Admittedly, Georgia Aquarium tickets can get pricey, but with an Atlanta CityPASS, you can get 45% off on admissions to the aquarium, as well as four other attractions of your choice.
15. Center For Puppetry Arts
If your young ones are fans of Big Bird and the gang, head over to the Center for Puppetry Arts and enter the world of puppets. Visitors can learn all about the history and importance of puppetry arts from different regions across the world. On top of that, there is an entire exhibit dedicated to the works of the famous puppeteer, Jim Henson. Kids can meet Kermit the Frog, Miss Piggy, and the rest of the colorful puppet characters of Sesame Street. Furthermore, the center offers puppet shows of classic stories such as The Wizard of Oz and Rudolph the Red-Nosed Reindeer.
16. Legoland Discovery Center
Legoland Discovery Center Atlanta is a popular tourist attraction you and your kids shouldn't miss. Hailed as the ultimate indoor playground for fans of LEGO building blocks, your children can unleash their creativity with building sessions. Kids can even learn insider tips and secrets on building LEGO worlds and characters from the workshops! Additionally, the center features two fun interactive rides, a 4D cinema, and a virtual reality experience.
17. Zoo Atlanta
Your itinerary of fun Atlanta activities wouldn't be complete without a visit to one of the best zoos in the U.S. Home to a variety of species, Zoo Atlanta allows kids and adults alike to learn more about over 1,000 animals through exhibits, up-close encounters, and interactive activities. You and your kids can hand-feed giraffes, meet giant pandas, and watch exciting wildlife presentations. The zoo features a number of rides and attractions, including the Zoo Train and the Splash Fountain. If they're up for the challenge, little kids can try the Treetop Trail, an aerial playground with rope ladders, tightrope-style foot lines, and even a short zipline!
18. Six Flags Over Georgia
From adrenaline-inducing roller coasters to whimsical live shows, Six Flags Georgia offers fun for the whole family. Little ones can spin, fly, and zoom across on the number of rides perfectly tailored for them. Meanwhile, teens will love pulse-pounding thrill rides like Acrophobia and Goliath. Afterwards, the whole family can catch a show or simply have a delicious meal from the many dining options inside Six Flags.
19. World of Coca Cola
Coca-Cola is an American family staple beverage. And if you want to learn more about the iconic drink, head over to the World of Coca-Cola in Atlanta. Located in the same courtyard as the Georgia Aquarium, the Coca-Cola Factory and museum offer visitors a behind-the-scenes glimpse at the vault containing the secret formula and bottling process. The museum also boasts two theaters, including a 3D one, where the whole family can watch the story about how a scientist and his assistant created Coca-Cola's secret formula. Lastly, you can even sample almost 100 flavors of the famous soft drink from across the globe!
20. Stone Mountain Park
Stone Mountain Park is packed with activities that the whole family will surely enjoy. Spread across 3,200 acres, enjoy hiking, camping, or jumping into the waters of the 363-acre lake. The park features a number of exciting attractions such as theme rides, zip lines, and golf courses. Hop on the cable car to get to the top of Stone Mountain and gaze at the beauty of the Atlanta skyline and the Appalachian Mountains. Or else, climb aboard the park's full-size 1940s locomotive train to get a closer look at the surrounding landscape.
Meanwhile, curious youngsters can immerse themselves at the Dinotorium, an indoor dinosaur-themed play area with slides, trampolines, and other interactive games. Visiting between the months of May and October? You can witness the stunning Stone Mountain laser show which ends with epic fireworks.
21. Fernbank Museum Of Natural History
What to do in Atlanta that's educational and fun for the whole family? Fernbank Museum of Natural History is one of the perfect museums in Atlanta for kids and adults alike to discover all the wonders of the Earth's natural history and its earlier inhabitants. Travel back in time to see the gigantic creatures and marvel at the sight of dioramas depicting the chronological development of life on Earth. The museum has 2D and 3D movie theaters where the whole family can watch award-winning, science-based documentaries.
The Fernbank Museum boasts extensive outdoor exhibits. Most popular are the WildWoods and Fernbank Forest. Both areas are home not only to stunning flora but to a variety of wildlife as well. Just note that advanced ticket purchase online is required, but you can always add the museum to your itinerary when you opt for Atlanta CityPASS tickets.
22. Delta Flight Museum
Strap in and get a closer look at authentic aircraft, including restored planes dating back to the 1920s, at the Delta Flight Museum. The museum houses a number of interactive exhibits that let visitors learn more about the inner workings of these marvelous aircraft. Visitors can explore the airplane hangars and revel at the technology used to make these carriers soar. Let your little ones participate in a scavenger hunt while exploring the museum's various exhibits. Teens will be thrilled by the full-motion flight simulator, the only public one in the country.
23. Piedmont Park
Piedmont Park is filled with fun and free things to do in Atlanta. An urban oasis, this nearly 200-acre green space is typically filled with families picnicking along the rolling hills and children enjoying themselves on the playgrounds. Into ball sports? You can bond with the kids with a game of volleyball, basketball, or soccer. Meanwhile, the miles of paved trails are great for jogging and biking. Otherwise, get your children to appreciate the food they eat through gardening in the community garden. If you come during summer, make sure to cool off on the park's splash pad and public pool. Afterwards, grab a quick bite of authentic Mexican food at Willy's Mexicana Grill.
24. Fernbank Science Center
Not to be confused with the Fernbank Museum of Natural History, the Fernbank Science Center is an educational facility that is home to one of the largest planetariums in the US. It has a 70-foot diameter star projection dome and over 100 special effects projectors. Besides the 500-seat planetarium, another impressive highlight of the center that visitors can marvel at is an authentic Apollo spacecraft.
25. The Escape Game Atlanta
For families with older kids looking for fun things to do in Atlanta, Georgia, try your hands at the challenges at the Escape Game. In this escape room, you'll have 60 minutes to escape and complete all the missions by solving puzzles. Visitors can choose from different adventures to complete. Take your pick from hunting for gold, breaking free from prison, or completing a daring heist in a prestigious art museum.
26. College Football Hall of Fame
Looking for kid-friendly things to do in Atlanta that fathers will surely enjoy as well? Don't pass on the opportunity to visit the College Football Hall of Fame and its interactive exhibits. Home of all things college football, sports fans can learn more about the sport, team and player histories, and even kick a field goal on an indoor football playground.
27. Centennial Olympic Park
At the heart of Downtown Atlanta, you'll find Centennial Olympic Park, a 21-acre spot that was built to welcome visitors to the city when it hosted the Olympic Games back in 1996. Nowadays, it's an iconic tourist attraction with visitors taking photos of the Olympic rings. Meanwhile, you can find local children frolicking and splashing around the Fountain of Rings, an interactive fountain with waters that reach up to 25 feet high. The park is also a favorite among families to picnic in or simply relax. It's conveniently a few steps away from famous attractions like the World of Coca-Cola, Georgia Aquarium, and the CNN Center.
28. Andretti Indoor Karting
Buckle up and hit the race tracks at the Andretti Indoor Karting and Games. It's among the places to visit in Atlanta that offer entertainment and excitement at every turn. Its main attraction is, of course, its indoor climate-controlled tracks with electric go-karts that will surely get your heart pumping with adrenaline.
Besides go-karting, there are many other games for visitors. Hang out in the arcades, play an exhilarating game of laser tag, or experience driving a professional race car at Andretti's racing simulators. Moreover, you can immerse yourself in a world of action and adventure when you hop on the 7D Xperience. This 3D interactive movie experience allows you to feel the earth rumble beneath you as you fight against monsters in a battle for survival.
29. Historic Fourth Ward Park
Adjacent to the Atlanta BeltLine, you'll find the Historic Fourth Ward Park, 17-acre green space that offers scenic spots for the Old Fourth Ward neighborhood. Kids can play on the slides, swings, and seesaws at the playground. Don't forget to bring skateboards since the park has a designated space for you to execute some freestyle tricks. Want to discover the beauty of the park faster? Rent a bike and cycle along with beautiful greenery and its 2-acre clear lake. Truly, this spectacular park offers the perfect balance of peace and fun, with plenty of stuff to do in Atlanta.
Fun Things to Do in Atlanta by Yourself
30. Atlanta Street Art Tour
Looking for things to do in Atlanta for free? Check out the vibrant and diverse street art that can be found almost everywhere in the city. You can choose from seven self-guided street art tours from Atlanta Street Art Map. Each tour takes you to neighborhoods like Cabbagetown and East Atlanta, which are home to a spectacular collection of murals and sculptures, covering everything from walls, sidewalks, and even underpasses. Don't forget to bring with you your selfie stick to capture impressive photos of yourself with these artworks.
31. Mercedes Benz Stadium
Home to the city's football and soccer teams, Mercedes-Benz Stadium is the ultimate destination for sports fans in Atlanta. It features state-of-the-art technology, including the 58-foot-tall HD video board, that offers fans a one-of-a-kind stadium experience. You will never miss a play since it provides viewers with a 360-degree coverage of digital content, including game highlights, player stats, and other play-by-play action. Not happening to visit on a major event day? You can still take a tour of the stadium! Get an up and personal look at the field, players' locker rooms, and other behind-the-scenes areas rarely open to the public.
32. Martin Luther King Jr. Walking Tour National Historical Park
Pay respects to one of the most prominent figures in the Civil Rights movement at the Martin Luther King Jr. National Historical Park. Encompassing 35 acres of the Sweet Auburn Historic District, this walking tour lets you walk in the footsteps of the great human rights leader, Martin Luther King Jr. Here, you will get to see his modest childhood home and the Ebenezer Baptist Church where he was once a pastor. At the end of the tour, you'll find yourself at the Martin Luther King Jr. Center for Nonviolent Change. Established by King's wife in 1968, you can find King's final resting place, as well as other exhibits about his life and how he inspired socio-political change.
33. Atlantic Station
Situated in Midtown, Atlantic Station is a hub for entertainment, shopping, dining, and sightseeing. The nearly 138-acre area is filled with cool things to do in Atlanta! Get your coffee fix from one of the cafes, shop till you drop at one of the many boutiques, and catch a movie at the Regal Cinemas. Squeeze in a sweat session in one of the fitness centers in the area. Or, simply relax in one of the scenic spots in the station while reading a book. During the winter months, you can twirl and glide across the largest outdoor ice skating rink in metro Atlanta!
34. Jimmy Carter Presidential Library & Museum
Love American history and politics? Then the Jimmy Carter Presidential Library & Museum is certainly a must-visit. The 24,000 square feet of the museum boasts extensive exhibits about the former U.S. president, his life before, during, and after his stay at the White House. Moreover, the center boasts a 35-acre park with a Japanese garden, two lakes, and a stunning view of the Atlanta skyline.
35. Krog Street Market
Exploring the city by yourself is rewarding but also tiring. Head over to one of the Krog Street Market restaurants to nourish yourself with a delicious meal. Located along the Atlanta BeltLine trail, this hub is packed with food stalls that serve just about everything from burgers, dumplings, pastries, and beer. While you're here, don't forget to pick up some souvenirs to bring home. The market is also where you can find vintage clothing, antique trinkets, jewelry, and even home and garden supplies.
36. Atlanta History Center
Journey to the past as you walk through the award-winning exhibits of the Atlanta History Center. Discover all about the Big Peach's interesting history, going all the way back to the time before European settlers came to the land. There are exhibitions about the Civil War and Rights, Southern culture, and African American heritage. The center encompasses four historic residences, including the city's oldest serving farmhouse — Smith Farm.
37. Margaret Mitchell House
The Atlanta History Center also runs and offers tours of the Margaret Mitchell House, located in Midtown. The structure was once home to Pulitzer Prize-winning author Margaret Mitchell. It was where she penned one of the most renowned historical fiction novels, Gone with the Wind. Interestingly enough, Mitchell and her husband did not actually occupy the entire house. Instead, the couple just occupied a small apartment on the first floor. Nevertheless, the building still draws in curious visitors wanting to learn more about her life and how it might have influenced her iconic novel.
38. Tiny Doors ATL
Tiny Doors ATL isn't your typical tourist attraction, mostly because it isn't just found in one location. This street art project by artist Karen Anderson Singer is scattered across iconic landmarks in the city. Spotting these series of unique miniature doors has become a favorite pastime among locals and visitors alike. Each one reflects the unique spirit and architecture of the community and neighborhood it's in. See how many you can find as there are over 20 tiny doors spread across the city!
39. Silver Comet Trail
Another destination for nature lovers out there, the Silver Comet Trail provides the perfect spot to enjoy the pleasant Atlanta Georgia weather. Built over an abandoned rail line, this 61 mile-long trail draws in people from all across the county thanks to its expansive paved trail perfect for hiking, jogging, biking, rollerblading, and even horseback riding. Don't forget to keep an eye out for the seven must-see landmarks along the trail!
40. Little Five Points
Want to enjoy the Atlanta, Georgia nightlife? The list of things to do in Atlanta at night is never-ending, but our favorite has to be the bustling night scene at Little Five Points. Situated on the east side of the city, this neighborhood is a hipster's paradise. It is particularly famous for its Bohemian culture and independent businesses, ranging from record stores, bookstores, and boutiques. What better way to enjoy all of its offerings than partying with the locals at one of its many dive bars.
Drink delicious craft beers and listen to amazing music while getting acquainted with all the quirky residents of the neighborhood. If you're in the mood for some live music, check out Variety Playhouse where local and out-of-state bands play live.
41. Silverspot Cinema
There's no denying that the Silverspot Cinema is among the top fun places in Atlanta for cinephiles out there. Not only is this the latest premier movie theater in the city, with a state-of-the-art sound system and comfortable reclining seats, but it also offers an incredible in-theater dining experience. From signature cocktails and craft beers to scrumptious meals, Silverspot will surely satisfy all your food cravings while watching the latest blockbuster movies.
Enjoy All the Best Things to Do in Atlanta Today
There's a myriad of things to do in Atlanta, GA. No matter where your interests lie, you will surely find something cool and unique to do in the city. From thrilling amusement parks and nature trails to historic sites and museums, the Big Peach has something for everyone! Regardless of whether you're traveling solo, as a couple, or with your family, you'll never run out of places to explore and activities to do in Atlanta!