Top 10 Spectacular Must-Visit Aquariums in the World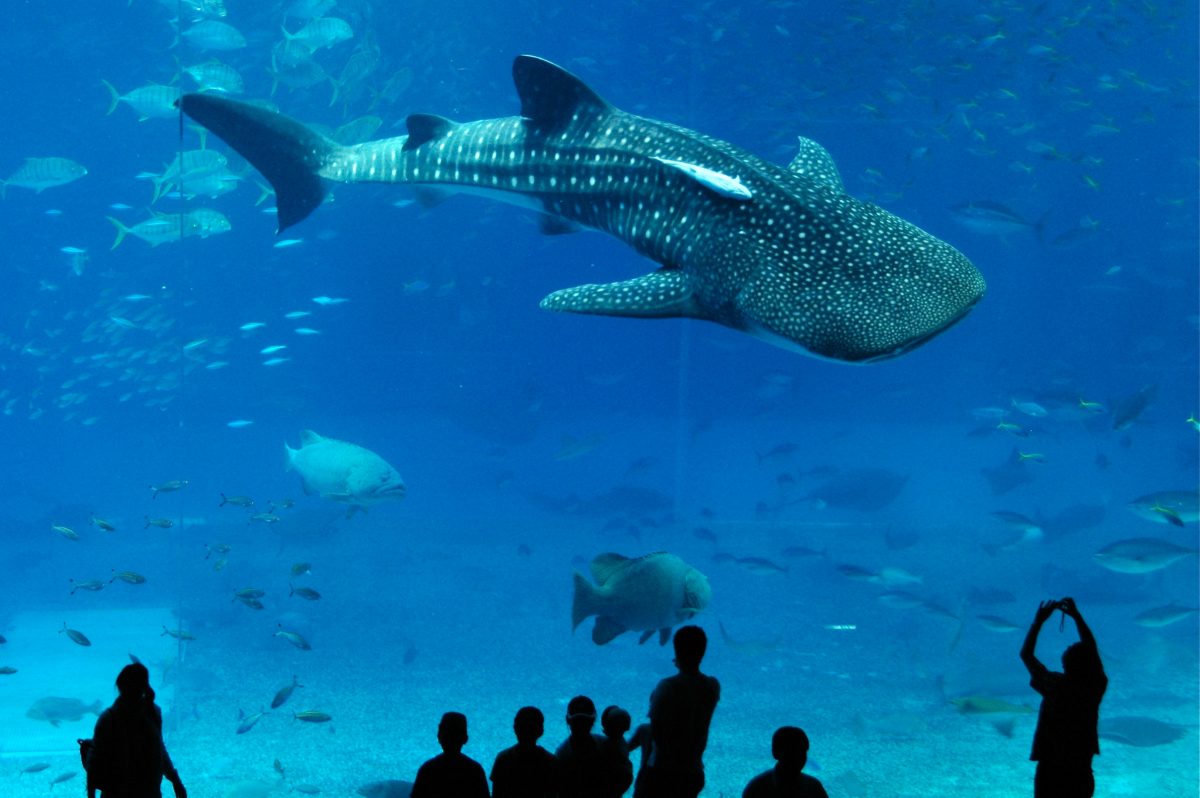 For thousands of years, man has been fascinated by the abundance of life below the surface of our oceans. The fact that this wealth of marine life is not readily observed serves to make us all the more curious. In May 1853, the London Zoo opened the world's first public aquarium. This then was soon followed by an American aquarium in New York City.
From humble beginnings, aquariums throughout the world have improved by leaps and bounds with many of the largest aquariums. These aquariums also offer walk-through aquarium tanks of enormous proportions; often coupled with outdoor habitats. For example, in the tanks you can view dolphins, whales, and other fascinating marine mammals.
What is that WOW factor that makes a particular aquarium stand out from the rest? Why should you take the trouble to go and see it? Come with us as we take you on a journey of exploration deep into the heart of 10 of the world's most outstanding aquariums.
1.
Georgia Aquarium, Atlanta
Judging by the number of online inquiries, Georgia Aquarium leads the pack by a mile. Let's step inside and find out why. For a start, Georgia Aquarium is home to the Ocean Voyager Gallery which is the largest single aquarium tank in the world. It has a capacity of over 6 million gallons.
Also, it has an underwater aquarium tunnel that stretches over 100 feet long. Here, you can find yourself completely surrounded by marine life. Amazingly, this particular tank was specially designed to house the world's largest species of fish; the whale shark.
The enormous 23 X 61-foot viewing window allows visitors to see four of these majestic creatures as well as manta rays and thousands of other fish and sharks. The Dolphin Coast Gallery, where you can see bottlenose dolphins in action is another very popular exhibit that keeps Georgia Aquarium firmly at the top of the list of biggest and best aquariums in the U.S. Also, other exhibits include the Aquanaut Adventure, the Cold Water Quest and the Tropical Diver Tank.
Because there is so much to see and do you should download the aquarium's mobile app to help you plan your day. Tickets are available online and you can book various tours and interactions. Georgia Aquarium is open every single day of the year, but you will need to check opening hours online. Ticket prices range from $29.95 to $35.95 for adults.
Address: Georgia Aquarium, 225 Baker St NW, Atlanta, GA 30313, USA
2.
Monterey Bay Aquarium, California
Monterey Bay Aquarium does not lay claim to being one of the biggest aquariums in the world. However, it is unique in that it was the first aquarium to offer visitors the change to see what a living kelp forest looks like within one of the world's tallest aquarium tanks.
This aquarium is located right on the edge of the ocean in Monterey Bay. This then allows it to benefit from being able to pump pure fresh seawater into its tanks on a daily basis.
The emphasis at this facility is to showcase marine life endemic to the waters of Monterey Bay. There are thousands of marine creatures on show and the highlights of a visit will certainly include the massive Kelp Forest exhibit and the Open Sea Exhibit. These exhibits are housed in a 1.2-million gallon tank.
Also, feedings of the fish are scheduled throughout the day. To be able to view the feedings, you will need to check the feeding times; posted on the aquarium's website. This in turn also helps you to plan your day. You can reach the aquarium by free shuttle from downtown Monterey and Fishermen's Wharf and the entrance fees for adults is $49.95.
Fun fact: Monterey Bay Aquarium was the first in the world to successfully care for a great white shark.
Address: Monterey Bay Aquarium, 886 Cannery Row, Monterey, CA 93940
Website: https://www.montereybayaquarium.org/
3.
Dubai Aquarium and Underwater Zoo, UAE
The Dubai Aquarium is uniquely located in a shopping mall. It holds the distinction of being the largest suspended indoor aquarium in the world. The massive walk-through aquarium tank holds almost three million gallons (10 million liters) of water and is home to no less than 140 marine species and a staggering 33,000 individual marine creatures.
Also, in this massive aquarium tank, you will find over 300 sharks and rays. However, amazingly, you dont have to watch them from outside the tank. This is because the aquarium has come up with some imaginative ways for visitors to get up close and personal.
Special intimate encounters you can try include the Shark Encounter (designed to dispel the bad reputation of sharks), underwater Cage Snorkelling Experience, Shark Dives, and much more. Younger visitors can learn all about marine life in the fascinating Underwater Zoo which has several interactive children's activities. The Underwater Zoo also boasts a giant crocodile, as well as a variety of owls, reptiles and other fascinating creatures.
Tickets can be booked online and cost between $15 and $30. However, this depends on how much you want to see and do. It is open from 10 am to midnight.
Address: Dubai Aquarium, The Dubai Mall, Doha St, Dubai, UAE
Website: https://www.thedubaiaquarium.com/
4.
Okinawa Churaumi Aquarium, Japan
Proudly lining up with the biggest aquariums on the planet stands the Okinawa Churaumi Aquarium. It was the largest in the world until it was eclipsed by the Georgia Aquarium in 2005. This incredible aquarium forms part of the Ocean Expo Park which includes amazing arboretums, a museum, and planetarium.
The aquarium boasts several unique features. For example, it has the open-air Coral Sea Tank and the stunning Kuroshio Sea Tank. This tank has acrylic walls that are 60cm deep, 8.2 meters high and 22.5 meters wide.
Interestingly, this enormous aquarium tank has allowed the aquarium to successfully breed a number of whale sharks and manta rays in captivity; a feat which had thus far been impossible to achieve. Also to make the most of your visit, you can join a variety of tours and talks, interactions, feedings, and Churaumi Theatre Films.
The aquarium is open from 8.30 each day except for the first Wednesday and Thursday of December. Entry fees are at $20. However, reduced rates are offered after 4 pm. Also, children up to 6 years of age get free entrance. Discounted tickets can be purchased in advance from various city vendors.
Address: Okinawa Churaumi Aquarium, 424 Ishikawa, Motobu-cho, Kunigami-gun, Okinawa
Website: https://churaumi.okinawa/en/
5.
The Aquarium of Western Australia, Perth
The privately-owned Aquarium of Western Australia (AQWA) is located right on the beautiful Hillarys Boat Harbour, 30 minutes from central Perth. This is an underwater aquarium with a unique difference from other aquariums.
Dedicated not only to showcasing an amazing collection of marine animals, but it is also passionate about conservation and rehabilitation. At AQWA, you can visit one of the largest living coral exhibits in the world; absolutely teeming with tropical fish and brilliant corals.
The largest of the aquarium tanks are home to sharks, stingrays, and enormous sea turtles; all of which you can observe from a 98-meter moving walkway that leads you through the underwater tunnel. Excitingly, if you are brave enough, you can dive or snorkel with the sharks. Also, whale-watching boat excursions are available seasonally.
Also, there is an emphasis on education at AQWA. Children as young as three years old can attend various talks, hands-on encounters, and special kiddie's activities. Here, children have a whole range of aquarium adventures to enjoy, including the very popular Shark Sleepover.
The aquarium is open daily from 10 am to 5 pm and you can buy tickets online from just $18.
Address: Aquarium of Western Australia, 91 Southside Drive, Hillarys, 6025, Australia
Website: https://aqwa.rezdy.com/
6.
S.E.A. (South East Asia) Aquarium, Singapore
S.E.A Aquarium is located in the heart of Resorts World on Sentosa Island in southern Singapore. Together with Adventure Cove Waterpark and Dolphin Island, it offers an unforgettable marine experience. Until 2014 (when it was eclipsed by China's Chimelong Ocean Kingdom), S.E.A. was the largest aquarium in Asia; boasting an enormous 4-million gallon Open Ocean Tank as its centerpiece.
However, what makes this particular aquarium really special is that you can see the world's largest aquarium collection of manta rays and treat yourself to several exciting marine experiences; including learning how to scuba dive. If you have always wanted to get up close and personal with predatory sharks, this is your chance.
The aquarium also has a neat submersible acrylic enclosure for divers. This excitingly will get you within inches of these outstanding marine creatures. However, if you are not quite brave enough to swim with the sharks you can don a Sea-Trek helmet and walk the ocean floor of the underwater aquarium. Also, Resorts World Sentosa offers a selection of combination tickets so that you can enjoy the Aquarium, the Water Park, and the Dolphin Experience for one price. Sentosa Island is easy to reach via an aerial cable-car from mainland Singapore.
Address: S.E.A. Aquarium, Resorts World, Sentosa Island, Singapore
Website: https://www.rwsentosa.com/en/attractions/sea-aquarium/things-to-do/special-experiences
7.
Chimelong Ocean Kingdom, Hengqin, China
In the last decade, Asia has stepped in to eclipse previous aquarium record holders in the west by using advanced modern technology to build the largest aquarium tanks in the world. Chimelong Ocean Kingdom takes the humble underwater aquarium to a whole new level by combining the world's largest aquarium tank with an extraordinary marine theme park.
Located in the Henglong International Marine Resort in Hengqin, this aquarium holds several Guinness World Records. These records include the largest aquarium, largest single pool of water, largest acrylic sheet (39.6 X 8.3 meters), and the world's largest underwater viewing dome. Here, you will have the chance to see an unrivaled collection of marine creatures and polar animals under one roof. The aquarium is home to whale sharks, beluga whales, penguins, dolphins, walruses and more.
More theme park than an aquarium, the park also has roller-coaster rides through animal habitats. It has thrilling water slides, rides, and a traditional Chinese Theatre. However, one of its popular aspects is its allowance for visitors to stay overnight. Like it or hate it? You need to decide for yourself – add this one to your must-see list.
Address: Chimelong Ocean Kingdom, Xiangzhou, Zhuhai, Guangdond, China
Website: https://zh.chimelong.com/
8.
Osaka Kaiyukan Aquarium, Japan
Widely acknowledged to be one of Japan's most spectacular attractions, Osaka Kaiyukan Aquarium is undoubtedly one of the finest aquariums in the planet with oodles of WOW factor. Kuiyukan is not only one of the biggest aquariums in the world, but it is also one of the most spectacular when it comes to design.
Here, you have the chance to explore no less than 15 large aquarium tanks. Also, interestingly, each tank carefully replicates the underwater habitat of a specific region located in the Pacific Rim. The breath-taking underwater tanks are arranged around a four-story spiral ramp which you can follow from one exhibit to another. It would feel as though you were descending from land level into the depths of the ocean.
Also, a full tour of all the tanks will take you approximately two hours. However, after the tour, you will have the chance to visit the Interactive Exhibit Area. Here you can experience the temperatures, smells, and noises of the underwater universe.
In total, the aquarium houses over 30,000 marine creatures representing over 600 species. Also, feeding times for the various tanks are staggered throughout the day. This is to allow visitors to see as many feedings of the different types of animals as possible. Kaiyukan is easy to access using public transport from central Osaka and an adult ticket costs $22.
Address: Osaka Kaiyukan Aquarium, 1 Chome-1-10 Kaigandori, Minato Ward, Osaka, 552-0022, Japan
Website: https://www.kaiyukan.com/language/eng/
9.
Oceanographic Aquarium, Spain
Valencia's superb L'Oceanographic aquarium boasts impressive architecture which gives you a hint of what lies ahead as you enter Europe's largest indoor/outdoor aquarium. In their efforts to educate the public about conservation and appreciation of the marine environment, Oceanographic Aquarium has created a succession of carefully constructed habitats. These habitats are arranged over nine underwater towers, which mimic those found in the oceans. Their largest aquarium tank holds 1.8 million gallons of water. Here, you can come face to face with whales, sharks, manta rays, and much more.
Also, the amazing arctic tank is home to a family of beluga whales and is one of the most popular attractions at the aquarium. However, the cherry on the top is definitely the enormous 6, 9 million-gallon dolphinarium. This aquarium is where you can watch everyone's favorite marine mammal in action.
L'Oceanographic Aquarium is easy to reach by bus or metro from central Valencia. Similar to many places, you can also book your tickets online to avoid queuing. The aquarium is open from 10 am daily. Also, times for the dolphin shows and various talks and interactions can be found on the website.
An adult entry ticket costs 30.7 euros.
Address: L'Oceanographic, Ciutat de les Arts i de les Ciències, Carrer d'Eduardo Primo Yúfera, 1B, 46013 Valencia, Spain Website: https://www.oceanografic.org
10.
uShaka Marine World, South Africa
Located right on the beach in Durban, on the tropical east coast of South Africa sits uShaka Marine World Aquarium. It is ranked 7th in the world in terms of aquarium tank size. Also, it is certainly a contender in the list of the world's top ten must-see aquariums. Surrounded by a veritable jungle of tropical palm trees, this 40-acre marine theme park is divided into eight separate sections.
Sea World is the underwater section of the aquarium. Here, it is centered around a replica of a pirate ship. It contains an enormous tank and is home to thousands of marine creatures. Also, up close and personal animal encounters include shark-cage dives, feeding the Spotted Eagle rays, snorkeling in the lagoon, and donning an air-helmet for an Ocean Walk. However, one of the most popular activities is "kissing" a dolphin during the Dolphin Experience.
You could also walk along the beach, watch a dolphin show, meet some penguins or admire the seal show. Thrill-seekers can spend time in the Wet 'n Wild water park, enjoying a variety of exciting slides and rides. Also, all showtimes, ticket prices and feeding times can be found on the website. uShaka Marine World is open daily and easy to access from central Durban.
Address: uShaka Marine World, 1 King Shaka Ave, Point, Durban, 4001, South Africa,
Website: https://ushakamarineworld.co.za/