Best Things To Do In Helsinki, Finland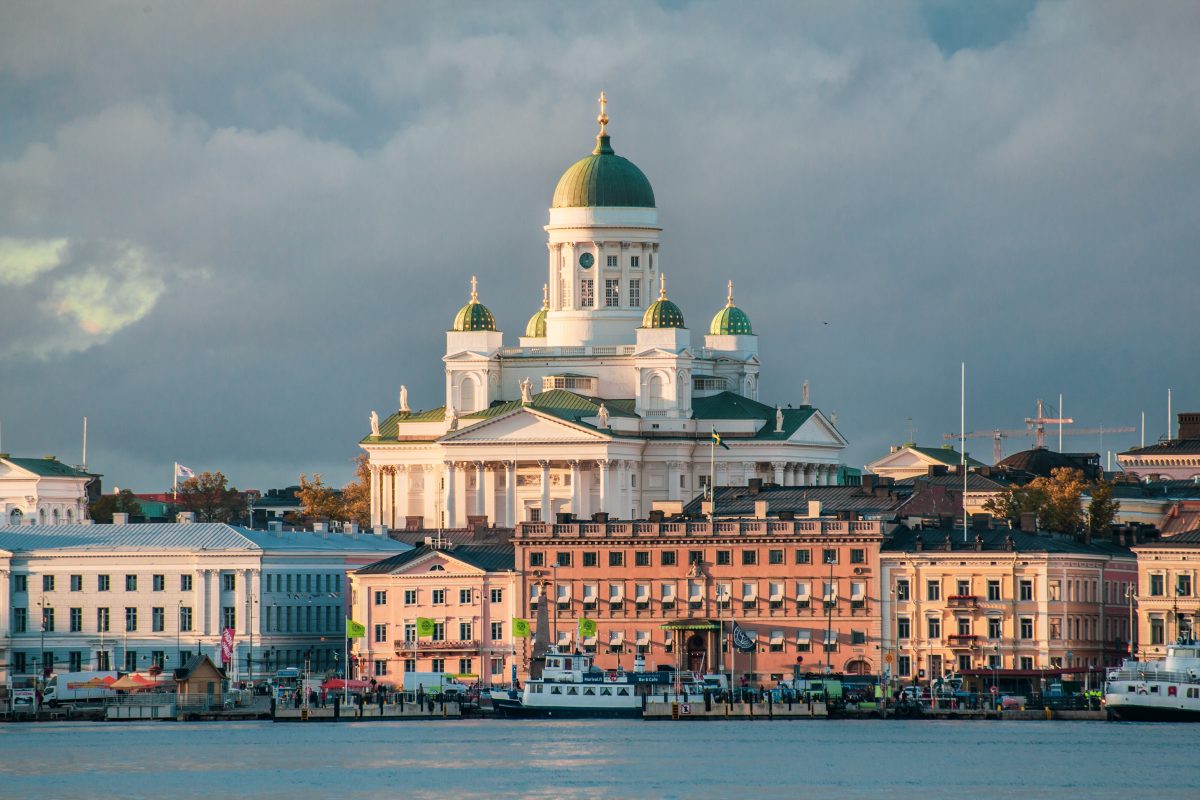 Helsinki — the youngest of Europe's capitals made a name for itself through its quirky architecture. Every year, flocks of architecture enthusiast visited Helsinki not only for its Neoclassical architecture but also for the east-meets-west churches that never fails to please everyone's eye. Not only Helsinki distinguishes itself easily from its neighboring country for its unique background. The seasonal weather that turns crystalline white nordic winter into a city of colors certainly put everyone in awe. Above all, Helsinki remains the apple of the eye for many visitors. Here are some of the best things to do in Helsinki.
Helsinki Tuomiokirkko a.k.a the white-jewel of Helsinki deserves to be listed on your must-do-things in Helsinki. This 62-meters in height Cathedral located on the hilly spot of Helsinki soared right through the vibrant city. Alongside its neoclassical architecture, these pure white walls and light green dome perceived to be the most recognizable landmark in Helsinki. However, the major factor that distinguished this cathedral from the others is the sleek and unembellished interior.
Unlike many other Cathedral in Europe, Helsinki Cathedral preserves its purity through simplicity. Thus, ornaments and luxurious golden decorations are not noticeable throughout the building. Nevertheless, the few flights of stairs are for sure well-burnt for the panoramic view of the Senate square. I assure you this is one of the attractions in Helsinki that you wouldn't want to miss.
2.
Suomenlinna Fortress Helsinki
There is no better way to unravel the naval past of Finland through the exploration of Suomenlinna Fortress. Located right off the coast of Helsinki, this 210-hectare sea fortress serves majestically as a fortified army base since the mid of 17th centuries defending the Swedish and Russian sovereign. This imposing fortress comprises of more than 200 buildings with borders that stretch all across the 6 craggy islands of Helsinki. Though Soumenlinna no longer serves as a military base in this modern era, this Finnish Castle is great for summer or winter exploration activities.
In summer, be sure to bring along your favorite snacks during your visit as visitors are allow picnicking all around the premises overlooking the stunning Gulf of Helsinki. The best part, Suomenlinna Fortress stays open even during the chilly Finnish winter.
In order to get there, board on the HSL ferry from the Harbor near Market Square which costs 6.50USD (€5.00. The ticket is valid for 12-hours and free of charge for the Helsinki card user. Commuting from the Ferry terminal to Suomenlinna is fairly convenient as the ferry comes every 15-20 minutes and it stays around 15 minutes. Favored by locals and tourists from all over the world, Suomenlinna Fortress Helsinki finally been listed as the UNESCO World Heritage in 1999. Although the entrance fee is not the cheapest among the other attractions in Helsinki, it's definitely worth it. Now you can proudly say that you've been on a sea castle and brag about all your cool photos taken during your trip to the Suomenlinna Fortress to your friends and families.
Take a break from city sightseeing to the Helsinki Market Square to savor some of the finest local delights. After all, who doesn't like a good stroll around a market? Especially when it is filled with vivid colors of local produce and held daily in the beautiful Finnish historical buildings at the same time. Be sure to grab the opportunity to explore some of the Finnish flavors that might seem to be so foreign to your palate at the beginning. You're going to love it I promise.
Market Square is one of the oldest markets in Helsinki and is located at the heart of Helsinki, not too far of a walk from 'Espalandi Park' and the renowned 'Uspenski Cathedral'. It is accessible from the Helsinki central train station within 10 minutes walking distance. Also regardless of the weather in Helsinki, this market operates daily. Although this market is separated into an indoor and outdoor section, however, if you desire to dine outdoors during the chilly winter, most vendors do provide outdoor seatings with heated tents. Otherwise, you can also dine indoors at the bar counter style mini-restaurants along the market alleyways.
It's no surprise that you'll find souvenirs stalls all around the Market Square but haggling is not a common practice in Southern Finland. The prices are generally reasonable and supporting the local artist is a good thing, isn't it? The one thing you can not leave this market without trying is the salmon soup with local rye bread. And for all the daredevils out there, the moose and reindeers are waiting for you. I am pretty sure you'll eventually spending more time here than you expected.
Helsinki is known to be a "city of architecture" and it's not a surprise to find many art museums all across the city. With over 200,000 visitors annually, Kiasma Museum's unique charm has made a name for itself. It is indigenous how this museum seamlessly binds the contemporary elements with nature to form such unique characteristics. One of the highlights for this museum is the broad windows align in a way that the unique Nordic lights are able to penetrate into the building effortlessly. Depending on the seasons, the Nordic lights change substantially accordingly. This flair idea alone is already worth your visit to the museum.
Kiasma museum primarily devotes to present the Finnish and international contemporary arts in various forms including visual arts, new media, cinema, theatre, and dance. The one thing you'll find is an abundance of conferences, workshops and even live performances to get your doubts contextualized and explained. I must say, this museum is definitely a paradise for all architecture fanatic and also art lovers. Good news entry is free for Helsinki Card users, otherwise, pay 16.50 USD (€15.00) for an adult.
Temppeliaukio Church, in short, the rock church is named this way mainly for its outlook. This copper dome church with the iconic rock formation as its exterior is one of the famous Helsinki attractions. It is so eye-catching that it can be easily spotted far off the city.
This church was opened in 1969 and was conceptualized by the two architect brothers Timo and Tuomo Suomalainen and now has become the world's most unique religious structure in history. Builders first carved out the granite rock and slowly constructed the church pertaining to the lavish and modern concept yet not forgetting the church classical origins.
Many may say that the dome looks like a giant spaceship, but the interior and exterior design is truly the highlight of this church. The copper wired ceiling with the naturally stacked stones form a unique atmosphere that you'll never experience it anywhere else. During the summer, the light wind slip through the holes and the window panels allowing the Nordic light to penetrate seamlessly around the hall creating a cooling and brightening effect. It is absolutely a genius approach is contrary to the dramatic Helsinki weather.
Be sure to mark your calendar for the classical concert. As the rock formations make an excellent acoustic sound filling up each and every corner of the church. In addition, the stunning backdrop of the church makes every performance even more pleasing. Also, it's free entry if you're a Helsinki Card user. Otherwise, expect to pay 4.50 USD (€3.00) per entry.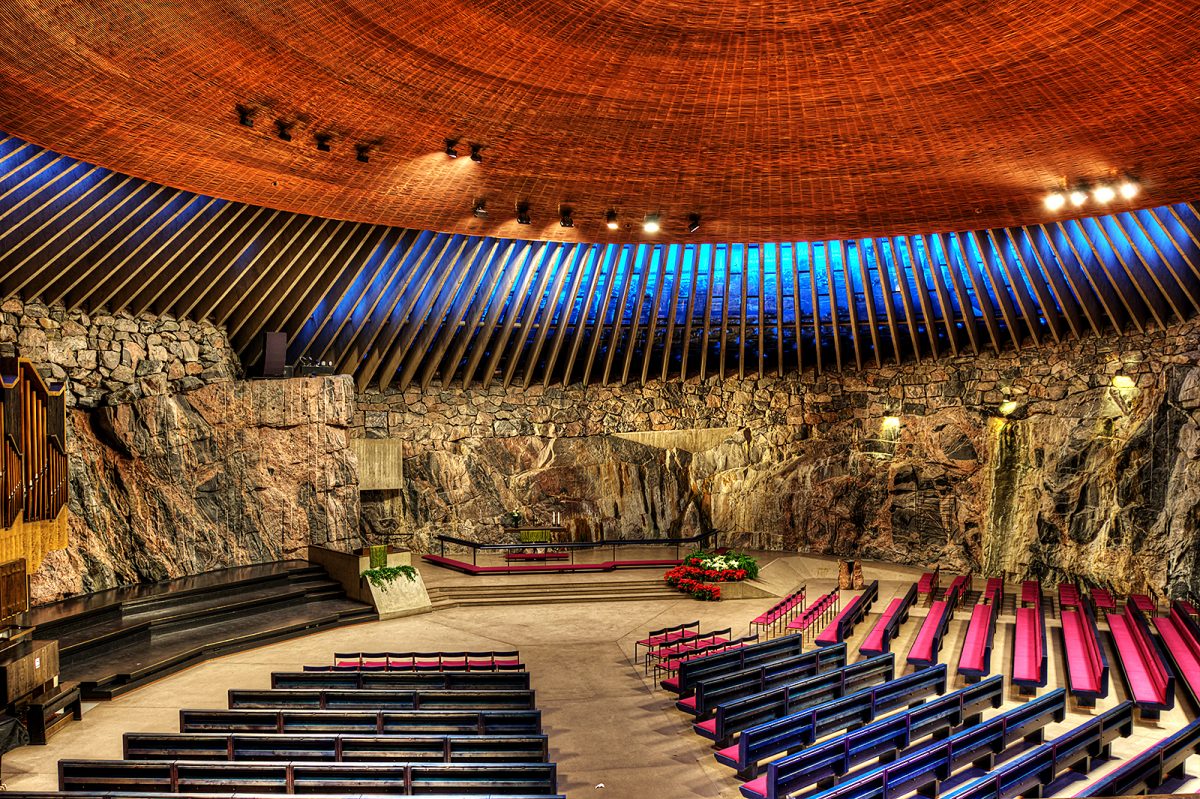 Unlike many other cathedral and churches in Finland, Uspenski is the largest Russian remnant in Helsinki. Being the largest orthodox church in Western Europe, Uspenski projects strong characteristics of Russian architecture that show a resemblance to the church near Moscow. Undeniably, Uspenski Cathedral has become one of the must-visit Helsinki attractions.
Although the maroon-colored brick walls with green and gold domes may look underwhelming at first, the cathedral houses a rich display of historic icons and decorations. One of those being the impressive ornate chandeliers hanging right off the high ceiling. Take your time to dig deeper into the cathedral's history and admire those beautiful sets of icons illustrating the Virgin Mary and other saints. If not, hike the adjacent hill to catch a fine view of the dazzling city of Helsinki. Try to visit this cathedral during the night when the whole compound is softly illuminated. It's a great time to make some nice photos in Helsinki too.
7.
Helsinki Central Railway Station
Helsinki Central Railway Station (HRS) is the biggest train station in Finland and apart from commuting, this railway station offers much more than that. The most distinguishable feature of HRS is the clock tower. It shows a resemblance of the Neo-gothic Tribune tower in Chicago by Eliel Saarinen where his design was also used to revamp the Helsinki Railway Station back in 1904.
Take a stroll around the railway and I bet the architecture alone suffices to lure you into the station for a good glimpse. Plus, if you're ever going to commute around Finland, arrive early to take a good overall view of the station. Particularly, for the meticulous workmanship on the carved panels and walls.
Tired of the city sightseeing in Helsinki? Besides Helsinki Park, Nuuksio is a good alternative for you to gasp some fresh air outside of the city. So, why don't take a sweet escape to the greenish land at Espoo district, a green city slightly outside of Helsinki? Slightly more than 30 minutes commute ride from Helsinki, this park is a perfect relaxing getaway for everybody. Plus, it's a wonderful spot to picnic especially by the stunning calm blue lake.
You probably know that Finland, in general, is famous for its natural landscape. So, why not give yourself a chance to immerse in this beautiful greenery. Nuuksio National Park offers 8 adventurous marked trails ranges from 1.5 km to 17 km long depending on its difficulties. If you're craving for something more than just ordinary hikes, feel free to go on a horse riding and mountain biking.
Let's be real, autumn in Helsinki is more beautiful than any other seasons. Nuuksio, in particular, is the most beautiful during this season when the golden-yellow leaves from the monstrous mountains range reflect on the lakes. Don't worry, this National Park also provides a wide range of facilities including a grilling spot for Finnish sausages breaks.
9.
National Museum Of Finland
Museum hunting is one of the must-do things in Helsinki especially since Finland is a country that is loaded with histories. Finland struggled significantly in the past for its independence and this museum holds all the answers to your historic inquiry. Take a step into this gothic building dating back to 1910 to unravel the medieval times of Finnish history. Feast your eye with the extensive historical collections and exhibitions.
You'll find more than 138,000 pieces of artifacts including — silvers, porcelain, glass, weapons, costumes, and church-related materials. Through the collections, you'll learn the evolvement of Finnish education, politics, and factors that shape the unique Finnish culture. Make sure to participate in one of those on-going exhibitions for an enticing journey to learn about the Finnish background. Plus, it's quite a good idea to escape the harsh winter weather in Helsinki. You'll easily spend a few hours here and 13.50USD (€12.00), it's free entry for all Helsinki Card users.
10.
Enjoy a Finnish Sauna
Sauna in America might be a lavish lifestyle, but in Finland, it's otherwise. As Finn says, what's life without saunas? When we speak of Finland, sauna pops up instantly not because it's important but rather essential to the Finnish culture. Truth is, the sauna is not luxuries but rather necessity.
Typically, a good way to fight the harsh winter can be soaking into a hot tub. However, that's unlikely the case here in Finland. Even in the buzzing city of Helsinki, almost every household and apartment has a sauna. If you're wondering what else you can do in Helsinki, the sauna is your answer.
In simple terms, there are absolutely no ways for you to skip the Finnish sauna. Helsinki hosts some of the finest sauna places. One of it being the Skywheel Sauna — the world's only sauna on Ferris Wheel with a view of the city. Allas Sea Pool is a good alternative if you prefer a more wallet-friendly sauna with a good selection of warm pools. We highly recommend the sea water pools and this sauna is just located at the dockside of Market Square. Now you know where to go during the harsh Helsinki winter.
Otherwise, give the quirky BurgerKing sauna a shot. Yes, you hear me right! BurgerKing in Finland is more than just burgers and fries. BurgerKing is exceptionally popular in Finland and what's the better way to enjoy a big juicy 'Whopper' right after the sauna? Similar to other saunas in Helsinki, BurgerKing operates its service with a twist of the iconic blue and red paintings to spice up your sauna experience. So, take a photo before you leave, prove to your friends and family that BurgerKing sauna really does exist!
Go North, Go Finland!
It's a shame that you haven't included Helsinki on your travel list. Trust us, you won't regret visiting this city. In fact, we're pretty sure you'll look forward to your return here. We hope this list of the best things to do in Finland is helpful and you can make the best out of it too!