7 Best Restaurants In Helsinki For Delectable Food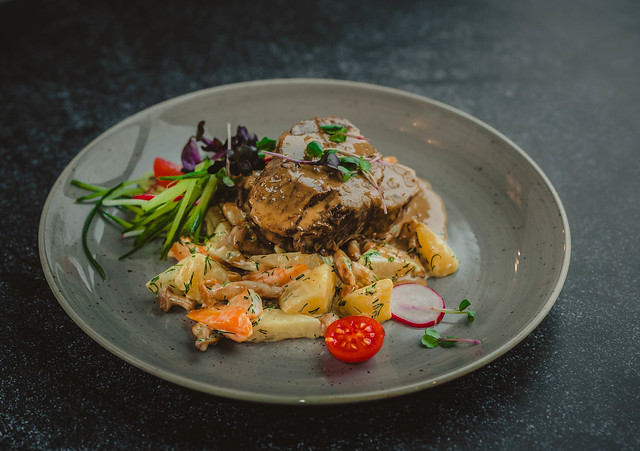 Are you in Helsinki and looking for the best restaurant to eat for dinner? There are several best restaurants in Helsinki to keep your hungry bellies satiated. Today, we will go through the best restaurants in Helsinki to visit during your holiday. But first, let's brush up on the basics of Finland.
Where is Finland?
First of all, where is Helsinki exactly? Where is Finland and why would you even care about this country? Helsinki is the capital of Finland, a place squished between Russia and Sweden. Some interesting facts about Finland: in the northern region (Lapland), the temperature can drop as low as -40° C during the winter. Speaking about Lapland, most of it is part of the Arctic Circle, and the town separating the arctic circle from the rest, Rovaniemi, is the home of Santa Claus ( there is even a theme park about it).
In Finland, there are more saunas than cars! In a Finnish sauna, the temperature can easily reach 100° C. Finland is also the home of the "Salmiakki", a salty licorice candy that you might find disgusting, but the Finns love it. Pretty weird county, right?
But back to the point: here are the 7 best restaurants in Helsinki (in no particular order, that is)!
1.

Enjoy Finnish Delights At Ravintola Kuu
Let's start off with a traditional Finnish restaurant — Ravintola Kuu. This food establishment won the TripAdvisor Certificate of Excellence from 2015 to 2019 and currently holds a rating of 4.5/5 stars. Here, you will have the possibility to taste popular Finnish dishes cooked by people who know what they are doing. It is perfect for a romantic dinner with your partner or even for a business dinner. The price is reasonable, considering the average in the country. But that's not even a deal-breaker: you can eat at the cheapest for €19, or giving yourself the full experience for €51. You can find Ravintola Kuu in Toolonkatu 27, Helsinki.
2.
Indulge In European Selections At Toca
Our next pick is a well-decorated restaurant. With 4.5/5 stars on TripAdvisor and 4 Certificates of Excellence, Toca is currently rated as the number one restaurant in Helsinki on the site. They specialize in Italian, European, and other fusion cuisines. If you find yourself in Esplanadi Park and you are looking for a high-quality restaurant nearby, look no further. At only 0.3 miles, located in Unioninkatu 18, you can immerse yourself in a friendly atmosphere and taste amazing food for a decent price. You will have to pay from €25 to €65 for a usual dinner, but remember to book in advance, or you might not find a table.
3.
Enjoy Vegan Food At Baskeri & Basso
If you are looking for vegan options during your trip, this might be one of the best restaurants for your hunger pangs. Baskeri & Basso has a stunning rate of 5.0/5 stars on TripAdvisor, and it is known as the best vegan restaurant in the city. Located in the center of the city, at only 0.8 miles from the Esplanadi Park, precisely in Tahtaankatu27-29, this restaurant is a vegan's version of heaven on earth. Unfortunately, you can experience their cuisine only for dinner, and the tables get reserved quickly. Be sure to book your dinner beforehand, either by phone or from their website.
4.
Go Wild In A Buffet At Pompier
Shifting our attention to a more buffet-style restaurant, we have Pompier next. Rated with 5/5 stars on popular food sights, this place makes for one of Helsinki's best restaurants to experience coziness and familiarity. Located in Albertinkatu 29, this restaurant features 1950s décor and plays old Finnish ballads to welcome its customers. The menu changes daily and includes a hot meal (or a soup), a salad, and a cup of coffee/ tea for the modest price of €10-13. If you are looking for the traditional Finnish dinner experience and you are on a budget, Pompier is the best choice for you, more so if you want to enjoy an authentic Finnish experience.
Savour Seafood At Restaurant Hoku
Are you in Helsinki but you don't enjoy Finnish food? Are you looking for something a little bit more exotic? Hoku is here to the rescue. This is one of the best restaurants for Hawaiian, Japanese, and Korean cuisine. The place is located on the fifth floor of Kamppi Centre and has floor-to-ceiling windows, giving you one of the best views for your dinner. The general atmosphere is cosy and friendly. There's no dress code, and it is the kind of place where you would gather with your friends to relax and eat after a long day walking around the city. If you go there, our recommendation is to try their signature dish, the Salmon Teriyaki, to eat with a portion of potato salad. You will not be disappointed. You can find all additional information such as opening hours and menu on Hoku.fi.
Taste The Best Of Asia At Gaijin
For the sixth restaurant on our list, we have here a popular and well-known Asian restaurant. The place combines 19th-century food traditions of Japan, Korea, and northern China to deliver you the definitive taste of pure and authentic Asian cuisine. If you're in the mood to sample Asian cuisine, this is one of the best restaurants to turn to for comfort. The main philosophy behind the restaurant is to use food as a tool to gather with important people and spend time with them. The venue, completely built-in Finnish wood, combined with the menu, specifically designed for sharing, gives this place a casual yet calming atmosphere. Eating at Gaijin with your friends is no just a food stop; it is also a pleasing and meaningful experience. You can find the restaurant in Bulevardi 6.
Be A Happy Vegetarian At Veggie
Last but not least, we wanted to include a low budget restaurant but one that serves delectable dishes. Here, you can eat without counting your cents. Veggie restaurant is the perfect stop for a student visiting the Aalto house or studio. Located in Munkkiniemen Puistotie 22, Veggie is close to Aalto house and about 10 minutes from the studio. Veggie offers Greek, Mediterranean, and other specials of European cuisine. Their plates are very affordable and delicious. In fact, you can get a salad for as low as €6. On the other hand, get a full lunch for no more than €15. If you are looking for a budget alternative when visiting Alvar Aalto's house, Veggie is your friend! And If you enjoy vegetarian food, Veggie is not going to disappoint you. It is one of the best restaurants that gives you your cent's worth!
Now that you have all the secrets of the best restaurants in Helsinki, give your belly some love and dine at some, if not all, of these best restaurants! There are also many other best restaurants all around Finland. But, we're saving that secret for another day. For now, go on enjoy some local and international cuisines at Helsinki's best restaurants and make your trip to Finland worthwhile!