An Evening In Penha Longa, Sintra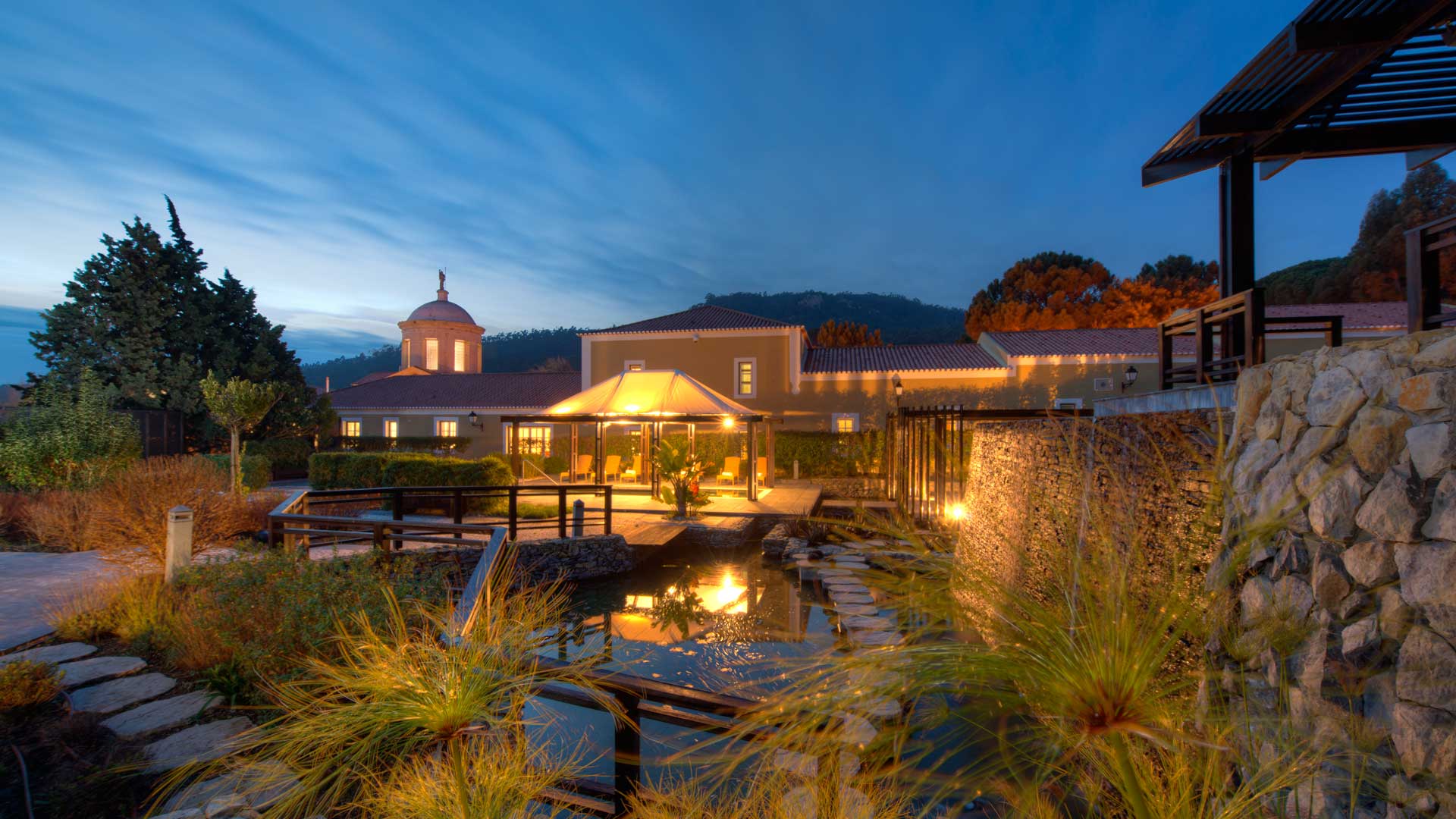 Introduction
Welcome to the enchanting world of Penha Longa in Sintra, Portugal. Nestled among the lush green hills and ancient forests, Penha Longa offers a captivating escape from the bustling cities, allowing visitors to unwind in a serene natural setting. With its rich history, stunning landscapes, and world-class amenities, Penha Longa is a destination that truly has it all.
Situated just 30 kilometers west of Lisbon, Penha Longa is easily accessible and offers a perfect getaway for those seeking tranquility and beauty. The region of Sintra is renowned for its UNESCO World Heritage sites, including the Moorish Castle and the picturesque Pena Palace, making it a popular destination for history buffs and nature lovers alike.
At Penha Longa, visitors can immerse themselves in the charm of a bygone era while enjoying the modern amenities of a luxury resort. The resort is renowned for its impeccable service, beautiful gardens, and breathtaking views of the surrounding countryside. Whether you're looking for a romantic retreat, an active vacation, or a place to indulge in world-class cuisine, Penha Longa has something for everyone.
Throughout the year, Penha Longa hosts a myriad of events and activities to keep the guests entertained. From wine tastings and cooking classes to golf tournaments and hiking excursions, there is always something exciting on offer. And for those seeking relaxation and rejuvenation, the resort's spa and wellness center provides a haven of tranquility, offering a wide range of treatments and therapies.
Whether you're exploring the historic sites of Sintra, indulging in a spa treatment, or simply basking in the natural beauty of the resort, a visit to Penha Longa promises an unforgettable experience. So pack your bags, leave your worries behind, and get ready to embark on a journey of discovery and relaxation in the magical world of Penha Longa, Sintra.
Getting to Penha Longa, Sintra
Getting to Penha Longa in Sintra is easy and convenient, whether you're arriving from within Portugal or from abroad. The resort is located just a short distance from Lisbon, making it easily accessible for international travelers.
If you're arriving by air, the nearest airport is Lisbon Portela Airport, which is approximately 30 kilometers away from Penha Longa. From the airport, there are several transportation options available to reach the resort. You can hire a taxi, book a private transfer, or take public transportation. The journey by car or taxi usually takes around 30 minutes, depending on traffic conditions.
If you prefer to travel by train, there is a direct train service from Lisbon to the nearby town of Sintra. From Sintra, you can easily reach Penha Longa by taxi or a local bus. The bus ride from Sintra to Penha Longa takes approximately 15-20 minutes.
If you're driving to Penha Longa, there are several well-maintained highways that connect Lisbon with Sintra. Take the A37 highway from Lisbon to Sintra, and then follow the road signs to Penha Longa. The resort offers ample parking facilities for guests.
Once you arrive at Penha Longa, you'll be greeted by the resort's welcoming staff, who will assist you with your luggage and check-in process. The resort's grounds are expansive, and it's recommended to have a car or make use of the resort's transportation services to explore the surrounding area and attractions.
It's important to note that Sintra is a popular tourist destination, especially during peak seasons. It's advisable to plan your travel and accommodation in advance to ensure availability and a smooth journey to Penha Longa.
Now that you know how to get to Penha Longa, it's time to embark on your journey to this magical destination amidst the hills of Sintra, where unforgettable experiences and breathtaking beauty await.
Exploring the Penha Longa Resort
Penha Longa offers a world of exploration within its sprawling resort grounds. From the moment you step foot on the property, you'll be captivated by the beauty and tranquility that surrounds you.
The resort's architectural design seamlessly blends the old with the new, as the historic monastery buildings dating back to the 14th century harmoniously coexist with contemporary facilities. Take a leisurely stroll through the Portuguese gardens, adorned with colorful flowers and century-old trees, or wander along the pathways that lead to hidden courtyards and serene fountains.
One of the highlights of Penha Longa is its renowned golf course, designed by acclaimed golfer Robert Trent Jones Jr. This 27-hole championship course is not only a delight for golf enthusiasts, but also offers breathtaking views of the Sintra Mountains. Additionally, the resort boasts a state-of-the-art golf academy, where beginners can learn the basics or experienced players can fine-tune their skills.
If you're looking to relax and unwind, the resort's spa and wellness center is the perfect haven. Indulge in a rejuvenating massage, take a dip in the outdoor swimming pool, or pamper yourself with a range of beauty treatments and therapies. The spa also features a sauna, steam room, and jacuzzi, providing a complete wellness experience.
Food lovers will be spoiled for choice with the diverse dining options at Penha Longa. The resort is home to several exceptional restaurants serving both Portuguese and international cuisine. From fine dining at the Michelin-starred LAB restaurant to casual al fresco meals at the Arola restaurant, there's something to tantalize every taste bud.
For those seeking adventure and outdoor activities, Penha Longa offers a variety of options. Set off on one of the many hiking trails that wind through the surrounding hills, go mountain biking, or enjoy a game of tennis. The resort also provides a range of family-friendly activities, including a kids' club with supervised programs and a dedicated children's pool.
As the day comes to a close, be sure to take a moment to witness the breathtaking sunset from one of the scenic viewpoints within the resort. The panoramic vistas of the mountains and the Atlantic Ocean provide the perfect backdrop for a truly memorable evening.
Whether you're seeking relaxation, adventure, or indulgence, Penha Longa offers a world of exploration within its picturesque resort. Uncover the hidden treasures of this enchanting destination and create unforgettable memories.
Dining Options at Penha Longa
When it comes to dining, Penha Longa offers a culinary experience that is sure to delight even the most discerning palates. The resort boasts a diverse range of dining options, each offering a unique ambiance and a tantalizing selection of dishes.
For an unforgettable culinary adventure, look no further than the Michelin-starred LAB restaurant. Led by Chef Sergi Arola, LAB offers a gastronomic journey for the senses. Immerse yourself in a world of innovative flavors and artistic presentation as you indulge in creative dishes crafted with the finest seasonal ingredients. Each course is carefully designed to surprise and impress, making LAB a must-visit dining destination for food enthusiasts.
If you're in the mood for a more casual dining experience, head to Arola, another restaurant at Penha Longa that showcases the culinary expertise of Chef Sergi Arola. This laid-back yet stylish restaurant offers a menu inspired by Mediterranean flavors with a modern twist. Relax on the terrace and savor tapas-style dishes, freshly prepared seafood, and delectable desserts while enjoying panoramic views of the resort's lush gardens.
For those craving traditional Portuguese cuisine, the Midori restaurant is the perfect choice. With its elegant ambiance and impeccable service, Midori offers an authentic Japanese dining experience. Savor the delicate flavors and exquisite presentation of Japanese cuisine, from fresh sashimi and sushi to flavorful tempura and robatayaki grilled dishes.
If you're looking for a more casual setting, the Pool Bar is ideal for a light lunch or refreshing cocktail by the poolside. The menu offers a range of salads, sandwiches, and grilled items, all made with the finest local ingredients. Sit back, soak up the sun, and enjoy the relaxed atmosphere of this al fresco dining spot.
For a taste of Portugal's rich culinary heritage, don't miss the opportunity to dine at Penha Longa's gourmet restaurant, Il Mercato. With its rustic ambiance and warm hospitality, Il Mercato celebrates the flavors of traditional Portuguese cuisine. From hearty soups and succulent grilled meats to seafood specialties and decadent desserts, this restaurant is a true homage to the country's gastronomic traditions.
Whether you're looking for an elegant dining experience or a more relaxed meal, Penha Longa's dining options are sure to satisfy every palate. With a focus on quality ingredients, innovative flavors, and impeccable service, the resort's restaurants promise a memorable culinary journey.
Spa and Wellness Activities
At Penha Longa, relaxation and rejuvenation are taken to new heights with its luxurious spa and wellness activities. Step into a world of serenity and tranquility as you embark on a journey of self-care and well-being.
The resort's spa, known as the Penha Longa Wellness & Retreat, offers a wide range of treatments and therapies designed to pamper both the body and the mind. Indulge in a soothing massage that will melt away tension and promote deep relaxation. Choose from a variety of massage techniques, including Swedish, deep tissue, hot stone, and aromatherapy, tailored to your specific needs.
In addition to massages, the spa offers an array of holistic treatments that aim to restore balance and harmony to your body. Experience the healing benefits of ancient practices such as Ayurveda and reflexology, or opt for a rejuvenating facial using premium skincare products. The knowledgeable and experienced therapists will guide you through a personalized wellness journey, ensuring a blissful and rejuvenating experience.
For those seeking a more active approach to wellness, Penha Longa offers a range of fitness and wellness activities. Join a yoga or Pilates class to improve flexibility, strength, and overall well-being. Take a refreshing dip in the outdoor swimming pool or work up a sweat in the fully equipped fitness center, complete with state-of-the-art cardio and strength training equipment.
Immersing yourself in the natural beauty of Penha Longa is another way to enhance your well-being. Take a leisurely stroll through the resort's gardens, breathe in the fresh air, and connect with nature. The peaceful surroundings provide the perfect backdrop for relaxation and reflection.
In addition to the spa and fitness facilities, Penha Longa offers a range of wellness retreats and workshops throughout the year. Join a mindfulness retreat led by experienced practitioners, learn new wellness practices in a workshop, or participate in a wellness program tailored to your specific goals. These immersive experiences provide an opportunity to deepen your understanding of holistic well-being and cultivate a healthier lifestyle.
With its serene ambiance and a focus on holistic wellness, Penha Longa invites you to embrace self-care and make your well-being a priority. Whether you choose to indulge in a spa treatment, engage in a fitness activity, or simply immerse yourself in the peaceful surroundings, a visit to Penha Longa is sure to leave you feeling refreshed, rejuvenated, and ready to face the world.
Outdoor Activities and Sports
For those who love to stay active and immerse themselves in the great outdoors, Penha Longa offers a plethora of outdoor activities and sports to suit every interest and age group. From leisurely pursuits to thrilling adventures, there's something for everyone to enjoy amidst the resort's stunning natural surroundings.
One of the standout features of Penha Longa is its renowned golf course. With its lush fairways, challenging bunkers, and breathtaking views, it's a golfer's paradise. Designed by the acclaimed golf architect Robert Trent Jones Jr., the 27-hole championship course offers an unforgettable golfing experience. Whether you're a seasoned pro or a beginner, you'll find the perfect challenge on these meticulously maintained greens.
For those seeking a different kind of sporting adventure, Penha Longa offers a range of outdoor activities. Explore the beautiful trails and pathways that wind through the resort's extensive grounds on a leisurely hike or a brisk jog. The serene surroundings provide the ideal backdrop for reconnecting with nature and breathing in the fresh air.
Cycling enthusiasts can take advantage of the resort's mountain bike rental service and embark on an exhilarating ride through the surrounding hills and countryside. Feel the wind in your hair as you explore the scenic landscapes and discover hidden gems along the way.
If you prefer water activities, head to the nearby Cascais coastline, just a short drive from Penha Longa. The picturesque beaches offer opportunities for swimming, sunbathing, and water sports such as surfing, paddleboarding, and kayaking. Admire the breathtaking cliffs and enjoy the invigorating Atlantic Ocean waters.
For those who enjoy a game of tennis, the resort features top-quality tennis courts where you can practice your serve and challenge friends or family to a friendly match. Tennis enthusiasts can even take lessons from professional coaches to improve their skills and technique.
Penha Longa is also an ideal destination for horseback riding enthusiasts. Explore the surrounding countryside on horseback, taking in the stunning vistas and connecting with nature in a unique and memorable way. Whether you're a novice rider or an experienced equestrian, the resort's horseback riding facilities and guided tours cater to all levels of experience.
With an abundance of outdoor activities and sports options, Penha Longa offers endless opportunities for adventure and exploration. Whether you prefer the tranquility of a scenic hike, the thrill of a round of golf, or the excitement of water sports, you'll find it all amidst the resort's captivating landscapes.
Nearby Attractions and Points of Interest
Located in the enchanting region of Sintra, Penha Longa offers easy access to a wealth of nearby attractions and points of interest. Immerse yourself in the rich history, cultural heritage, and natural beauty of the surrounding area, discovering the hidden gems that make Sintra a truly magical destination.
One of the must-visit sites near Penha Longa is the Pena Palace. Perched atop a hill, this colorful and whimsical palace is a UNESCO World Heritage site and an architectural marvel. Explore its eclectic mix of architectural styles, vibrant facades, and intricately designed interiors. The stunning views from the palace grounds are a sight to behold, offering panoramic vistas of the Sintra Mountains and the Atlantic coastline.
Nestled in the Pena Park, adjacent to the Pena Palace, is the breathtaking Moorish Castle. Dating back to the 9th century, this ancient fortification offers a glimpse into the region's medieval past. Stroll along the castle walls and enjoy the panoramic views of Sintra and its surroundings, taking in the lush forests and picturesque landscapes.
Close by is the Quinta da Regaleira, a mystical and enigmatic estate renowned for its stunning gardens and unique architecture. Explore the various gardens, tunnels, and ornate structures, including the iconic Initiation Well with its intricate spiral staircase. Discover secret paths, hidden grottoes, and symbols of the esoteric traditions that make this place truly extraordinary.
Another notable attraction is the Monserrate Palace, an exquisite blend of Gothic, Indian, and Moorish architectural styles. Set amidst lush botanical gardens, this palatial residence offers a captivating journey through time. Admire the intricate details of the palace's interior and marvel at the beauty of the surrounding landscape.
For nature lovers, a visit to the Sintra-Cascais Natural Park is a must. This protected area encompasses diverse ecosystems, including forests, cliffs, and beautiful coastal landscapes. Explore the numerous hiking trails and experience the tranquility of nature at its finest.
Not far from Penha Longa is the coastal town of Cascais, known for its beautiful beaches, charming streets, and picturesque harbor. Take a leisurely stroll along the promenade, indulge in fresh seafood at the local restaurants, or enjoy a day of sunbathing and swimming in the crystal-clear waters.
Don't forget to visit Cabo da Roca, the westernmost point of mainland Europe. Stand on the dramatic cliffs and take in the breathtaking views of the Atlantic Ocean. It's a truly awe-inspiring experience to be at this edge of the continent.
With its proximity to these remarkable attractions, Penha Longa serves as the perfect base for exploring the wonders of Sintra. Immerse yourself in the history, culture, and natural beauty of this enchanting region, and create memories that will last a lifetime.
Conclusion
In conclusion, a visit to Penha Longa in Sintra, Portugal, promises an unforgettable experience. From its serene natural surroundings to its world-class amenities, this enchanting destination offers something for everyone.
Whether you're seeking relaxation, adventure, or indulgence, Penha Longa provides a range of activities and amenities to cater to your desires. Explore the resort's picturesque gardens, tee off at the magnificent golf course, or pamper yourself at the luxurious spa. Engage in outdoor activities such as hiking, cycling, and horseback riding, or simply soak up the sun by the pool.
Penha Longa is also a gateway to the nearby attractions and points of interest in Sintra. Explore the iconic landmarks such as the Pena Palace, Moorish Castle, and Quinta da Regaleira, each offering a unique glimpse into the region's rich history and architectural heritage. Discover the natural wonders of the Sintra-Cascais Natural Park, relax on the beautiful beaches of Cascais, and marvel at the dramatic cliffs of Cabo da Roca.
To enhance your experience, indulge in the diverse dining options at Penha Longa, ranging from Michelin-starred restaurants to casual al fresco dining. Relish in the flavors of Portuguese and international cuisine, accompanied by breathtaking views and impeccable service.
Whether you're seeking a romantic escape, a family vacation, or a solo adventure, Penha Longa offers a haven of tranquility and beauty. Its convenient location near Lisbon allows for easy access, making it an ideal destination for both domestic and international travelers.
So, pack your bags and embark on a journey to Penha Longa in Sintra, where unforgettable experiences, cultural discoveries, and moments of relaxation await. Whether you choose to immerse yourself in the resort's amenities, explore the nearby attractions, or simply relax in the serenity of the surroundings, Penha Longa promises to leave you with cherished memories that will last a lifetime.