12 Best Things to do in Sintra Portugal: A Traveler's Guide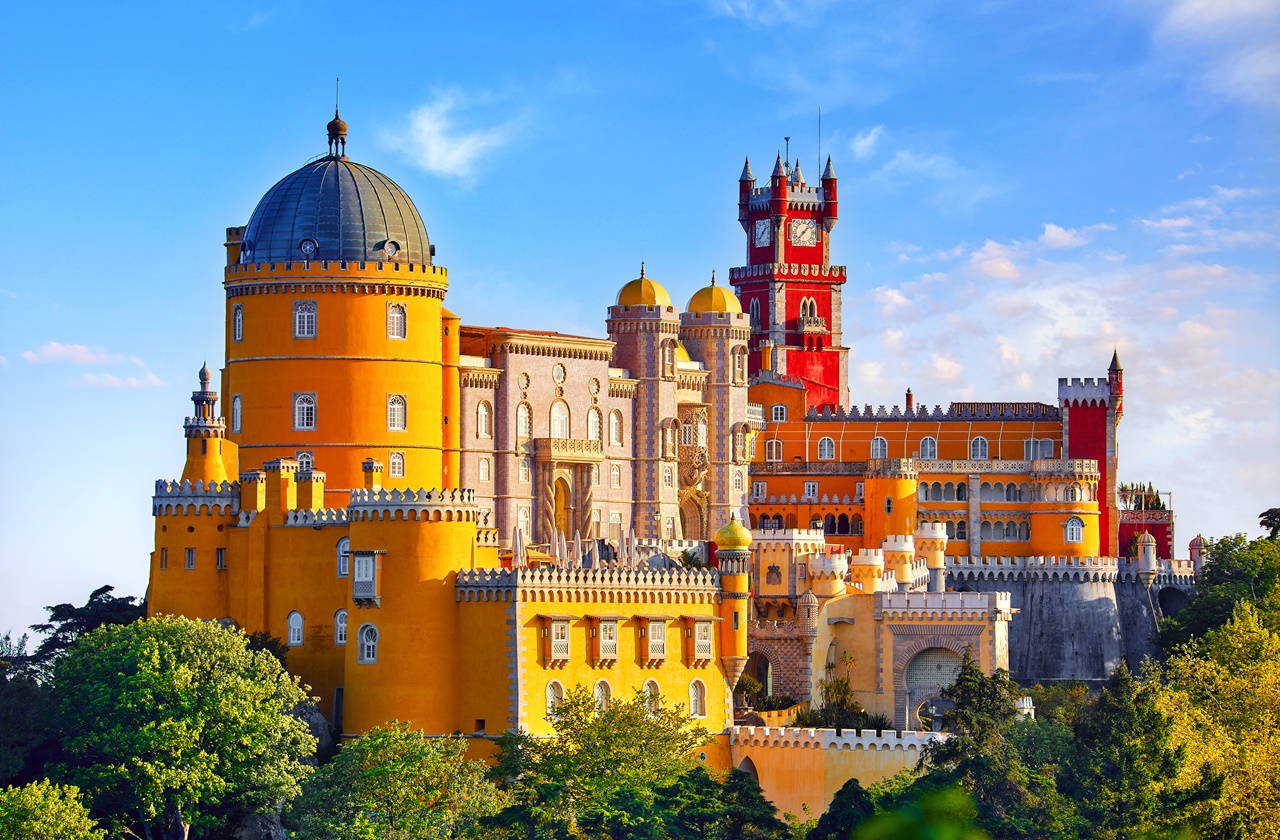 Sintra is one of Portugal's best and most beautiful cities. Unlike the bustling capital of Lisbon, Sintra has enchanting mansions, castles, and country estates within its lands. Walking around its gardens and palaces makes you feel like you're in a fairy-tale. After all, Sintra was once the playground of royals looking to escape the heat of Lisbon — which you can now enjoy! Get creative and bring your cameras as Sintra Portugal has plenty of photo opportunities and Instagram-worthy spots.
Located less than 35 kilometers from Lisbon, Sintra makes for an ideal day trip, or you can stay in the city for a few days to make the most of your trip. Whether you're visiting for a day or more, here's a helpful guide on the must-do activities and must-see places as well as extra information to help you on your visit to Sintra.
What to Do In Sintra Portugal
1. Explore Pena Palace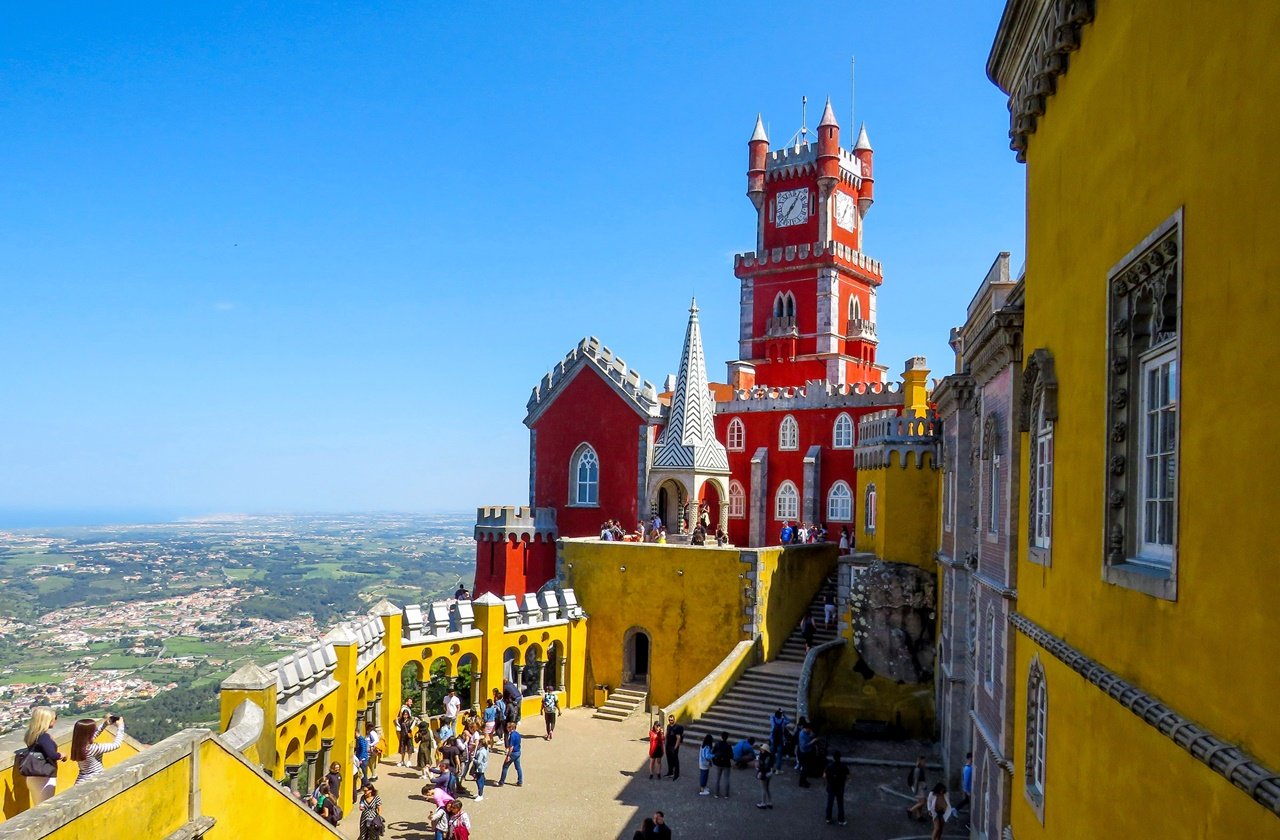 Photo by Mark Lawson on Unsplash
The World Heritage Site of Pena Palace is without a doubt Sintra Portugal's most famous landmark. The brightly-colored palace features a harmony of different styles: from Moorish, Romanesque Revival, to Renaissance, designed by King Fernando II. Like the Neuschwanstein Castle, one of the popular German castles, it towers above the city skyline, with Pena Palace seen from Lisbon.
Join a walking tour of Pena Palace and see its gorgeous interiors, ballrooms, and gardens. The Aram Room is also a must-see, with its wall-to-ceiling trompe-l'oeil frescoes and art. On the other hand, if you plan on skipping a guided tour, make sure to visit during the weekday mornings before the crowds arrive.
2. Marvel at the Views of Cabo da Roca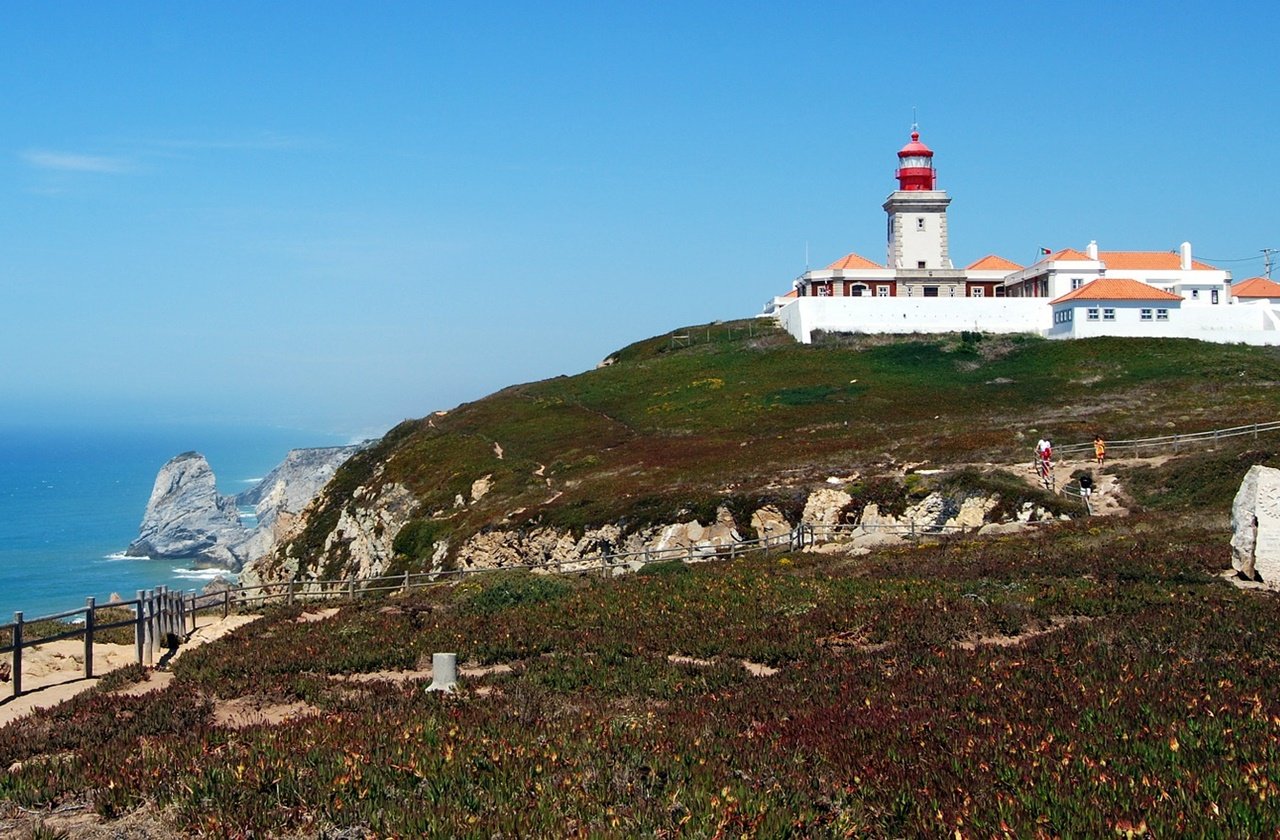 Photo by pcdazero on Pixabay
Cabo da Roca mark's the westernmost point of continental Europe. It is also where the sky meets the sea, set in a granite cliff 140 meters above the sea. The area around Cabo da Roca is simple and underdeveloped, with only the lighthouse, a coffee shop, and a gift shop around, preserving the beauty of nature. Near the lighthouse is a stone monolith that marks the place as the westernmost part of Europe, a popular photo spot among visitors. Around Cabo da Roca, you can also find quaint beaches.
Take a bus or a taxi to Cabo da Roca and be in awe of its views. Don't forget to bring your cameras and take panoramic shots along the coast. Stop by the gift shop and take home a souvenir, a handwritten certificate proving your visit to this corner of Europe.
3. Take a Break at Parque da Pena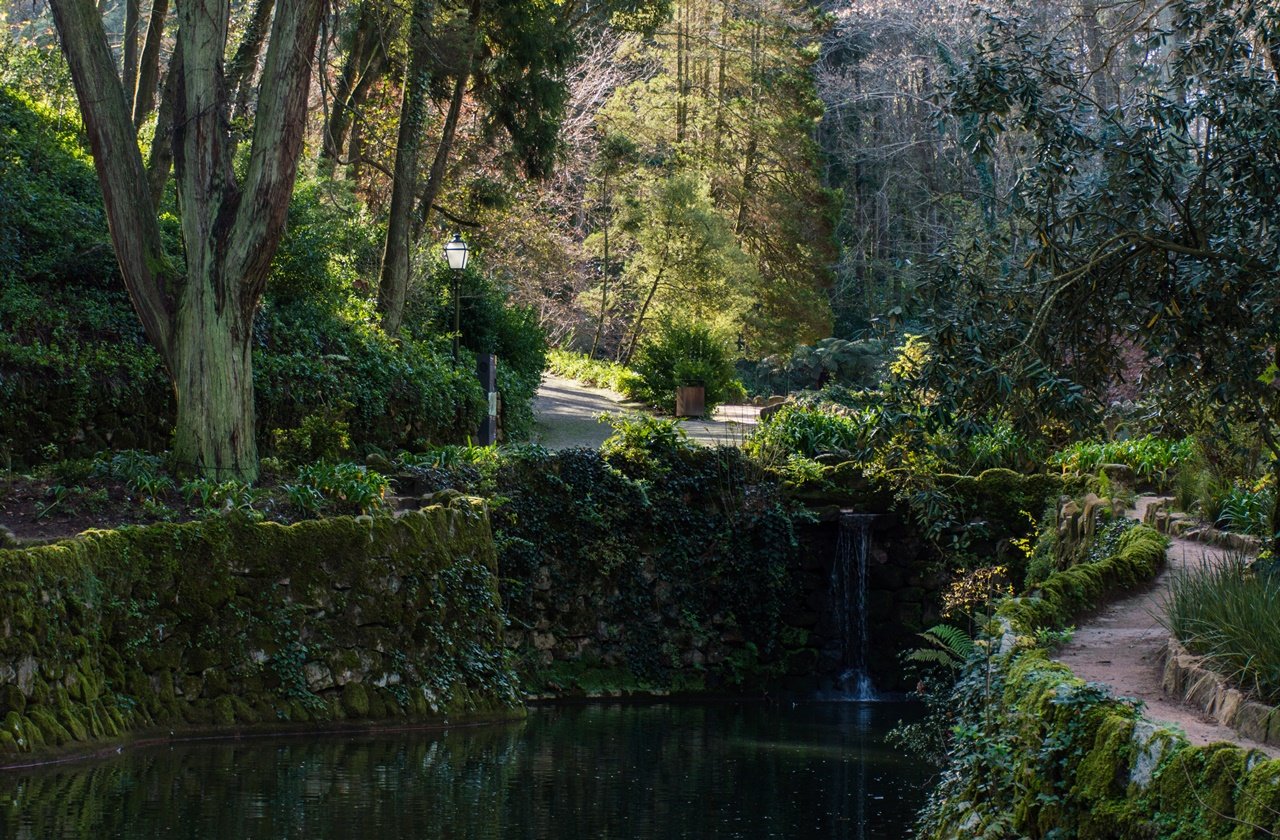 Photo by Red Mirror on Unsplash
From exploring the buildings and palaces of Sintra Portugal, relax and enjoy a leisurely walk at Parque da Pena. Like Pena Palace, the park was constructed by King Ferdinand II who filled the 200-hectare land with tall trees and plant species from around the world. Most trees and plants have matures, giving the park a somewhat mysterious yet charming atmosphere. On a warm, sunny day, visiting Parque da Pena is one of the best things to do in Sintra.
Walk long its greenery-laden walkways boasting different plants and flowers. Enjoy the views of the garden and its well-maintained hedges as you follow different paths. For the complete experience, hike through the forest and up to its highest point of the Sintra Mountains, Cruz Alta.
4. Try the Local Delicacies of Sintra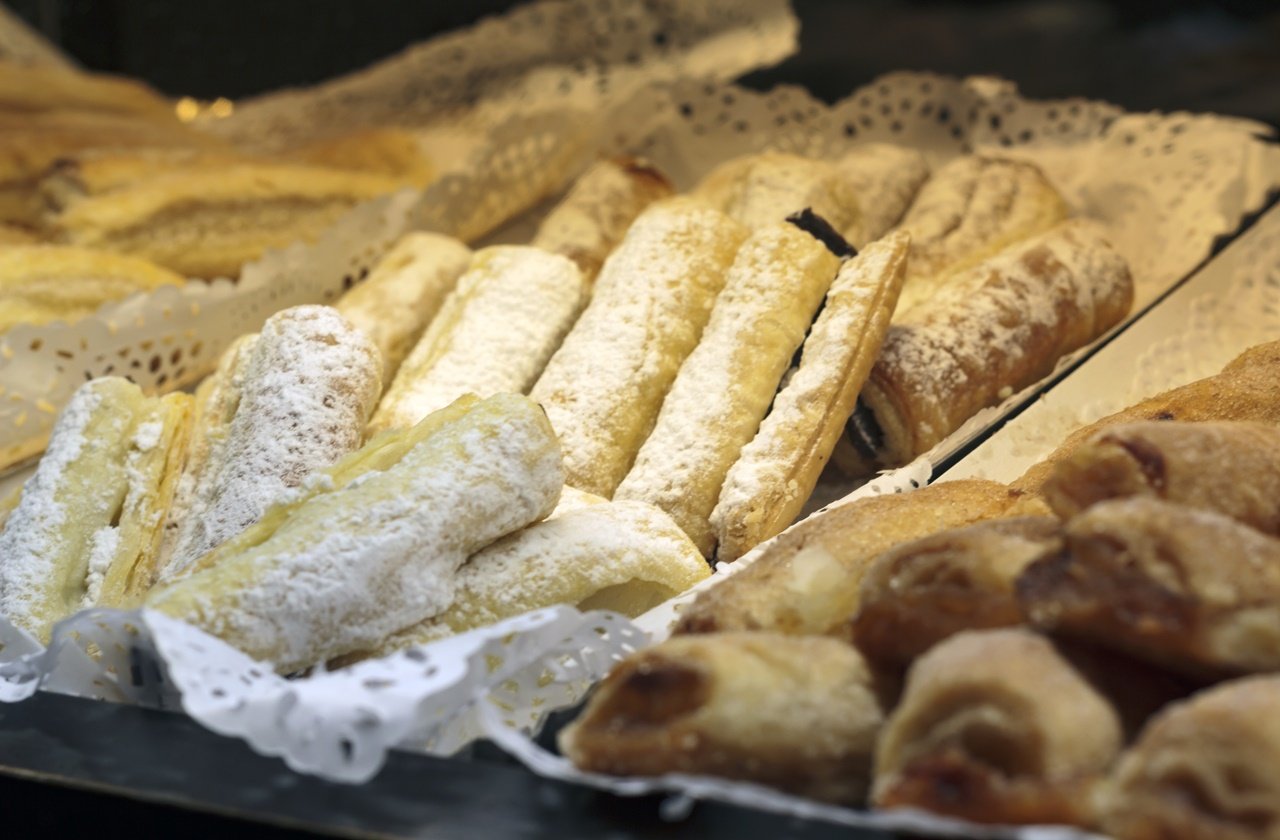 Photo by raquel on Adobe Stock
A trip to any city is incomplete without trying some of its local food and snacks! While Lisbon is famous for its egg tarts, Sintra also has its fair share of must-try bites and delicacies. At Old Town, don't miss the Casa Piriquita pastry shop and try their famous sweet treats. Try the travesseiro, a flaky rectangular puff pastry filled with egg cream and almonds. Another local snack is the queijada, a rounded cake made with cheese, sugar, cinnamon, and eggs.
If you're a certified foodie, join food tours of Sintra and let an expert guide take you through stalls and shops selling the best local eats. Get a chance to learn about Sintra Portugal's culinary history, sample its dishes and snacks, and admire the beauty of the city in one trip.
5. Enjoy the Beaches of Sintra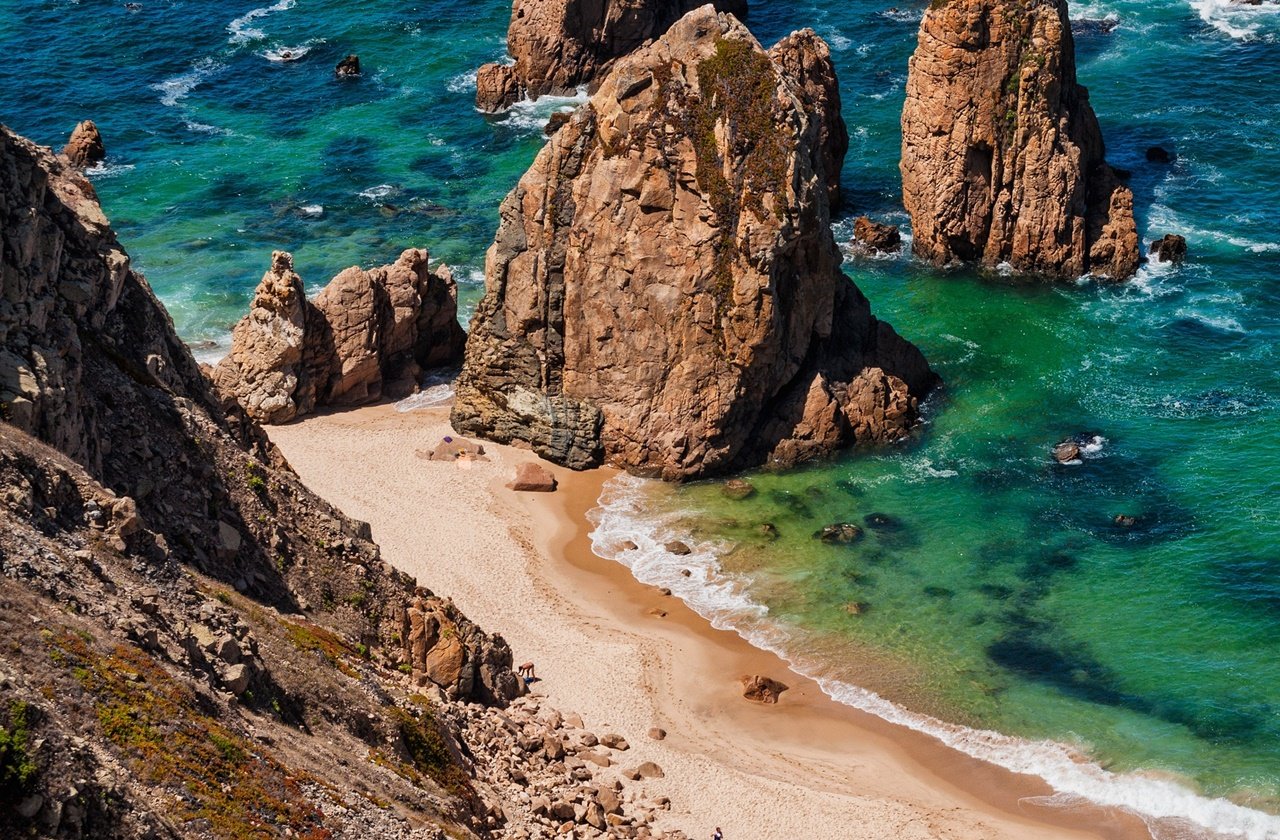 Photo by robiweber on Pixabay
In summer (or any day for that matter), head to the beaches in Sintra and take a dip in its waters. Beaches in Sintra Portugal are relatively smaller than those in Lisbon, but the coast is beautiful and is a must-visit. In addition, the beaches at Sintra are also popular for surfing, paragliding, and other water activities. Whether you're an avid surfer or you just want to relax and soak up the sun, make sure to visit Sintra's beaches.
Near Cabo da Roca is Praia da Ursa, one of the city's best beaches. Reachable by car, it's remote and fairly rugged, but it still has pristine white sand framed by tall cliffs and boulders. Meanwhile, Praia Grande is easily accessible and has plenty of cafes, restaurants, and shops nearby. Other noteworthy beaches in Sintra are Praia das Maçãs and Praia da Adraga.
6. Go on a Walking Tour of the Old Centre of Sintra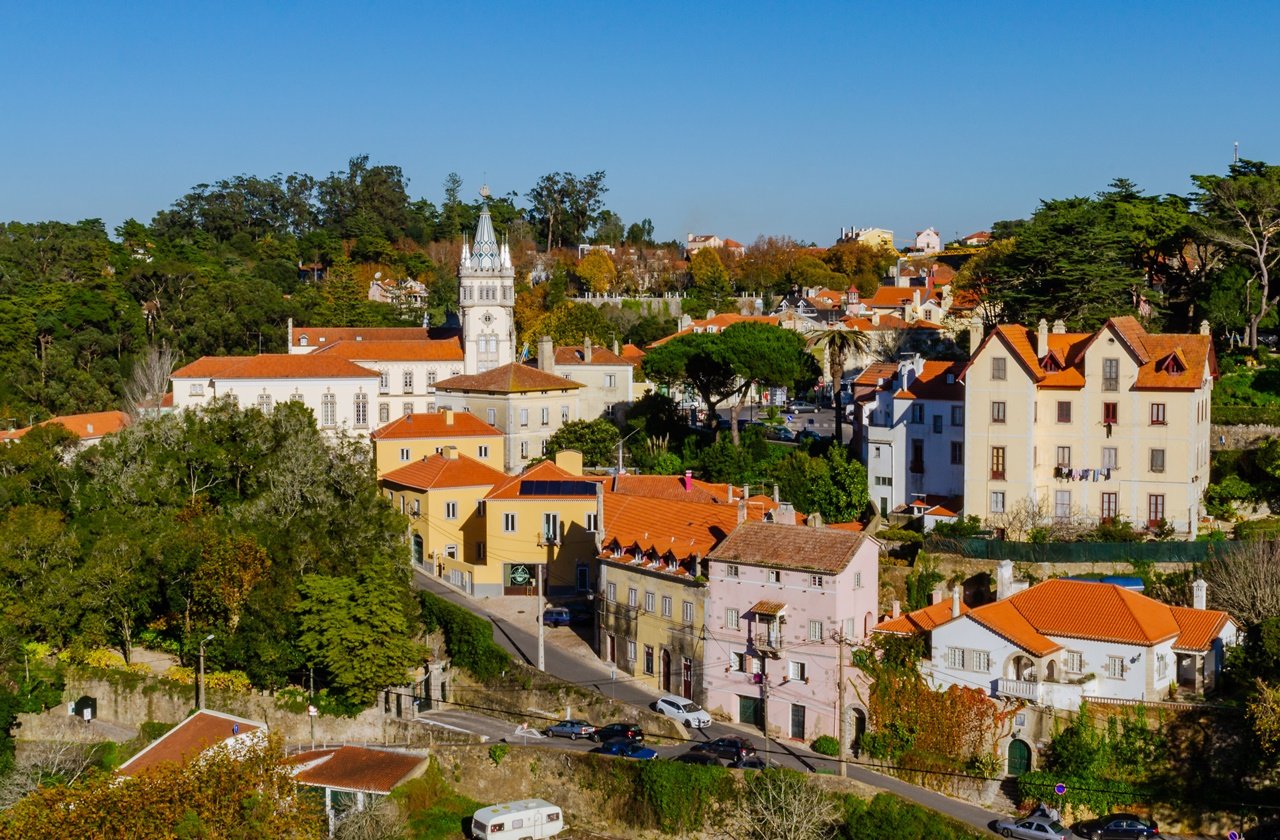 Photo by Rui on Adobe Stock
Joining guided walking tours of Sintra Portugal is definitely one of the best ways to acquaint yourself with the city. You can see the Historic Centre's main highlights in one trip and learn about them from your guide. There are plenty of tours available with varying schedules, itineraries, number of participants, and languages. Additionally, some tour packages also include tickets to Pena Palace or the Palace of Sintra.
Start your way with a morning walking tour of Sintra's Old Centre and see the charming town come to life as the shops open one by one. Then, pass by quaint shops through cobbled streets to see charming mansions, townhouses, and even museums which you can photograph from the outside.
7. Visit the Sintra National Palace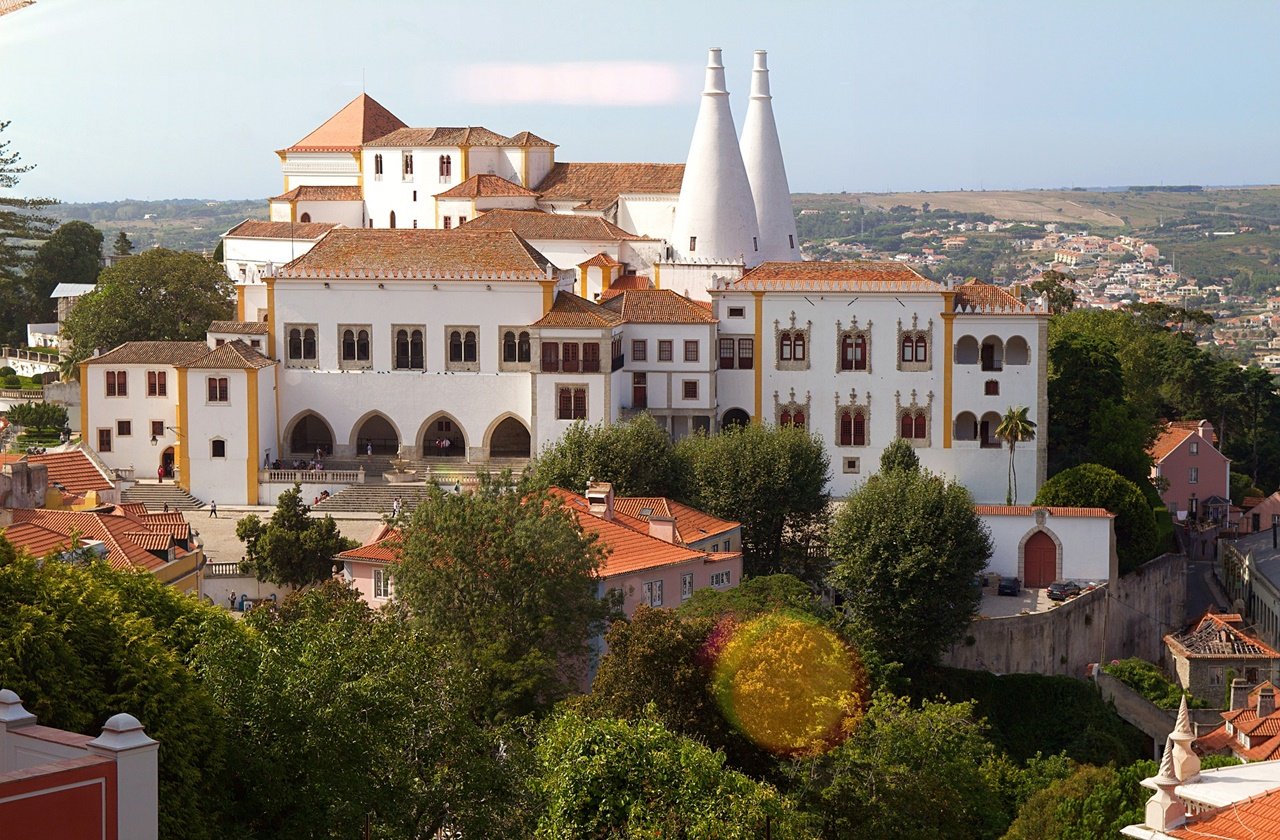 Photo by Jonny_Joka on Pixabay
Near the Sintra Natural History Museum is another must-visit site in the city: the Sintra National Palace. Visitors can immediately recognize the palace due to its white conical towers. Once home to the Royal Family of Portugal, the National Palace is one of the best-preserved palaces in all of Portugal. Like most castles in Europe that had different families occupying them, each occupant would add their personal touch to the castle.
Explore this majestic palace and learn about the history of Sintra. Visit the Hall of Swans, named after the painted swans on the ceiling, and marvel at the tilework of the Arab Room. As you visit one room and another, you'll notice the different interior and architectural styles creating a unique yet pleasing aesthetic.
8. Admire the Beauty of the Monserrate Palace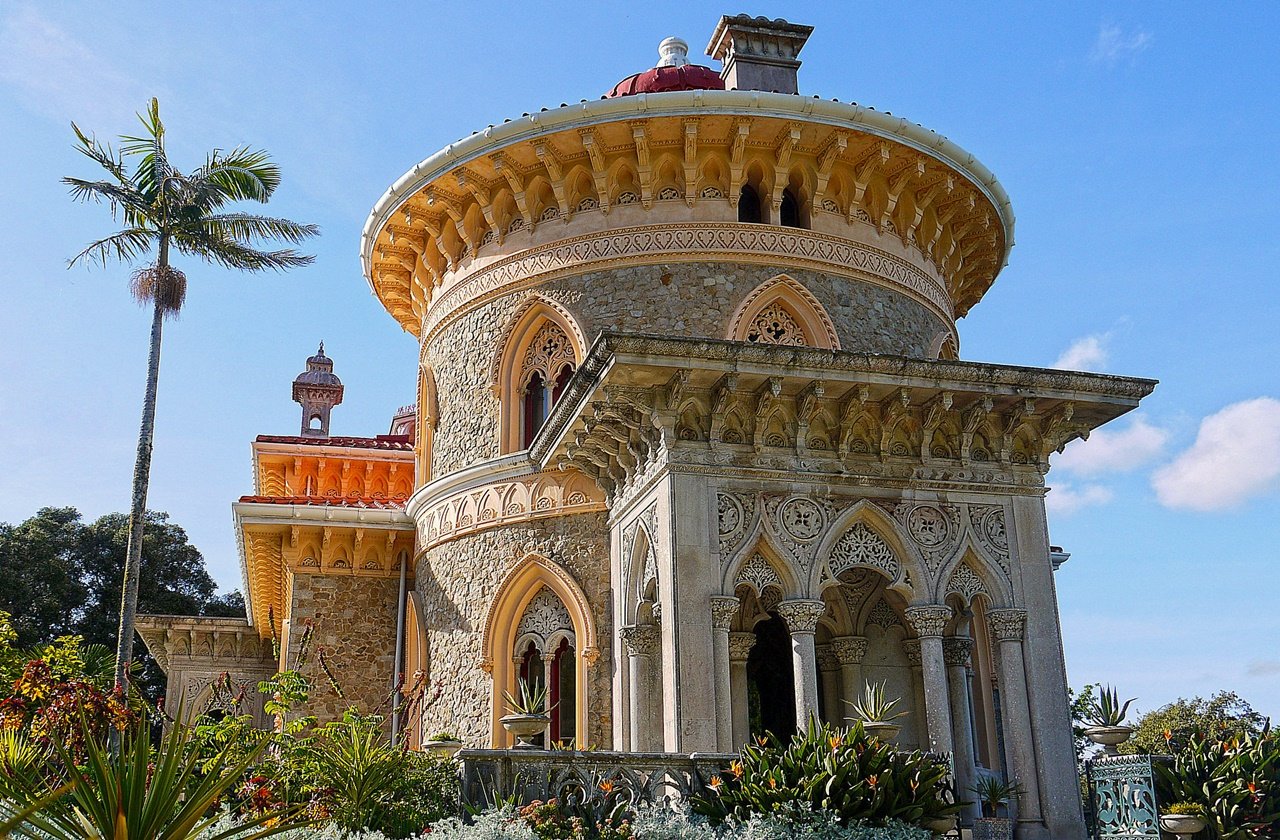 Photo by kkmarais on Flickr
Tucked into the hills of Sintra Portugal away from the streets of Old Town is the Monserrate Palace. The palace was once a chapel, but it suffered major damages during the 1755 Lisbon earthquake. From 1789 to 1809, the chapel was rebuilt into a palace, and in 1863, the British merchant Francis Cook bought the property and turned it into a summer residence for his family. Today, Monserrate Palace is one of the off-the-radar yet must-visit sites in Sintra.
Explore the ornate gardens of Monserrate Palace, bursting with plants from different corners of the world. Its overall architecture is a combination of, English, Arabic, Gothic, and Indian styles, with brightly colored walls and elegant arches. With its lush gardens, beautiful waterfalls, and quaint lakes, it is the perfect escape for a relaxing afternoon.
9. Hike the Castle of the Moors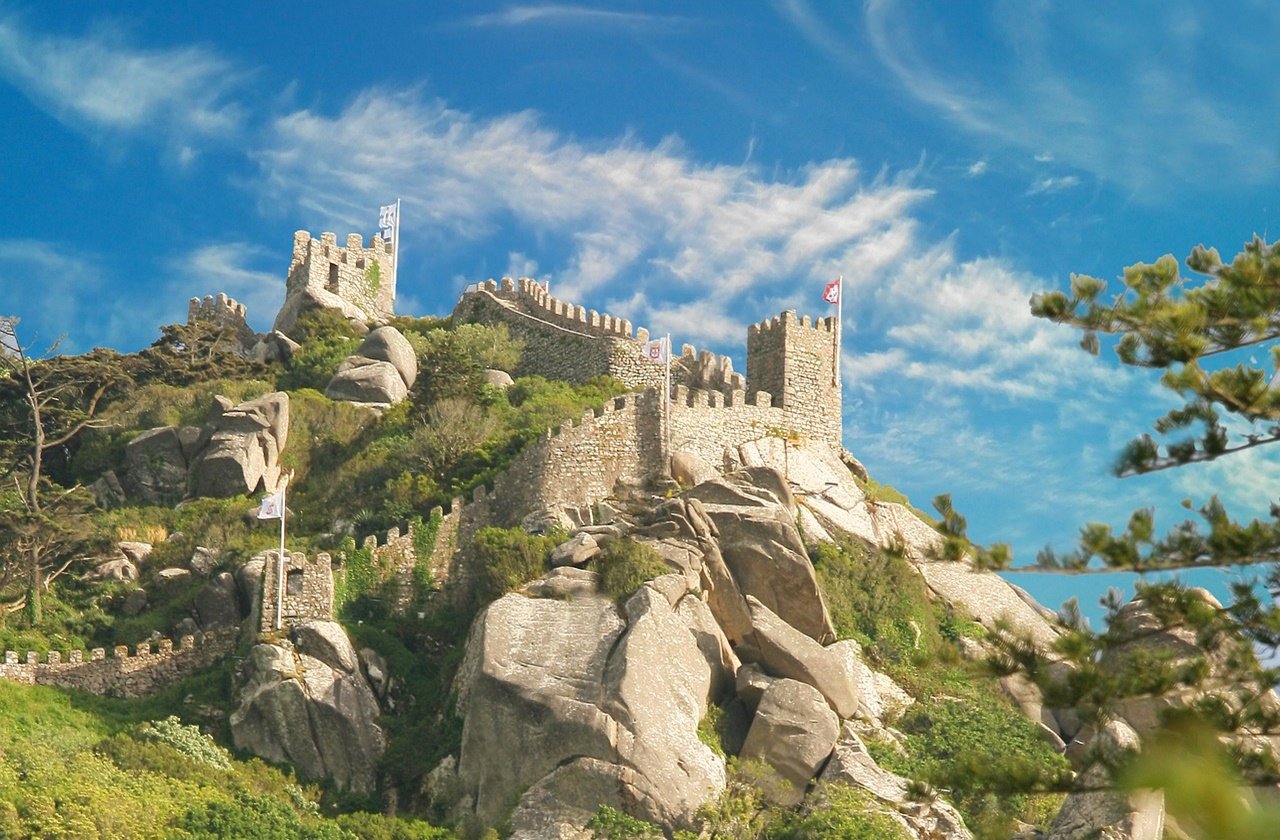 Photo by NunofSousa on Pixabay
For uninterrupted views of Sintra Portugal, hike to the Castle of the Moors. It was once a strategic location during the Reconquista but was taken by the Christians after the fall of Lisbon. As part of the Cultural Landscape of Sintra, it is a UNESCO World Heritage Site. And like other major attractions in the city, the Castle of the Moors is nestled on top of a mountain, giving you unparalleled views.
Challenge yourself and hike to the top of the castle, admiring the views along the way. Much of the original castle has been destroyed, but you can still admire the ruins of the old chapel, cistern, and its walls. For travelers who want to visit yet skip the tedious hike, you can reach the castle by catching a local bus.
10. Discover Quinta da Regaleira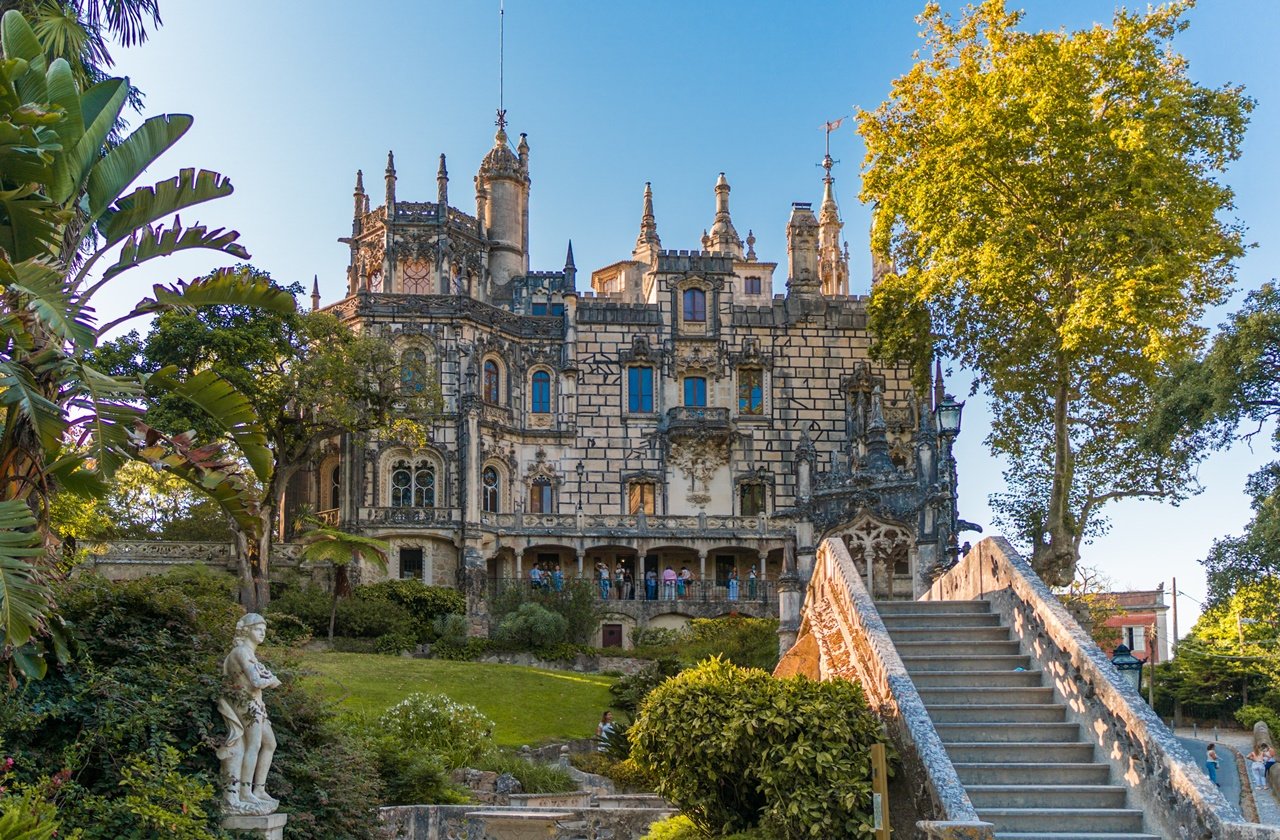 Photo by Raja Sen on Unsplash
The Gothic Quinta da Regaleira is another must-visit palace in Sintra. Its owner, the Regaleira family, was a group of wealthy merchants from Porto. In 1892, they sold it to António Augusto Carvalho Monteiro who commissioned the Italiana architect Luis Manini to recreate the estate to reflect Carvalho Monteiro's ideologies. His ideas and interests would then reflect on the various symbols related to the Knights Templar, alchemy, and Masonry scattered around the estate.
Visit and be in awe of the Gothic and Renaissance structures of Quinta da Regaleira. Keep an eye open for the different Manueline symbols along with the gorgeous frescoes at the chapel. On your visit, don't miss the Initiation Wells, two eerie wells that resemble an underground tower that served as a location for Tarot rites.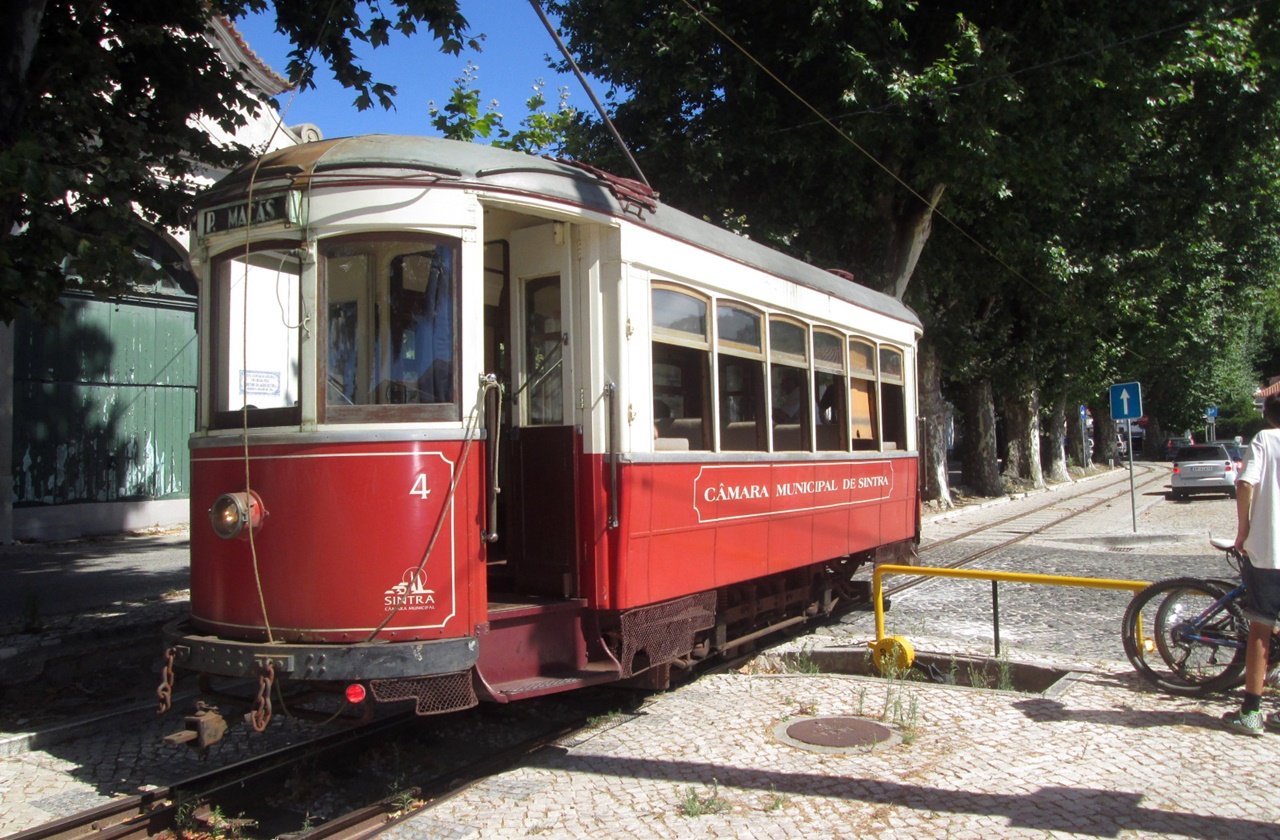 Photo by Cahroi on Flickr
Riding the trams in Sintra Portugal is one of the best ways to explore the city. You can relax in your seat while enjoying the view of the city and its monuments. This is also a great way to see the city if you don't have a car. Opened in 1904, the tram connects the towns of Sintra and Praia das Maçãs and passes through Colares.
For just 3 EUR or 3.60 USD, you can ride the Sintra Tram and travel around the city or to the beaches of Praia das Maçãs. Services for the Sintra Tram are seasonal and in winter, there's only one service per day. If you want to avoid waiting in line or being turned away, take the tram first thing in the morning before resuming your normal sightseeing schedule.
12. See the Palácio Nacional e Jardins de Queluz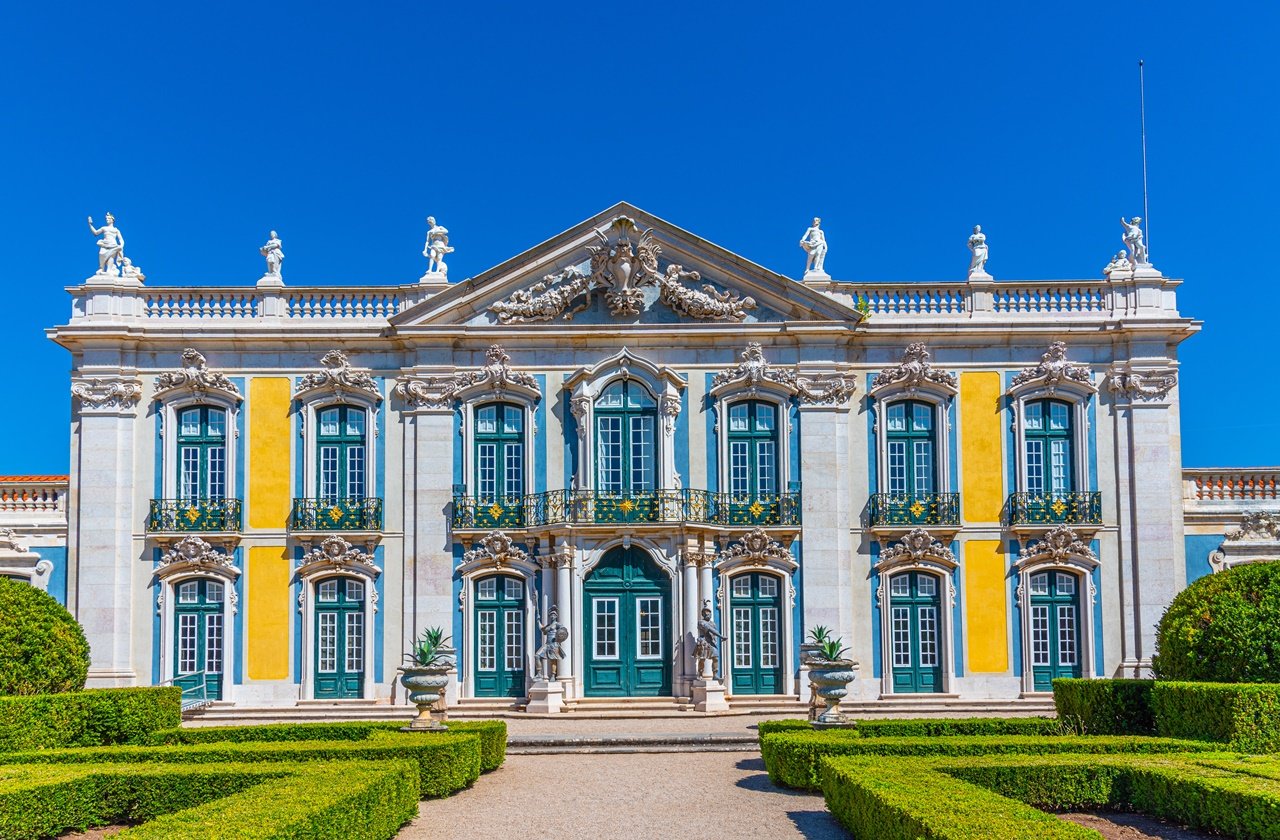 Photo by dudlajzov on Adobe Stock
Just a few minutes away from Sintra is the gorgeous Palace of Queluz, also known as the Palácio Nacional e Jardins de Queluz. The 8th-century palace boasts stunning Rococo architecture with well-manicured gardens and intricate frescoes. In addition, it is also one of the last Rococo buildings designed in Europe and functioned as a summer residence for Pedro III and his wife Maria I.
Once a grand summer retreat, the Palace of Queluz is now a popular tourist attraction near Sintra Portugal. Despite its seemingly modern exterior, its interiors are splendid and reminiscent of the many castles in France. The Hall of Ambassadors features gilded ceilings with black and white marble tiles that resemble a checkerboard. After exploring inside, head out to the garden and find an array of statues of different mythological creatures.
Best Time to Visit Sintra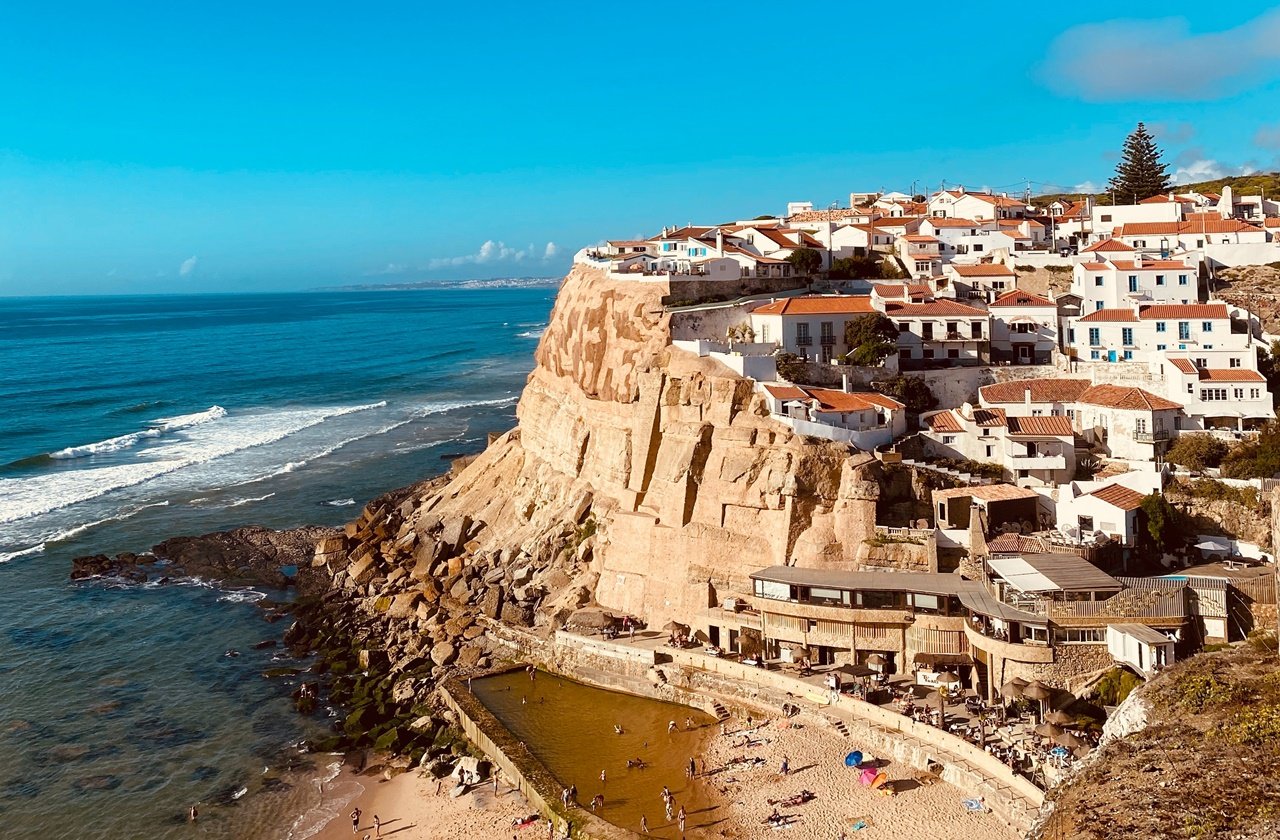 Photo by Paulo Soeiro on Unsplash
The best time to visit Sintra Portugal is from March to May and mid-September to early December. There is also little to no rainfall, so visitors can enjoy outdoor activities and sightseeing. The days are warm and sunny without the heat and crowds brought by summer. Autumn is another great choice of season to visit due to affordable plane tickets and lodging, however, this is also the monsoon season so prepare and pack accordingly to the weather. Additionally, most of the summer crowd has gone by September, so there are fewer crowds at popular sites such as Pena Palace or the Quinta da Regaleira.
The city can get crowded during the peak months of July and August in summer. In winter, hotels and tours are cheaper, which can delight budget travelers. However, there is plenty of rainfall and high humidity can affect your overall trip. Hiking is also not advised in winter as the trails aren't in good condition.
Getting Around Sintra Portugal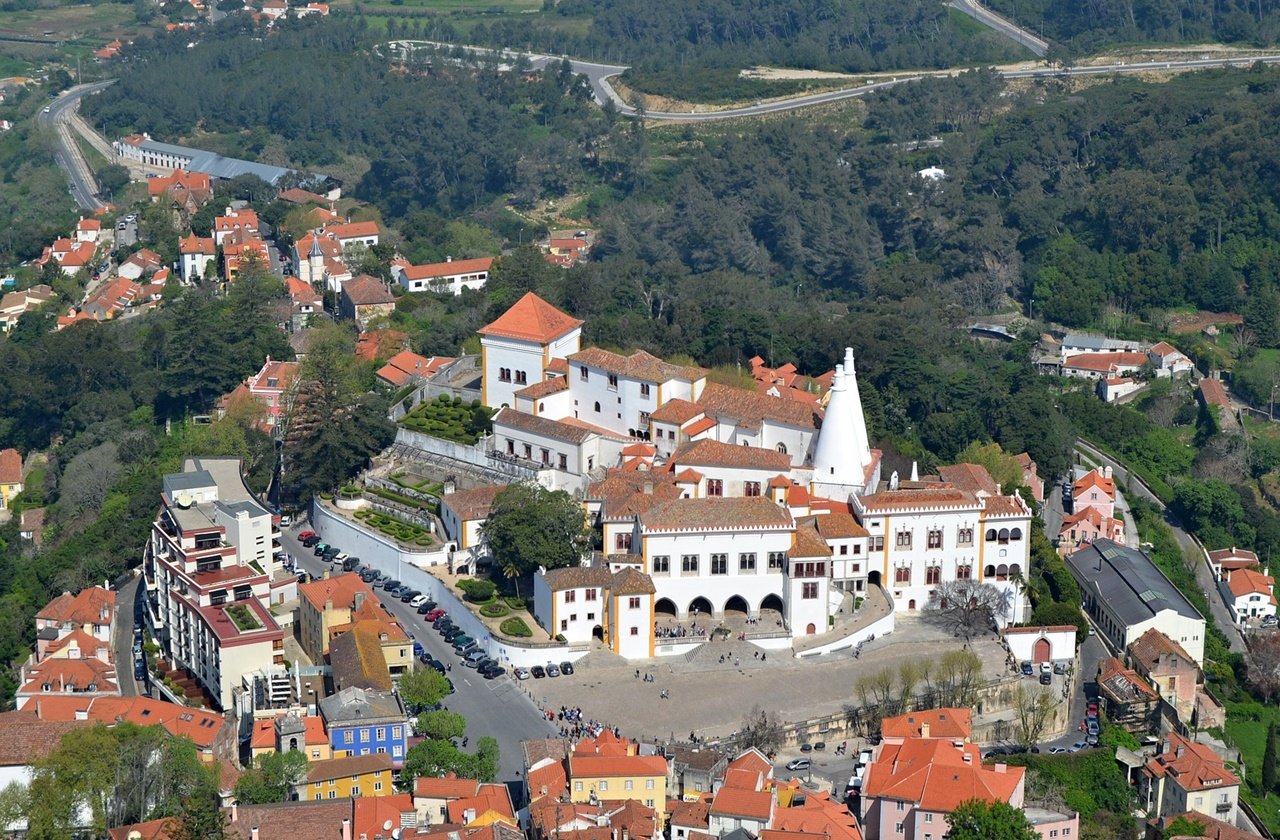 Photo by Anajim on Pixabay
By Car: Using a car to get around Sintra is best if you want to visit far-flung areas that aren't normally accessible by public transport. However, not all streets in the city are passable for cars, especially in Old Town Sintra. Parking is also limited so make sure to confirm with your hotel or accommodation if they have parking slots and you'll need to reserve one in advance. Free parking spaces are also available near the Town Hall. Check the Sintra Municipality website for additional information on parking.
By Taxi: Taxis are also a great way of getting around Sintra Portugal without the hassle of public transportation. There are taxis available near the post office that offer a minimum charge of 3 EUR or 3.60 USD. Taxis are metered, with a higher minimum charge during the weekend.
By Tuk-Tuk: A tuk-tuk is a small, three-wheeled rickshaw that is also common in Asian cities like Bangkok. In Sintra, a tuk-tuk is another way of getting around the city, especially if you're planning on sightseeing. A tuk-tuk can accommodate up to 6 people, and you can book tuk-tuk tours of Sintra through different tour operators.
By Bus: Taking a bus around is a convenient and cost-effective way of getting around Sintra. There are different bus routes that go around popular sites and have one-way or hop-on hop-off options. For the latter, tourists can board on one stop, enjoy the ride, and alight at another stop. Then, they can board another bus on the same route and resume their sightseeing. Most buses start at the train station.
Is Sintra Safe for Travelers?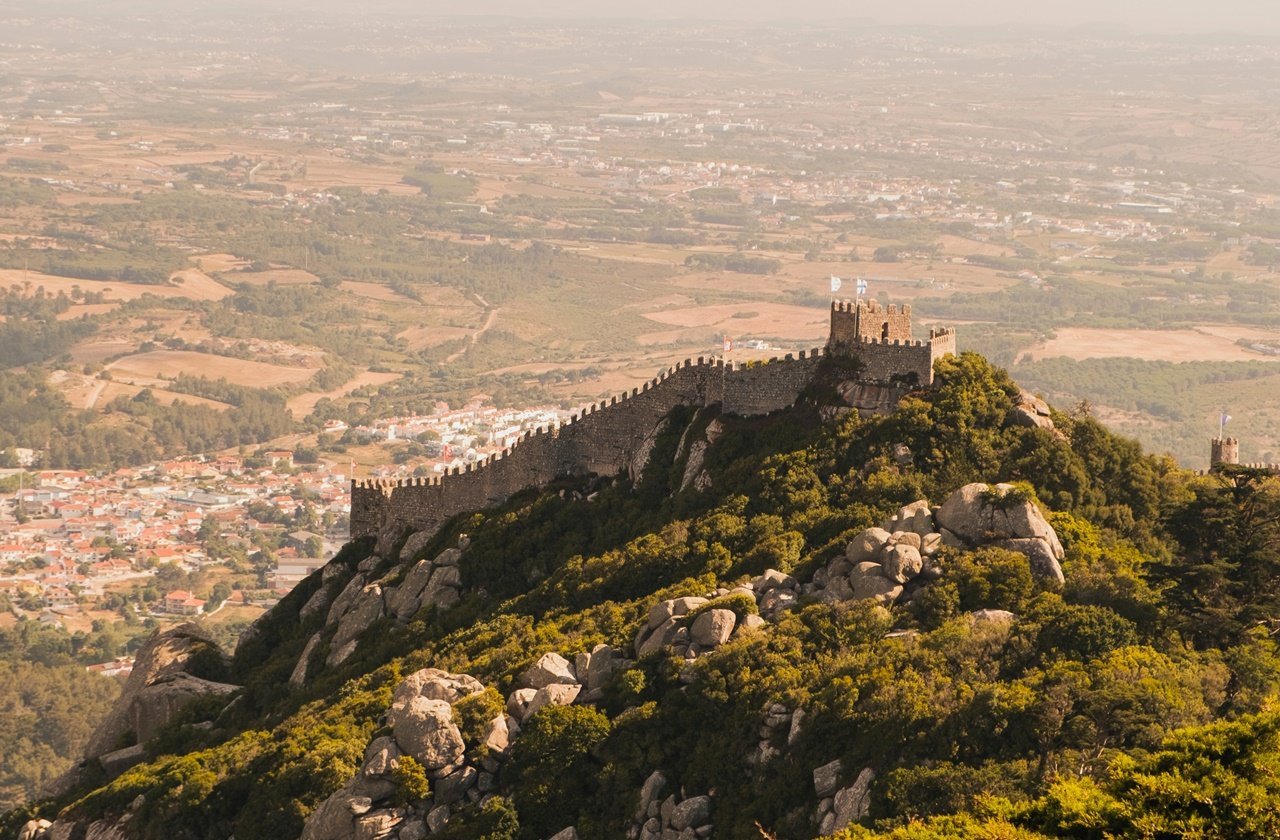 Photo by Julia Solonina on Unsplash
As Sintra is a city away from the capital, it's normal that first-time visitors will ask about its safety. But like Lisbon, Sintra is a relatively safe city to visit. However, tourists should always take note of the following in Sintra:
Be careful of pickpockets especially in touristy areas and districts. Make sure to keep an eye on your belongings and never leave them unattended.
Avoid walking on narrow streets alone at night.
Take note that the weather in Sintra can become unpredictable the higher you go. Places like Pena Palace are prone to morning fog, which can hinder visibility.
Streets in Sintra are steep and narrow. If you'll be exploring the city throughout the day, make sure to wear comfortable walking shoes. When going in crowded areas, keep an eye on your bags and be aware of your surroundings.
When visiting the beaches of Sintra Portugal, pay attention to the posted warning regarding currents or water conditions. There may be sudden surges or warnings of high tide.
See the Beauty of Sintra Portugal
While Lisbon has its fair share of the country's tourism thanks to its sites, restaurants, and its status as the capital, Sintra is also a city worth visiting. Its status as one of the best places to live in Portugal and a favorite among foreign expats is proof that Sintra should be on every traveler's bucket list. Surrounded by gorgeous palaces, eclectic mansions, and summer residences, Sintra is an underrated picture-perfect destination. The breathtaking Pena Palace, Quinta da Regaleira, and Monserrate Palace are some of the most beautiful palaces in Portugal and in Europe as well. In addition, Sintra Old Town is a charming quarter that offers local dining and shopping experiences. If you're looking to veer from the busy city life, head to the beaches and enjoy the view of the Atlantic Ocean.
Nevertheless, if you're staying in Lisbon, Cascais, or in any city in Portugal, visit and discover the beauty of Sintra!