The Top Things To Do In Lisbon: How To Plan The Perfect Itinerary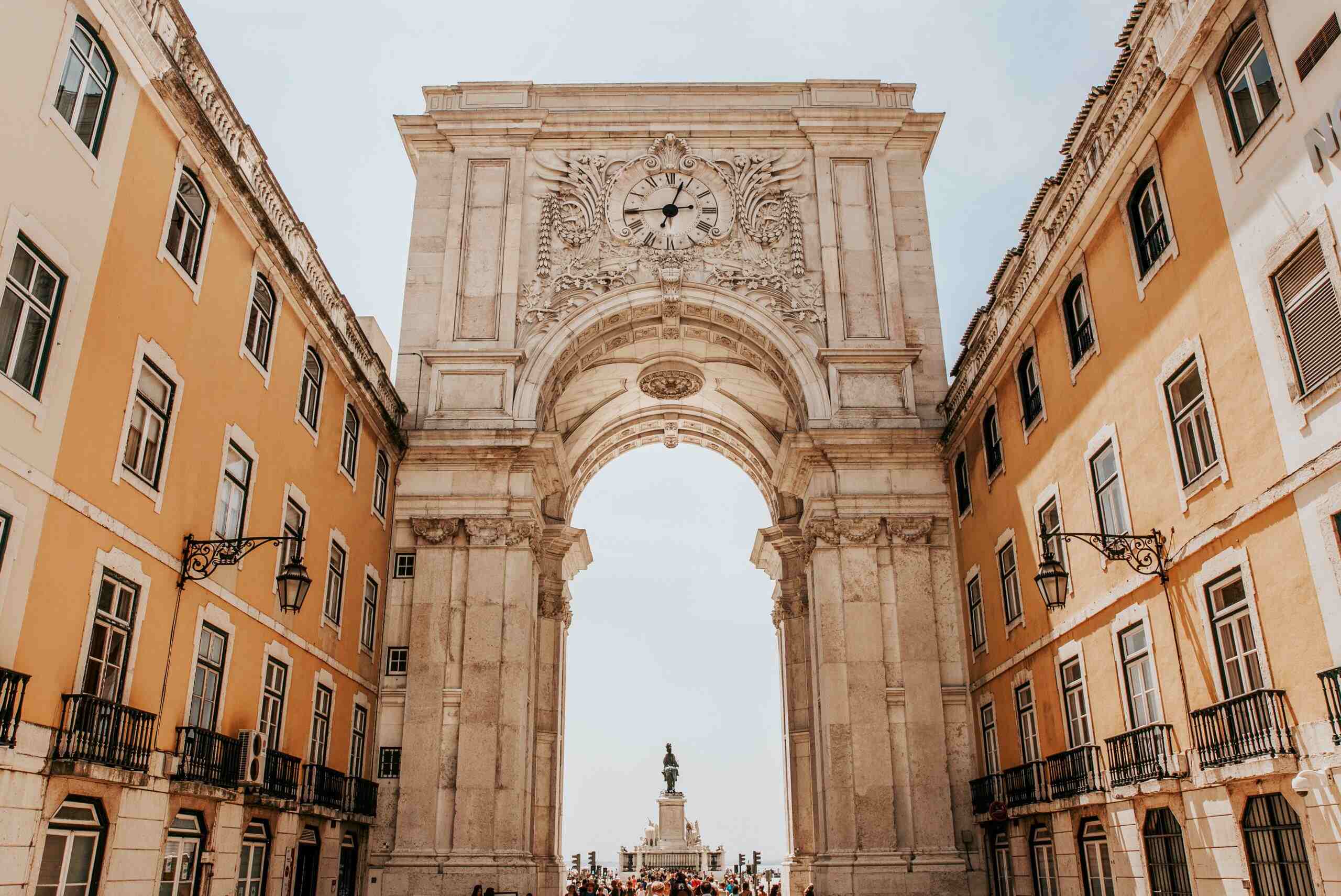 Introduction
Welcome to Lisbon, the vibrant capital city of Portugal! Known for its rich history, stunning architecture, delicious cuisine, and friendly locals, Lisbon is a must-visit destination for travelers seeking a unique and memorable experience. This charming city is built on seven hills, offering panoramic views of the Tagus River and an enchanting blend of traditional and modern attractions.
As you plan your trip to Lisbon, it's important to have a well-organized itinerary that allows you to make the most of your time in this captivating city. In this article, we will guide you through the top things to do in Lisbon, helping you create the perfect itinerary to explore and immerse yourself in the local culture.
Lisbon's historic neighborhoods are the heart and soul of the city, each with its own distinctive charm and character. From the narrow streets of Alfama, the oldest neighborhood in the city, to the trendy boutiques and lively nightlife of Bairro Alto, there is something to captivate every traveler's interest.
No trip to Lisbon would be complete without visiting its majestic monuments that showcase the city's rich history and architectural grandeur. From the iconic Belém Tower to the historic São Jorge Castle, you will be surrounded by centuries-old landmarks that tell tales of the city's past.
When it comes to cuisine, Lisbon is a food lover's paradise. Indulge in the local flavors and try traditional dishes like bacalhau, a popular Portuguese salted codfish, or pasteis de nata, delicious custard tarts that are a specialty of the city.
Art enthusiasts will be delighted by Lisbon's thriving art scene, with its numerous galleries, museums, and street art. Explore the Calouste Gulbenkian Museum, which houses an impressive collection of art from around the world, or wander through the streets of Bairro Alto, where vibrant murals adorn the buildings.
As the sun sets, Lisbon comes alive with its vibrant nightlife. From cozy bars serving craft cocktails to vibrant nightclubs where you can dance the night away, there are plenty of options to suit every taste.
If you're looking for outdoor adventures, Lisbon has you covered. Explore the beautiful parks and gardens, such as the stunning Eduardo VII Park, or take a scenic bike ride along the riverfront promenade.
And if you have an extra day to spare, don't miss the opportunity to take a day trip to Sintra, a picturesque town just outside of Lisbon. With its fairytale castles, lush forests, and breathtaking vistas, Sintra is a true gem that will leave you in awe.
So, get ready to immerse yourself in the wonders of Lisbon. Whether you're a history buff, a foodie, an art lover, or simply looking for a memorable experience, this city has it all. Follow our carefully crafted itinerary, and you're sure to have an unforgettable time in the vibrant capital of Portugal.
Day 1: Explore the Historic Neighborhoods
On your first day in Lisbon, start your exploration by immersing yourself in the city's historic neighborhoods. Begin your journey in Alfama, the oldest neighborhood in Lisbon and a true testament to the city's rich history. Wander through its narrow streets, lined with colorful houses adorned with beautiful azulejos (traditional Portuguese tiles).
As you make your way through Alfama, be sure to visit the São Jorge Castle. Perched on a hilltop, the castle offers breathtaking panoramic views of the city and the Tagus River. Explore the castle's walls and towers, and learn about its fascinating history as you soak in the incredible vistas.
After exploring Alfama, make your way to the Baixa district, Lisbon's downtown area. Here, you will find wide boulevards, grand squares, and bustling pedestrian streets filled with shops, cafes, and restaurants. Take a leisurely stroll down Rua Augusta, the main street of Baixa, and explore its vibrant atmosphere.
Don't miss the opportunity to visit the famous Elevador de Santa Justa, a stunning wrought-iron elevator designed by a student of Gustave Eiffel. Take the elevator to the top and enjoy panoramic views of the city before continuing your exploration.
As you venture further into the historic neighborhoods, make sure to include a visit to the charming district of Chiado. Known for its bohemian atmosphere, Chiado is home to elegant shops, bookstores, and iconic cafes. Take a break at Café A Brasileira, a historic café that was a meeting place for artists and intellectuals in the past.
End your day with a visit to the Time Out Market, located in the Cais do Sodré district. This food hall is a paradise for food lovers, offering a wide array of local and international culinary delights. Indulge in traditional Portuguese dishes, fresh seafood, and artisanal treats while soaking in the vibrant atmosphere of this lively market.
Exploring Lisbon's historic neighborhoods is like stepping back in time. From the narrow streets of Alfama to the bustling squares of Baixa and the bohemian vibe of Chiado, each neighborhood has its own unique charm and beauty. Immerse yourself in the city's history, soak in the vibrant atmosphere, and let yourself be captivated by the magic of Lisbon's historic neighborhoods.
Day 2: Visit the Majestic Monuments
On your second day in Lisbon, it's time to explore the city's majestic monuments that showcase its rich history and architectural grandeur. Start your day by visiting the iconic Belém Tower, a UNESCO World Heritage Site. This medieval fortress on the banks of the Tagus River was originally built to defend the city and played a significant role in Portugal's maritime history.
Just a short walk from the Belém Tower, you'll find the breathtaking Jerónimos Monastery. This magnificent example of Manueline architecture is dedicated to St. Jerome and is another UNESCO World Heritage Site. Marvel at its intricate facade adorned with carved sculptures and explore the stunning cloisters that exude a tranquil and serene atmosphere.
While in Belém, make sure to satisfy your sweet tooth with a visit to Pasteis de Belém, where you can indulge in their famous custard tarts, known as pastéis de nata. These delicious treats are a true symbol of Portuguese gastronomy and are a must-try when in Lisbon.
Next, head to the Ajuda National Palace, located in the historic district of Ajuda. This grand neoclassical palace was the official residence of the Portuguese royal family, and today, you can explore its opulent rooms and admire the impressive collection of art and decorative objects.
After visiting the Ajuda National Palace, take a scenic tram ride up to the hill of Graça, where you will find the São Vicente de Fora Monastery. This 16th-century monastery houses beautiful chapels, stunning tile panels, and a panoramic terrace that offers sweeping views of the city.
End your day by witnessing the sunset from the Miradouro da Senhora do Monte, one of the highest viewpoints in Lisbon. As you take in the breathtaking panorama of the city, reflecting on the majestic monuments you've explored throughout the day, you'll truly understand why Lisbon is called the "City of Seven Hills."
Visiting the majestic monuments of Lisbon is a journey through time and a chance to appreciate the city's rich heritage. From the iconic Belém Tower and Jerónimos Monastery to the opulent Ajuda National Palace and the serene São Vicente de Fora Monastery, each monument tells a story of Portugal's past and showcases the country's remarkable architectural achievements.
Day 3: Indulge in Local Cuisine
Food is an integral part of Portuguese culture, and on your third day in Lisbon, it's time to indulge in the delicious local cuisine. Start your gastronomic adventure by trying one of Portugal's most famous dishes – bacalhau. This salted codfish is a staple in Portuguese cuisine, and you can find it prepared in various mouthwatering ways, such as bacalhau à brás or bacalhau com natas.
Make your way to Mercado da Ribeira, also known as Time Out Market, a food hall that brings together some of the city's top chefs and vendors. Here, you can sample a wide range of traditional Portuguese dishes and flavors, from seafood to grilled meats and delectable pastries.
If you're feeling adventurous, head to Cervejaria Ramiro, a beloved seafood restaurant famous for its fresh seafood and lively atmosphere. Indulge in some clams, prawns, and the iconic Lisbon delicacy, percebes (gooseneck barnacles), while sipping on a cold beer.
For a truly authentic dining experience, visit a Fado House in the evening, where you can enjoy traditional Portuguese music while savoring a delicious meal. Fado is a soulful genre of music that tells stories of love, longing, and melancholy, and it pairs perfectly with a hearty Portuguese meal.
End your culinary journey with a visit to one of the oldest pastry shops in Lisbon, Confeitaria Nacional. This iconic bakery is known for its wide variety of pastries and cakes. Don't miss the opportunity to try a pastel de nata, a mouthwatering custard tart that is a true symbol of Portuguese pastry-making.
Throughout your day of indulging in local cuisine, you'll discover the unique flavors and culinary traditions that make Portugal's gastronomy so special. From the salted codfish to the freshest seafood and delightful pastries, Lisbon is a paradise for food lovers. So, let your taste buds guide you and savor the authentic flavors of Portugal as you explore the city's culinary delights.
Day 4: Discover Lisbon's Art and Culture
Lisbon is a city that breathes art and culture, and on your fourth day, immerse yourself in the vibrant art scene and uncover the cultural treasures that Lisbon has to offer. Start your day by visiting the Calouste Gulbenkian Museum, one of the finest art museums in Portugal. Admire the diverse collection of artworks, including paintings, sculptures, and decorative arts from various periods and civilizations.
Next, head to the LX Factory, a creative hub located in a former industrial complex. This dynamic space is home to art studios, galleries, trendy shops, and quirky cafes. Explore the street art that adorns the buildings, browse the eclectic shops, and soak up the artistic atmosphere that permeates every corner.
Take a leisurely walk through the streets of the Bairro Alto neighborhood, known for its bohemian vibe and street art scene. Admire the colorful murals that decorate the buildings, showcasing the talent and creativity of local and international artists. Stop by the Underdogs Gallery, a prominent street art gallery that exhibits works from renowned urban artists.
For a taste of contemporary art, visit the Museum of Art, Architecture, and Technology (MAAT). This modern museum showcases innovative and thought-provoking art installations and exhibitions. Take in the stunning riverside location and explore the museum's exhibits that combine art, architecture, and technology.
Continue your artistic journey by visiting the National Museum of Ancient Art. Housed in a beautiful 17th-century palace, this museum displays a remarkable collection of Portuguese art, including paintings, sculptures, and decorative arts. Marvel at masterpieces by Portuguese artists and gain a deeper understanding of the country's artistic heritage.
End your day with a performance of Fado, Portugal's traditional music genre. Head to the Alfama neighborhood, where you can find intimate Fado houses that provide an authentic and moving experience of this soulful music. Let the haunting and passionate melodies captivate your senses and transport you into the heart of Portuguese culture.
Lisbon's art and culture scene is diverse, dynamic, and deeply rooted in the city's history and heritage. From classic masterpieces to contemporary installations, street art to Fado music, you'll discover the richness and creativity that make Lisbon a true cultural destination. Immerse yourself in the artistic spirit of the city, and let its cultural treasures leave a lasting impression on your journey.
Day 5: Experience the Vibrant Nightlife
As the sun sets, Lisbon comes alive with its vibrant and exciting nightlife scene. On your fifth day in the city, dive into the energetic atmosphere and experience the best of Lisbon's nightlife. Start your evening in the Bairro Alto neighborhood, known for its lively bars and vibrant nightlife scene.
Take a stroll through the narrow streets lined with charming old buildings and colorful graffiti. As the night progresses, the bars in Bairro Alto spill out onto the streets, creating a buzzing and lively atmosphere. Join the locals and bar-hop, trying different spots and enjoying a variety of drinks, from craft cocktails to traditional Portuguese ginginha.
For a taste of Lisbon's music scene, head to one of the city's live music venues. From jazz to fado, rock to electronic music, Lisbon offers a diverse range of musical genres to suit every taste. Check out venues like Music Box, Lux Frágil, or Hot Clube de Portugal for an unforgettable night of music and dancing.
If you're looking for a unique and alternative nightlife experience, head to the LX Factory. This creative hub transforms at night with its hip bars and underground clubs. Enjoy the eclectic music selection, dance to the beats of local DJs, and soak up the artistic ambiance that permeates the space.
For a more sophisticated outing, visit the trendy district of Príncipe Real. Here, you will find stylish bars and rooftop terraces offering stunning views of the city. Sip on a craft cocktail or a glass of Portuguese wine while enjoying the chic atmosphere and mingling with the fashionable crowd.
As you explore Lisbon's vibrant nightlife, don't forget to indulge in the city's late-night culinary scene. Stop by a tasca, a traditional Portuguese tavern, and savor delicious petiscos (Portuguese tapas), accompanied by a glass of local wine or a refreshing beer.
End your evening by experiencing a Fado performance in one of Lisbon's traditional Fado houses. The soulful and haunting melodies, accompanied by heartfelt lyrics, will create an intimate and emotional atmosphere. Immerse yourself in the captivating music and allow yourself to be moved by the raw emotions conveyed through the performance.
Lisbon's nightlife is as vibrant and diverse as the city itself. From lively bars to underground clubs, live music venues to intimate Fado performances, the city offers a night to remember for every nocturnal adventurer. Let Lisbon's energy and liveliness sweep you off your feet and experience the magic of the city after dark.
Day 6: Enjoy Outdoor Activities
On your sixth day in Lisbon, take advantage of the city's beautiful weather and natural surroundings by enjoying some outdoor activities. Lisbon offers a range of outdoor experiences, from lush parks and gardens to riverside promenades and thrilling adventures.
Start your day by exploring the beautiful Eduardo VII Park. Located in the heart of the city, this expansive park offers stunning views of Lisbon and the Tagus River. Take a leisurely stroll through its manicured gardens, relax on the grass, or visit the Estufa Fria, a greenhouse filled with a diverse collection of tropical plants.
For a more active outdoor experience, rent a bike and cycle along the riverfront promenade. The path stretches along the Tagus River, providing scenic views and a refreshing breeze. As you ride, admire the iconic landmarks such as the 25 de Abril Bridge and the Christ the King statue on the opposite bank.
If you're up for an adrenaline rush, head to the Cascais region, located just outside of Lisbon. This coastal area offers thrilling water sports activities such as surfing, windsurfing, and stand-up paddleboarding. Join a surf lesson or rent a board and ride the waves along the stunning coastline.
Alternatively, take a boat trip along the Tagus River and soak in the beauty of Lisbon from a different perspective. Enjoy the gentle breeze and admire the city's skyline as you cruise along the river. Some boat tours even offer the opportunity to spot dolphins, adding an extra touch of excitement to your outdoor adventure.
For nature enthusiasts, a visit to the Monsanto Forest Park is a must. This sprawling urban park is the perfect place to escape the bustling city and immerse yourself in nature. Explore the park's hiking trails, go for a picnic, or simply relax in the peaceful surroundings surrounded by trees, plants, and wildlife.
End your day by enjoying a sunset at one of Lisbon's beautiful viewpoints, known as miradouros. The Miradouro das Portas do Sol in Alfama or the Miradouro da Graça both offer breathtaking vistas of the city. Watch as the sun sets over Lisbon, painting the sky with vibrant hues, and savor the tranquility of the moment.
Lisbon's outdoor activities provide a perfect balance between adventure, relaxation, and natural beauty. Whether you prefer strolling through serene parks, engaging in thrilling water sports, or immersing yourself in the city's picturesque landscapes, this day in the open air will rejuvenate your spirit and make your time in Lisbon even more memorable.
Day 7: Take a Day Trip to Sintra
On your final day in Lisbon, take a day trip to the enchanting town of Sintra, located just a short distance away. Known for its fairytale-like castles, lush forests, and breathtaking vistas, Sintra is a UNESCO World Heritage site and a must-visit destination.
Start your day by exploring the iconic Pena Palace, one of Portugal's most famous landmarks. This colorful and eclectic palace sits atop a hill, surrounded by lush gardens and offering stunning panoramic views of the surrounding countryside. Marvel at the intricate details of the palace's exterior, and step inside to discover its beautifully decorated chambers and exhibits.
Next, make your way to the romantic and captivating Quinta da Regaleira. This unique estate is known for its mysterious and esoteric symbols, hidden tunnels, and beautiful gardens. Explore the opulent mansion, wander through the lush greenery, and make sure to descend into the underground initiation well, an architectural wonder that will leave you in awe.
For a taste of Portuguese history, visit the Castle of the Moors, a medieval fortress that overlooks the town of Sintra. Walk along its ancient walls and towers, and as you reach the top, the breathtaking panoramic views of the surrounding landscape will take your breath away.
Recharge your energy with a traditional Portuguese lunch in the town center. Sample local delicacies such as travesseiros, sweet almond-filled pastries, or queijadas, delicious cheese tarts. There are several charming cafes and restaurants where you can enjoy a leisurely meal before continuing your exploration.
Conclude your day trip to Sintra by visiting the famous National Palace of Sintra, located in the heart of the town. This well-preserved medieval palace is characterized by its distinctive twin chimneys and beautiful tiles. Step back in time as you admire the elegant rooms, stunning ceilings, and extraordinary tilework.
As you bid farewell to Sintra and make your way back to Lisbon, take one last look at this magical town. Nestled amidst lush forests and crowned with fairytale-like castles, Sintra offers a truly enchanting experience that will leave a lasting impression.
A day trip to Sintra is the perfect way to end your stay in Lisbon. Immerse yourself in the magical atmosphere of this UNESCO World Heritage site, explore its magnificent palaces and gardens, and allow yourself to be transported to a world of fairytales and wonder.
Conclusion
As your time in Lisbon comes to an end, you can reflect on the incredible experiences and memories you've made. From exploring the historic neighborhoods to visiting majestic monuments, indulging in local cuisine, discovering the city's art and culture, experiencing the vibrant nightlife, enjoying outdoor activities, and taking a day trip to Sintra, you've had a truly immersive and unforgettable journey.
Lisbon, with its charming streets, stunning architecture, vibrant energy, and friendly locals, has captured your heart and left a lasting impression. You've immersed yourself in the rich history, indulged in the delectable flavors of Portuguese cuisine, explored the vibrant art scene, danced the night away, reveled in the great outdoors, and ventured to the enchanting town of Sintra.
Through this comprehensive itinerary, you've been able to make the most of your time in Lisbon, experiencing the city's diverse attractions and allowing yourself to truly immerse in the local culture. From the historic neighborhoods of Alfama and the grand monuments of Belém to the contemporary art scene and the lively nightlife, every day has been filled with adventure and discovery.
As you depart from Lisbon, you can do so with a sense of fulfillment, knowing that you have truly experienced the best that this incredible city has to offer. The memories you've made will be treasured forever, and perhaps you'll be inspired to return one day to create new experiences.
Lisbon has touched your soul with its warmth, beauty, and vibrant spirit. You leave with a deeper appreciation for the history, culture, and traditions of Portugal, and a yearning to explore more of this fascinating country.
So, as you bid farewell to Lisbon, take a moment to look back at the incredible experiences you've had and carry the spirit of this vibrant city with you wherever you go. The magic of Lisbon will stay with you, and perhaps, one day, it will call you back to its charming streets, welcoming you with open arms once again.