Best Time To Visit Greece For A Stress-Free Vacation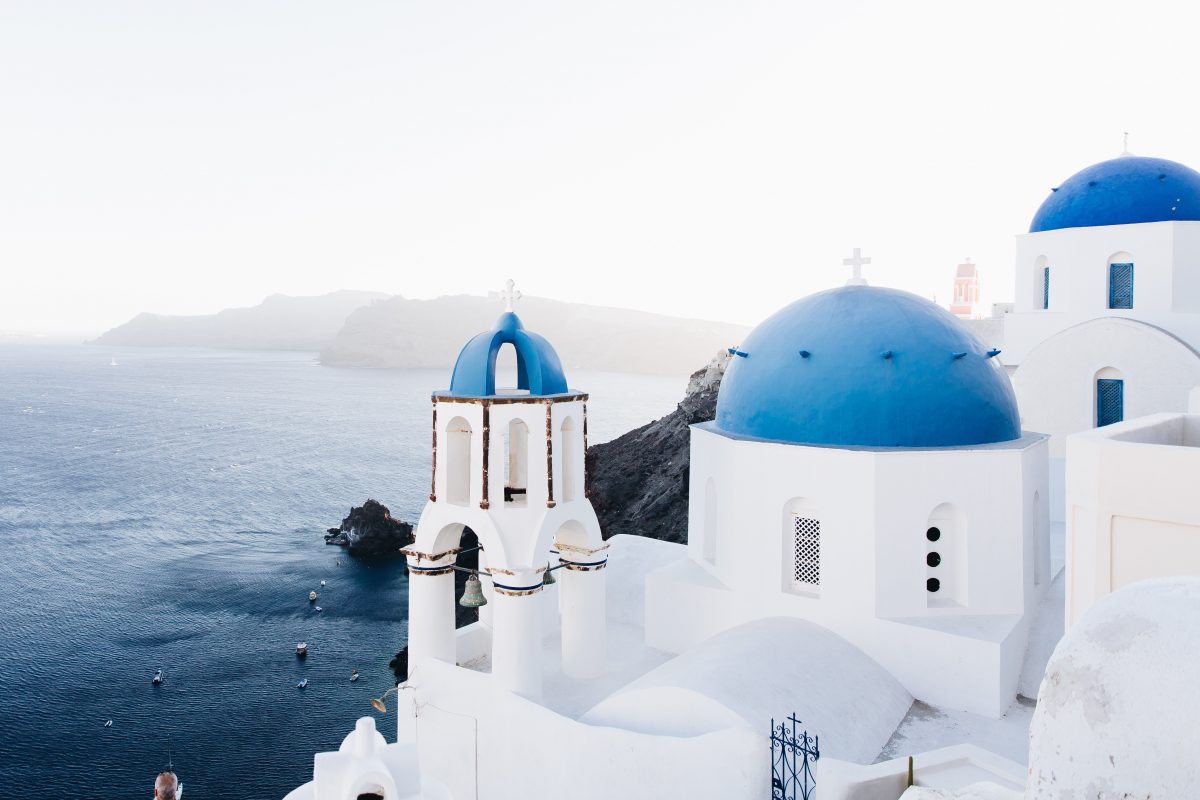 It's safe to say Greece is having a well-deserved moment. But what is the best time to visit Greece's sandy shores, ancient cities, and seductive islands?
The trick to getting the best weather and skipping the stifling crowds is to time your trip based on your ideal destination perfectly. Want to party in Mykonos without requiring a billionaire's bank account? Stay away from the island in August. Love the idea of having the Pantheon to yourself? Visit Athens in October. It's true: Greece is an incredible year-round destination that accommodates visitors from January to December. However, you have more choices when you travel between March and November.
Keep reading to learn when to visit Greece's famous hotspots to keep your vacation stress-free.
Best Time To Visit — Santorini, Mykonos, And Rhodes
Santorini, Mykonos, and Rhodes are three of Greece's most popular destinations. In 2018, Santorini alone welcomed two million visitors (excluding the floods of cruise passengers). The super-star islands' peak season begins in April and lasts to October. While June – August are the most popular months to visit Greece as a whole, Santorini, and Mykonos are no exception.
The number of visitors to the islands isn't just a bit of trivia. It's important to note because these are tiny islands. The population of Santorini is only around 15,000, so two million visitors a year dramatically changes the vibe of the island. Planning, then, is essential.
There's cause to celebrate for tourists who are dying to check out the white villages, windmills, and world-class restaurants but aren't a fan of the summer crowds. These glamorous Greek islands are year-round destinations thanks to their weather and unwavering popularity. That means you can even travel here during super-off peak seasons (think December and January) and still enjoy luxe hotels and plenty of dining and drinking options.
However, during the winter, you may need to fly to Athens and then hop on to another plane to Santorini as ferries are significantly less frequent during the winter months.
Because tourism here has exploded to an extreme, you always need to plan ahead if you want to visit Santorini, Mykonos, or Rhodes – no matter what time of year. Even though hotels, villas, and Airbnbs have exploded, leaving a room to chance could leave you sleeping on the beach.
Best Time To Visit The Greek Beaches
It surprises some, but even Greek islands and beaches cool off during the winter. The waters around the mainland get downright chilly around autumn. The best time for watersports or beach vacation in Greece is ideally between April and October.
Warm water temperatures for half the year give you plenty of leeways if paddling in the sea is your favorite activity. If you're a cold water swimmer, you won't mind the March or November temperatures. Even still, you will find a lack of resorts and restaurants during beach destination's off-seasons.
Greece has 400 Blue Flag beaches, so there's no reason to stick to just one. Instead, try out a range of Greek beaches, consider going island hopping. Ferry schedules open up at the end of May and continue into September, which makes summer the ideal time for cruising.
Island hopping around the best islands in Greece is simplest (and requires fewer transfers) when you stick to island groups. The Sporades islands lie on the eastern coast of the mainland. They are rocky and feature lush vegetation and incredible waters. Visit Alonissos, Skiathos, and Skyros to enjoy beaches without the crowds.
A new ferry line also recently connected the Ionian islands, which adds Paxos, Ithaki, and Lefkada to other famous destinations like Zakynthos. You can get here from Corfu three times a week.
Greece's Cycladic islands are its most-traversed. Home to Santorini and party-central Mykonos, you can also skip these tourism behemoths and visit smaller islands like Milos, Paros, Sifnos, Iraklia, and Keros. You could easily spend a week sailing around these islands.
Keep in mind that there's no such thing as a Greek island ferry pass – only individual ferry tickets. That also means there are no returns or multi-stop tickets. Fortunately, it is easy to buy the tickets on your own both online and at the port.
Best Time To Travel Mainland Greece
Spring and autumn remain the best time to visit Greece (both the islands and mainland) for general sight-seeing, but you can visit all year. And you should.
Late autumn (mid-October-November) is the perfect time to visit the mainland and Athens, particular. All the Greeks (and other Europeans) are back at work after their summer holidays, so accommodation is plentiful, and all the shops and restaurants are open. The weather in Greece in October is mild and sunny, which is preferable for all the walking and climbing you'll do in Athens.
September and October are also great months to visit Thessaloniki and Halkidiki, which are further north than Athens. The weather can be rainy during the autumn, but it is still warmer than it might otherwise be in the spring. Spring also comes with the Easter holiday, which is fun but also means there are lots of closures.
Are you worried about the lack of tourists during the shoulder periods? Fewer tourists can indeed be a difficult thing to deal with on the islands. Almost all island infrastructure is tied to the tourist trade. But in places like Athens and Thessaloniki, which are both large cities with significant local populations, you can enjoy even the most iconic sites like Acropolis almost on your own.
Best Time To Go Skiing In Greece
Mainland Greece also offers some blockbuster skiing. Eighty percent of the Greek mainland is mountainous and resorts kick-off between January and April. Unlike Switzerland and France, Greece doesn't have a peak ski season. It's busy, but it's also one of continental Europe's hidden gems.
Parnassos Ski Resort is the most popular of the Greek ski centers. It features 13 lifts, 19 runs, ten trails, and two chalets. Parnassos is only two hours from Athens, and it's very near to Delphi, which is very much worth a trip for history buffs and classicists.
Other ski resorts to consider include:
Mount Pelion
Mount Mainalos
Kalavrita
Mount Olympus
Mount Falakro
If you book a ski trip to Greece, combine it with a trip to one of the more popular islands. You'll be shredding fine powder on Mt. Parnassos one day and watching the sunset over the crystal clear blue water the next. And because it's ski season, it's off-season in the islands. It's a win-win.
Best Time To Visit Greece And Save Money
Greece's shoulder seasons run from April to June and September to November. Greece is already an affordable destination by European standards. However, you'll save even more by skipping the peak summer months. The best time to visit Greece and save some money is any time other than July and August.
Peak summer months come with colossal demand and require a significant investment. You'll also need to book everything in advance and choose non-refundable reservations, so you end up with little to no flexibility once you're on the ground.
Losing five ferry bookings because you took a tour or overslept isn't precisely what we'd call a relaxing holiday. Not only will you save money, but you will also have more choices in planes, boats, and hotels during the shoulder seasons. Accommodation and boats are booked to capacity during the peak months, so if you don't have a friend with a yacht and a villa, your choices become extremely limited.
However, you should keep in mind that ferries become significantly more limited between November and March, and some essential routes may only run three times a week.
When To Avoid Visiting Greece?
The best time to avoid planning a trip to Greece is August – hands down.
August brings scorching heat and humidity and incredible crowds. Even if you love a warm-weather holiday, August really can be too much. The heat index might leave you with just enough energy to drag yourself from the pool to the beach and back again but not much further – and not without a cocktail in each hand.
Because August is also when all of Europe goes on holiday, the prices are as high as the temperatures. Greeks primarily travel domestically for their holidays, and they know where to go and when to book. You won't get the best accommodation, and if you do, the prices are prohibitive.
If August is your only option, then plan ahead – way ahead. Book your flights, hotels, and ferry tickets at least six months in advance. Make it nine months if you're going to international tourist hotspots like Santorini and Mykonos.
Another August alternative is to hit Athens. Athenians are all elsewhere during the last full month of summer, and the place is mostly empty. However, because the locals have all made their way to the beach, many shops and restaurants are closed. The ones you're left with are those that cater directly to tourists. Even still, if you book an apartment or villa with a kitchen, you can make your own Greek meals. It's a small price to pay to enjoy the rare privilege of wandering the almost-empty streets of the Greek capital. Just make sure you have access to a pool because it will be sweltering.
Looking Out For The Best Times
Nothing helps planning your Greece trip more than this guide on the best times to visit this popular tourist destination.
Whether you're on a budget or willing to go all out, don't let unfavorable weather dampen your Greek experience. Of course, it depends whether you want to be among the Greeks in the summer or winter, but either way, this guide is guaranteed to make your trip more enjoyable and memorable for years to come! And by the way, while you're in Greece, check out Ouzo, their national drink!