Best Time to Visit Croatia: For Shopping, Island Hopping, City Tours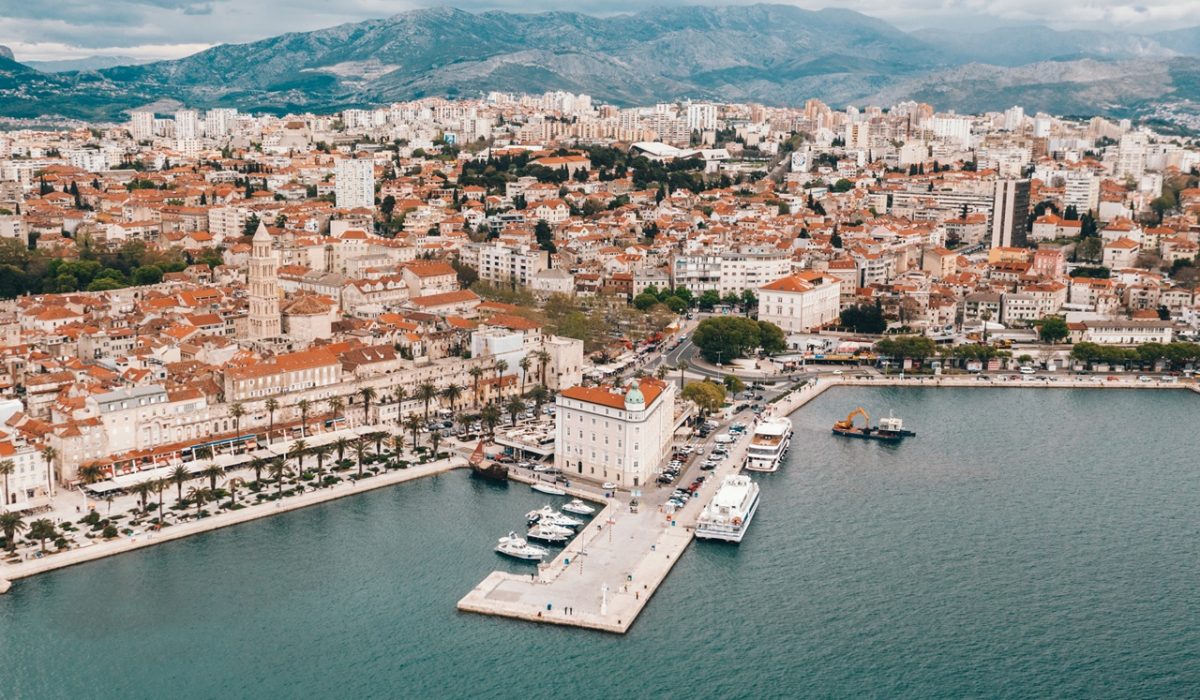 Whether or not you're a fan of Game of Thrones, you'll agree that Croatia has a way of effortlessly capturing your heart. Besides being famous as the main filming location of the popular TV series, Croatia, albeit underrated, offers a rich history and captivating landscapes. Besides that, tourists can also do tons of things here, from beach and island hopping to shopping, city tours and Game of Thrones walking tours in Dubrovnik. In fact, there are many things to do in Zagreb alone, which can already be an enjoyable tour for you. But you will still miss a lot if you will only have a single excursion, so plan more trips! And, do not forget to take note of the best time to visit Croatia.
WHERE IS CROATIA?
Though Croatia is one of the top countries to visit in Europe, everyone still has this one question. Where is Croatia? Croatia is a Central European and Mediterranean country with a national territory of 56,594 square kilometers. It borders Slovenia to the west, Hungary to the north, Serbia to the east, and Bosnia and Herzegovina to the south. Moreover, 31,479 square kilometers of its territory is coastal waters, making a maritime border with Italy in the Adriatic Sea.
Croatia also has more than 1,000 islands and almost 2,000 kilometers of coastline. That said, it occupies the largest area of the Adriatic Sea's eastern coast. That is why today, this country's tourism focuses on its coastal waters, and the summer season is also the best time to visit Croatia.
If you are wondering where to start, Croatia's capital is Zagreb. While Dubrovnik, Makarska, Porec, Rovinj, Opatija, Zadar, and Sibenik are the other well-known cities. Ninety percent of this country's population is Croat, but you may also find Serbian, Bosnian, Hungarian, and Italian minorities here. You might not know anyone from here, but a lot of Croatians speak English fluently! That said, you will not have much of a hard time touring around the whole country.
WEATHER IN CROATIA
When we talk about the weather in Croatia, we are also talking about two different settings. These two settings are coastal and continental Croatia.
COASTAL CROATIA'S WEATHER
The weather in coastal Croatia is warm and dry. The heat could go up to above 90°F (33°C), especially during the summer season. Indeed, the heat can be harsh to endure, but the coastal breeze can be a great source of relief, too. Additionally, with an average of 2,600 hours of sunlight yearly, coastal Croatia is one of the sunniest coastlines in Europe! Meanwhile, coastal Croatia has mild winters, too. Yes, winter does happen here, as well but, the temperatures rarely fall below zero.
CONTINENTAL CROATIA'S WEATHER
The weather in continental Croatia is entirely different from coastal Croatia's. Here, the weather is much more agreeable, but the winter season can never be your friend. That is why most people, especially tourists, would still like to go to the coast. The temperature here in continental Croatia can drop straight to -30°C, which means having a warm jacket is a must! There will not be any harsh heat, but it is the coldness that you will have to deal with here. If you do not like cold weather, winter is not the best time to visit Croatia for you.
But, pleasant weather, without the winter coldness, is also possible here during the summer season. In the said season, continental Croatia's temperature may come closer to coastal Croatia's climate.
BEST TIME TO VISIT CROATIA
Of course, it is also necessary to know when the best time is to visit a country. In that way, you will be able to maximize your trip. Here is the best time to visit Croatia.
FOR SHOPPING
May and mid-September to October are the best times to visit Croatia for shopping. During these months, most businesses are open, and some other shops are just starting up. With that, you will have many places to drop by if you are looking for Croatian items or products that you could bring home! And as a bonus, during these months, you can also get a discounted rate at hotels or airfare. If you are strict with your budget, late-May is the perfect time to visit Croatia for shopping. In late May, you will enjoy the high season without high prices.
FOR ISLAND HOPPING
July and August are the best times to visit Croatia for island hopping. Though these months bring hot weather with a temperature that ranges from 29°C to 30°С, the sea temperatures are just fine. During these times, the sea temperatures range around 24°С to 26°С, which is also perfect time to check out the top 10 best beaches in Croatia. These months are also the peak of the summer season in Croatia, that is why islands and beaches are open for everyone.
However, if you do not want to endure such hot weather, mid-April or mid-October is another period you can consider. The average daytime temperature in April is 17°С, while in October, it is 21°С. In addition, the sea temperatures these months range from 19°С to 20°С. Since Croatia is rich with majestic islands and beaches, and if you love them, the summer season is also the best time to visit Croatia.
FOR CITY TOURS
Mid-April to May and mid-September to mid-October are the best times to visit Croatia for city tours. These times allow for warm, pleasant weather perfect for sightseeing. The average daytime temperature in April is 17°С; while in May, it is 23°С. On the other hand, the average daytime temperature from September to October is from 25°С down to 21°С. During these months, you will not have to deal with crowded cities, too. That said, you will be able to tour around freely without any hassle or stress.
Zagreb is one city to go to during these months. Everyone is so alive during this period that you will have fun even just in picnicking out. Usually, there are also some street performances that you can watch, which is fun as well. This very time to experience Zagreb's culture is also the best time to visit Croatia.
THINGS TO DO IN CROATIA
Like any other country, Croatia has many stories to tell, and they are open to sharing them with everyone. But even if you will have a Croat to explain everything to you, it will not be enough. You must see Croatia yourself! And to help you a bit, here are the things to do in Croatia.
1. VISIT THE IMAGE OF WAR – PHOTOGRAPHY MUSEUM IN ZAGREB
Location: Ulica Andrije Hebranga 4 (near Zrinjevac park) – first floor, Zagreb, Croatia
"Image of War." This museum will let you know what it was like in Croatia during the war from 1991 to 1995. The goal is to have a knowledgeable discourse with visitors. In that way, they can educate them about the shattering consequences of war and the importance of peace. The museum aims to do this, too, with the help of photography, documentaries, and informative events. Besides photographs, you will also get to learn about the war through personal stories from this period. This museum is open daily, from 10 AM to 8 PM.
TICKET PRICES
Individual ticket: 50 kn (8.02 USD)
Students, retired, veterans: 40 kn (6.41 USD)
Couples: 80 kn (12.82 USD)
Groups of 10 or more:30kn (4.81 USD) per person
Children up to the age of 12: FREE
2. EXPLORE THE DINARA NATURE PARK
Dinara is the newest nature park in Croatia. This unspoiled nature covers 63,000 hectares of land, making it the country's second-largest Nature Park. In addition, Dinara Nature Park also provides a healthy habitat for some of Croatia's fauna and flora species! During your walk or hike, you can surely spot these species. The panoramas will take your breath away, as well as the forests, canyons, and caves.
3. TASTE BRAČ'S TRADITIONAL DISH—VITALAC
Known as one of the "most unusual dishes" in Croatia, Vitalac is a traditional dish on the island of Brač. Its main ingredient is either lamb or goat innards. The preparation of this dish starts with skewering and salting the liver, spleen, heart, and lungs. After that, a lamb's sheath will wrap everything, lamb's intestines wrap skewers, and in hot coals, it goes. When it is ready, you may eat it with some bread and spring onions.
4. TAKE A PLUNGE INTO CROATIA'S BEACHES
Given that Croatia's coastline links to the Adriatic Sea, there are over 1,200 islands, isles, and inlets in this country. So, make sure that you get to take a plunge into some of Croatia's best beaches! Here are some of them:
Saplunara, Mljet Island
Divna, Pelješac Peninsula
Proizd, Korčula Island
Lucisca, Hvar
Sovinje, Pašman Island
Sakarun, Dugi Otok Island
Kandarola, Rab Island
Veli Žal, Lošinj Island
5. DROP BY JAMAN ART CENTER IN SPLIT
Location: Dobric 14, 21000 Split
If you are a fan of 3D artworks, Jaman Art Gallery is a place for you! It is one of the main attractions in Split that is known for its colorful paintings. Each painting is popping with vivid colors, attracting both art and non-art lovers. Besides their original 3D artworks, you will also see prints, canvas arts, and sculptures in this art gallery. And, if you are using either Samsung or iPhone mobile phones, you may also purchase a 3D-painted case from the gallery! Moreover, if you would like to know more about each painting's story, you may go for guided tours in the gallery, too.
WINTER BUSINESS HOURS
Monday to Friday – 9 AM to 8 PM
Saturday – 9 AM to 2 PM
SUMMER BUSINESS HOURS
Monday to Sunday – 9 AM to 11 PM
6. GRAR WORLD-CLASS CHEESE AND WINE AT FERAL WINE AND CHEESE BAR IN MAKARSKA
Location: Marineta 12, Makarska
Croatia is also known for its wine and cheese. And in Makarska, you will have the chance to enjoy some! Take a few steps away from Makarska's main square, and you will find Feral Wine and Cheese Bar. Here, there is a wine list of at least 50 Croatian wines — local ones. Some are from mainland Dalmatia (Bibich and Sladić wines), Hvar (Duboković wine), and Brač (Senjković wine). Do not forget to grab a glass or two as wine season is another best time to visit Croatia, too! In addition, Feral also serves sparkling wines from northern Croatia and imported champagnes from France. On the other hand, the cheeses that Feral offers are from Pag, Krk, and Dalmatian hinterlands.
7. SAIL WITH CREWED YACHT CHARTER
Even if you are not an experienced sailor, you may still sail through the Adriatic Sea with a crewed yacht charter! Rent a yacht charter and have a relaxing sail to one of Europe's best sailing destinations. Take note that aside from the rental price, you will also pay 100 to 150 euro (120.82 USD to 181.23 USD) per day, per crew member. Trust me, your money for this sail will be worth it!
8. EXPLORE THE OLD CITY OF DUBROVNIK
Known as the "Pearl of the Adriatic", the Old City of Dubrovnik is a UNESCO World Heritage Site, too! Its architecture will bring you back to the 13th century, and its details will give you that thrilling feeling. Unfortunately, a devastating earthquake happened in 1667, which severely damaged the city. Despite that, Dubrovnik still got to preserve its stunning Gothic, Renaissance and Baroque churches, monasteries, palaces, and fountains. Today, the city focuses on a restoration program with UNESCO after the damage caused by the war in the 1990s. What's more, you can take a Game of Thrones walking tour around the old city to relive your favorite scenes from the famous TV show.
WHERE TO STAY IN CROATIA?
ESPLANADE ZAGREB HOTEL
Location: Mihanovićeva 1, Lower Town, 10000 Zagreb, Croatia
Esplanade Zabreb Hotel is one of the most prominent buildings in the city of Zagreb since 1925. There is free Wi-Fi throughout the property, and each room has an art nouveau style to it and is well-equipped. Each has a satellite TV, minibar, marble bathrooms with a bathtub and shower, as well as complimentary L'Occitane cosmetics. In addition, the hotel has a fitness and spa center, sauna, and a restaurant, too! Traditional Croatian cuisine and French recipes are what you can enjoy at their casual Le Bistro. From Esplanade Hotel, you can reach the Adriatic Sea in two hours by car.
ROOM TYPES:
Superior Queen Room, Superior Double Room, and Superior Twin Room – the price starts at 197.51 USD per night for two guests.
Deluxe Double Room and Deluxe Twin Room – the price starts at 234.05 USD per night for two guests.
Junior Suite – the price starts at 282.75 USD per night for two guests.
Deluxe Suite – the price starts at 343.65 USD per night for two guests.
BASTION HERITAGE HOTEL
Location: Bedemi Zadarskih Pobuna 13, 23000 Zadar, Croatia
Bastion Heritage Hotel is a 4-star hotel in the city of Zadar. The rooms have handmade art-deco furniture and hardwood flooring keeping the vibe neat yet sophisticated. Additionally, the rooms have air conditioning, cable and satellite TV, and a minibar! If you want some spa treatments, a sauna, and a hot tub, this hotel also has their Castello Spa and Wellness Centre. Meanwhile, a breakfast buffet is available at their restaurant, while cocktails, tea, and coffee are at the Kristal aperitif bar.
ROOM TYPES:
Superior Twin Room – the price starts at 221.40 USD per night for two guests.
Suite – the price starts at 283.49 USD per night for two guests.
Design Suit by J.V. – the price starts at 313.95 USD per night for two guests.
Luxury Suite with Balcony– the price starts at 341.94 USD per night for two guests.
ADRIANA HVAR SPA HOTEL
Location: Obala Fabrika 28, 21450 Hvar, Croatia
Adriana Hvar Spa Hotel is a highly-rated hotel in the city of Hvar. Their rooms have queen-size beds, air conditioning, flat-screen satellite TV, and glass-boxed bathrooms. In addition, their penthouse suites offer panoramic views of the sea and the town, perfect for tranquil relaxation. Therapeutic, massage, and beauty treatments are available at their Sensorí spa. For a good time, you may head to Adriana Hvar Spa Hotel's sky bar. It has a multi-level garden terrace, a dance floor, and a restaurant that serves Mediterranean specialties. You may also have a drink at the Top Bar or jump straight to their rooftop swimming pool!
ROOM TYPES:
Superior Room – the price starts at 240.68 USD per night for two guests.
Superior Room with Seaview – the price starts at 308.82 USD per night for two guests.
Spa Suite – the price starts at 390.35 USD per night for two guests.
TRAVEL TIPS WHEN IN CROATIA
1. Banks, exchange and post offices, tourist agencies, hotels, and camping grounds are where you could exchange your foreign currencies. Take note that the banking hours are from 7 AM to 7 PM, Mondays to Fridays.
2. Know the working hours of shops. Here in Croatia, shops are usually open from 8 AM to 8 PM, from Monday to Friday. While on Saturdays, it is from 8 AM to 2 PM only.
3. If you need to withdraw cash, there are many ATMs that you can use. But here, you may also use your credit card in most hotels, restaurants, and shops. In connection with that, your credit card must be any of the following:
American Express
Diners Club
Eurocard/Mastercard
Visa
Sport Card International
4. Take note of the significant phone numbers in case of emergency. Here are some of them:
General information: 981
Emergency call: 112
Police: 192
Ambulance: 94
Search and rescue at sea: 9155
5. Talk to the locals. If you wish to have the correct information you need for your trip, ask the locals. Do not worry. Croatians are welcoming, and there will not be any language barrier as most of them can speak English. Also, talking to locals will help you identify the best time to visit Croatia's tourist attractions.
6. When you explore the country, it is better to take buses than trains. Usually, bus fees cost lower than other means of transportation.
7. Do not spend your entire trip in just one city. You may start with Croatia's capital, Zagreb, to discover its famous spots. Do the things to do in Dubrovnik next. Then head to the coast, for the best beaches in Croatia!
8. Tipping in this country is a standard, too, unlike tipping in France. When leaving a restaurant, make sure to leave a tip because it is also a source of income for waiters. The same goes for bars, cafes, taxis, hotels, and other services. Be generous, it will not hurt.
NOW IS THE BEST TIME TO VISIT CROATIA!
There may be one best time to visit Croatia, depending on the activity that you will do. But, with this country's richness and proud heritage, you should visit Croatia soon! Indeed, this country has a lot to share, and you will get to know and embrace all of it upon your visit. From shopping, island hopping down to city tours, you will be amazed at how unique Croatia is.
Just look at how this country managed to rise from such a hard time from years ago. It is such an inspiration, and that exact thing is what this country will also give you! The Croats are friendly, and every destination is welcoming. For sure, memorable adventures await. That said, it is just fair to say that now is the best time to visit Croatia!