Top 10 Best Beaches in Croatia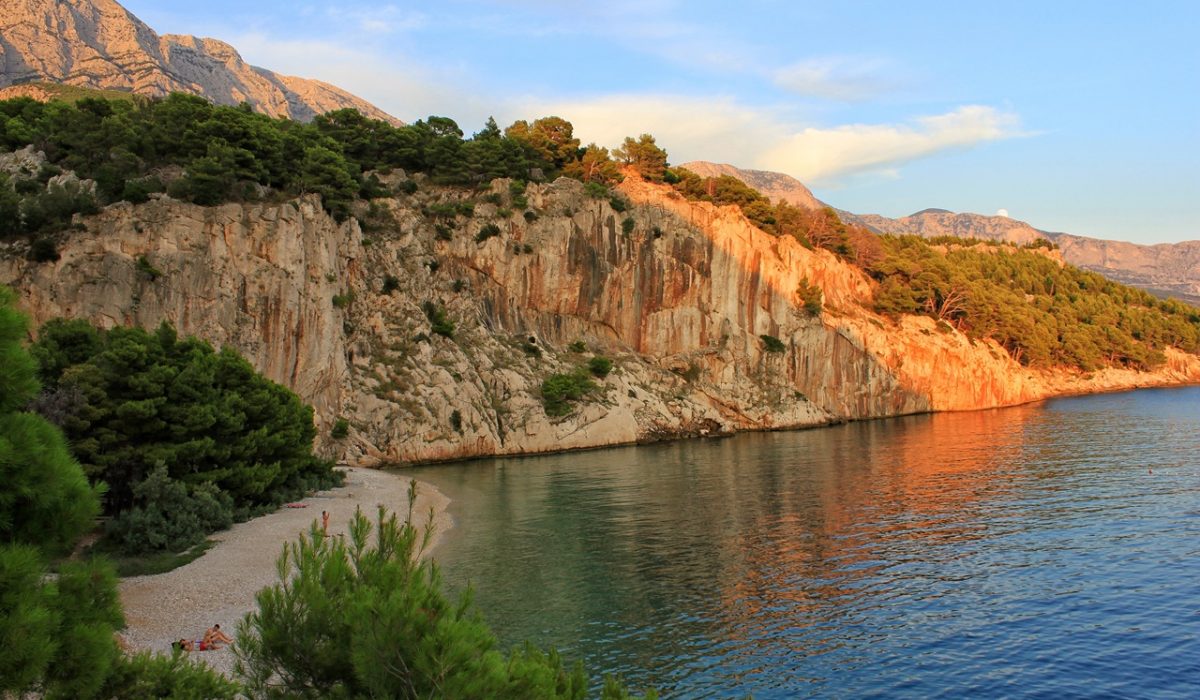 As one of the must-visit, underrated countries in Europe, Croatia is arguably among the best destinations in the world. You may have probably heard so little about this country, though. But I assure you, there is so much for you to see and do here! Perhaps, most of you will go after its historic old towns and centuries-old spots in the cities. But what do you think about exploring some of the best beaches in Croatia?
Almost all the cities in Croatia have inviting beaches, and each of them is simply jaw-dropping! The hues of the sea are enchanting, and so all the greens that surround it. You are welcome to take as many pictures as you want. Just make sure to take enough time to enjoy and discover the beach, too!
WHAT AND WHERE ARE THE BEST BEACHES IN CROATIA?
There are many things to do in Croatia, and plunging in its turquoise-colored beaches is just one of them. With over 1,200 islands, isles, and inlets, a shortage of beaches will not come your way. Besides, Croatia's coastline also links to the clean waters of the Adriatic Sea, which is exciting to walk on, right? If you are thrilled to take some notes for your trip, here are the top 10 best beaches in Croatia!
1. STINIVA BEACH
Location: Vis Island
Short trivia. European Best Destinations — a Brussels-based tourism organization — recognized Stiniva Beach as the most beautiful beach in Europe in 2016. And, trust me, this is a well-deserved recognition. Just try to imagine this. Pebbles everywhere, high cliffs dotted with bright shades of green, and in the middle, the turquoise sea shining perfectly. Truly a gem that you should discover! Besides, the sea is clean and clear, making it possible for you to see such beauty underwater, too. Moreover, Stiniva Beach has been a protected area since the 1960s, the reason why its original look is well-preserved until today.
Since this is a "hidden gem," you may have a hard time reaching this beach. Two tall, rocky cliffs surround Stiniva, and the passage on the bay is only four meters. That is why the beach is not suitable for large vessels, but there are taxi boats that you can take. You may also drive on the mainland roads and conquer a 30-minute climb going down to the bay. It may not be that easy but, believe this—challenging paths bring you to the best destination. Take that to Stiniva!
THINGS TO DO
Swimming
Snorkeling
Standup paddleboarding
WHERE TO EAT AND WHERE TO STAY?
POJODA
Location: Don Cvjetka Marasovića 8 Vis, Croatia
Pojoda is a family-owned restaurant in Kut, on the island of Vis. Both locals and tourists recommend this restaurant specializing in fish and seafood recipes. Most of the dishes on the menu are from the owner himself. So, chances of tasting them in other restaurants are impossible. A few of the customers' favorites are lobster and frogfish brodetto, pojorski bronzinić, orbiko, and octopus à la tripe soup.
Furthermore, you can enjoy any of these favorites in an orange and lemon tree garden setting. The terrace is open for 80 diners, while a maximum of 50 customers can go indoors. Aside from Croatian cuisine, Pojoda also offers Mediterranean cuisine! The restaurant is open from lunchtime until 2 AM.
HOTEL SAN GIORGIO
Location: Petra Hektorovića 2, 21480 Vis, Croatia
Hotel San Giorgio is also a family-owned hotel. The garden with palm, orange, and lemon trees will give you a soothing view! All the rooms and suites, on the other hand, have a modern style yet a homey feel still.
They serve continental breakfast and traditional island recipes based on fish and seafood, wine, olive oil, herbs, and aromatic spices. The views from the vineyards and villages as well as the deep blue sea will keep you relaxed. The room rate, on the other hand, starts at 178.80 USD per night for two guests.
2. ZLATNI RAT BEACH
Location: Brač Island
Who wants a variety of sports at the beach? If a nice sunbathing is not enough for you, no worries because the Zlatni Rat Beach got you! Situated in Brač, to be specific, Zlatni Rat is a captivating beach on the coastline of Croatia. The formation of pine trees and the shades of blue are all Instagram-worth! Not only that but, its tip-of-a-horn shape makes it popular, too, and many people visit this beach to see it. Stretching to the Adriatic Sea, the tip's formation constantly changes due to the wind conditions and strong currents.
Zlatni Rat or "Golden Horn" has tiny pebbles where you can spread your towel out and get your skin tanned. And besides the color of the sea, you may also get a nice view from the Vidova Gora mountain! You can hike at Vidova Gora. But if you do not like it, you may try other activities or sports like parasailing and kitesurfing.
In addition, this beach is two kilometers away from Bol. You can get here by car, by boat, or on foot. It all goes down to where you are most comfortable. Make sure to prepare yourself along the way, as Zlatni Rat will take your breath away.
THINGS TO DO
Swimming
Windsurfing
Kitesurfing
Snorkeling
Kayaking
WHERE TO EAT AND WHERE TO STAY?
KONOBA KOPAČINA
Location: Donji Humac 7, 21423 Donji Humac, Croatia
For romantic feels and authentic Brač specialties, visit Konoba Kopačina! It is a well-known restaurant in the Donji Humacin village, on the island of Brač. Their menu has meat and an array of vegetarian dishes! That said, do not ever skip their lamb specialties, especially their lamb on a spit and vitalac. Vitalac is a skewered lamb offal wrapped in lamb meat. Drooling, right?
Konoba Kopačina is open from 10 AM to 10 PM, from Monday to Thursday. Additionally, their business hours every Friday and Saturday are 10 AM to 12 AM.
HOTEL LEMONGARDEN
Location: Perića Kala 1, 21403 Sutivan, Croatia
Hotel Lemongarden is an adult-only hotel. Each room is air-conditioned, has a flat-screen TV, and a private bathroom. While some rooms, on the other hand, have a seating area. For meals and drinks, you may, of course, go to their restaurant and bar. Moreover, you may also enjoy their outdoor pool and private beach area with such a lovely view! If you book your stay here, the price starts at 805.30 USD for two nights, two guests.
3. KAMENJAK NATIONAL PARK
Location: Istria
A back-to-nature experience. That is what you will get in the Kamenjak National Park. Kamenjak is an ideal place for you if you love being close to nature. Besides the enticing colors of the sea, the breathtaking landscapes in the whole area will pull you closer to it. The flat stone surfaces will give you a good spot for sunbathing while relaxing to the views of high cliffs. And, with its 30 kilometers of rugged coastline, a quiet, long walk is a must for your soul. In case you want more fun, Kamenjak also has coves and caves that you can explore!
This popular spot is in Premantura peninsula's peak in Istria, 20 kilometers away from the town of Pula. Various bays and beaches are also on this peninsula, perfect for any planned getaways. There are also several small islands and islets near the mainland, which you can also visit.
THINGS TO DO
Swimming
Kayaking
Scuba Diving
Windsurfing
WHERE TO EAT AND WHERE TO STAY?
KONOBA BATELINA
Location: Čimulje 25, Banjole, Istria County, Croatia
Who wants seafood and sweets? If that is what you want, eat at Konoba Batelina in Banjole village, in Istria! They serve tasty seafood dishes like tuna, calamari, and lobster pasta. For dessert, you may bite on their chocolate and almond cakes! And, of course, do not forget the perfect drink, a glass of their house wine, white wine, or grappa. Konoba Batelina is open from Monday to Saturday, from 5 PM to 11 PM.
RESORT DEL MAR
Location: Glavica 7, Banjole, 52100 Pula, Croatia
Resort del Mar offers bright-colored apartments. They are air-conditioned, have a satellite TV, and fantastic sea views. Moreover, they also have a gym, grocery shop, restaurants, and ice cream bar open for you! Also, during your free time, you may relax at their sun loungers and parasols by the pool. Resort del Mar's apartment rate starts at 324.41 USD for two nights, two guests.
4. NUGAL BEACH
Location: Makarska Riviera
Nugal Beach is one spot in Croatia where you can go freely—to the extreme. To get straight to the point, Nugal Beach is a nudist beach. For that reason, a lot of tourists with different nationalities go here. If you are for a free body culture, then this beach is for you, too! Well, you do not have to worry about anything as this area is isolated and inhabited.
Moreover, the beach has many pine trees, and you can flaunt your body under its relaxing shades. You can also scatter your sunbathing mat on the pebbles or gravel for more sun. And, if your skin is full of heat from the sun, cool yourself down in the crystal-clear sea.
In case you feel stress, this small, hidden beach will keep you calm. But since this is a nudist beach, the area is not child-friendly. Nonetheless, you can still have fun here with your friends that are already in adulthood, too.
THINGS TO DO
Sunbathing
Swimming
Picigin (traditional Croatian ball game)
WHERE TO EAT AND WHERE TO STAY?
RESTORAN DON ANTONIO
Location: Cvjetna ul. 2, 21300, Makarska
Restoran Don Antonio is one place to eat when in Makarska, Croatia. The dishes that they serve are actually from their family farm. Out of their produce, they make Continental and Mediterranean cuisines! Here, you may also enjoy their homemade olive oil, wine, and brandy.
HOTEL MARITIMO
Location: Put Cvitacke bb, 21300 Makarska, Croatia
Hotel Maritimo is another family-owned hotel. The rooms are clean and cozy, and the views from it are amazing. That said, here, you will be able to see the Brač and Hvar Islands! For meals, they serve local and international cuisine. You may also get that Mediterranean atmosphere at the cocktail bar and enjoy a drink at the open terrace. The room rate here starts at 367.13 USD for two nights, two guests.
5. SVETI JAKOV BEACH
Location: Dubrovnik
If you want to go around Dubrovnik, Croatia might as well include Sveti Jakov Beach on your bucket list. Like most of the hidden beaches in Croatia, Sveti Jakov is an unnoticed spot as well. The little bay offers privacy and a romantic beach where sunsets are enjoyed best. Situated in the eastern part of Dubrovnik, you will also get a view of Lokrum island and Dubrovnik's Old Town.
There are deck chairs and beach umbrellas available for you below the cliffs. You can relax here, read your favorite book while listening to the sound of smooth waves on the shore. You may also walk on the white sand, slightly pebbled and rocky, to discover the beach to the fullest. Sveti Jakov Beach can welcome over 100 bathers, which makes it perfect for family outings!
THINGS TO DO
Swimming
Snorkeling
Kayaking and canoeing
WHERE TO EAT AND WHERE TO STAY?
PANTARUL
Location: Ul. kralja Tomislava 1, 20000, Dubrovnik
Panatrul's dishes use local produce from the farmers of Dubrovnik! Their menu has fish and meat dishes, as well as homemade pasta and bread. Panatrul also serves Croatian wines, which you can pair in any dish. If you like it here, they are open from Tuesday to Sunday, from 12 PM to 11 PM.
VILLA DUBROVNIK
Location: Vlaha Bukovca 6, Ploce, 20000 Dubrovnik, Croatia
Villa Dubrovnik offers spacious rooms with a private balcony and a terrace where you can enjoy views of Lokrum Island. A luxurious hotel that has a beach, restaurants, and a spa center. Moreover, you can also dive into their indoor pool or relax at their bio sauna or sun loungers. If you want this 5-star hotel, the price starts at 832.01 USD per night for two guests.
6. SUNJ BEACH
Location: Lopud Island
Most of the beaches in Croatia are pebbled, but the good thing is that Sunj Beach is not. If you are still a fan of building sandcastles, you can bring your buckets and shovels here! Sunj Beach is on the island of Lopud in the Elafiti archipelago. A Mediterranean forest surrounds the island, keeping the whole beach a refreshing place to stay. The sea is shallow, which allows everyone to plunge safely, including young and aged people. Besides that, the sea waters are that clean that small fishes swim around you, too!
Furthermore, Sunj Beach is also famous for swimming and other water and land activities. But, you want a more peaceful area, you can head to one restaurant in the woods. There, you can lay in a hammock and listen to the sound that forest creatures make. It sounds like a piece of good music to your ears.
THINGS TO DO
Swimming
Paddleboat
Picigin (traditional Croatian ball game)
Volleyball
WHERE TO EAT AND WHERE TO STAY?
ROBINZOON
Location: Od polja 7 Lopud, Dubrovacko-Neretvanska 20222, Croatia
Dine inland at the Robinzoon! This restaurant specializes in meat dishes, and the must-try is the traditional peka (lamb dish). The ambiance in this restaurant is also different as there is no sea view. But, you may still enjoy the views from vineyards and the garden. Robinzoon is a great place to eat, shared with family.
LUXURY APARTMENTS LAZURE
Location: Obala Iva Kuljevana 51, 20222 Lopud Island, Croatia
Luxury Apartments Lazure offers well-equipped units, a bar, and a restaurant, as well as a garden and terrace. Throughout the property, you can go on cycling or snorkeling at the beach. The area is neat, and the palm trees will bring a relaxing ambiance for you. In addition, the price of the units here starts at 717.75 USD per night for two guests.
7. PUNTA RATA BEACH
Location: Brela
Punta Rata Beach is a 37-mile long, pebbled beach in Brela. The light to dark shades of pine trees covers the whole area, offering such a revitalizing view. With its natural beauty and nature conservation, Punta Rata's genuineness stays until today. Because of that, to protect this beach has been a goal, too, for the locals to preserve it properly.
In 2004, Forbes magazine listed Punta Rata on the 10 Beautiful Beaches in the World. Eleven years later, in 2015, this gravel beach was on the Belgian website European Best Destinations, again, for its distinct kind of beauty. No wonder why it is one of the best beaches in Croatia!
Without a doubt, Punta Rata is indeed one good reason for you to book a flight to Croatia. The sea waters are clear, and the sun rays on them make the waters shimmer satisfyingly. The shades of pine trees will give you enough shade if you do not want to burn your skin badly. Sunbathers and swimmers are everywhere. But, in front of the beach, there is a big rock peeking out of the sea. Usually, people use that if they want to avoid the crowd. If you want the same thing, take that big rock, too. You can also roam around the area until you find the perfect spot for you.
THINGS TO DO
Swimming
Parasailing
Jet-skiing
Kayaking and canoeing
Snorkeling
Tube and banana rides
Water scooters
WHERE TO EAT AND WHERE TO STAY?
RESTAURANT IVO
Location: Ante Starcevica 41, Makarska
Restaurant Ivo serves Dalmatian culinary specialties prepared by the best Makarska chefs. Some of the dishes that you can eat here are fish or meat-based. In addition, Restaurant Ivo also has a variety of wines and desserts to taste.
BLUESUN HOTEL SOLINE
Location: Trg Gospe od Karmela 1, 21322 Brela, Croatia
Breathtaking architecture, a sandy façade, and splendid sea views—that is what you will get here in Bluesun Hotel Soline. The rooms are with complete equipment, and you may also get panoramic views from the glass balconies. Also, there are a lot of things that you can enjoy outside, such as their pool bar. If hungry, you may select a dish from either Mediterranean or Continental cuisines. Sure, this is one of the well-packed hotels in Brela. The price of a room here starts at 266.85 USD per night for two guests.
8. OPRNA BEACH
Location: Krk Island
You can never stop the crowd from going to the beach. If you want a less crowded one, Oprna Beach is where you should go. Considered one of the most beautiful beaches on Krk island, Oprna is a sandy, pebbled beach near Stara Baška. The colors around the island bring life to the beach, which creates appealing views for your eyes.
Sunbathing is the usual thing here, but you can level it up by arranging a pleasant picnic. After indulging in Croatian snacks, walk through the local forest, and enjoy the breathtaking landscapes around you! You may also opt to spend the entire day on deck chairs and parasols or rent a pedal boat for yourself. Do not hesitate to exert all your energy and effort in paddling through the blue sea waters. It will be worth it, trust on this.
Oprna Beach may be less crowded, but it will not bore you. Of course, do not forget to bring your friends, and loved ones, too!
THINGS TO DO
Swimming
Snorkeling
Beach canoeing
WHERE TO EAT AND WHERE TO STAY?
RIVICA RESTAURANT
Location: Ribarska obala 13, 51512 Njivice
Rivica is a decades-old restaurant in Njivice. Seafood and Mediterranean delicacies are what they are mainly serving. In connection with this, one of the recommended dishes here is the Šurlice (local pastry) with shrimp. If you want to try it, they are open from 10 AM to 11 PM.
HOTEL HERITAGE FORZA
Location: Kralja Zvonimira 98, 51523 Baška, Croatia
Hotel Heritage Forza offers a vintage-like and elegant feels with its stonewall elements and wooden beams. The rooms are well-equipped, have a private bathroom, and some of them feature a terrace or balcony. Things here are pretty simple but, the level of comfort is excellent. Hotel Heritage Forza's rate starts at 289.65 USD per night for two guests.
9. BRŠEČ BEACH
Location: Bršeč
In the medieval village of Bršeč in Istria, you can find Bršeč Beach. It sits beneath a clifftop offering good weather conditions. The smooth breeze of wind paired with weak waves on the sea is just amazing! If you want, you can bring your inflatable mattresses to the middle of the ocean. Enjoy the sun as you listen to the sound of the sea waters. How about that? Also, Bršeč Beach always has enough free space where you and your companions can gather around for a fun talk and snacks.
However, like the Stiniva Beach on the island of Vis, it is also hard to get to Bršeč Beach. But, if you are after privacy and peacefulness, then you will surely like it here.
THINGS TO DO
Sunbathing
Swimming
Snorkeling
WHERE TO EAT AND WHERE TO STAY?
KONOBA TRAMERKA
Location: Andrije Mohorovičića 15, HR-51410 Opatija
Konoba Tramerka is another perfect spot for your seafood and Mediterranean cuisine cravings! This restaurant uses products from small producers. And that said, they can assure you that every dish you eat is fresh daily. Here, you can try their fish tartar and fish stew. Konoba Tramerka is open from 1 PM to 12 AM daily.
HOTEL BEVANDA
Location: Zert 8, 51410 Opatija, Croatia
Hotel Bevanda offers luxurious rooms with complete equipment. Each room has a spacious, furnished terrace where you can admire the sea views. A breakfast buffet is also available at the cigar and cognac lounge bar. If you like to book a room, the price starts at 513.08 USD per night for two guests.
10. MALI BOK BEACH
Location: Cres Island
Mali Bok is a beautiful beach hidden in a natural canyon on the island of Cres. Large rocks surround the beach, and you will mostly see fine to medium size pebbles. Most of you may find its location hard to get to, but the best reward awaits you! The colors of the sea have green to blue tones and will make you jump into it immediately. The waters are clean, clear, and comfortably warm. And, the atmosphere in the whole beach is heaven-like. Indeed, this is one of the best beaches in Croatia.
On the other hand, nighttime is the most preferred time on this beach by most tourists. If you want less crowd, get on this beach during the daytime. Do not forget to bring your parasols to give yourself some shade.
THINGS TO DO
Swimming
Snorkeling
Picigin (traditional Croatian ball game)
WHERE TO EAT AND WHERE TO STAY?
KONOBA BUKALETA
Location: Loznati, 51557, Cres
If you are up to explore other Croatian lamb dishes, Konoba Bukaleta is open for you! It is a family-owned restaurant where they raise their lambs and serve them fresh. One dish that you can try here is their spit-roasted lamb with mint sauce.
HOTEL KIMEN
Location: Melin I Br. 16, 51557 Cres, Croatia
Hotel Kimen offers accommodation, 10 minutes away from the Old Town of Cres. If you book your stay here, you may do outdoor activities, like hiking and cycling, diving, and boat excursions. When the evening comes, folklore performances and concerts will entertain you. Moreover, for their cuisine, you may choose from Croatian, Mediterranean, and regional specialties. A room here starts at 172.41 USD per night for two guests.
DIVE INTO THE MAJESTIC BEACHES OF CROATIA
Like some other countries in the world, tourists hear a little about Croatia, too. And because of that, they miss a part of Europe that is both historic and awe-inspiring. Most tourists want to visit the European countries that make more noise. That is fine. But this time, let us give it to Croatia.
Believe me. This country has such a unique heritage as well, and the tourist spots are jaw-dropping, too! The best beaches in Croatia and islands, for instance. They are all majestic! The beauty of the Adriatic Sea linking to the Croatian coastlines is a must-discover. Also, the activities and dishes will make you feel how good it is to be on such a beach. The activities are exciting, like the things to do on Siargao Island. Of course, the experience you will get from nature and the ocean is, for sure, surreal.
Do not wait for others to discover the best beaches in Croatia before you! Do it as Croatia is waiting for you!