10 Awesome Things To Do In Nusa Penida, Bali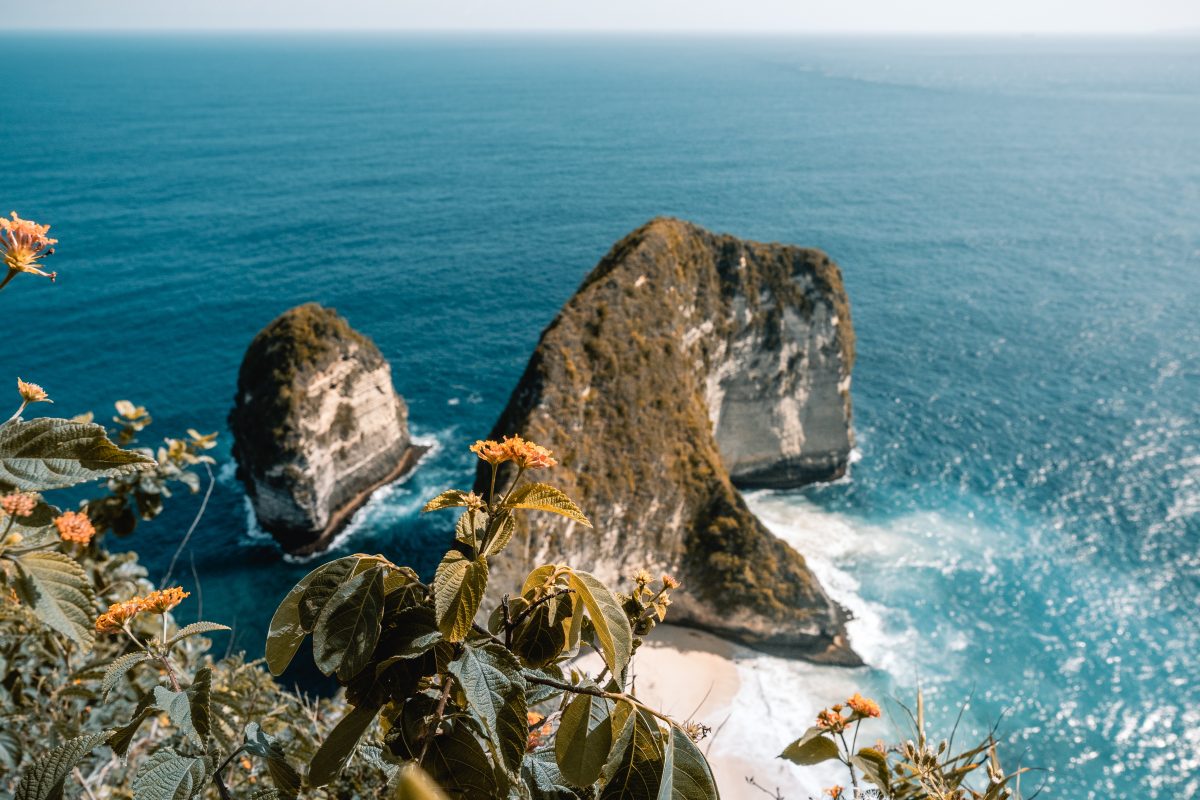 Nusa Penida is one of the largest islands off the mainland of the province of Bali in Indonesia. Overflowing with natural beauty and friendly people, it's the ideal location to visit whenever you crave for a beach getaway.
While Nusa Penida is not the easiest to reach from the bigger Bali cities, it does offer once-in-a-lifetime experiences. We promise the stunning views makes it well worth the adventure. There are many modes of transportation to get there, however, speed boat is a better option. Otherwise, the ferry ride is great too. So, be sure to book your tickets in advance to get the best deals.
Whichever way you decide to get to Nusa Penida, you'll be sure to find bountiful activities for everyone in your family! The great news, this stunning island is suitable no matter how you are traveling. Regardless, if you are a lone backpacker, traveling in a group, or as a honeymoon trip, this secluded island is perfect for everyone. Here are the 10 most awesome, do-not-miss things to do in Nusa Penida, Bali.
1.
Visit Kelingking beach
An exquisite hidden beach in Bali, Kelingking beach offers you everything you could want from a luxury beach holiday in Bali. Including crystal clear water, soft white sand and an abundance of greenery, you'll feel refreshed and rejuvenated after just an hour at this gorgeous location. Not to mention, Kelingking Beach is one of the best beaches in Bali.
You can find this hidden beach in the village of Bunga Mekar, which is situated on the southwestern coast of Nusa Penida island. Thankfully, this beach is rather hilly, making it perfect for long hikes or just sitting on the hilltops watching the world go by. The hidden beach in Bali also has a limestone headland covered in green, as well as a rugged 400m cliffside. If you are fit, well, adventurous and love to walk, this is the hidden beach in Bali for you! Or, if you just like to sit with a picnic and take photos of the ocean, you can do this at Kelingking beach too!
2.
Explore Angel's Billabong, Nusa Penida
Angel's Billabong is one of those places that has a palpable atmosphere. Believe it or not, it can stop you in your tracks and make you hold your breath. It boasts glass-like turquoise water that's framed by cliffs and some sparse but lush trees.
Here, there are a few openings between cliffs that contain tide pools and rocky beaches. However, if you're willing to make the short trip down to the water, you'll be rewarded with unreal Instagram photos. As you go further from the beach, the unique textures of rocks under the water reveals and the reflection of radiant skies on the azure water is surreal. If photography isn't for you, luxurious swims in the crystal clear water will awaken your soul. The calming presence of all-encompassing nature will be enough to make you want to stay in Nusa Penida forever!
Even if you've been here before, it might be worth making another trip at a different time of day. The morning light provides a soft, natural hue to the craggy rocks, but the midday sunlight makes everything somehow more vibrant. When you're done swimming and hiking around Angel's Billabong, a relaxing visit to Crystal Bay might be just what you need.
If you're going to Nusa Penida, you need to make a stop at Crystal Bay. This gorgeous bay is the largest and most popular beach on Nusa Penida. Though it's busy with boat traffics, crystal bay is excellent for snorkeling. For beach entertainment, there are plenty of beach bars along the way. So, if you're looking for a local Bali beer, a fresh mojito or any other kind of alcoholic libation, it will be easily accessible.
Apart from that, this is also a perfect spot for sunset. The beach faces the west and even if you've seen your share of sunsets, you've never seen one quite like those at Crystal Bay. Don't expect to simply sit down anywhere on the island and enjoy the sunset either. Most of the other beaches on Nusa Penida are rocky and not as comfortable as the soft sands of Crystal Bay.
If you're looking for more things to do at Crystal Bay, the boat and snorkeling tours feature nearby coral reefs with turtles that are easily half the size as most adults and easy to see through clear waters. When you're ready for a new adventure in Nusa Penida, pack up your towel and slide on your walking shoes because Broken Beach is your next stop.
Broken Beach is a cove in Nusa Penida that connects two parts of the island with a land bridge. This is what allows water to pass under it. It's a truly stunning little secret spot. It does require a bit of a drive (via scooter), but it's well worth the effort.
Aside from the gorgeous pictures and idyllic views, it offers a slew of activities. This includes manta ray viewing areas and exploring the surrounding cliffs. It's a gorgeous area and when you are able to get to the top of the land bridge at Broken Beach, it offers stunning views. If you're an artist, bring along a sketchbook or camera because water this blue is hard to come by.
Broken Beach in Nusa Penida is just a short walk to Angel's Billabong. Therefore, if you're in the area, it's definitely worth a stop. Some Instagrammers like to cliff jump, but it isn't recommended as it's quite dangerous and, ironically, isn't a beach at Broken Beach. If you want to go for a dip, Angel's Billabong is a much better option. If you do want a stroll along a sandy beach, Atuh Beach is the best choice.
5.
Stroll along Atuh Beach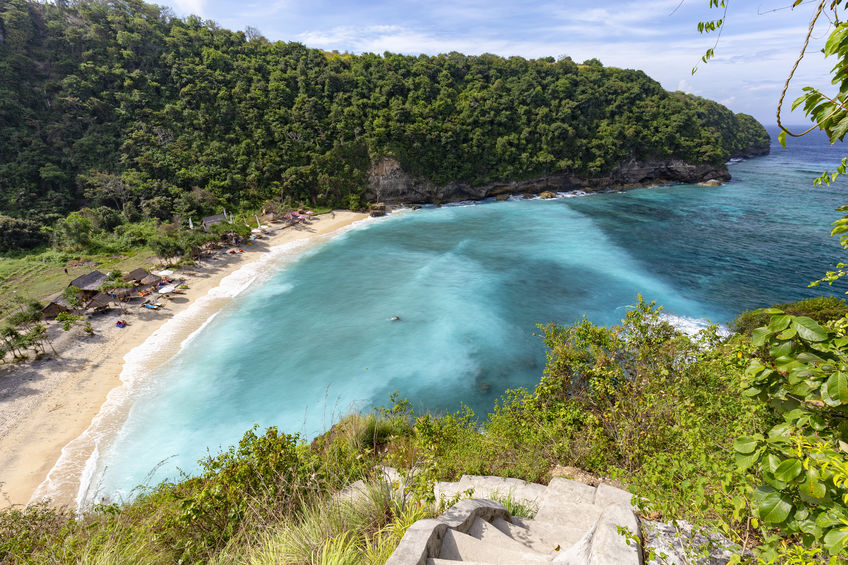 There's no better place to view the perfect Nusa Penida sunrise than Atuh Beach, mainly because of the varying altitudes. Atuh Beach is set in a valley between some steep, grassy hills. It does require a hike to get down there, but the expansive sandy beach is worth the sweats.
Around 08:00, the local vendors start to open up and you can rent a lounge chair, buy some fresh, authentic food and simply relax. Believe it or not, that's the best way to experience the traditional vibe of Nusa Penida. Take note that, the varying tides will also affect your experience but both high and low tide offering unique views. Come during the high tide as it provides a lovely view of the sand that seamlessly blends into the ocean with tree-topped cliffs in the distance set against the blue sky.
These sights with the lighting that normally accompanies high tide give the classic view you may expect when you think of a tropical paradise. On the other hand, the low tide has an earthy pallet but provides exciting tide pools to explore. In addition to everything you can do on the beach itself, this is one of the opportunities for cliff jumping in Nusa Penida. You can do a short hike via the precarious stairs and the view from the Thousand Islands viewpoint won't disappoint.
6.
Take photos from Thousand Island Viewpoint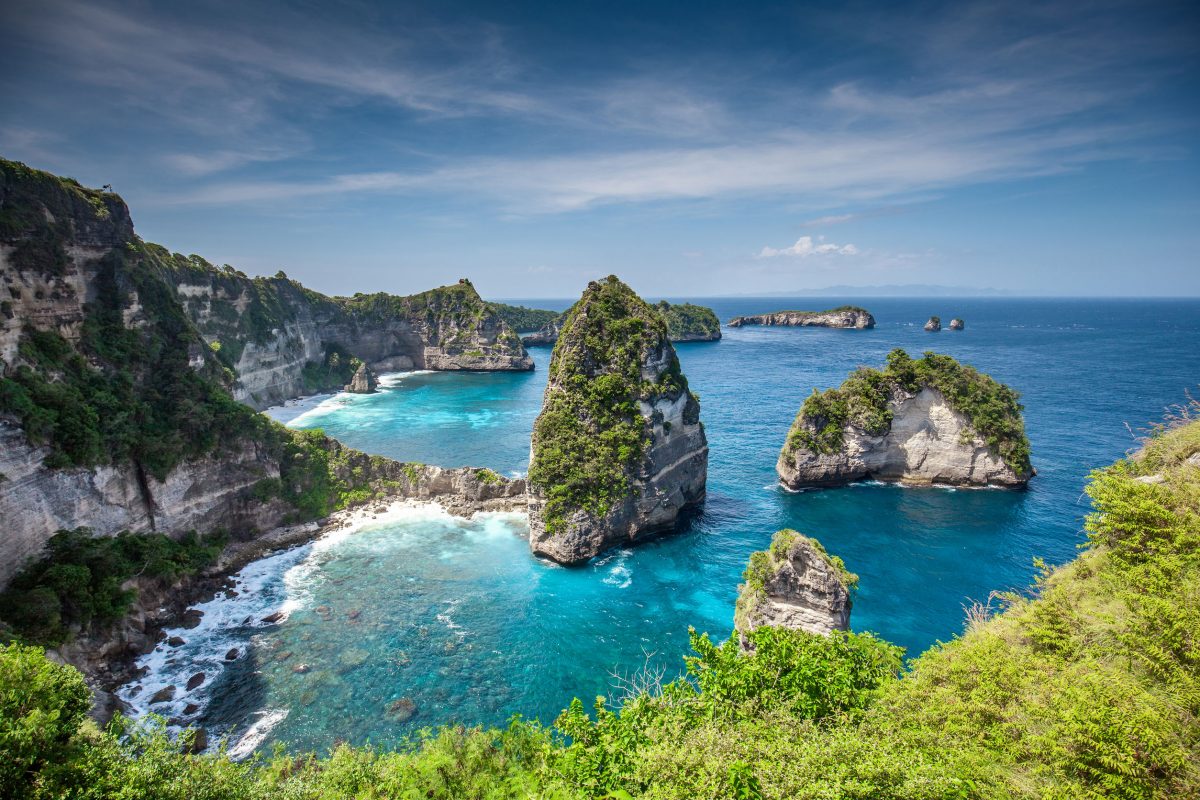 The best way to appreciate Nusa Penida is by admiring the nature view. While Thousand Island Viewpoint will set you back with a small sum of money. The real drill is the challenging climb up the hill. But, once you arrived, you will be greeted by vendors offering drinks with a panoramic view of the azure waters.
Despite it being named Thousand Island Viewpoint, there are actually many different viewing areas. One is a covered area that is fenced off to feel like a balcony. It's a lovely view and a nice place rest if you're feeling overheated from Nusa Penida's blazing sun. Another is the view-point that comes with a historic shrine. Ultimately, the best is at the end of a short downward climb. As it provides an island top view with soft grey cliffs accompany by the vibrant blue ocean that seamlessly blends into the sky.
7.
Enjoy Cocktail at Suwehan Beach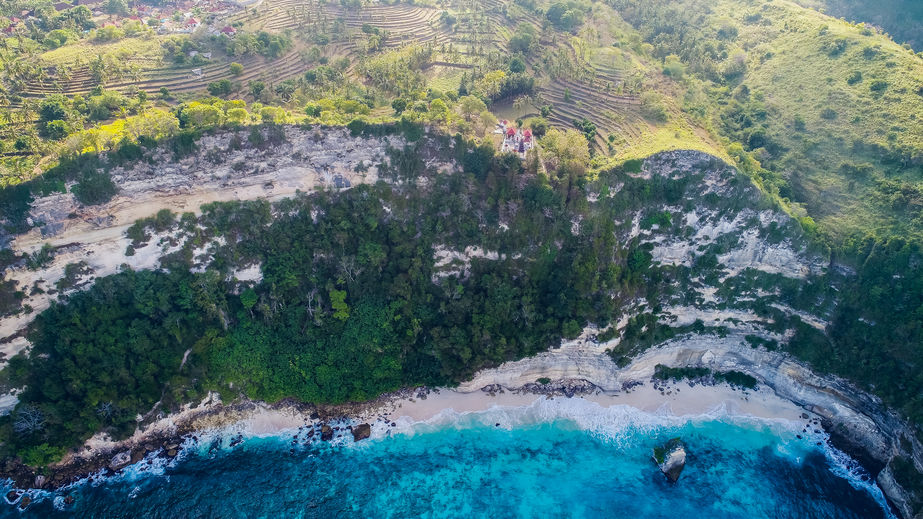 If you're looking for a lesser-known secret spot, Abangan Hills is Nusa Penida's gem that will afford you lush, green views that are vibrant but in a different way that the tropical paradise that you're sure to see. Once you're done taking in the glorious foliage, there's are a few vendors at the entrance to Nusa Penida's Suwehan Beach. Grab your favorite freshly made cocktail and either enjoy the view from the cliffs or head down to the sandy beach.
If you want to see tide pools, opt for the times of day that the tide is low but if you're more interested in foaming waves caressing the shore. Once you're down on the beach itself, there aren't a lot of amenities, bringing a beach blanket definitely helps.
Snorkeling has been mentioned a few times in this article, but it deserves a section all of its own. Nusa Penida offers everything from the normal snorkeling you're probably familiar with. This includes coral reefs and schools of fish. But you can also go snorkeling in caves or with manta rays!
The great thing about snorkeling is that it's something you can do regardless of your age or physical fitness. If you're traveling with children, snorkeling is a fantastic physical activity. It tires the kids out while keeping them fully entertained with the marveling world wonders. If you're on a hen or stag week, it's a lovely bonding experience. Needless to say, whether you have experience snorkeling or are brand new to snorkeling in Bali, you won't forget this incredible experience.
You'll leave for most tours from Crystal Bay; however, if you decide to leave from the mainland, you'll typically be able to book transportation and some tours as a bundle! Either way, you can't leave Nusa Penida without snorkeling at least once. If you have an underwater camera, be sure to bring it along! Now that you've gone hiking, swimming, snorkeling, drinking and so much more, you deserve a delicious meal!
9.
Experience Exquisite Balinese-style Seafood
No tropical paradise would be complete without copious amounts of fresh seafood. Most people associate fresh seafood with high prices and strict dress codes but at Nusa Penida, that is the exception, not the rule. Ogix Warung is the highest rated seafood restaurant on the island and the prices are downright cheap.
Nusa Penida is loaded with excellent food, friendly service, and exquisite views. Do take note that there are a few that charges a little extra, but while the food at those places is good, they aren't necessary. The Warungs found along the beaches (especially at Crystal Bay) offer excellent, fresh seafood that is caught every day. Fresh shrimp, tuna, Mahi cooked in Balinese style, will leave your mouth watering even after you've eaten your fill. Wash down with some local special cocktails like the Bali Punch, you won't regret it.
Kindly enough, more common options like chicken and fries are available for the picky eaters. The rice served in the restaurants come from the rice paddies that are housed on the very island you will be eating on! This is the very epitome of farm-to-table. Nusa Penida's Warungs may not look like much but they will provide some of the best seafood you'll ever eat coupled with views you won't soon forget. If all of the hiking, eating, and activities wear you out, you can enjoy some downtime at the natural pools s has to offer.
10.
Cool off at Tembeling's Natural Pool
Tembeling Natural Pools are some of the best private, secret spots to visit at Nusa Penida. You'll have to walk for about 30 minutes or brave a scooter ride (it's only suggested that experienced riders with a small first aid kit take on this journey!).
Once you arrive, you'll be treated to quiet beaches that peer out onto the ocean and wooded areas featuring the native fauna. The sunlight that shines through the trees provides a soft, peaceful light that is excellent for Nusa Penida photographs. The best part of Tembeling isn't the wooded paths or the expansive stretches of white sandy beaches; instead, the coves are what make this little piece of paradise different from the rest. The coves feature deep blue pools of water that are often encompassed by impossibly tall cliffs. If you float on your back, you'll have a view of the cliffs and the gorgeous sky.
The water here is still as compared to most beaches in Nusa Penida. It's especially calm with the endless chirping birds and the patterned cliffs. On the side of the craggy cliffs, you'll be treated to a soft white beach that allows for easy access. Some pools are naturally deep so if you're going to want to relax in the water for a while (you will!), it might be worth bringing a deflated inner tube. Along the beach and coves, you might find a few shallow caves too.
These are awesome for exploring and offer some shade if you're feeling a little too warm. Natural rock formations decorate the cave floors so be sure to wear shoes. To make the best out of it, bring along your camera to bring home some Nusa Penida's memorable.
Bottom Line
Nusa Penida island is one of the multiple islands found off the coasts of Bali. It's easy to forget or skip some of the islands because of the tantalizing array of options found on the mainland; however, don't make Nusa Penida one of those you skip.
This island offers everything adventurous you could want like snorkeling, swimming, cliff jumping and hiking but it also offers relaxing beaches, world-class food, breathtaking views and as many Mai Tai or Pina Coladas you can drink. It's worth spending a few days at Nusa Penida exploring the island. Manta rays and sea turtles are common, and the views are magnificent from anywhere on the island.
Even if you do spend a few days here, you won't become accustomed to the picture-perfect landscapes. Nusa Penida is genuinely the kind of place that changes the way you vacation forever. World wonders like the Eiffel Tower, Pyramids and Times Square will fade away when you think of the sunny skies and gentle waves on Nusa Penida. Not only that, it's a place you can visit time and time again. It doesn't matter whether you vacation with pals, your new spouse or your growing kids, Nusa Penida will accommodate you on your journey.