17 Best Reasons Why You Must Visit Torch Lake, Michigan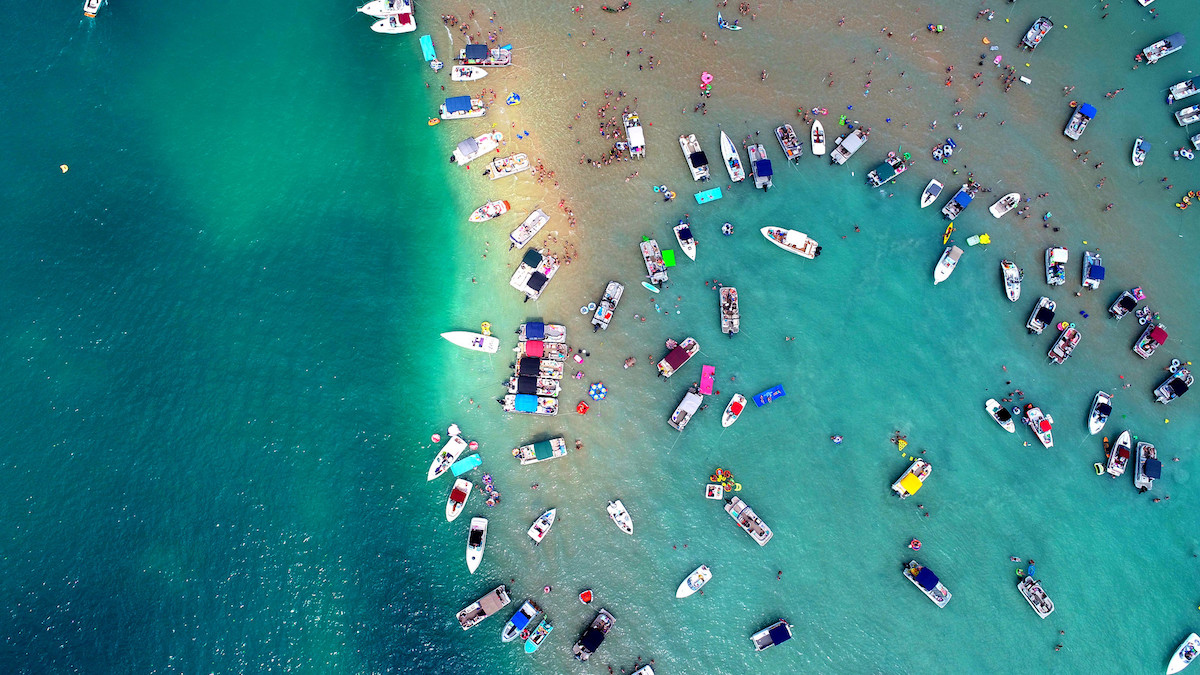 Torch Lake offers a little piece of the Caribbean to Michigan, and it's not hard to see why. Its incredibly clear waters are known to change from green to fiery gold to deep turquoise. Additionally, the gorgeous sunsets and stunning views across the lake are a sight to behold. For partygoers and social butterflies, the parties here, in particular, the 4th of July party at Torch Lake Sandbar, can rival those on the best Caribbean beaches. There are also plenty of fun things to do in the area, from water activities like swimming, boating, and snorkeling, to other outdoor activities like camping and hiking.
Indeed, Torch Lake is more than just a beautiful lake tucked between the towns of Antrim County, Michigan. Not yet convinced? Here's our Torch Lake visitors guide, complete with activities to do, places to stay, and interesting trivia about the famous lake.
17 Reasons to Visit Torch Lake
1. It's One of the Most Beautiful Lakes in the World
Torch Lake isn't just among the most stunning lakes in Northern Michigan. In fact, the National Geographic dubbed it as the third-most beautiful lake in the world! And with the lake's crystal clear waters comparable to the Caribbean, it's hard to argue why. This Michigan lake has become a favorite place for a weekend with family and friends for many other reasons. Swim the blue-green waters, ride a kayak, or set up a beach tent. There are simply many fun and exciting things to enjoy in and around this beautiful lake.
2. It's a Playground for Water Sports Enthusiasts
Torch Lake is more than just pretty sights and lively parties. This piece of paradise is home to plenty of activities that will keep you busy. Swimming and snorkeling in the waters are among the best experiences here. How can you not enjoy crystal clear waters with stunning views? The water quality here is so incredible you can see your toes!
Meanwhile, thrill-seekers will be happy to know that motorized sports are popular in these Michigan waters. From ski boats to jet skis, get ready to make some splash and waves. Canoeing, windsurfing, paddleboarding, or kayaking are other great options for those who prefer a more relaxed way of cruising along the pristine waters. Beginners can also join sailing lessons to acquaint themselves and learn how to sail in a safe environment guided by experts. Don't have your own boat? No problem! There are many facilities that offer Torch Lake boat rentals, so you can easily rent one.
3. It Offers Plenty of Fishing Opportunities
Similar to other Michigan lakes, Torch Lake offers plenty of fishing opportunities for anglers. The waters are swarming with a variety of fish species, primarily lake trout, smallmouth bass, and Atlantic salmon. That said, don't forget to bring your best fishing rods and other fishing equipment. Don't have your own gear? Not a problem! You can find several facilities that rent out fishing equipment. Meanwhile, if you prefer a guided fishing trip, you can book a fishing charter that will take you out into the lake's open waters.
4. It Has an Awesome Sandbar
Apart from its turquoise waters, Torch Lake Michigan is most famous for its two-mile sandbar. The shallow sandbars, where colorful boats and flocks of tourists abound during summer, can be found at the south end and are a favorite location for raucous summer parties. In addition, Fourth of July parties are some of the most awaited (and often wild) events at Torch Lake Sandbar where both tourists and locals spend the whole day out in the sun. A breathtaking fireworks show concludes the annual festivities. Besides partying, the sandbar is a great starting point for boating, water skiing, and other water sports. The depth falls steeply from the sandbar, turning the water into a beautiful deep blue.
5. It Has Many Public Access Points
Is Torch Lake Michigan publicly accessible? For such a beautiful and famous lake, it is easily accessible to the public. Anyone can enjoy the natural beauty of this gem! Torch Lake has 48 public access points along its 41-mile shoreline, most of which are street ends. Whether you're coming from Eastport in Antrim County or Forest Home Township, getting to the lake is a breeze. Just be sure to bring a pair of water shoes, as many of these access points can be quite rocky. Meanwhile, boating enthusiasts can launch their vessels on several nearby boat launch ramps around the lake, including the ones located on the south side of Eastport.
6. It Is a Great Place to Camp
Torch Lake camping is an extremely popular activity for many visitors. After all, who wouldn't want to fall asleep under the stars and wake up to the gentle sound of lapping waves and the sunrise? As such, pack your camping gear and essentials and experience sleeping surrounded by the lake's refreshing atmosphere. Whether you like to set up a tent, camp on the boat, or do it RV style, you can find plenty of Torch Lake campground sites to spend the night on.
Some of the nearby tent campgrounds include Chain O'Lakes, Honcho Rest Campground, and Barnes Park. Meanwhile, Torch Grove Campground's RV park is exclusive for motorhomes, trailers, and truck campers. This campground offers 54 spacious full hook-up sites complete with Wi-Fi and cable access. There is also a bathhouse with five toilets and seven showers for your convenience.
7. It Is Huge and Long—Plenty of Space for Different Activities
Stretching 19 miles long, Torch Lake is the longest inland lake in Michigan. It's also the second-largest inland lake with approximately 18,770 acres of vast land. What's more, it has a maximum depth of nearly 300 feet. Due to its size, this famous lake in Michigan is a haven for outdoor enthusiasts. From watersports such as wakeboarding, waterskiing, and jet skiing to land-based activities like hiking and biking, there's no shortage of fun things to do on Torch Lake!
8. It's a Cyclists Paradise
If you aren't too keen on watersports, ride a bike and explore the lightly traveled roads surrounding the lake—an opportunity to take in the scenic views of farms and orchards. The lake has beautiful and easy bike trails nestled between rolling hills and lush forests with colorful wildflowers. If you need to refuel, there are great food stop options along the way. For bike rentals, head over to Brick Wheels and Revolution Bike Shop. Both shops offer a variety of bikes available for rent, including mountain, tandem, and fat-tire bikes.
9. It Has Endless Hiking Trails
To enjoy nature more, walk and hike the various trails around Torch Lake. From easy to more vigorous paths, there's a perfect trail to suit your skills. Some of these trails can be found within the Grass River Nature Area, which boasts 1,100 acres of forest, lakes, rivers, and open meadows. Another notable spot for hiking is the Torch Lake Nature Preserve. While this preserve offers a smaller area for hiking—stretching around 95 acres—it does provide visitors with seasonal views of the lake. What's more, you can bring along furry companions with you during your hike. Just note that they must be kept on leashes at all times.
10. You Can Experience the Thrill of Skydiving
For the more adventurous souls, take in the beauty of Torch Lake and the rest of Northern Michigan from above! Jump out of a plane by yourself or with a partner and freefall at 120 mph with Skydive Charlevoix. This exhilarating experience will surely offer you amazing sights of the lake from a bird's-eye view. Both novice jumpers and experienced ones are welcome to this fun activity. However, first-timers are encouraged to try tandem skydiving first. Regardless if it's your first time or not, you will have professional trainers guiding you and ensuring your entire experience is fun, safe, and memorable. Don't forget to bring your GoPro or the best GoPro alternative to get video that you can show your friends and family.
11. It Has Nearby Golf Courses
Another land-based activity you can take part in while at Torch Lake is hitting a hole in one at one of the nearby golf courses. Among them is A-Ga-Ming, a 72-hole golf course resort. Nestled between the shores of Torch Lake and Lake Michigan, it provides guests with scenic views of the lakes' banks. It's home to three courses that offer challenging yet fun experiences for both beginners and pro players. If you're a true novice, you can book golf lessons with professional coaches.
12. You Can Hit the Tables at the Casinos
Most people don't typically include gambling when planning a lakeside getaway. If you're feeling lucky, though, drop by in one of the nearby casinos. If you're at the south end of the lake, you can head over to the Turtle Creek Casino. Home to a 56,000-square-foot casino floor, it features over 1,000 slot and video poker machines, blackjack, craps, and roulette tables. Meanwhile, up North, you can enjoy non-stop gaming and entertainment at Odawa Casino. A good time is certainly guaranteed as it features nearly 1,000 slot machines, dozens of table games, and a poker room. What's more, it also features an entertainment venue with regular live bands and DJs.
13. You Can Visit it All Year-Round
Northern Michigan is famous for its comfortable weather, particularly in spring and fall. Albeit, during winter months, it can get extremely snowy and windy. Thus, you may not be able to enjoy the host of outdoor activities that the state has to offer. Nevertheless, Torch Lake is among the year-round attractions located in the state. The lake is so deep that even in the summer it stays quite cold, making it perfect for those who want to escape sweltering heat and temperatures.
Moreover, due to its size, it usually doesn't freeze in the wintertime, allowing you to enjoy its waters no matter the season. If you want to enjoy some winter activities, head over to the nearby Shanty Creek Resort, wherein you can enjoy cross-country skiing, sledding, and snowboarding. Meanwhile, visiting around autumn means you get to witness the beautiful fall color of the foliage surrounding the lake, which further brings out the beauty of its turquoise waters.
14. The Dining Experience Is Divine
Want to enjoy a meal while overlooking Torch Lake's pristine waters? Head over to Torch Lake Cafe! Since 2015, this cafe has been a favorite for locals and tourists to enjoy good food in an inviting atmosphere. Besides its food, locals keep coming back to this spot thanks to its vibrant music scene and nightlife that features live entertainment. Plus, the bar has a wide selection of drinks. On the other hand, if you feel like waking up to fresh and homemade breakfasts, guests at Torch Lake Bed and Breakfast are in for a treat. The B&B serves hot and delicious food, making sure every guest enjoys an unforgettable experience.
Looking for a romantic dining experience? Try The Dockside, a famous boat-to-dinner restaurant located at the mouth of Clam River. It's famous for its unobstructed view of the breathtaking sunsets in the area. Boaters can even pull right up to the restaurant and grab something to eat. Other excellent dining options include Blue Pelican, Shorts Brewery, The Rowe Inn, Stafford's Weathervane, Pearl's New Orleans Kitchen, and others.
15. There's Fun Shopping to Do
When visiting this Michigan lake, make sure to bring home some souvenir items to remember the experience. Adams Madams is a great shopping option for some local artworks, handmade crafts, bags, books, and other fun items. Whether you're looking for trendy items or unique antique pieces, Torch Lake is home to a variety of shops for your pleasure.
If you're visiting with the family, make sure to swing by Brownwood Acres. Famous for dried cherries, chocolate-covered cherries, and other cherry-related items, Brownwood is a great stop for families. Aside from that, there's a tearoom where you can enjoy a light lunch overlooking a porch. On Sundays, there is a flea market for everyone to enjoy and shop for locally made goods. On top of that, there's a candy counter for kids and those with a sweet tooth!
Meanwhile, the King Orchards Farmers Market is the place to see for some fresh produce shopping. From seasonal products, cheese items, a selection of wine, and fresh seafood, you'll be happy to spend hours here.
Aside from that, Torch Lake Michigan is also home to several malls and department stores. Get all your department store needs at Grand Traverse Mall. To get there, head to the south end of Traverse City. Other great shopping centers and boutiques are The Village at Grand Traverse Commons, The Pear Tree, Bachmann's Store, and Stuff & Such among others.
16. It's Among the Best Lakes in Michigan to Live On
Looking to invest in a vacation home? Torch Lake is among the best lakes in Michigan to live on. Take note, however, that owning real estate property around this Michigan lake is very expensive. Prices of homes on the east side are said to be ridiculously high. Nevertheless, with its Caribbean blue waters and legendary sandbar, its waterfront living at its finest. You can find a number of waterside properties ranging from charming cottages to grand homes.
17. It's Very Safe and Family-Friendly
Torch Lake may be a popular party spot, but don't let this put you off. The lake may be an excellent host to sandbar parties, but it is also an ideal place for family trips. The surrounding towns are beautiful and, more importantly, safe. You can bring your kids and enjoy walking around the streets or stop by great Torch Lake restaurants and cafes after swimming!
The neighborhood and people in Torch Lake are very warm and welcoming to visitors. They also celebrate a summer festival every year, which makes this an excellent time to visit. Enjoy delicious food, street games, and magic shows. Meanwhile, every 4th of July, there's a massive fireworks show over at the south end of the lake. This should make a 4th of July family getaway more special and fun!
Places to Stay on Torch Lake
They say spending a day in Torch Lake is a good idea, but staying for the night is better. Here are your options for the best Torch Lake hotels and vacation rentals around the area.
(Take note that prices per night depend on the season and are subject to change without prior notice.)
1. Torch Lake Bed and Breakfast
Address: 4417 Trillium Ridge, Central Lake, MI 49622
Price: Starts at USD 460 per night
Located in Central Lake, the Torch Lake Bed and Breakfast is a famous beachfront property that offers cozy and comfortable rooms complete with everything you need. Each suite features a king-sized bed, a private bathroom, free Wi-Fi, a heating blanket, and even a sound machine. Some rooms even come with fireplaces and private or shared decks, where you can marvel at the breathtaking beauty of Torch Lake. What's more, you get coffee and tea alongside the bed-and-breakfast's delicious complimentary breakfast. When you stay at Torch Lake B&B, you'll also get access to the inn's kayaks, paddleboards, and snorkeling and fishing equipment. Have your own boat? Bring it with you and utilize the inn's mooring service!
2. The Legend Cottage Inn
Address: 5820 Shanty Creek Road, Bellaire, MI 49615
Price: Starts at USD 137 per night
Planning to bring your furry companion along with you to Torch Lake? Consider staying at The Legend Cottage Inn. For a small additional fee of USD 20, you can bring a four-legged friend and get access to the inn's clean and comfortable rooms. Moreover, the inn is one of the places to stay in Michigan that has no weight limit for dogs. Guest rooms have either two queen-sized beds, two double beds, or one king-sized bed. All rooms feature amenities such as a private bathroom, a flat-screen TV, a mini-fridge, and a microwave. Guests also get access to the inn's outdoor seasonal pool, which is typically open throughout the summer months. Besides the outdoor swimming pool, there are also two indoor pools, one of which is heated. Furthermore, its location is a favorite among travelers who want to enjoy the lake and the nearby golf course and ski resorts.
3. Grand Victorian B&B Inn
Address: 402 N. Bridge St., Bellaire MI 49615
Price: Starts at USD 125 per night
Step back in time when you enter this grand Victorian-style bed-and-breakfast. Built in 1895, the Grand Victorian B&B Inn is home to six suites adorned with antique decorations and furniture. Some rooms even feature four-poster antique beds and fireplaces, ideal for romantic getaways. Each room exudes a unique atmosphere and comes with different amenities to reflect each one. Meanwhile, the lush terrace garden and its seasonal flowers provide a romantic spot for guests. In the morning, you'll wake up to a gourmet breakfast made from fresh, high-quality, and locally sourced ingredients. The inn even provides meal options for vegetarian guests. To add another air of Victorian-style extravagance, all meals are plated and presented on china and crystal. For fun activities, head to the lake, go golfing, or explore downtown Bellaire.
4. Torch Lake Home
Address: Rapid City, 49676, United States
Price: Starts at USD 1,429 for two nights
On the hunt for Torch Lake rentals? Torch Lake Home is a 2,260 square-foot real estate property that offers 116-feet worth of waterfront access. This accommodation offers four spacious bedrooms, a kitchen, a laundry area, and a wide lawn that overlooks the lake. It is the perfect choice for families and large groups who want a bigger and more private space that doesn't lack fun activities and picturesque views. Located in Rapid City, its nearby attractions besides Torch Lake include several restaurants, vineyards, ski resorts, and the Sleeping Bear Dunes National Park.
5. Rustic Northern Retreat
Address: Bellaire, 49615, United States
Price: Starts at USD 1,431 for three nights
This rustic vacation home in Bellaire is one of the Torch Lake rentals ideal for large groups. It has five bedrooms, a fully equipped kitchen, and a laundry area. Each bedroom has a flat-screen TV with cable channels and an en suite bathroom. It has a dedicated game room with everything you need to have fun indoors, such as a shuffleboard, foosball table, basketball hoop, and even an NBA arcade machine. Outdoors, you'll find a patio, balcony, and dining area with a barbecue grill, where you can cook up delicious meals for your group. Other amenities you shouldn't forget to take advantage of are the property's fireplace, heated pool, hot tub, sauna, and tennis court.
6. Elk Rapids Lakeshore Inn
Address: 10962 US Highway 31Elk Rapids, Mi 496​​​​90
Price: Starts at USD 119 per night
Looking for no-frills Torch Lake vacation rentals? Surrounded by a parklike setting, the 12 quaint rooms at the Elk Rapids Lakeshore Inn provide guests with a cozy and comfortable place to stay in. It offers air-conditioned rooms with either one king-sized bed or two queen beds. In addition, each room has a private bathroom, a seating area, a flat-screen TV, and free Wi-Fi. Bringing along an infant with you? You can request a cot or crib if you don't have your own travel bassinet with you. Other highlights of this rental are its private beach area and garden. Moreover, you can also easily enjoy a snack at the inn's outdoor dining area that features barbecue grills wherein you can cook up your own meal.
7. Shanty Creek Resort
Address: 5780 Shanty Creek Road Bellaire, MI 49615
Price: Starts at USD 119 per night
Spanning 5,500 acres, Shanty Creek Resort is one of the largest Torch Lake resorts. It offers guests with over 400 accommodation options across four different villages. Each village provides different lodging options, dining venues, and outdoor activities. Just a few steps from Schuss Mountain, Cedar River, and Schuss Village are great options for ski and snowboarding enthusiasts. Golfers may want to stay at the Hawk's Eye village, which is home to the resort's state-of-the-art golf course. If you want the best of both worlds, head over to Summit Village, where you can find a tubing park and two golf courses. Often dubbed as the original Shanty Creek, this village is home to the majority of the resort's accommodations. This ranges from intimate studios and guest rooms to three-bedroom condos and townhouses. The resort's wellness spa, fitness center, and conference center are located within Summit Village, as well.
8. Torch Lake Lodge
Address: 11501 Apple Valley Dr, Rapid City, MI 49676
Price: Starts at USD 3,500 per week
Just off the shores of the lake, this lodge is one of the Torch Lake cabin rentals perfect for families and large groups. Torch Lake Lodge is a three-story weekly rental that stretches across 3,400 square feet and boasts five bedrooms, five bathrooms, and a gaming room equipped with ping-pong, billiard, and foosball tables. There's even a heated indoor pool, perfect for night swims or during rainy days. If weather permits, you can spend the night under the stars with family and friends while huddled around the firepit outdoors. Additionally, you get stunning views of the turquoise waters of Torch Lake and its wooded surroundings.
9. The Inn at Torch Lake
Address: 9076 Helena Rd, Alden, MI 49612
Price: Starts at USD 225 per night
With only five suites available, only welcoming an intimate number of guests, you are guaranteed a serene stay at this Torch Lake inn. Situated in the quaint town of Alden, the Inn at Torch Lake is only a short walk from the lake. All rooms are named after lakes in Northern Michigan, and each one has its own unique style and decor to reflect its namesake. However, all of them are still equipped with luxurious amenities, such as a fireplace, a wide-screen TV, a private bar, and a private deck. Depending on which room you book, you'll either get a wet bar, kitchenette, or even a full gourmet kitchen area.
Frequently Asked Questions About Torch Lake
Where is Torch Lake Located?
Torch Lake is nestled in the township of Antrim County in Michigan, USA. It sits just about 27 kilometers northeast of Traverse City. Its neighboring communities include Central Lake, Forest Home, Helena, and Milton.
How Do You Get to Torch Lake?
Coming in from Detroit? Torch Lake is approximately 357 kilometers away from the capital. Here are the easiest directions to get you to this Michigan lake.
If you're on a budget, driving from Detroit to the lake is a better option. Take the Interstate 75 from Detroit then exit at Grayling to get to Torch Lake. Take note that the driving distance is 420 kilometers and travel time takes around four to five hours depending on the traffic condition and season. Additionally, driving to the lake from Detroit will cost about USD 25 to USD 40.
On the other hand, the quickest way is by taking a flight from Detroit Airport to Cherry Capital Airport in Traverse City. The travel time takes only an hour and flights are around USD 150. Then from Traverse City, you can simply take a cab which will take another 45 minutes to reach the lake. This may be the more expensive option, but it is perfect for those who want to get there immediately and make the most out of their time.
Why Is Torch Lake So Clear?
This is a common question, especially for first-time visitors to Torch Lake. The answer lies in the sediments at the bottom of the lake, which is primarily calcium carbonate. Combine that with the low organic content in the lake, and there's nothing to darken the water's color. This is what makes the lake water look so crystal clear. Furthermore, most waters in the Caribbean also have the same composition of limestone with low organic content.
However, golden-brown algae blooms have been spotted in some parts of the lake, causing the waters to appear murky. This is due to foreign nutrients entering the waterways from septic systems and runoff from fertilization. Don't fret, though. The local organizations have made efforts to restore and preserve the crystal-clear waters of Torch Lake by discouraging the use of fertilizers on lawns of lakeside properties and pushing for better maintenance of the nearby septic systems. With these efforts, many believe that the turquoise waters of the lake will be back to its original, pristine state.
Is It Safe to Swim in Torch Lake?
With that said, you may wonder if it is safe to swim in Torch Lake. While many consider the golden-brown algae blooms a nuisance to the pristine beauty of the lake, it is actually a form of non-harmful algae and not dangerous to humans. Of course, it's understandable if you may not want to swim in the particular areas affected by it, though.
Despite this, there are still several unaffected areas of Torch Lake that remain clear and are still favorable spots for swimming and other water-based activities. Aside from that, the sandbars around the lake provide great areas to relax, play, and wade. As long as guests follow safety precautions, swimming in Torch Lake will be a safe and enjoyable experience.
Does Torch Lake Have a Beach?
Yes, but Torch Lake beaches are not the typical white sand beaches you imagine. Instead, these public beaches are rocky and not exactly the best places to swim in. For a more picturesque beach outing, the nearby Lake Michigan might be a better option.
How to Get to Torch Lake Sandbar?
Found on the southern edge, you will have to take a boat to reach Torch Lake Sandbar as it is a few hundred meters away from the main shores.
How Deep Is Torch Lake in Michigan?
Torch Lake is Michigan's deepest inland lake with an average depth of 111 feet and a maximum depth of 285 feet.
When Is the Best Time to Visit Torch Lake?
If you are a party lover, there is no better time to visit the lake than its annual 4th of July bash at Torch Lake Sandbar. Meanwhile, if you're planning to head to Torch Lake for a swim, the best time to visit will be from July to September when the waters are warmer.
Is Torch Lake Part of Lake Michigan?
Torch Lake was once part of the larger Lake Michigan. However, it separated upon the formation of the famous sandbar. Nonetheless, the lake is still part of the Elk River Chain of Lakes Watershed, a waterway that includes 14 lakes and rivers that empty into Lake Michigan.
Is It Possible to Ride a Boat From Lake Bellaire to Torch Lake?
Sitting on the east side of Lake Michigan is Lake Bellaire. If you're vacationing in Lake Bellaire, you can swing by the lake or other nearby bodies of water. Small boats can and are allowed to navigate most of the Lower Chain lakes. These lakes included Lake Bellaire, Clam Lake, Torch Lake, Lake Skegemog, and Elk Lake near Elk Rapids.
Interesting Trivia About Torch Lake
Among the lakes in the Elk River Chain of Lakes Watershed, Torch Lake is the biggest and bluest.

Its name is derived from the native word "Waswaaganing." In English, it translates to "lake of the torches."

Torch Lake could have been a part of Lake Michigan. Interestingly, a sandbar formed in between, separating the two.

The Chain of Lakes supplies 60% of the surface water of Grand Traverse Bay.

The crystal-clear waters of the lake are not just for picturesque views. The pristine waters also help Common Loom, a popular swimming bird in the area, hunt better and easier.

The waves in this lake can both be friendly to challenging and surfers would be happy to know that the waves here can reach over four feet high.

Torch Lake Michigan is so massive that it doesn't freeze even during winter. Its vast volume allows it to store a lot of heat.

Famous personalities and celebrities express how they adore this lake in Michigan. Singer Kid Rock's hit song "All Summer Long" has lyrics describing the lake, especially its sandbar. Other celebrities who call Torch Lake their home include Michael Moore and Eminem.
Enjoy a Slice of Caribbean Paradise at Torch Lake
You don't need to travel far to experience crystal waters. Right in the heart of Northern Michigan, Torch Lake offers a piece of Caribbean paradise. Imagine pristine and deep waters, amazing sandbars, delicious meals by the dock, and other exciting activities to enjoy. All these and more make Torch Lake a perfect cheap weekend getaway with family and friends!