10 Best Reasons Why You Must Visit Torch Lake, Michigan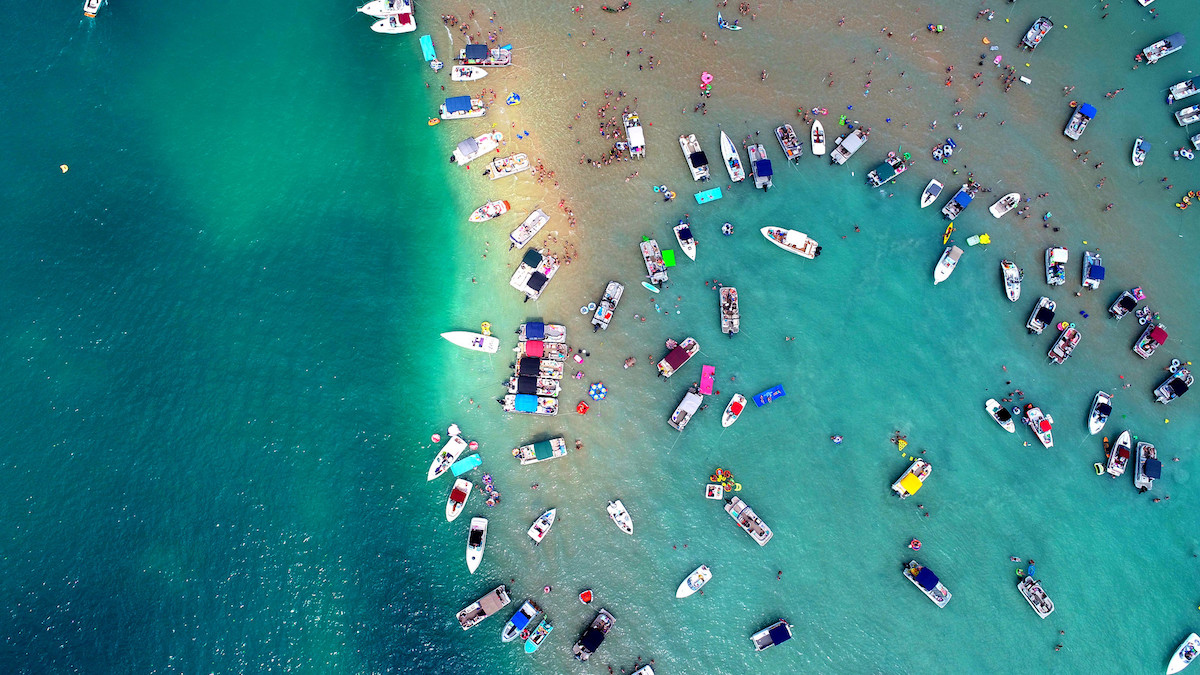 Torch Lake offers a piece of Caribbean in the USA, and it's hard to argue why. Its incredibly clear waters are known to change from green to fiery gold to deep turquoise. Add to that the gorgeous sunsets and stunning views across the lake. Tucked between the towns of Northern Michigan, Torch Lake is more than just a beautiful lake. To give you a little more convincing, here are 10 reasons why you must visit this lake.
Where Is Torch Lake Located?
Torch Lake is nestled in the township of Antrim County in Michigan, USA. Stretching 19 miles (31 km) long, it is the longest inland lake in Michigan. Aside from that, it is also the second-largest inland lake with approximately 18,770 acres of vast land. Surrounded by several townships, including Central Lake, Forest Home, Helena, and Milton, Torch Lake is among the gems of Michigan.
How Far Is Torch Lake From Detroit?
If you're in Detroit, a weekend trip to Torch Lake is always a great idea. With a 357 km distance from Detroit, there are plenty of ways to reach this famous lake Michigan.
The quickest way to get to Torch Lake from Detroit is via plane and taxi. However, if you want the cheapest mode, hop on a car and drive. The driving distance is 420 km and will take about 4h 48m. Driving to Torch Lake from Detroit will cost about $25-$40.
1.
It Is Home To Various Aquatic Activities
Torch Lake is more than just a sight to behold. This piece of paradise is home to plenty of activities to keep you busy. Swimming and snorkeling the waters are among the best experiences here. How can you not enjoy crystal clear waters with stunning views? The waters of Torch Lake are so clear you can see your toes!
Meanwhile, adventure seekers would be happy to know that motorized sports are popular here. From ski boats, ski boats, to jet skis, get ready to enjoy some splash and waves. For non-motorized sports, try canoeing, windsurfing, paddleboarding, or kayaking.
If you want to fish, you won't be disappointed. Being the deepest inland lake in Michigan, Torch Lake makes for a perfect fishing spot. Anglers can feast on trout, pike, wide-mouth bass, whitefish, and more.
2.
It's A Great Place To Camp
Fancy sleeping beside a lake? Torch Lake Michigan lets you fall asleep under the stars and wake up to gentle lapping waves. Whether you like to set up a tent, camp on the boat, or do it RV style, Torch Lake is an excellent place to camp.
Torch Grove Campground is the closest spot to the popular south end sandbars. This campground offers 54 spacious full hook-up sites complete with Wi-Fi and cable access. There is also a bathhouse with 5 toilets and 7 showers for your convenience. Other noteworthy campgrounds include Barnes Park Campground, Honcho Rest Campground, and Rapid River Campground among others.
For day picnics, you can rent cabins or cottages directly near the lake. This lets you enjoy some privacy and easy access to the water.
3.
There Are Plenty Of Exciting Outdoor Activities
The activities to enjoy in Torch Lake go beyond its waters. There are plenty of outdoor sports that you can enjoy on land along with the surrounding spectacular views.
Biking: Ride a bike and explore this side of town on lightly traveled roads with scenic views of farms and orchards. Torch Lake has beautiful and easy bike trails surrounded by rolling hills and lush forests. If you need to refuel, there are great food stop options along the way. For bike rentals, Wheels and Revolution Bike Shop both have a variety available.
Hiking: To enjoy nature more, walk and hike the various trails around Torch Lake. From easy trails to more vigorous paths, there's a perfect trail to suit your skills. For the best spot, visit the Grass River Nature Area that boasts 1,100 acres of forest, lakes, rivers, and open meadows.
Horseback riding: Want to give horseback riding a try? Sandy's Stables has you covered! Whether you're a newbie or a pro, people at Sandy's will make sure you have a grand time. This 18-acre land of lush pastures and riding trails offer Pony Rides for young riders under 8 years old. There are also lessons for juniors ages 5-8.
Skydiving: For the more adventurous souls, skydive at 120 mph with Harbor Spring Skydiving. This experience will give you amazing views of Lake Michigan above the sky.
4.
The Dining Experience Is Divine
Dining with overlooking views of Torch Lake? It sounds like a tempting offer! Torch Lake Cafe is among the popular spots to enjoy good food and an inviting atmosphere. Offering fresh meals from breakfast, lunch to dinner, Torch Lake Cafe is a crowd favorite for many reasons.
Meanwhile, if you want to enjoy cocktails with live and vibrant music, head to Deep Blue bar. This rooftop bar promises to make your nights fun with good food and drinks.
If you're imagining waking up to fresh and homemade breakfasts, guests at Torch Lake Bed and Breakfast are in for a treat. This B&B serves hot and delicious food, making sure every guest enjoys an unforgettable experience.
For the best experience, try The Dockside. This is a famous boat-to-dinner restaurant located at the mouth of Clam River. This is one of the best spots to catch gorgeous sunsets in Torch Lake. Boaters can simply pull right up to The Dockside and grab something to eat.
Other excellent dining options include Blue Pelican, Shorts Brewery, The Rowe Inn, Stafford's Weathervane, Pearl's New Orleans Kitchen, and others.
5.
There's Fun Shopping To Do
When visiting this Michigan lake, make sure to bring home some souvenir items to remember the experience. Adams Madams is a great shopping option for some local artworks, handmade crafts, bags, books, and other fun items. Whether you're looking for trendy items or unique antique pieces, Torch Lake is home to a variety of shops for your pleasure.
If you're visiting with the family, make sure to swing by Brownwood Acres. Famous for dried cherries, chocolate-covered cherries, and other cherry items, Brownwood is a great stop for families. Aside from that, there's a tea room where you can enjoy a light lunch overlooking a porch. On Sundays, they open their Flea Market for everyone to enjoy. On top of that, there's a candy counter for kids!
Meanwhile, for some fresh produce shopping, The King Orchards Farmer's Market is the place to see. From seasonal products, cheese items, a selection of wine, and fresh seafood, you'll be happy to spend hours here.
Aside from that, you'll be happy to know that Torch Lake Michigan is home to a traditional mall. Get all your department store needs at Grand Traverse Mall. To go here, head to the south end of Traverse City. Other great shopping centers are The Village, The Pear Tree, Bachmann's Store, and Stuff & Such among others.
6.
It Has A Legendary Sandbar
Aside from its turquoise waters, Torch Lake Michigan is famous for its legendary sandbar. The shallow sandbars at the south end are a favorite location for raucous summer parties. During summer, the sandbars are surrounded by colorful boats and flocks of tourists.
Aside from partying, the sandbar is a great starting point for boating, water skiing, and other water sports. The depth falls steeply from the sandbar, turning the water into a deep blue.
Going deep as nearly 300 feet and spanning more than 18,000 acres, Torch Lake is a playground for sports enthusiasts. This makes it perfect for wakeboarding, waterskiing, jet skiing, and other sports. Its length allows you to enjoy a straight shot for miles and miles.
Torch Lake is so deep that even in the summer it stays quite cold. Aside from that, it doesn't freeze in the winter, allowing you to enjoy its waters year-round.
8.
It Has Many Public Access Points
Is Torch Lake public accessible? Yes! For such a beautiful and famous lake, it is easily accessible to the public. Owning a property in Torch Lake is very expensive. Prices of homes on the "sunset side" are said to be ridiculously high. Luckily, anyone can enjoy the natural beauty of this gem even if you're not a property holder. In fact, there are 48 public access points along its 41-mile shoreline.
9.
It's Very Safe And Relaxing For Families
Torch Lake may be a party spot, but don't let this put you off. Torch Lake may be an excellent host to sandbar parties but it is also an ideal place for family trips. The surrounding towns are not just beautiful but more importantly safe. You can bring your kids and enjoy walking around the streets or stop by great restaurants and cafes after swimming!
The neighborhood and people in Torch Lake are very warm and welcoming to visitors. They also celebrate a summer festival every year, which makes this an excellent time to visit. Enjoy delicious food, street games, and magic shows. Meanwhile, every 4th of July, there's a massive fireworks show over at the south end of the lake. This should make a 4th of July family getaway more special and fun!
10.
It's Known As The Most Beautiful Lake In The World
How can you say no to the clearest lake in the world? Torch Lake is blessed with crystal clear waters that change from shades of blue and green. Its waters are incredibly clear, which is why it is often comparable to the Caribbean. There's probably no other lake as pristine as Torch Lake.
The lake is so beautiful that, in fact, National Geographic once named it the third-most beautiful lake in the world! For many other reasons, Torch Lake has become a favorite place for a weekend with family and friends. Swim the crystal waters, ride a kayak, or set up a beach tent near the lake. There are simply many fun and exciting things to enjoy in and around this beautiful lake.
Where To Stay In Torch Lake Michigan
They say spending a day in Torch Lake is a good idea, but staying for the night is better. For the best Torch Lake hotels, here are your options:
The Torch Lake Bed and Breakfast: This is a famous beachfront bed and breakfast in Central Lake, Michigan. Torch Lake B&B offers cozy and comfortable rooms with free Wi-Fi, upgraded amenities, and parking. Aside from complimentary breakfast, there's a host of activities to enjoy here. To name a few, you can try kayaking, paddle boarding, snorkeling, and fishing.

The Legend Cottage Inn: Aside from modern amenities, the rooms come with a private bathroom. This inn also has a seating area complete with a cable-equipped TV. The best activity to enjoy near The Legend Cottage Inn is skiing.

Grand Victorian B&B Inn: A beautiful B&B inn nestled in a garden? Yes, please! The Grand Victorian B&B has a terrace that opens up to a lush garden. Here, guests will wake up to relaxing mornings complete with a full English/Irish breakfast. For fun activities, you can hike and ski nearby.

Torch Lake Home: If you're looking for a holiday home in Torch Lake, this one offers 36 m of blue-water access. This accommodation offers four bedrooms, a kitchen, and upgraded amenities. Walking, hiking and skiing are popular activities around the area.
Frequently Asked Questions:
What Causes Torch Lake To Be So Clear?
This is perhaps a common question for Torch Lake visitors. The answer lies in the sediments at the bottom of the lake, which is primarily calcium carbonate. Add to this the very low organic content in Torch Lake, which means there's nothing to darken the water's color. Can't imagine how clear the water is? You need to visit soon!
Is It Safe To Swim In Torch Lake?
It is, definitely! The stunning clear waters make it very easy and safe to swim in and do other activities. Torch Lake is an ideal swimming spot for all ages. Aside from that, the sandbars around the lake provide great areas to relax, play, and wade.
What Is The Depth Of Lake Michigan?
The average depth of Lake Michigan is 279 ft; 85 m. Meanwhile, the greatest depth is 923 ft; 281 m.
How Wide Is Lake Michigan?
Lake Michigan stretches 307 miles long by 118 miles wide. It also boasts a 1,640-mile shoreline.
What Is Torch Lake Michigan Weather like?
The weather in Torch Lake is generally cold and temperate. It usually rains in the lake, even during the dry months. Visit in February if you want the least amount of rain. Meanwhile, if you're after the highest Temperatures, visit in July. On the other hand, the lowest average temperatures occur in January.
Is It Possible To Ride A Boat From Lake Bellaire To Torch Lake?
Sitting on the east of Lake Michigan. Is Lake Bellaire. If you're vacationing here, you can swing by Torch Lake or other nearby lakes. Small boats can and are allowed to navigate the majority of the lakes comprising the Lower Chain. These lakes include Lake Bellaire, Clam Lake, Torch Lake, Lake Skegemog, and Elk Lake.
Interesting Trivia About Torch Lake
Among the lakes in the Chain, Torch Lake is the biggest and bluest.

Its name is derived from the native word "Waswaaganing." In English, it translates to "lake of the torches."

Torch Lake could have been a part of Lake Michigan. Interestingly, a sandbar formed in between, separating the two.

The Chain of Lakes supplies 60% of the surface water of Grand Traverse Bay.

The crystal-clear waters of Torch Lake are apparently not just for picturesque views. The pristine waters also help swimming birds, such as the Common Loom, hunt better and easier.

The waves in this lake can both be friendly to challenging. Surfers would be happy to know that the waves here can reach over four feet high.

Torch Lake is so massive that it doesn't freeze even during winter. Its vast volume allows it to store a lot of heat.

A lot of famous personalities and celebrities adore Torch Lake. In fact, singer Kid Rock's hit song "All Summer Long" describes the lake. The lyrics to the song are said to be describing the lake, especially its sandbar. Other celebrities that call Torch Lake their home include Michael Moore and Eminem.
Time To Enjoy A Slice Of Caribbean Paradise!
You don't need to travel far to experience crystal waters, Torch Lake offers a piece of Caribbean paradise. Imagine pristine and deep waters, amazing sandbars, delicious meals by the dock, and other exciting activities to enjoy. All these and more make Torch Lake a perfect weekend getaway with family and friends!