20 Best Lakes in Missouri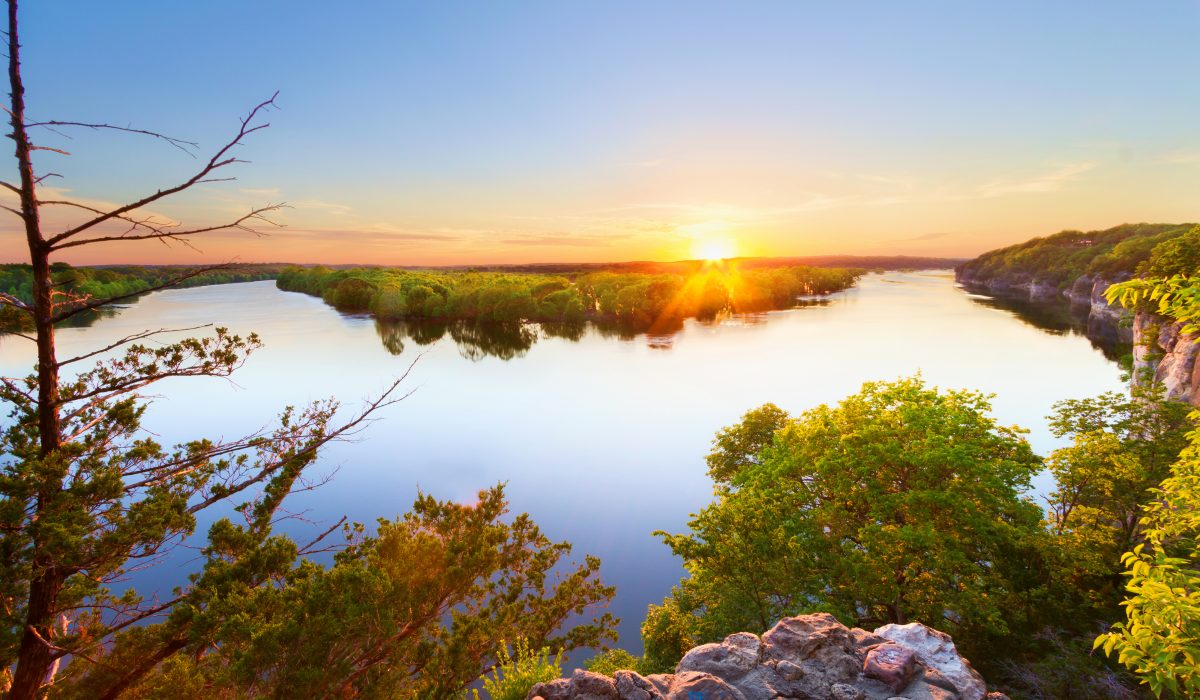 Missouri is situated in the midwestern United States and is famous for Dissected Till Plains, the Ozark Mountains, Mississippi Alluvial Plain, and the Missouri River. During summer, the climate in Missouri is rather hot and humid. And what better way to cool off than to take a dip in one of the lakes in Missouri?
Missouri is home to many beautiful natural lakes and man-made reservoirs. We've gathered several lakes in Missouri that you can choose from based on the intention of your visit. Want to go boating, fishing, or stay in a cabin? Here's a list of the lakes in Missouri you can check out!
Recreation Lakes in Missouri
1. Harry S. Truman Lake
The biggest lake in Missouri, named after a reputable person, is Harry S. Truman Lake. The 55,6-acre reservoir named after the United States' former president results from the Kaysinger Bluff Dam construction in 1977. Harry S. Truman Lake lies in the Osage River between Clinton City and Warsaw City and extends through Benton, Henry, St, Clair, and Hickory Counties.
Since Harry S. Truman Lake and the Regional Visitor Center reside within Harry S. Truman State Park, there is something in store for everyone. Apart from fishing, hiking, and camping, the Visitor Center offers a panoramic overlooking view of Tebo Creek, South Grand River, and Osage Rivers. While you're in the area, check out the 330 million-year-old Weaubleau-Osceola structure. This 19-mile crater is the fourth largest in the country and is considered one of the 50 known craters globally.
2. Table Rock Lake
Next on the list of lakes in Missouri is the 43,100-acre Table Rock Lake. Table Rock Lake in the Ozark Mountains was brought about in 1958 after Table Rock Dam in the White River basin was established. Some water sports and activities you can do here are paddleboarding, swimming, and fishing. Because of its clear waters, scuba divers enjoy exploring Table Rock Lake. For people seeking an adrenaline rush, parasailing is another option. A good pair of water shoes is a definite must-have if you want to participate in these water activities.
Aside from just casting a line for trout, high-intensity anglers shouldn't miss out on participating in fly-fishing in the south part of the lake. However, if you're looking for a more relaxed vacation, go on a two-hour Showboat Branson Cruise where you can just sit down and appreciate the natural beauty of Table Rock Lake. While in the area, you might as well want to drop by the Silver City Campground, one of the things to do in Branson, Missouri.
3. Creve Coeur Lake
Creve Coeur Lake is considered one of the best recreational lakes in Missouri as it offers varieties of activities for everyone. It is situated within Creve Coeur Lake Memorial Park, the largest park in St. Louis County in Maryland Heights.
The 320-acre Creve Coeur Lake is shaped like an oxbow and used to host boating events before being established as a memorial park. Choose from boating, riding bicycles, canoeing, kayaking, and paddleboarding. Aside from this, the beach area is also a perfect idea for swimming and sunset watching. If you're planning to spend the day relaxing, having picnics on the grass or at a pavilion is also a popular activity.
Are you bringing your fur babies along? Creve Coeur Lake is the perfect spot for you and your fur babies to explore and have the best time. Pets are allowed in the area for as long as they are kept on a leash.
4. Lake Ozarks
Considered one of the largest reservoirs in the world is the 55,000-acre Lake Ozarks. After the construction of the Bagnell Dam along the Osage River in 1929, Lake Ozarks was established. The lake acquired its nickname "The Magic Dragon" because of its serpentine shape.
Boating enthusiasts will surely enjoy exploring Lake Ozark as it is the largest boating lake in the United States, extending over 90-miles. Tourists can expect to catch varieties of fish such as largemouth bass, black and white crappie, hybrid stripers, flathead catfish, and more.
Ozarks State Park, which houses a portion of Lake Ozarks, is also considered the largest state park in Missouri. Tourists are free to hike, backpack, bicycle, explore the equestrian trails, and appreciate abundant Missouri flora within the state park.
5. Fellows Lake
A popular destination for Muskellunge fishing is Fellows Lake, built in 1955 after the construction of the Fellows Lake Dam th sources water for Springfield City. Although the lake is on the smaller side of the spectrum with a surface area of 860 acres, Fellows Lake is home to the state's largest muskies. Aside from muskies, anglers expect to catch walleye, largemouth bass, white bass, and white crappie. Fellows Lake also houses two public boat docks. Because of the 40-horsepower limit on outdoor motors, Fellow Lake maintains a peaceful atmosphere. If you're not into water sports and fishing, worry not because activities like kite flying, picnicking, and hiking can be done in Fellows Lake.
Lakes in Missouri for Boating
6. Pomme de Terre Lake
Another less-crowded site is Pomme de Terre. Considered one of the oldest man-made lakes in Missouri and the United States, Pomme de Terre Lake, with a surface area of 7,820 acres, was built in 1961 after Pomme de Terre Dam was constructed. The lake's shape resembles the letter Y branching out across Lindley Creek and Pomme de Terre River. Situated in Pomme De Terre State Park, it stretches to Pittsburgh State Park and Hermitage State Park.
The Pomme de Terre State Park houses over 650 campsites and two beaches open to the public. Apart from swimming, waterskiing, and going on stand-up paddleboards, Pomme de Terre Lake is most famous for boating and fishing. Known among anglers for muskellunge or muskies, it is also a go-to for catching fishes such as largemouth basses, walleyes, and bluegills.
7. Blue Springs Lake
Along with Lake Jacomo, Blue Springs Lake is considered another famous lake you shouldn't miss while in Fleming Park. Built in 1982, the 720 acres of freshwater provide water activities such as powerboating, canoeing, and of course, boating. Anglers come to Blue Springs Lake for bountiful fishes such as hybrid striped bass, largemouth bass, carp, bluegill, and catfish.
Blue Springs Lake also prides itself as one of the best beaches in Jackson County, perfect for relaxation and sunbathing. Kids can stop by Kemper Outdoor Education Center, just 5 miles from Blue Spring Lake. Here, they can explore the Butterfly and Water Garden and different arboretums. Enjoy a wide array of environmentally-focused activities such as wildlife viewing. Go on a natural trail where surrounding wetlands, prairie, and woodlands abound.
8. Smithville Lake
Hunting enthusiasts should include Smithville Lake in their itineraries as it is allowed to hunt for animals such as turkeys, rabbits, raccoons, and more in the area. Built in 1965 after the construction of Little Platte River, Smithville Lake is now a popular recreational spot ideal for families. The 7,200-acre surface area stretches across Clay and Platte counties.
Many fun and exciting activities are held in this reservoir, including hunting for wild turkey and whitetail deer and a wide array of sports activities like cycling, birdwatching, equestrian trails, and biking trails. It also boasts campsites, marinas, restaurants, golf courses, and mesmerizing beaches. Swimming in the Little Platte Park and Camp Branch Park is a must-try in Smithville. Especially anglers who visit Smithville Lake look forward to catching largemouth bass, walleye, tiger muskie, and blue and flathead catfish.
9. Longview Lake
Longview Lake is the largest boating reservoir in the United States. Since it is located only a few miles from Kansas City, it's a worthy stop while in the area. This 930-acre freshwater reservoir, initially built in 1968 to generate wildlife and fish conservation, is now a popular weekend destination among locals because of its proximity to the city.
Longview Lake situated within the boundaries of Longview Lake Park boasts a sandy beach where power boating, jet skiing, fishing, and tubing can be done. The golf course encircling Longview Lake is also recommended when visiting. Tourists can also choose to hike, enjoy equestrian trails, and go on bicycle trails. It also features Frank White, Jr. Softball Complex which houses five state-of-the-art softball facilities that visitors can also enjoy.
10. Lake Jacomo
The 1,000 acre Lake Jacomo tucked in Fleming Park is a man-made lake that features bright greenery and a rugged landscape. Looking for a serene vacation? Strict rules are implemented by the Fleming Park to ensure peace and quiet in Lake Jacomo. Built in 1952 initially for sailing activities, tourists must follow the 10-horsepower limit on boats.
With the numerous fish species in Lake Jacomo fishing is allowed, but ice fishing is not allowed. Also, swimming in Lake Jacomo is prohibited but there are a lot of other fun activities to choose from, such as sailing, windsurfing, and pontoon boating. After a tiring morning of sports activities in Lake Jacomo, families can check out Native Hooved Animal Enclosure, just 6 miles away from the lake. Witness bisons, elks, white-tailed deers, and buffalos in this 110 acres of animal enclosure.
Fishing Lakes in Missouri
11. Mark Twain Lake
Mark Twain Lake stretches along the Ralls and Monroe Counties. Located along the Salt River Hills within Mark Twain State Park, the 18,600-acre reservoir supplies water, reduces flood risk, generates electricity throughout the area, and is a popular cheap vacation spot in Missouri.
For one, Mark Twain Lake sees a number of visitors wanting to participate in jellyfish watching during the fall. Mark Twain Lake offers several water activities such as swimming, boating, and camping. If you're not feeling the water sports, hiking, trail riding, and archery are also must-do activities in the area. Lastly, no private establishments can be seen along its 285-mile shoreline, making it ideal for camping grounds.
12. Lake Taneycomo
Considered the best lake for Trout fishing, Lake Taneycomo has both characteristics of a lake and a river. Built in 1913 to supply the Powersite Dam construction on the White River, Lake Taneycomo is the oldest of the Branson Tri-Lakes.
Like a river, the waters of Lake Taneycomo are deep, cold, and fast running, which allows for warm and cold water fish species to thrive. Among the various fishes living in the lake, anglers can expect to catch trout fishes such as brown trout and rainbow trout. So don't forget to bring your own fishing rods when visiting.
Since the water of Lake Taneycomo is cold, swimming here is not ideal, but other fun water activities surely await. Kayaking, canoeing, and fly fishing are popular but take extra precautionary safety, especially when water from Table Rock Dam is released. If water activities are not your cup of tea, exploring the hiking trails along the coast is also a good idea to appreciate the beauty of Lake Taneycomo.
13. Bull Shoals Lake
Bull Shoals Lake, a hidden gem tucked in the borders of Missouri and Arkansas, is yet another lake in Missouri that offers a peaceful atmosphere. Built in 1951 mainly to supply water to the Marion County Regional Water District, the 48,195-acre Bull Shoals Lake has become a favorite spot for fishing enthusiasts.
The quiet Bull Shoals Lake in the Ozark Mountains is surrounded by coves housing massive bluffs and rock ledges. Because of its crystal clear waters, people come to Bull Shoals primarily for fishing. A haven for fishers, anglers can expect to catch diverse fishes such as largemouth and smallmouth bass, trout, and white and black crappie. Spearfishing and scuba diving are also popular activities in Bull Shoals Lake because the water allows you to see the faunas beneath you clearly. Although the lake does not freeze even during the winter season, swimming is only ideal since the water gets relatively cold from May to September.
14. Council Bluff Lake
Council Bluff Lake, a small lake with a surface area of 440 acres, is in the eastern part of the 1.5 million-acre Mark Twain National Forest. The lake's forests make a picture-perfect scenery for paddling and boating and provide shade ideal for walking, hiking, and biking.
Because of its clear mountain waters, fishing is a popular activity. Largemouth bass, channel catfish, bluegill, red ear sunfish, and crappie are just some of the fish species to catch here. Chapel Hill Beach, a sandy beach at the eastern end of the campground, is perfect for swimming and sunbathing, especially from May to September.
15. McDaniel Lake
If you prefer a serene and relaxing destination, head on to McDaniel Lake, one of the oldest dams in the area. With its proximity of 5-miles from Springfield City, McDaniel Lake is the ideal spot for a quick weekend breather. The construction of McDaniel Lake Dam in 1929 and the impoundment of Little Sac River resulted in McDaniel Lake.
Swimming, boating, and dock construction are not allowed in the 300-acre McDaniel Lake, ensuring visitors enjoy the quiet and peaceful surroundings. The 50-yard concrete bridge that stands above the lake provides for fishing, and the reservoir holds sunfish, small and largemouth bass, channel catfish, catch carp, and white bass. For a more active vacation, go on a hike or cycle on its shoreline while taking in the fresh air.
Lakes in Missouri with Cabins for Lakeside Vacations
16. Stockton Lake
The picturesque Stockton Lake is famous for its 300-mile unspoiled shoreline, sitting right in the middle of Polk, Cedar, and Dake counties. It was created in 1969 by blocking the Sac River and Little Sac River with the initial goal of providing a source of water to Springfield. At present, it is home to various wildlife. See bald eagles, deers, turkeys, and geese up close, depending on the time and season of your visit.
The V-shaped lake boasts clear waters that make fishing, water-skiing, snorkeling, and scuba-diving enjoyable. Stockton Lake is also famous among tourists because of the several coves ideal for water sports. This includes kiteboarding, wakeboarding, and windsurfing. For sailing enthusiasts, you've come to the right place! Governor's Cup Regatta, a big sailing event, is held annually at the Stockton State Park House. This three-day event is open to the public for both professional racers and non-racers.
For your next getaway, you can choose from a wide array of cabins that Stockton Lake offers. Choose your preferred cabin by browsing the website, and remember that no cabin is the same in Stockton Lake. Consider the space, property facilities, and equipment you will need for a comfortable stay.

Stockton Lake: https://cabinsatstocktonlake.com/
17. Lake Wappapello
Located near St. Louis, just a two-hour drive away from the city is Lake Wappapello. This 8,400-acre man-made lake has become yet another favorite vacation spot among locals. Kayaking, canoeing, and jet-skiing are popular activities in Lake Wappapello. Largemouth bass, crappies, and bluegills that abound the lake attract anglers from different regions. Aside from fishing, you can take in a scenic view as you explore the equestrian and hiking trails.
Lake Wappapello State Park offers modern types of lodging. Housekeeping cabins in the area feature two and three bedrooms that can accommodate ten people. For smaller groups of up to four people, you can opt to stay in camper cabins. Apart from the size, the main difference between the two cabins is that camper cabins have a communal bathroom, unlike housekeeping cabins with their bathroom.
Lake Wappapello: https://mostateparks.com/lodging/lake-wappapello-state-park
18. Clearwater Lake
Clearwater Lake is just a two-hour drive away from St. Louis City and a little over 5-miles from Piedmont City, making its proximity ideal for day trips. Nestled in the heart of the Ozark Mountains and along the Black River, Clearwater Lake is now considered one of the best lakes in Missouri.
Surrounding the 1,630-acre body of water is lush green vegetation that makes Clearwater Lake scenic. Apart from its mesmerizing natural beauty, it is famous for recreational activities such as swimming, fishing, canoeing, wakeboarding, kneeboarding, etc. Clearwater Lake offers playgrounds, biking trails, and hiking trails.
Clearwater Lake has a 27-mile shoreline that provides different types of lodging, including cabins and camping sites. Each cabin in Webb Creek features a full-size bathroom, and television, stove, heat, and air-conditioning are some of the inclusions.

Clearwater Lake: https://www.visitmo.com/places-to-stay/webb-creek-cabins/
18. Mozingo Lake
If you're looking for peace and quiet, include Mozingo Lake in your itinerary. Situated in Nodaway County, the 1,006-acre reservoir owned by the city of Maryville was designed to supply water to the city. Since it is located in Mozingo Lake Recreation Park, this lake receives fewer crowds than other lakes in Missouri.
Since water levels in the lake are constantly changing, fishing is not quite the ideal activity in Mozingo Lake. Worry not because there are plenty of other activities you can enjoy. Pitch a tent, explore the equestrian RV park, and go on hiking and hunting. You can also enjoy the 27-hole golf course in Mozingo Lake Recreation Park.
Mozingo Lake Recreation Park offers family cabins, RVs, boulders inn, suites, and tent camping for accommodations.

Mozingo Lake: https://mozingolake.com/stay/
20. Norfork Lake
Norfork Lake is one of Arkansas's hidden treasures two hours away from Arkansas. The 22,000-acre Norfork Lake that extended into south-central Missouri was created in 1944 from the building of the Norfork Dam. Another unspoiled and uncrowded lake, Norfork Lake, boasts a 65-mile stretch of crystal clear waters and a 550-mile length of not commercialized shoreline. Water sports such as boating and fishing are some of the reasons why Norfork Lake is an ideal vacation spot for everyone.
Norfork Lake offers Creekside Cabins, a modern and fully furnished vacation rental. For a more quiet stay, Creekside Cabins is ideal since it is tucked in the middle of an 80-acre forest and away from buildings and other commercial sites. Resorts, RV/camp, hotels, and motels are also an option for accommodation in Norfork Lake.

Norfork Lake: https://www.norfork.com/lodging/vacation-home/
Discovering the Beauty of the Lakes in Missouri
With the many natural and man-made lakes in Missouri, you won't run out of activities to do and places to explore. Whether you're looking to take pleasure in different water activities, have a peaceful vacation at one of the cabins by the lake, or simply admire their beauty, these lakes in Missouri have something in store for you!