15 Best Things To Do In Branson, Missouri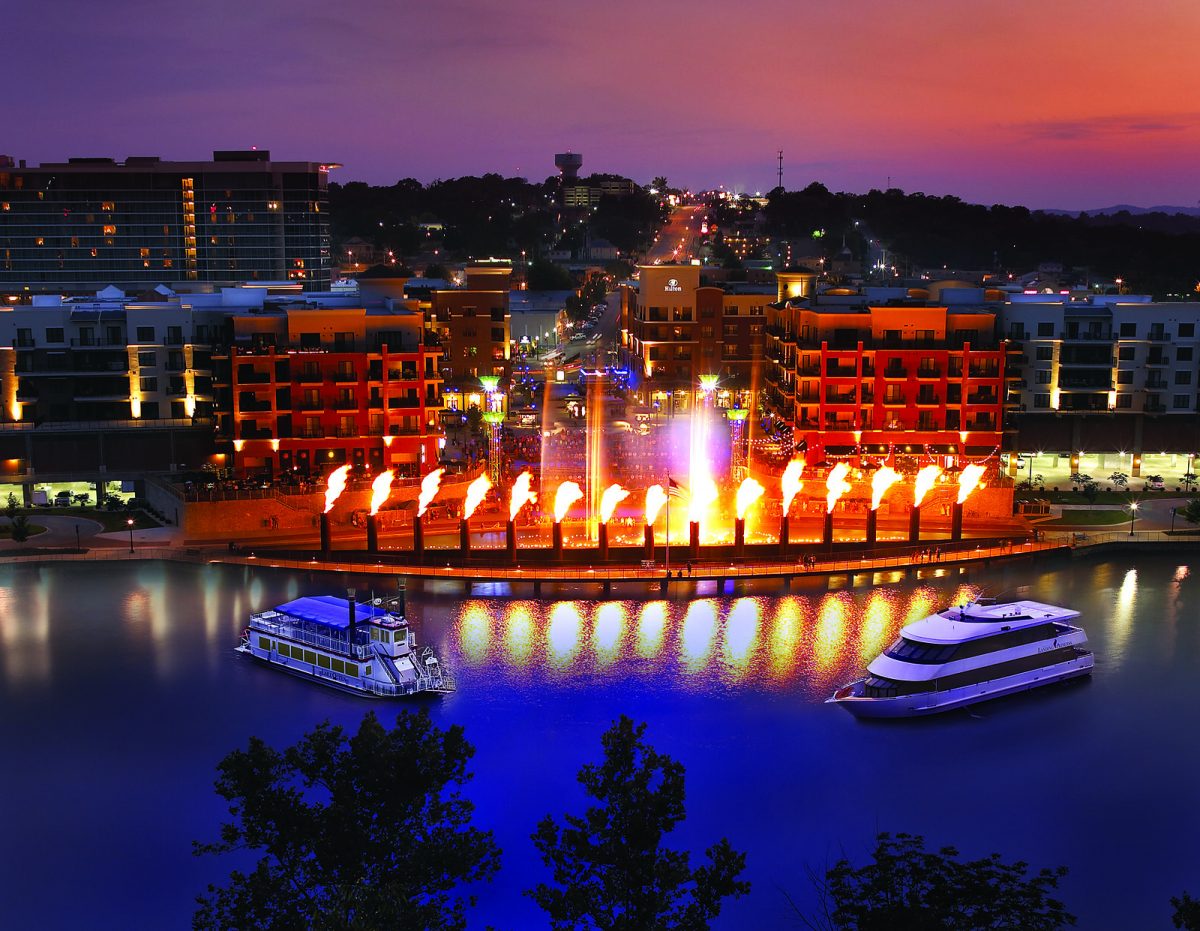 Branson, Missouri is a family-friendly destination. Having played host to many country music artists in the past, the town offers a wide variety of entertainment today. The city's most famous stretch of road is 76 Country Boulevard where plenty of entertainment venues are located. Such iconic landmarks include Silver Dollar City, a vintage theme park. Many would compare this stretch of road to the Vegas Strip because of the style of entertainment that it has to offer.
Here are the best tourist attractions you can find during your visit to Branson, Missouri.
This is a theme park unlike any other. Built-in the late 1800's, it is still standing today. Silver Dollar City features more than 40 rides and attractions, live entertainment, award-winning restaurants, and 60 specialty shops. They are situated above the town's deepest caves.
Silver Dollar City also plays host to several festivals throughout the year. A major attraction at the park is the 1800s Showboat, Branson Belle that takes visitors on a two-hour cruise on Table Rock Lake. Entertainment, shopping, and meals are offered while on the cruise.
1-day tickets start at $58 for children between 4-11 years old, $68 for ages 12-64, and $66 for seniors. Special 3-day tickets are also available along with add-ons and season passes. The theme park is open from 9:30 AM – 7:00 PM.
Branson's Titanic Museum is just one of two of its kind in existence. It houses more than 400 pre-discovery artifacts within 20 galleries. The ships on display have similar-looking exteriors to the original liner's facade.
The museum's entrance is a replica of an iceberg, which visitors must walk through to board the ship. Upon entering, the visitor receives a passenger boarding ticket that has the name of an actual passenger and their class on it. While touring, visitors hear about the lives of several of its previous passengers. As the tour ends, it is revealed to the visitors which of the guests actually survived the liner's unfortunate demise.
Hoping onboard this liner is like stepping back in time and getting a real-life ocean liner experience. In addition to the guided tours, visitors can also take a self-guided tour.
Price of admission is $14 for children and $26.50 for adults.
3.
Branson Scenic Railway
The train ride takes you back to Missouri in the early 1900s when the railroad was first constructed. It was originally known as the White River Railway. Due to the rough terrain of the Ozarks, it required more work to level the railroad grade so that passengers could also be transported. Today, it is known as the Branson Scenic Railway, a heritage railroad.
Visitors depart for their ride along the railway via a historic depot located in downtown Missouri. The train transports its visitors through the picturesque Ozark Mountains for about 40 miles. The round-trip adventure is also a history lesson about Missouri and the Ozarks. Since the railway is still active, the scenic tours operate either northbound or southbound, depending on the traffic from the active railroad.
The train ride is a great way to teach visitors about Branson, Missouri and its surrounding areas. An adult ticket costs $28.25, while it is $17.75 for children aged 3 to 12 years old. Train excursions depart at 11:30 AM.
4.
The Butterfly Palace and Rainforest Adventure
Enjoy this interactive attraction in Branson as you become one with nature. The Butterfly Palace is home to more than just butterflies. There are also tree frogs, beautiful birds, geckos, and more.
Visitors can also stroll through the enchanting greenery and see visually captivating flowerbeds. It is as though you are walking in a tropical paradise. The Butterfly Aviary is the main attraction, with its lush greenery, fluttering bird species, and tropical plant life.
This picturesque attraction costs $19.95 for adults and $12.95 for children. The Butterfly Palace and Rainforest Adventure is open from 9 AM to 5 PM.
5.
Hollywood Wax Museum Entertainment Center
If you can't go to Hollywood, Branson, Missouri makes for a good alternative. The Hollywood Wax Museum Entertainment Center in Branson brings Hollywood directly to you. Get up close and personal with some of your favorite Hollywood stars.
The museum has hand-sculpted figures that look just like your favorite Hollywood entertainer. Each figure takes a team of six three months to craft. Guests of the wax museum can enjoy staging their own photos alongside the wax figures, to create a lifelike photo image.
Prices vary based on the attraction you are visiting. Standard opening hours are from 8 AM – 12 AM.
The Sight & Sound Theater brings the Bible to life through theatrical biblical reenactments. Every show is as spectacular as the next and each one has a special meaning. The theater, located in Branson, is family-owned with a 2,000-seat auditorium and a 300-ft stage, which surrounds the audience. They use state-of-the-art sound equipment to bring moments to life, along with living animals.
Shows are intended for audiences of every age, which is perfect for the entire family. Every production features original music scores and is recorded with a world-class orchestra spanning from across every part of the globe. It's a production you won't forget! Showtimes and prices vary.
When traveling abroad, it's likely that you will want to shop, eat, and be entertained. You'll be able to do this and more at Branson Landing, a lovely boardwalk just along the Taneycomo Lakefront. It features lots of shops, restaurants, and entertainment options. Its beautiful town square and fountain can be seen from the surrounding building terraces.
The town square is where many of the special events take place at the Landing. Its water feature is a major draw to the landing, as it features every night, a water show specially choreographed to light and music. The designers of the water show are known for their world-class displays, such as the water show prominently displayed at the Bellagio Las Vegas.
Water shows begin daily at noon.
Visit the Clay Cooper Theater, an entertainment hub located in Branson. The headliners are the Clay Cooper and his Live Band. The entertainment also consists of dancers, a singing trio, Third Power, and comedic entertainment by Matt Gumm. There is also youth entertainment provided by Colton & Caden Cooper, who dance and sing for the youngest audiences.
You'll discover a variety of musical entertainment in Branson at The Clay Cooper Theater, such as country, rock, and gospel. Showtimes and prices vary.
9.
Shepherd of the Hills Fish Hatchery
Learn all there is to know about trout by visiting the Shepherd of the Hills Fish Hatchery, where trout are raised. The hatchery is 155 acres long and is located below the Table Rock Dam. It produces up to 400,000 pounds of trout every year. Brown and rainbow trout are raised at the facility.
The hatchery has been operating since the late 1950s when work at the Table Rock Dam was completed. There is a conservation center for visitors who are interested in learning about the culture of trout, trout fishing, aquatic life, and more.
Hours of operation are from Tuesdays to Saturdays, from 9 AM to 5 PM.
10.
Branson Promised Land Zoo
The Branson Promised Land Zoo in Branson lets visitors get close to the animals housed here. It is situated in on 75 acres of natural land and offers plenty of wildlife to marvel at. The zoo's primary objective is to enable visitors to interact with the animals. This makes it easier for the zookeepers to care for them in their most natural habitat.
The zoo offers various types of attractions. The basic package includes a self-guided foot tour, access to Parakeet Paradise, and the Animal Adventure Building. Additional tours include guided tours, VIP Animal Encounters, Exclusive Animal Encounters, and more. Each is worth exploring.
The Branson Promised Land Zoo is open daily from 9 AM to 6 PM. Prices vary depending on the attractions you choose to visit.
11.
Ripley's Believe It or Not!
There is plenty to marvel at when you visit Ripley's Believe It or Not! in Branson. With more than 450 exhibits spread throughout eight galleries, you will be able to view some of the oddest collection of things ever assembled under one roof.
If you enjoy quirky things then you're sure to love Ripley's. Some would call what they saw odd, but one thing is for sure. You'll set your eyes on something truly unforgettable. If you would like to take pictures this is perfectly fine as cameras are permitted inside. There are also ample parking lots available.
Admission for adults costs $20.99, $12.99 for children $12.99, and group rates are also available. Doors open daily at 9:30 AM and last tickets are sold at 10 PM.
12.
World's Largest Toy Museum
Feeling nostalgic? A visit to The World's Largest Toy Museum in Branson is sure to evoke such emotion! The museum houses more than a million toys and is spread across six museums. The toys date back to the 19th century until the present. There are even interactive activities to enjoy here. It doesn't matter what age you are, you are sure to love what you'll find at this museum. Commemorate your visit by purchasing toys from the museum gift shop.
The museum's opening hours are from 9 AM to 8 PM, Mondays to Saturdays. During the winter months, hours are shortened from 10 AM to 5 PM. Adults can purchase their tickets at $19, while it costs $14.52 for children.
The Branson Ferris Wheel is the former Chicago Navy Pier Ferris wheel. Since its inception in 1995, almost 17 million people have ridden on this attraction. It is 150 feet tall with 40 gondolas holding up to 240 riders at a time. It's a sight to behold, especially at night, with its 16,000 LED Lights.
The views seen from the Ferris wheel are equally stunning! There are unobstructed views of the Branson Tracks Family Fun Park and the lovely Ozark Mountains. Adult tickets cost $10.95 and children tickets are priced at $6.95.
14.
Branson Track Family Fun Park
Enjoy unlimited go-kart rides, mini-golf, laser tag, and other fun amusement park rides at the Branson Track Family Fun Park. With so many things to see and do, there won't be a dull moment. In addition to the outdoor attractions, there are also plenty of things to do indoors, such as indoor glow golf and arcade games. You'll discover more than you ever thought Branson has to offer.
An Unlimited 1-Day Pass costs $49.95, while a 2-Hour Pass is worth $37.95. Multi-Day Passes are also available for $99.95. The theme park opens daily at 10:00 AM, and its closing hour varies, based on crowd size.
Looking for something to do outdoors in Branson? Visit Table Rock Lake and you'll have plenty to keep you busy. There is almost 500 miles of shoreline to enjoy. Visitors can go paddleboarding, scuba diving, or swim at the lake.
There are also lots of resorts on the lake that will enable you to enjoy a lakeside vacation right here in Branson. If you need to unwind and get some peace, make your way to Table Rock Lake where you're sure to enjoy some relaxation.
Which tourist attraction in Branson, Missouri interests you the most? Let us know in the comments section below!