6 Best Beaches in Gold Coast, Australia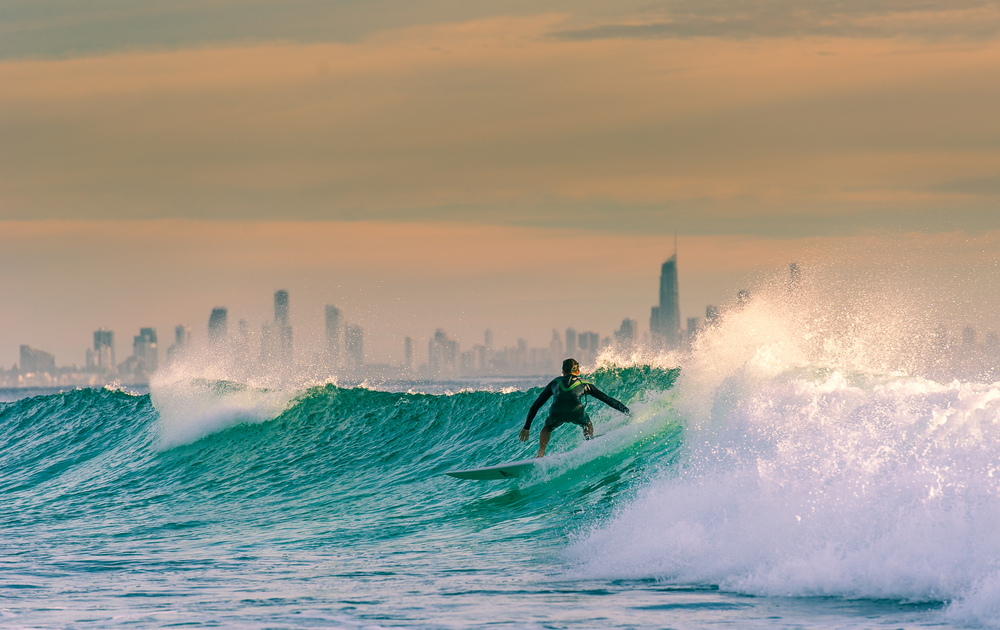 Famous for its adrenaline-pumping theme parks and upbeat nightlife, the Gold Coast is also known for its stunning white-sand beaches and killer waves. With so much to explore, it is no wonder that this coastal city in Queensland, Australia is a favourite among surfers, families, honeymooners and more.
Best Time To Visit Gold Coast Beaches
Enjoying sunny weather on the regular, the beaches on the extensive coastline is a great holiday destination. While visitors are drawn to this paradise all year, there are certain months that are more popular than others.
We recommend avoiding November and the first week of December. Local and international school holidays begin and crowds will be aplenty during that period. While the timing is convenient, prices of accommodation and airfare are higher. Also, the large number of people may be off putting to some.
The best period to travel would be between April through May, when the sun isn't overbearing. There are also lesser tourists compared to the peak periods. That signifies cheaper accommodations and more space to frolic on the Gold Coast beaches.
The Top 6 Gold Coast Beaches To Visit
No holiday in the Gold Coast would be complete without a trip to Surfers Paradise. With close proximity to accommodation, attractions, entertainment and more, it is one of the most iconic beaches in the Gold Coast.
The waves in Surfers Paradise, however, are not so great for surfing but perfect for everyone to wade in. You will find many people lounging, biking and rollerblading or popping into one of the many cafes and shops nearby.
While in Surfers Paradise, check out the Surfers Paradise Beachfront Markets that have been in operation since 1995. Browse through more than 100 stalls selling handmade products, clothing, jewellery, artworks and more! Open every Wednesday, Friday, and Sunday night, it's the perfect after-dinner activity.
For a bird's eye view of the city and coastline, head to the Skypoint Observation Deck that is located on the 77th floor of the world's tallest residential building. Choose to do the SkyPoint Climb – Australia's highest external building climb, to get your adrenaline pumping. You can also enjoy a meal with a view at the SkyPoint Bistro + Bar.
Wrapped at the headline by the Burleigh Heads National Park, this Gold Coast beach offers views of the ocean. It also has a number of walking trails and wildlife. A popular pick among surfers, waves around the headland are high and perfect for the sport. In fact, many Quicksilver Pro professional surfing contests are held here too.
Swimmers need not fret as Burleigh Heads offers the best of both worlds. For every area where the waters are too choppy, you will definitely find a protected spot to wade in. As such, this beach is a hotspot among locals and tourists alike. With Burleigh Heads being further down from the Gold Coast hub, the it gives off a more laid-back and neighbourhood-like vibe.
With its proximity to the Burleigh Heads National Park, it would be a waste to not pay it a visit while you are there. Opt for the ocean view trail for a walk around the rocky headland where in the spring, you may be lucky to spot whales!
For a change of scenery, trek the rainforest circuit for gorgeous flora and fauna. The laid-back beach town is also home to the Burleigh Brewing Company, the perfect place to cool off after all that fun in the sun. The local, natural approach to their craft beers have consistently won them 25 Gold Medals at the World Beer Championships and numerous others. Kick back with your choice of light ale or lager with live music playing in the background.
Though less in your face than Surfers Paradise, Broadbeach still has upbeat charm and high energy. This Gold Coast beach is in close proximity to shopping, great foodie spots, entertainment as well as accommodation – making it a convenient location.
The beach itself is clean and accessible, hedged by several parks to retreat to when the sun gets too much. Children will delight in the large playground found at Pratten Park and there are even free BBQ pits open to the public.
If you have never tried your hand at surfing, Broadbeach has a few surf schools that conduct lessons for beginners in safe, patrolled waters. Go Ride A Wave conducts 2-hourly private or group sessions and provides all the equipment and wetsuits you will need. All you got to do is bring a good attitude and get ready for a fun time!
Itching to do some shopping? Pacific Fair is the best place in Broadbeach to get it all done. With over 400 stores ranging from global brands to local Australian retailers, you will be absolutely spoilt for choice here. Plenty of restaurants, amenities, and more are catered to keep the whole family happy.
Want to get away from the hustle and bustle of the central areas? The residential community of Currumbin will be your new favourite getaway spot. Fondly nicknamed by locals as "The Alley", this Gold Coast beach is loved by those looking for a slower beach town pace.
There are closed-off, shark-netted areas for you to swim in, as well as areas to rent paddleboards and kayaks, should surfing not be your choice of sport. This is the perfect place to people watch; have a peek at fishes caught on the rock walls, and longboarders catching waves at the right-hand break.
Just a short walk away from the coastline, the Currumbin Wildlife Sanctuary is a great experience to immerse yourself in the wonder and natural beauty of 27 hectares of Currumbin rainforest. Here, you get to stroll through open animal enclosures, feed kangaroos and cuddle koalas along the way. There are also performances by the Aboriginals, Australia's indigenous people.
If you are looking for a bit of action, the Treetop Challenge located within the sanctuary will give you exactly that. 80 aerial challenges including 11 ziplines are spread across 5 courses that range in difficulty levels. Experience a rush as you climb above dingoes and emus, and zipline over crocodiles and kangaroos!
Located on the northern end of Gold Coast, Main Beach got its name from being literally the main beach in the town of Southport. There are lesser surfers now at Main Beach due to other beaches getting more attention. However, this lends to a more relaxed atmosphere here that many families and sunbathers appreciate.
The highlight of this Gold Coast beach is the old bathing pavilion, Pavilion 34 to be exact, which has been transformed into a casual beach café. The old male and female change pavilions are also still here and there are loads of retro photos to remind you of the past of Main Beach.
The Gold Coast also has a 36 km long Oceanway that starts here in Main Beach that many pedestrians and cyclists love to use, which connects The Spit at the north to Point Danger in the south. Along the way, there are facilities like toilets, BBQ pits, and cafes for you to enjoy.
Discover a whole new world at Sea World, Australia's number one marine park. Take a ride on the Sea World Sky Flyer where you can experience breathtaking views of the Gold Coast Broadwater, 33 meters above the ground. Watch penguin feeding shows, play with dolphins snorkel amongst reefs and more at Sea World!
There are two main beaches in Coolangatta – Greenmount Beach and Rainbow Bay, the Gold Coast's only north-facing beaches that provide excellent, sheltered conditions that are ideal for swimming. For a great vantage point, Greenmount Point provides some of the best picturesque scenery of the coastline.
Coolangatta is home to one of Australia's most famous point breaks, Snapper Rocks, where experts love to surf. (We recommend beginners to avoid surfing here as the waves can be ruthless!) This is also an excellent spot for whale watching.
The beaches here are always jam-packed with events and activities. If you are lucky, you can catch sporting events like beach rugby, endurance races, and ocean swims. If you want to be in on the action, take a leap of faith with Gold Coast Skydive, the only Tandem Skydive operation on the gorgeous Gold Coast!
Come And Play On The Gold Coast!
These six Gold Coast beaches are just a few of many gorgeous beaches to explore here in Queensland. Whether you are looking for some of the best surf breaks or just looking for some relaxing sunbathing time, find the perfect beach here in the Gold Coast.