Your Ultimate Guide To Wagon Wheel Flea Market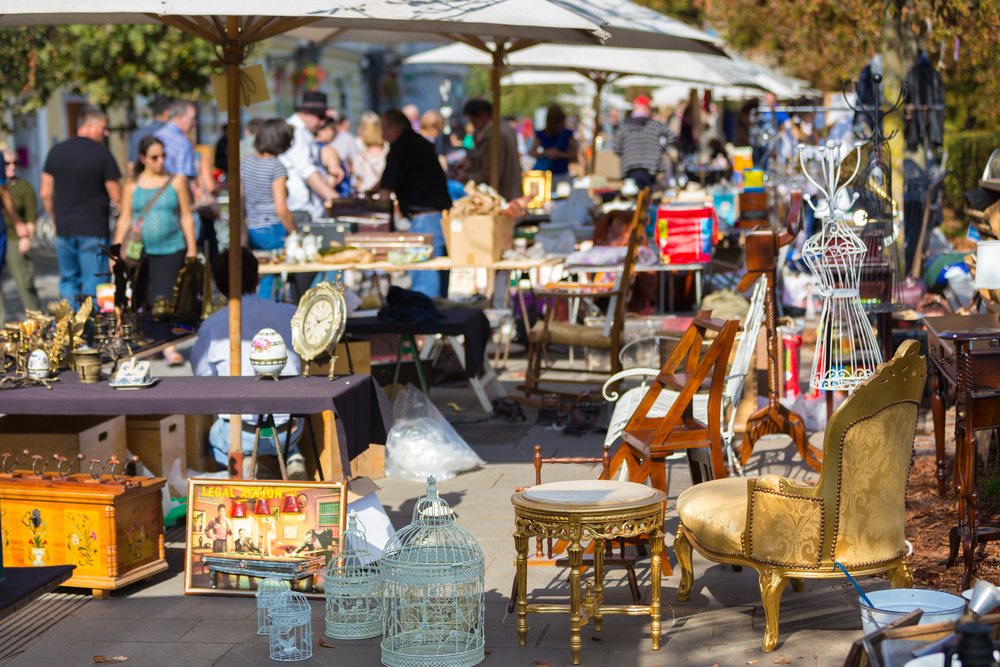 What started out as a little yard sale that a husband and wife team set up to sell things they had bought and fixed up, is now a flea market with hundreds of vendors selling a variety of goods. On top of that, there are both indoor and outdoor areas, a food court, beer garden and much more!
From its humble beginnings in 1966, Wagon Wheel Flea Market has grown to be one of the largest flea markets around and continues to surprise visitors every weekend, rain or shine. Today, both the Wagon Wheel Flea Market and Mustang Flea Market share the same location at Pinella Park, Florida, giving you two great experiences all in one place!
What gave the market its name you ask? Well, when the owner wanted to mark the location as the market site, he realised he had a wagon wheel, placed it at the side of the road and Wagon Wheel Flea Market was born!
To find your way around the market, we recommend grabbing a directory that can be found at every entrance of the market and the office. The map of Wagon Wheel Flea Market will show you where important facilities like bathrooms and ATMs are located as well as feature vendor listings and their locations.
What You Can Expect To Buy At Wagon Wheel Flea Market
Wagon Wheel Flea Market is an absolute treasure trove. Find common items like furniture, antiques, pet-related items, appliances, speciality food items and more. You can also spot more special and unique finds like karaoke machines, reptiles and yeti cups (which have got to be our favourite!).
The market even has branded stores like Bath & Body Works, Nike, and Native American Apparel for those who like their conventional retail experience.
Events Happening At Wagon Wheel Flea Market
There are loads of events and surprises happening at the flea market all year round. Expect the market and grounds to be set up beautifully during different festive seasons, and enjoy the entertainment and festivities!
Easter Egg Hunt
On Easter weekend, children that are 10 years and younger can take part in the Wagon Wheel Annual Easter Egg Hunt. All you have to do is bring a bucket or bag to contain the eggs you have found! The eggs that are scattered around the parking lot grounds contain candy and other goodies sure to delight your kids!
Open Car & Truck Show
Wagon Wheel Flea Market hosts a car show from time to time to benefit the Kathryne Mezerowski Memorial Scholarship and proceeds from the registration will go to the scholarship recipients.
This is a chance to lust over beautiful vintage cars & trucks while enjoying games, door prizes and music! There is no entrance fee for visitors, only drivers showcasing their vehicles need to provide a registration fee.
Opening Hours
While both the Wagon Wheel Flea Market and Mustang Flea Market are at the same location, they have different operating hours. Do check their website for up-to-date information.
Wagon Wheel Flea Market
| | | |
| --- | --- | --- |
| Market | Saturday & Sunday | 8:00 am – 4:00 pm |
| Office | Wednesday – Friday | 9:00 am – 5:00 pm |
Mustang Flea Market
| | | |
| --- | --- | --- |
| Market | Wednesday, Saturday & Sunday | 7:00 am – 2:00 pm |
| Office | Wednesday – Friday | 9:00 am – 5:00 pm |
Tickets & Guided Tours
The Wagon Wheel Flea Market is free to enter for all, which gives you the perfect reason to buy more!
For now, there are no guided tours for the flea market but navigating and exploring the market is super easy with its neat layout and a directory in hand.
How To Get To Wagon Wheel Flea Market
The Wagon Wheel Flea Market is located in the heart of Pinellas County at 7801 Park Blvd, right in between St. Petersburg and Clearwater.
If you are driving down from St. Petersburg, take 275 North until Exit 28. Head west on Park Blvd for 5 1/2 miles. The market is on the right handside.
From Clearwater, you can either go by Missouri Ave or Clearwater Beach.
1. Missouri Ave: Go south on Missouri (which turns into Seminole Blvd) until Park Blvd. Turn
left, and the market will be four miles down on the left handside.

2. Clearwater Beach: Head south on Gulf Blvd until the Pinellas Park exit, turn left and follow Park Blvd. for five miles. The market is located on the left handside.
Other Popular Tourist Destinations Near Wagon Wheel Flea Market
The Dalí Museum
Lovers of Salvador Dalí rejoice! Explore and enjoy Dalí's works in a stunning 900-panel glass art museum in St. Petersburg. On top of gorgeous themed exhibits, the museum also has a cafe on its grounds serving up Spanish fare – enjoy your meal inside or outside on the Avant-garden patio.
Before leaving, discover hundreds of Dalí-inspired gift items; a wide book selection, Dalínian fragrances, melting clocks, tableware and glasses for celebrating, wall art, Dalí-inspired jewellery, stationery, art supplies, unique souvenirs and much more.
Tip: To enhance your experience, download the free app which gives you access to the map of the museum, its event calendar, virtual tours and other information.
Clearwater Beach
Known for the stretch of soft, white sand and clear blue waters, this beach is the perfect place to have a chill day. With sunny temperatures and a small-town atmosphere, it's no wonder that this is a favourite spot among the locals.
Enjoy water recreation like jet-skiing, parasailing and stand-up paddle boarding on the calm waters, or rent bicycles and rollerblades to explore the beachfront promenade. Pop into one of the many shops to do a little shopping before taking a break at a cafe to refuel and people watch. You can even charter yachts and go on a boat tour if you fancy!
Enjoy Pinellas County and all it has to offer!
A trip to the Wagon Wheel Flea Market is a fun, family-friendly outing that is sure to delight everyone. With so much to see, we are sure you will find something special to bag home.
With Wagon Wheel Flea Market being so close to many attractions, Pinellas County is the place to be in Florida.