Your Ultimate Guide To Rogers Flea Market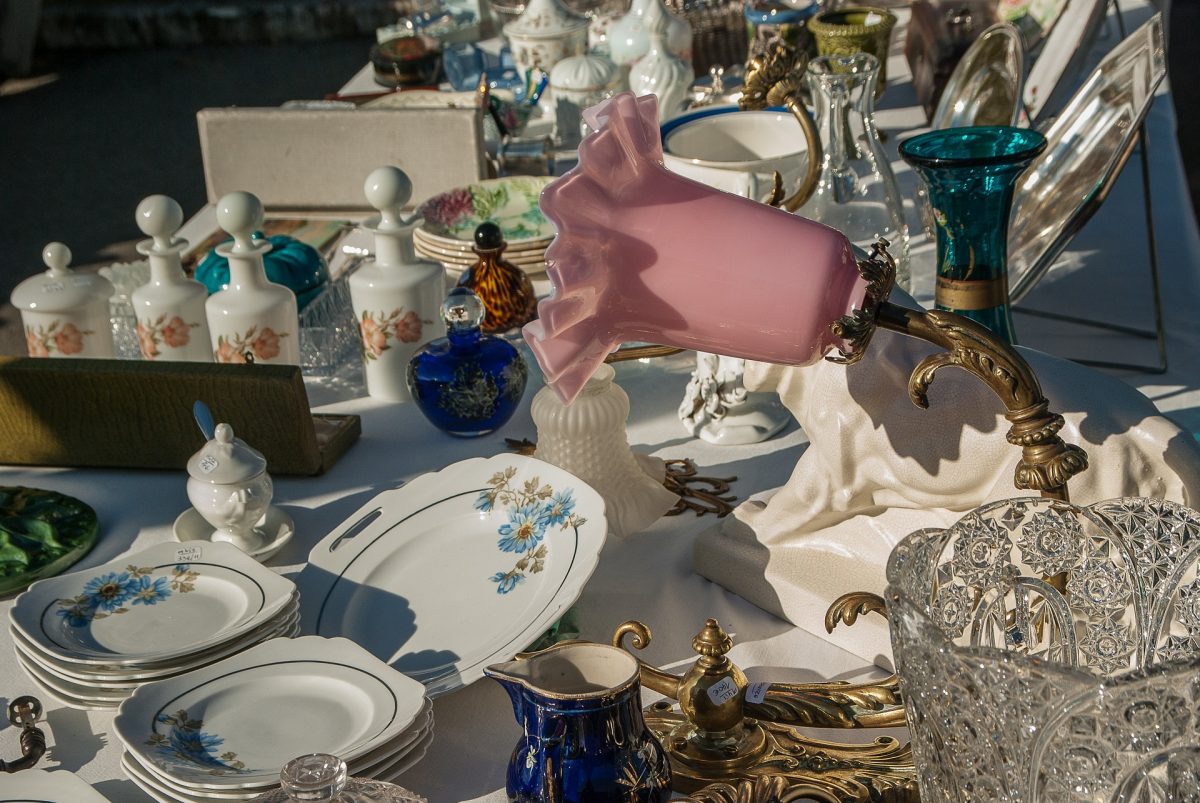 The largest open-air flea market in the Tri-state area, Rogers Flea Market in Ohio boasts over 1,600 vendors spread across 250 glorious creekside acres. With humble beginnings as a simple barnyard sale run by the Baer family back in 1955, it now welcomes close to 50,000 visitors every week! And with fresh food, friendly vendors, fireworks, family-friendly concerts, and 70 acres of free parking, it's not hard to see why.
Named after the picturesque village it's held in, the ever-popular Rogers Flea Market has been voted the best flea market in Ohio. Repeatedly. Visitors can look forward to fun Friday flea markets as well as select Saturday markets and weekly auctions. And, with both indoor and outdoor space, retail therapy can be enjoyed come rain or shine!
What You Can Expect To Buy At Rogers Flea Market
Shopping at Rogers Flea Market in Ohio is a real treat. Spread across five miles of indoor and outdoor shopping space, you'll need to allow a few hours at least to see it all. The stalls have all sorts of interesting finds and it requires perseverance to sort through it all.
Browse the plants and gardening equipment, old electronics, vintage clothing, and home appliances. Pick up a few ancient tools, collectible toys, vinyl records, and second-hand books. Or spruce up your home with shabby chic furniture, and timeless antiques worthy of rehoming. After all, one man's trash is another man's treasure.
When it comes to food, you'll be spoilt for choice at Rogers Flea Market – so come hungry! You'll find everything from fresh produce, to home-baked goods and fresh meat here. Feeling peckish? Indulge in some delicious Amish doughnuts, homemade lemonade, creamy ice cream, or spicy sausage sandwiches. Whatever you do, make sure you save some room for a taste of the gyros from Chuck's Best Gyros Restaurant. They're world-famous!
Events At Rogers Flea Market
Rogers Flea Market is the place to be every Friday. But there are several auctions held in the evenings and throughout the week where you can get some amazing products at bargain prices.
If you're already planning a visit to Rogers Flea Market on a Friday, consider staying until 5 p.m. This is when the Friday Auctions are held and you can pick up farm-fresh eggs, baked goods, and fresh produce grown in the local area. A Miscellaneous Auction where you can pick up agricultural supplies, antiques, household items, and gardening equipment is held at the same time. At 6 p.m, there is a small Livestock Auction with rabbits, fowl, goats, and sheep.
The Monthly Consignment Auction at Rogers Flea Market is held every second Tuesday of the month from 1 p.m. It's a great place to pick up antiques, household items, tools, gardening equipment, building supplies, and a whole lot more at a steal of a price.
Rogers Flea Market Opening Hours
With both indoor and outdoor stalls, Rogers Flea Market is open all year round. Take note that the exact opening and closing times of the market can vary, but you can use the below information as a guideline.
| | | |
| --- | --- | --- |
| Rogers Flea Market Events | Time | Date |
| Friday Flea Market | Fridays, 7.30 a.m. onwards | Every Friday |
| Friday Auctions | Fridays, 5 p.m. and 6 p.m. | Every Friday |
| Monthly Consignment Auction | Second Tuesday of the month, 1 p.m. | 13 August, 10 September, 8 October, 12 November, 10 December 2019 |
| Hay and Grain Auction | Wednesdays, 1 p.m. | Every Wednesday |
| Saturday Market | Select Saturdays, 8 a.m to 4 p.m. | 7 September and 5 October 2019 |
Rogers Flea Market Ticket Prices
There is no admission charge for the Rogers Flea Market in Ohio, making it a great reason to wander the stalls for hours! There are over 70 acres of free parking, which is also a major perk.
While you don't need to worry about admission fees at Rogers Flea Market, you should come prepared with some cash. While all of the auctions and a few of the vendors have card machines, many still prefer to deal with cash. ATMs are available in the Main Office, at Chuck's Best Gyros Restaurant, and in the H Building should you need them.
Rogers Flea Market offers five miles of shopping space to explore. Should you wish to hire a mobility scooter for getting around, these are available at $10 an hour, or $50 for the day.
How To Get To Rogers Flea Market
Tucked away in the scenic hills of Ohio's Columbiana County alongside the gurgling Little Bull Creek, Rogers Flea Market is easy to get to by car. It can be found just off Old State Route 154 in the small village of Rogers, Ohio.
Rogers Flea Market is conveniently located just an hour and a half's drive from Cleveland, Pittsburgh, or Wheeling. What's more, there are over 70 acres of free parking available at Rogers Flea Market, making a road trip super simple.
Popular Tourist Attractions Near Rogers Flea Market
Beaver Creek State Park with its 2,722 acres of glorious hiking, fishing, boating, hunting, and camping opportunities is just a 12-minute drive away. Just like Rogers Flea Market, this scenic state park is open all year round. The historic Gaston's Mill, a working mill that dates back to 1837, is open to the public. It is well worth a look for its fascinating displays of antique milling machinery.
Other markets selling everything from fresh farm produce to vintage clothing can be found within a half-hour's drive of Rogers Flea Market, such as The Market (15 minutes), Brady's Run Farm Market (30 minutes), and the Amish Market (31 minutes) so you can make a day of it.
Rogers Flea Market – There's Something for Everyone
With such a diverse selection of food and fascinating flea market finds, it's really no surprise that Rogers Flea Market is regarded as one of the top 20 flea markets in the United States. Keep an eye on the event calendar and make a day trip out of it – you won't be disappointed!