Top 5 Must-Visit Bangkok Night Markets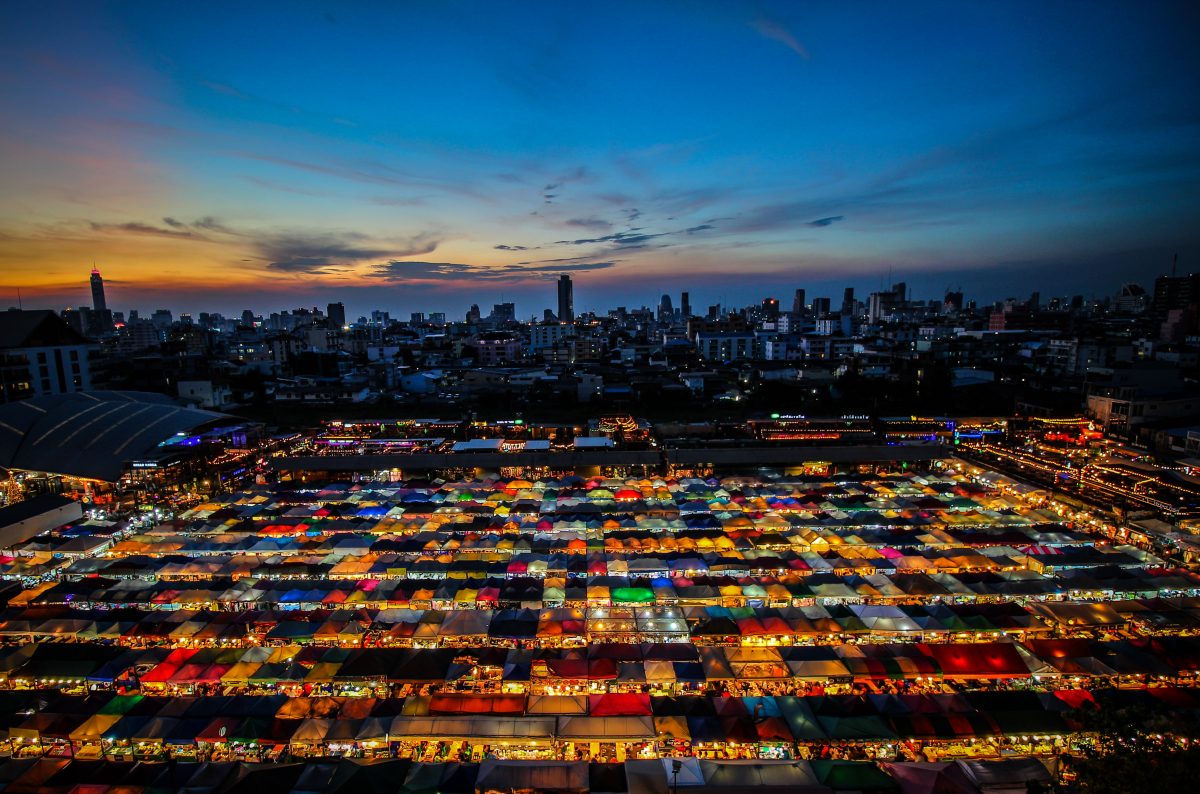 It's no secret that Bangkok is one of the most fun destinations to visit in Asia.
It's famous for many things: the temples, the culture, the shopping, and the nightlife. When the dark falls, the fun starts. One of the attractions where you can experience all the fun that the city has to offer is Bangkok's awesome night markets. This sprawling metropolis is home to many night markets, each with its own unique characteristics. You'll have the chance to shop till you drop, dance your night away, and satisfy your tummy with mouthwatering authentic Thai food!
Want to know more? Read on for our 5 Must-Visit Bangkok Night Markets.
This famous Bangkok night market is huge. It boasts thousands of stalls selling everything from modern fashion to unique clothing to antiques to vintage collectables. So, if you're a fashion lover or into the retro and hip style, look no further. There are different sections with each specialising in selling various items. For example, there is the warehouse zone where you can find items such as old auto parts to old cameras to Japanese anime toys. In Rod's antique section, you'll see classic cars and motorbikes, as well as other vintage items.
Take a break and eat at one of the food stalls selling authentic Thai street food or have a beer at the cool bars scattered around the market before continuing your treasure hunt here.
The Rot Fai night market has been in the game for a while. It was first located in Chatuchak, near the train tracks (this is where it got the name Rod Fai, the train market). It's now situated in Srinakarin, behind the Seacon Square shopping mall.
There is a new Rot Fai market close to downtown Bangkok with the same concept. Not as big as the original, but is equally exciting. If you have the time, why not try to visit the two!
Opening Hours: 17:00 – Midnight (Thursday – Sunday).
Located along Bangkok's Chao Praya River is the charming Asiatique Riverfront. This Bangkok night market is home to over 1,500 boutiques and 40 restaurants, making it one of the best places to go shopping in Bangkok. Start your night here by browsing many boutiques. Are you looking to buy some gifts for people back home? Asiatique is a good option. Here you can find different kinds of jewellery, handicrafts, and souvenirs, local and international clothing brands.
When it's time for dinner, head over to the beautiful waterfront district where upscale dining options are available. For a cheaper option, a selection of Thai food cafes and bars can be found at the Town Square district located at the outdoor space.
Other popular attractions here are the Thai Puppet show by Joe Louis and Bangkok's famous ladyboy show, the Calypso Cabaret. Also, don't forget to hop on the 200ft tall Ferris wheel and have a great view of the city.
If you're coming here with your partner, Asiatique is the perfect place to bring your loved ones. It has a more relax and romantic atmosphere compared to other Bangkok night market.
Opening hours: 17:00 – midnight (Everyday).
3.
Patpong Bangkok Night Market
Bangkok's most famous night market, Patpong is no stranger to tourists looking to experience Bangkok's market scene. Located in Bangkok's nightlife district, known as the red-light district of Thailand, the Patpong night market is always busy and crowded with vendors selling knock-off brands and cheap goods. There is everything here from sunglasses, watches, clothing, perfumes, and many more. Going to the Patpong night market can be overwhelming to some. You'll have to go through narrow walkaways with sellers competing to get your attention. Expect to be offered a high tourist price, so haggling is essential here. To get a sense of what shopping in Bangkok is like, Patpong is a good place to start.
The Patpong night market is a must-see if you want to experience the crazy side of Bangkok. There are Go-Go bars where you can have cheap drinks while watching naughty performances from the local girls. So if you're looking to party and have fun, head over to Patpong Bangkok night market.
Due to its popularity, there are a lot of pickpockets here. So make sure to keep your belongings with you safely.
Opening hours: 18:00 – midnight (Every day).
4.
Chang Chui Bangkok Night Market
Here is the most unique Bangkok night market out there. The centrepiece of the market is a big old Airbus plane that makes this Thailand market a one-of-kind and a must-visit place. Another interesting aspect of this market is its focus on selling re-used and recycled items. If you're into art, you'll appreciate this place. There is an excellent selection of unique artworks here from sculptures to modern art pieces.
Even If you're not into art, you'll still enjoy this Bangkok night market. Chang Chui has a cool and chill-out vibe, which makes it perfect for all kind of visitors. In fact, this Thailand market is also popular amongst local families looking to spend a lovely evening with their loved ones.
At the back of the market, you can find many bars selling ice-cold beers for a low price. Grab one, or maybe two glasses of beers and enjoy the live music performances that play throughout the night here in Chang Chui.
Also, if you have a strong stomach, you must try the famous Thai snack: insects. Yep! There is a restaurant here that specializes in this Thai delicacies. Never try, never know, right?
Opening hours: 16:00 – 23:00 (Thursday – Tuesday).
5.
Neon Night Market (Talad Neon)
A newcomer to Bangkok night market scene, Talad Neon is already becoming one of the most popular Bangkok weekend markets. It's an all-fun night market that has attracted both tourists and locals alike. The bright neon lighting that dominates this market makes it a prime place to take beautiful photos. It is also one of the best places to go shopping in Bangkok. You'll find trendy clothing, retro fashion, and unique items that will surely catch your attention.
Talad Neon is also for you food lovers. There are plenty of choices of places to eat and drink. Make sure to have your stomach empty before visiting Talad Neon. Delicious and mouthwatering food will be waiting for you here.
There are also live music performances every night, ready to make your night more enjoyable.
It doesn't stop there. There are more fun things to do here with fun rides, games, and even a petting zoo. A trip to Talad Neon will surely be a fun evening.
Opening hours: 16:00 – 00:00 (Wednesday – Sunday).