Top 10 Peking Duck Houses Across America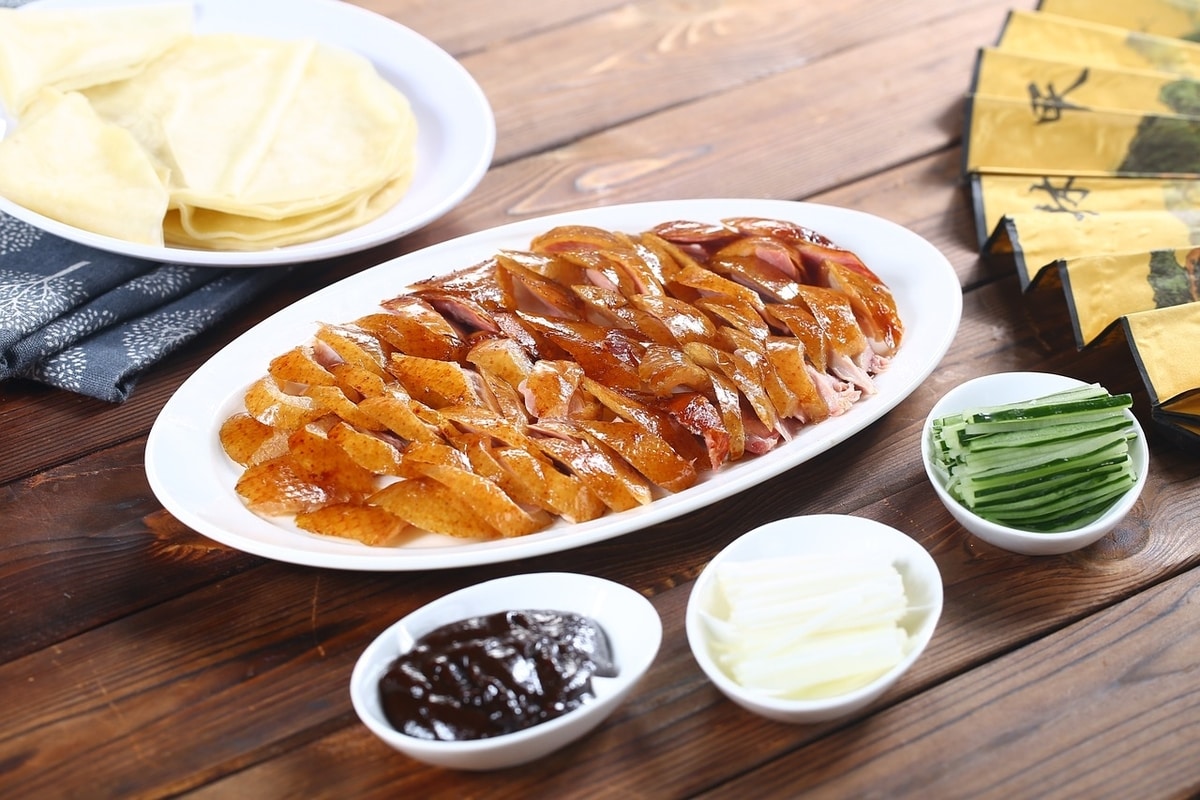 If you live in the U.S. and you're craving for Peking duck, you don't have to tire yourself looking for it. There are numerous Peking duck houses across America where you can easily get your fill and get your craving satisfied. Are you ready to see which one you'll be heading out to? Check out the list below.
1.
Sang Kee Peking Duck House in Philadelphia
The Sang Kee Peking Duck House dates back to the 1980s, making it the first to introduce the specialty to Philadelphia. With decades of experience in making delicious Chinese cuisine, you can be sure that their Peking duck here exceeds expectations. Walk past the restaurant, and you'll smell fresh duck roasting every day—an easy invite to a culinary delight.
Aside from the main dining hall, Sang Kee also has a private room that can accommodate up to 50 guests. On the second floor, it has a separate dining room which caters to 70 people. All in all, the halls of the house can fit up to 500 people. That makes it convenient for significant events such as birthday parties and wedding receptions.
Now, what's so special about the Peking duck here? Countless positive reviews testify to that. The Peking duck here exemplifies a crispy, fatty skin. When you take the first bite, you can feel the delicious fat bursting with flavor. The traditional pancakes, rice, and vegetables complement the duck as well as a bowl of hot wonton soup. You'll surely love how the rice absorbs the spicy sauce used on the duck.
Address: 238 N 9th St, Philadelphia, PA 19107, USA
2.
Joe's Peking Duck House in New Jersey
Joe's Peking Duck House usually tops the ranks of the list of authentic Chinese restaurants in New Jersey. Since its founding in 1986, the house bannered its core values of quality, creativity, service, and value-laden mission.
You can rest assured that Joe's Peking Duck house will reward you with a culinary experience of a lifetime. Its Peking duck meal, in particular, proves there's just nothing like it. With a wonderfully crispy skin over deliciously tender meat, the meal offers a mouthwatering and lasting indulgence.
One of the online reviews touts Joe's Peking Duck as one of the best, and you'll unquestionably believe this if you try it for yourself. Apart from the duck, you can also enjoy other traditional Chinese delicacies such as salt-baked squid, eggplant in a garlic sauce, and roast pork noodle soup. All these come at reasonable prices. The warm hospitality and family-like treatment of the staff add to the welcoming experience here.
However, take note that Joe's Peking Duck House opens only during Tuesday to Thursday (11:30 am – 10:00 pm), Friday to Saturday (11:30 am – 10:30 pm), and Sunday (11:30 am – 9:30 pm). For inquiries or advanced reservations, do contact them through, (865) 985-1551/1596. Expect prompt response and politeness.
Address: 145 Rt. 73 South, Marlton Crossing Shopping Ctr., Marlton, NJ 08053
3.
Peking Duck House in New York City
Peking Duck House NYC never fails to amaze regular guests and first-timers. If you try it, you'll find yourself savoring every bit of its premium Peking duck meal. Patrons post web reviews saying the Peking duck here is the best, regardless of the type of serving. Don't get confused as there are several restaurants serving the same famous fish in New York. Peking Duck House stands prominently among them with two branches found in Midtown and Chinatown.
Peking Duck House Midtown
This opens from Sunday to Thursday (11:45 am – 10:30 pm) and Friday to Saturday (11:45 am – 11:00 pm). The restaurant has two primary dining areas, including a private room for special occasions like a dinner party or a secluded romantic moment. If you can't make it through the given schedules, you can ask them to deliver instead. They can provide meals for up to and within 10 city streets from the restaurant. Make sure you are within their radar before booking a delivery.
Peking Duck House Chinatown
Unfortunately, this branch doesn't offer a delivery service. But aside from the hearty Peking duck meal here, the restaurant boasts of its exquisite interior and exterior design. The ambiance here gives a perfect feel of a Chinese culinary site. Its outer framework features a delicate balance of steel, glass, and wood trimmings.
As you enter the restaurant, delightful arrangements of floral, textiles, and lighting will greet you. Ambient lighting from the back illuminates the main floor, while a softer single light hanging above the side tables project a more intimate setting, a perfect mood for couples. It opens Sundays to Thursdays (11:30am – 10:30pm) and Fridays to Saturdays (11:45am – 11:00pm).
Addresses:
236 E 53rd St., NY 10022, New York City (Midtown Branch)
28 Mott St. #A. New York, NY, 10013 (Chinatown Branch)
4.
Peking Gourmet Inn in Falls Church, Virginia
Peking Gourmet Inn provides an authentic and traditional Chinese restaurant setting. With its painted lanterns, red vinyl booths, and jacketed waiters, you'll feel like you're standing right in the middle of ancient China.
Peking duck remains the star dish here, and they offer different ways to serve it. Enjoy savoring the dark, throbbing, and crackling meat of Peking duck as you slice its golden skin. Delicate pancakes, homemade hoisin sauce, and green onions add to the unforgettable taste. You can also complement your duck meal with lamb dishes plus batter-fried garlicky shrimps.
Address: 6029 Leesburg Pike, Falls Church, VA 22041, USA
5.
Taiwan Cafe in Boston, Massachusetts
Imagine savoring the meaty texture and relishing the oozing juice and sweetness of meat but then you find out, you're feasting on duck tongue. That's precisely the type of duck meal you'll find in Taiwan Cafe. If you're not into that, you can always shift to other premium Chinese delicacies such as spicy beef noodle soup, fried pork chops over rice, braised eggplant, soft oyster pancakes, and some stinky tofu. They also serve braised pork buns, dashed with fermented mustard greens.
Address: 34 Oxford St, Boston, MA 02111, USA
6.
Duck House Chinese Restaurant: Schezuan in Portland, Oregon
This Duck House Chinese Restaurant in Oregon reigns supreme among the Chinese restaurants here. A legion of fans has been lining up to get a taste of their Peking duck. The dish is so popular that they sometimes run out of stock. Pair the meal with a frosty glass of beer, and you'll surely have a great dining experience here. Not to mention, there are plenty of great things to do in Portland.
Address: 1968 SW 5th Ave, Portland, OR 97201, USA
7.
Duck House Restaurant in Monterey Park, California
Duck House Restaurant in Monterey Park offers Peking duck servings the traditional way. Sometimes, each serving comes with stir-fried bean sprouts, duck bone soup, or both. Add fluffy Chinese pancakes to your meal, and there's no way your cravings won't be satiated.

Here, however, you have to order in advance, an hour ahead to be exact. Make sure to coordinate as early as possible once you decide to visit there. By the way, if you request for the duck bones, you can bring these home to make soup or porridge. The best part, these delicious goodness is free of charge!

Address: 501 S Atlantic Blvd, Monterey Park, CA 91754, USA
8.
Fortune House Chinese Cuisine in Los Angeles, California
If you happen to be in Los Angeles, California and craving for traditional Peking duck, then head on over to Fortune House Chinese Cuisine. It's a conventional and traditional Chinese restaurant in the area. If you choose to dine in, you can immerse in the entire Chinese cuisine experience. The foods are reasonably priced, and customers love their big portions! You can also get the food delivered from this Peking duck house to your hotel if you don't feel like eating out.
Address: 6031 W. San Vicente Blvd., Los Angeles, CA 90036, USA
9.
Chinese Food Pompano Beach in Florida
This restaurant comes with its tagline, "The People's Choice" which comes as no surprise. After all, it ranks among the top 10 Chinese restaurants in Florida for 2018. This Peking duck house lies between Pompano Beach and Fort Lauderdale.
While it's famous for wines and beer choices, its Peking duck specialty draws the most raving guests. People clamor for the cuisine, especially when there are inclusions of Chinese appetizers and barbecue meats.
Address: 1200 East Atlantic Boulevard, Florida
10.
Peking Cuisine Chinese Restaurant in Houston, Texas
Peking Cuisine is one of the several Peking duck houses in Houston. As their name implies, Peking duck is their signature dish, and you'll surely love the different serving options here. Since the restaurant quickly fills up, better call ahead for a reservation if you plan to visit early in the morning. Their Peking duck meals come with traditional pancakes rather than buns. Opt for a large bowl of duck soup with some leafy vegetables to complement your duck meal.
Address: 8332 Southwest Fwy, Houston, TX 77074, USA
Takeaway
The truth is, when you've tasted Peking duck, it's hard not to crave for it. Even seeing a photo of this dish online can already make your taste buds water with anticipation. When that happens to you, refer to this list and see which Peking duck house is near you so you can treat yourself to an occasional duck meal. Better yet, save this list for whenever you go on a trip across America—just to make sure you have your fill of Peking duck wherever you are!