Top 10 La Quinta Resorts And Suites Across The U.S.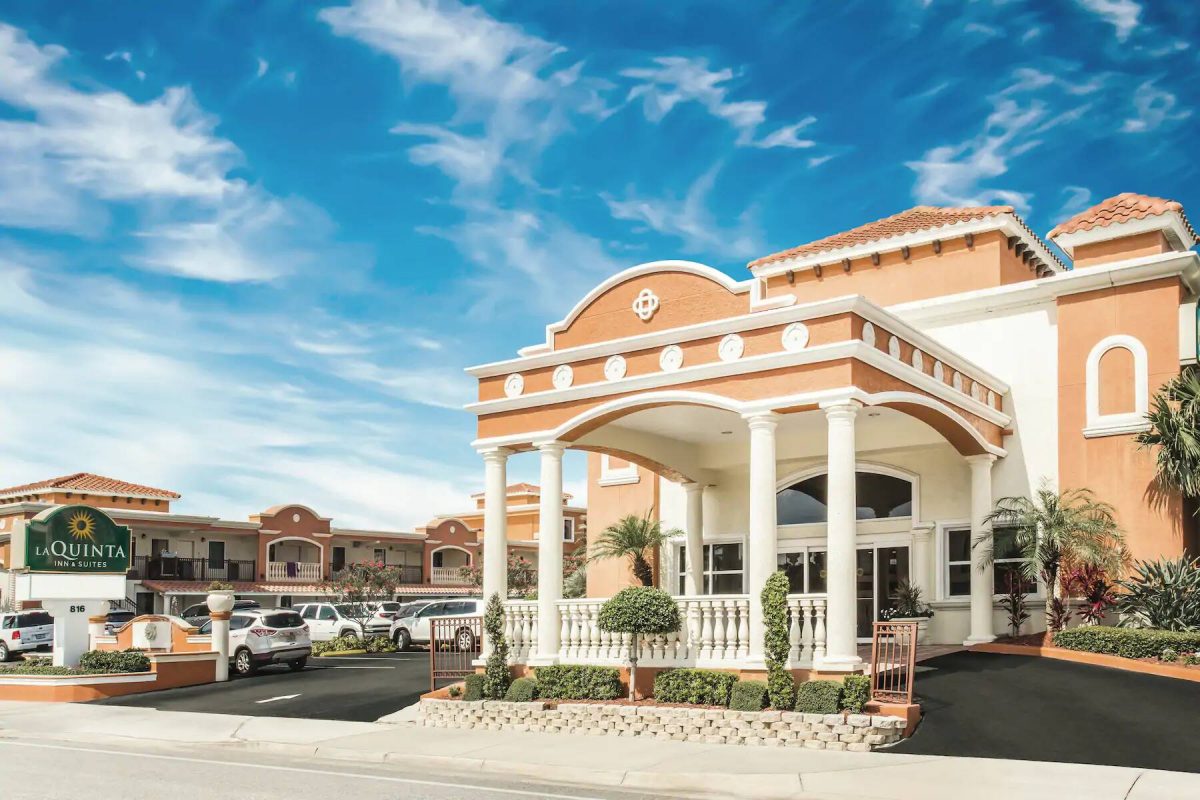 There is no alternative to a good vacation when your goal is to go away from the bustling city. And a great vacation demands a good accommodation. To fulfill the need for a few relaxing days, La Quinta Resorts can be your best option.

La Quinta is a chain of hotels and resorts that has their business spread over the U.S., Canada, Mexico, and Honduras. The term "La Quinta" is a Spanish word meaning "The Country Villa." The mother company goes by the name of La Quinta Inns and Suites.

La Quinta Inns and Suites has hotels and resorts all over the U.S. This is a guide to help you choose the right one when you are on vacation. To make sure you get your money's worth, it is necessary for you to know all the amenities the La Quinta (LQ) resorts and suites have to offer. We have handpicked the top 10 La Quinta resorts and suites across the U.S. So, without further delay, let's get to it.
1.

La Quinta Wyndham Orlando Airport North

A stone's throw away from the Orlando International Airport, La Quinta Old Airport North is a fantastic place for you to stay during your vacation in Orlando. One of the main reasons we chose this is because of its prime location.

La Quinta Inn is surprisingly close to Orlando's theme parks, and it provides shuttle buses that bring you to there. Those theme parks include—Walt Disney World, MGM Studios, Kennedy Space Center, and SeaWorld. This resort is perfect for those who intend to come here for a family trip or an excursion.

If you are visiting Orlando for business purposes, La Quinta Inn could be your next favorite meeting venue. The event space is big enough to accommodate at least 30 people, and the rates are amazing if you decide to become a regular. The meeting room features a coffee maker, ironing facilities, and everything you need.

The complimentary breakfast includes fresh fruits, bagels, coffee, pastries, waffles and more. After breakfast, you can easily find yourself basking in the sun in an outdoor pool.

2.
La Quinta Inn by Wyndham Fowler
You don't need to spend a fortune to have a comfortable stay. If you're in town or looking for a place to stay not too far from Fresno, this is a great little spot tucked away in the small town of Fowler. Located just off Highway 99, this place is accessible and convenient for all travelers. Plus, this place is excellent for business travelers to host a meeting.
If you're planning a family vacation, staying here means you have easy access to many nearby National Parks in California. About an hour drive, travelers are free to go on a day hike at Kings Canyon National Park and Sequoia National Park in California.
3.
La Quinta by Wyndham LAX
Planning a trip to Los Angeles? La Quinta Wyndham LAX is located conveniently a few miles away from Los Angeles International Airport (LAX). With flexible check-in and check-out timings, this hotel is a good spot for you to catch some sleep from the long flight. The best part, La Quinta offers 24-hour free airport shuttle service.

Even if it's not for the convenient shuttle service, many famous attractions in Los Angeles are walking distance. That includes the Manhattan Beach, Venice Beach, Marina del Rey, and Redondo Beach.

Enjoy all that LA has to offer while you're there. Many shopping centers and restaurants are just around the area. If you intend to visit Universal Studios, Disneyland, or to make a pit-stop at Hollywood and Beverly Hills, La Quinta LAX makes these places easily accessible for you. The room price starts from $150 USD per night, but the prices may fluctuate depending on the season.
4.
LQ by Wyndham San Antonio Riverwalk
Don't know where to stay when you're heading down to San Antonio to catch a game or to tour the museums? We got you covered! La Quinta San Antonio is located just off the US-281 where you'll expect famous attractions like the River Walk, Tower of the Americas, and HemisFair Park, which located just a stone's throw away from the inn.

Additionally, the San Antonio airport is close enough for you to catch a flight without a hassle. If you happen to know the B. Gonzalez Convention Center, you will be happy to know that the La Quinta Inn in San Antonio is just one block away. This resort is pet-friendly, so you don't have to worry about leaving your pet at home. However, if you're on a family vacation, the San Antonio Zoo and Botanical Garden is just around the corner. Free parking is available if you happen to rent a car for the duration of your stay.
5.
La Quinta Inn by Wyndham Las Vegas Summerlin Tech
Situated just off Highway 95, this hotel is perfect for a short vacation or a long stay. Here, you'll expect many lively outdoor adventures and enjoy the dazzling city skyline just around the corner. A short drive from downtown Summerlin, you can see multiple attractions already.
Whether you're here for the Cirque du Soleil shows or to test your luck in the Las Vegas casinos, you'll easily make your way back to the resort to unwind and relax after a tiring city exploration. For a more relaxing trip to Las Vegas, this resort provides all guest access to the Hoover Dam, Lake Mead, Red Rock Canyon, and more. If not, there are a few stunning golf courses just around the corner.
6.
LQ in Wyndham Oceanfront Daytona Beach

Though there are many accommodations in Florida, La Quinta Oceanfront Daytona Beach should be on your list. Why? Apart from being conveniently near Daytona Beach, Daytona International Speedway, and the Tomoka State Park, this hotel is also an excellent choice for a weekend getaway. Guests can enjoy a comfortable stay here and enjoy a wide array of amenities including the outdoor pool and hot tub by the chilly beach during winter.
However, if you seek a fulfilling holiday here in Florida, there are plenty of shopping centers, golf parks, international raceway, and museums nearby. If you need to get your work done, the business center here is ready for you. Just be mindful that a reservation is required. Room price starts from $115 USD per night.
7.
La Quinta Inn by Wyndham Flagstaff
La Quinta Flagstaff is quite distinct from any other, particularly for its contemporary layout and convenient location. Located just slightly off the Flagstaff Pulliam Airport, this pet-friendly hotel is a great and comfortable stay for all seasons. However, if you're here to explore the Sedona National Park or go on a hiking challenge at the Grand Canyon National Park, this hotel is a good stopping point before heading to your destination.

You can visit craft breweries, enjoy some local Arizonian specialties or simply enjoy the natural landscape here by biking or kayaking. If you're visiting Arizona during the winter, the skiing park is not too far away from the hotel. Besides, the heated indoor pool is just nice for you to escape the winter chill. After you're done, you can either go food hunting at restaurants nearby or utilize the barbecue grills here for free. We recommend making your reservation in advance, especially in the summer as the rooms sell out quickly at this particular time of the year.
8.
La Quinta by Wyndham El Dorado

I know what you are thinking. But no, this is not in the lost city of gold. El Dorado is a prime business city in Arkansas where La Quinta Inn is conveniently located. Start your day with the signature Bright Side Breakfast from La Quinta or enjoy a 24-hour in-room dining service.
Though you might not feel like going out with all the extensive facilities and amenities, El Dorado is a city filled with surprises. From the stunning natural landscape to the happening downtown nightlife, your day there will not be a bore! So, fuel up with good night's sleep and go on a day exploration the following day. Go explore the Newtown House Museum, watch a concert, or go bird watching and hiking. Your time here in El Dorado is sure to be memorable. The hotel rate here starts from $115 USD per night.
9.
LQ Inn and Suites by Wyndham Danbury

Connecticut is one of the busiest states in the U.S., so if you're here for business from time to time, La Quinta Inn and Suites by Wyndham in Danbury is ready to take you in. With spacious conference rooms and extensive amenities, what more could you want? As recognized by the certificate of excellence from TripAdvisor, this hotel goes above and beyond to make your stay as comfortable as possible. If you like to hike, go to Tarrywile Park. Like to boat around? Go to Candlewood Lake. And for those who feel like going on a shopping spree, Danbury Fair Mall, the largest mall in the state, is just around the corner.
10.
La Quinta by Wyndham Belgrade-Bozeman Airport

If you are in Montana for a vacation, you should definitely prioritize La Quinta Inn in Belgrade. La Quinta Belgrade-Bozeman is very close to the airport of the same name. However, if you suddenly feel like you need to go skiing in the Bozeman Area, your decision to stay in La Quinta Inn is right. Just a short driving distance from the Bridger Bowl Ski area, guest can either choose to be rejuvenated in Bozeman Hot Springs or get tucked in for a relaxing afternoon in the hotel's indoor and outdoor pool.
If hotel guests feel the need to explore the city, the Museum of the Rockies is less than a 10-minute drive away. For those who are here with a car, there's free on-site parking. And if you wish to travel without hassle from the airport, there's a complimentary airport shuttle available on request.
Takeaway
After listing the top 10 La Quinta Resorts and Suites across the U.S, you now know why you should consider La Quinta for your next trip. La Quinta, indeed, has something from everyone. With rooms starting around just $80 USD, you'll be crazy not to take them on their offer!