Everything You Need To Know About Kansas City Zoo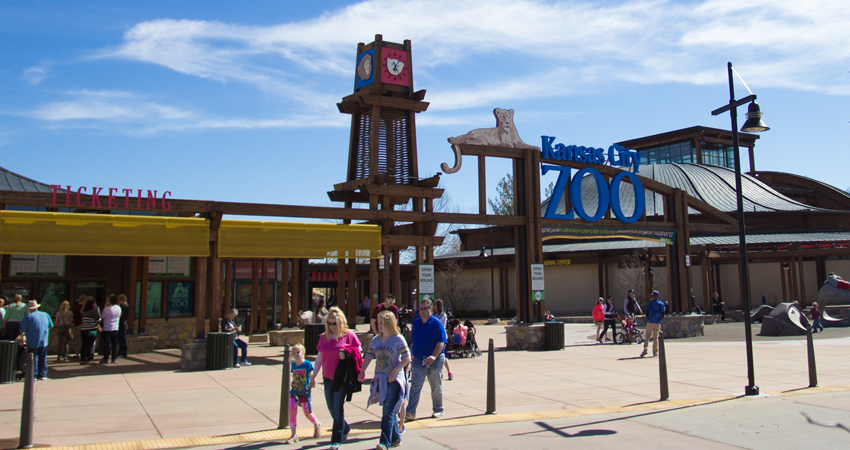 Besides the delicious barbecue and jazz music, Kansas City is also remarkable for its amazing Zoo. Located in Swope Park, Kansas City Zoo compromises a total area of 202 acres, twice the size of New York's Central Park. Kansas City Zoo offers one of the best experiences you will find out there in Kansas.
Kansas City Zoo first opened to the public on December 1909 with a small collection of 4 lions, 3 monkeys, a wolf, a fox and a few other animals. Today, it is home to more than 1,300 animals from all over the world. A day out in Kansas City Zoo couldn't be any better with so many things to see and do. Adventure awaits!
In this guide to Kansas City Zoo, you will find some of the main attractions and animals to see, where to eat, parking information, ticket and admission fees, opening hours and a few other must-dos to add to your next visit to Kansas City.
Kansas City Zoo Main Attractions
African Sky Safari
A unique attraction of Kansas City Zoo is the African Sky Safari. A cable lift that will take you 40ft above the African plains, home to the rhinos, zebras, giraffes, ostriches and many other animals. The ride lasts for 7 minutes and it is a great opportunity to get a panoramic view of this part of the zoo.
Stingray feeding
No doubt stingrays are one of the most incredible marine animals ever! If you fancy getting face to face with this creature then head on to Sting Ray Bay where you will have the chance to take part in the feeding activities. There are two sessions running on a daily basis, one at 10 am and the second at 1pm.
Helzberg Penguin Plaza
Another must-see at Kansas City Zoo is the Helzberg Penguin Plaza. Here you will find this native to Antarctica, the King Penguin and his prominent golden yellow chest. Not many zoos are home to penguins so don't forget to stop at this great attraction located right next to the endangered species carousel and the Sting Ray Bay.
Kansas City Zoo's Most Popular Animals
Black Rhino
This native to African Savanna, once thought to be extinct is now slowly recovering its numbers in protected sanctuaries but sadly, it is already extinct in the wild. If you want to learn more about black rhinos, make your way to the African Plains exhibition near the sky safari chimpanzee station.
Lowland Gorilla
Did you know? Gorillas live around 35 years old and can weigh up to 440 pounds! The largest living ape in the world can be found across the swinging bridge in the African Plains attraction.
Sumatran Tiger
A critically endangered species with numbers reaching as low as 400 Sumatran tigers worldwide according to WWF reports. In the wild, this species can be found only in the forests and swamps of the Indonesian island of Sumatra. Learn more about the Sumatran Tiger in the Asian section of Kansas City Zoo.
Dining Options At Kansas City Zoo
Kansas City Zoo has got you covered with a vast choice of restaurants and cafes serving delicious food to every taste and pocket. There are even outdoor dining options available.
Tuxedo Grill: Serves amazing char-grilled burgers, kids meals, sandwiches and salads. It is located in between the Helzberg Penguin Plaza and the Sea Lion exhibition.
Bluey's: Located in the Australia section serving the best Kansas City BBQ you will ever try! The food here is seriously good.
Rafiki Restaurant: A step away from the African Plains, Rafiki Restaurant offers a diverse menu with peri peri chicken, kabobs, burgers, hot dogs and more!
Boathouse Bar: Serves adult-only drinks and a stunning view over the lagoon!
Safari Snacks: In the African Market serving soft-serve ice cream cone and authentic funnel cakes, – a must-try!
Kansas City Zoo Opening Hours
| | | | |
| --- | --- | --- | --- |
| SEASONS | Nov-Feb | March-Oct (MON-FRI) | March-Oct (SAT-SUN) |
| HOURS | 9.30am – 4pm | 8am-4pm | 8am-5pm |
Closed on Thanksgiving Day, Christmas Day and New Year's Day.
Kansas City Zoo Ticket Prices
| | | | | |
| --- | --- | --- | --- | --- |
| AGE | Under 2's | 3-11 children | 12+ adults | 55+ seniors |
| PRICE | Free | $13 | $16 | $15 |
Groups rates available if booked in advance via email.
Available carparks at Kansas City Zoo
Parking in Kansas City Zoo is free of charge. There are three main parking lots available:
Mane Parking Lot

Zebra and Cheetah Parking Lot

Admissions Area drop off zone
Hotels Near Kansas City Zoo
Kansas City Zoo specifically points out some of their partner hotels where you could stay if you have plans to explore Kansas City for a few more days.
816 Hotel: 3-star hotel located in Old Westport, perfect if you want to enjoy both the zoo and KC downtown from without having to travel far.
Adam's Mark Hotel at the Sports Stadium Complex: Slightly furthest away from downtown and the zoo, however, this hotel offers an amazing waterpark for the kids at the Coco Key Water Resort.
Tourist Attractions Near Kansas City Zoo
Kemper Museum of Contemporary Art: For the grown-ups who love modern art; this museum has a number of national and international modern art collections with frequent pop-up exhibitions.
Science City: A great place to take the kids for a fun day in Kansas City. The museum features many family-friendly science exhibitions and a bunch of hands-on activities for children to take part in.
National WW1 Museum: This is a unique attraction to visit on your trip to KC. The National WW1 Museum holds one of the largest collections of photos and weapons from WW1 in the whole of the US. It is really worth visiting!