20 Best Caving Destinations in the World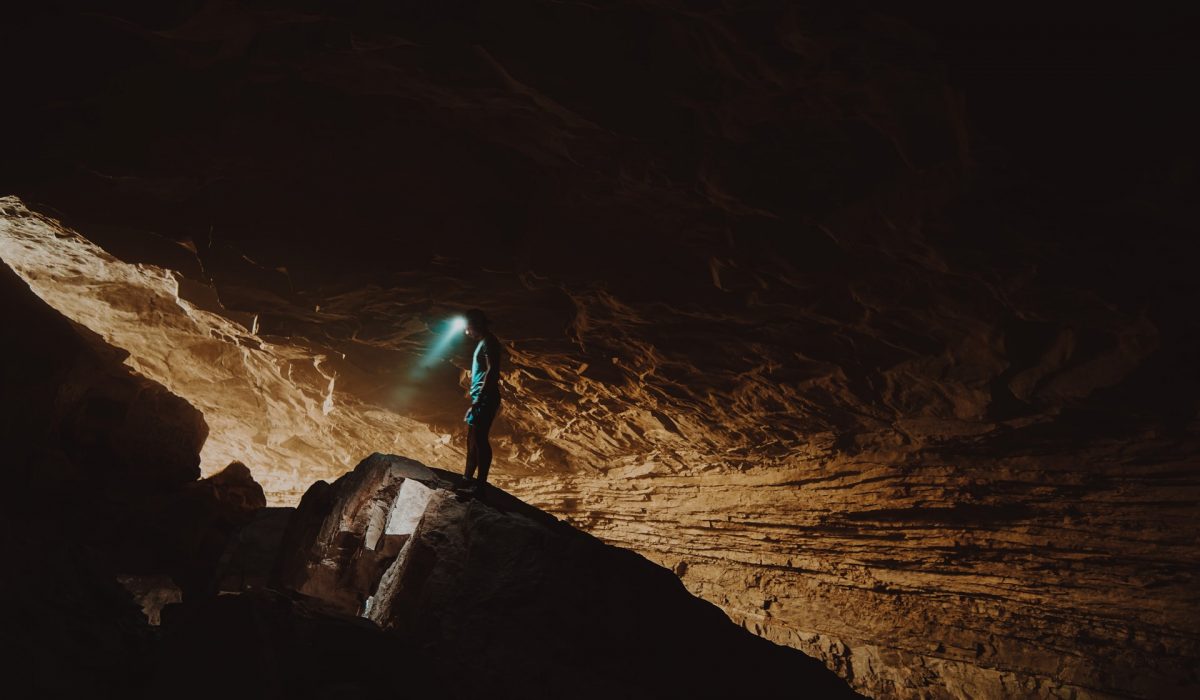 Ever since the pandemic started, most of our days are spent sitting at our home or office desks, and the closest to nature that we do is watering our house plants — if we have one, that is. For now, all we can do is dream up our next perfect vacation, one that will allow us to experience nature at its best. Some of us would prefer a thrilling mountain biking trip, sunbathing in an all-inclusive beach resort in South America, or meditating at the world's best yoga retreats; while others would prefer testing their fears and stamina through caving.
Although caving sparks so much of our imagination, exploring narrow and dark spaces, what makes caving attractive to most people is the natural sculpting of the bizarre formations that you will find inside the caves. Moreover, you are also entertained with compelling stories that envelop these mystical caves, making you forget how much calories you've been burning because you're enjoying your time.
Caving vs. Spelunking
Caving and spelunking are loosely defined terms that are associated with discovering and exploring caves. Their difference only lies in the level of mastery.
In the 1960s, spelunking was used to describe the activity that amateur cave goers do. Spelunkers explore caves as a means of recreation. Perhaps, they are those who are just trying to dip their fingers in the water to find out if caving is for them. Most of the time, spelunkers are those on a vacation who want to get a glimpse of another tourist spot near them. Often, they would sign up for a tour to explore a cave with a more seasoned caver.
On the other hand, cavers are more professional caving enthusiasts who are more technically capable of exploring the caves on their own. They learn techniques, map out routes, as well as discover new caves. To sum it up, both terms refer to the same thing, but it can have a negative connotation since the difference lies in the mastery of the craft. So, for safety, you can just refer to them as cavers or the sport as caving.
What You Need to Bring when Caving?
Choosing what to bring to your first caving experience is highly dependent on different factors, namely, the type of cave, duration of your trip, weather, and your physical condition.
But to give you a general overview, here are the things that you have to bring to your next adventure:
Helmet with Headlamp
Although a cycling or construction helmet is allowed, it's still better to use a climbing or caving helmet for durability and weight. The climbing and caving helmet is specially made to protect you from sudden whacking your head against rocks or any falling debris. You can check Amazon for a durable caving helmet and headlamp.
Flashlight
This is one of the most important things that you have to bring to your adventure. A flashlight will be your eyes in a pitch-black cave, so make sure to bring an adjustable LED flashlight with extra batteries. Check out Amazon's best selling flashlights to give you an idea.
Knee and Elbow Pads
In any caving adventure, it is expected that you might crawl or kneel to get through the rocky and narrow spaces in the cave. So to avoid any scratches and wounds, you can also wear knee pads and elbow pads. Besides, wearing knee pads will help protect your knees against strain and tension.
Gloves
Similar to knee pads and elbow pads, gloves are also for your protection against scratches and wounds especially when you're clinging or finding balance in the rocks. Also, it can be an additional source of warmth. A synthetic glove with a rubber-like coating or a goat skin climbing glove recommended.
Boots or Sandals
Just like in any other sports, proper shoes are important in caving. If you're caving in generally tropical countries, you may opt for a sandal because it's lightweight, durable, and it has non-slip soles. Whereas, if you're in a more arctic country, you may opt for boots with lug soles. You may also add a traction device for more security. You may check out these caving boots and caving sandals on Amazon to get you started.
Cave Maps
Since GPS barely works underground, you may opt to have a map that will give you peace of mind, knowing that you will surely know the way out to safety.
Hand-line and Carabiner
These are helpful in safely moving vertically or sideways when caving. A good hand-line can be the one that is made of one-half inch tubular webbing or accessory cord. Meanwhile, a single locked carabineer is also suggested. You can check out the best selling carabiners from Amazon.
First Aid Kit
Caving is an accident-prone activity, so make sure that you have at least a first aid kit to treat wounds and cuts. This will help you avoid any more serious casualty.
Water Jug
You will burn a lot of energy during your adventure. Make sure to replenish your energy by drinking water. You can go for hours without food, but water is a must. In caving, you will need around 16 ounces of water every four hours. But this varies because some people need more while some less. But you can get a 2.5-gallon water jug to be sure you'll never run out of water.
Pocket knife
You need a pocket knife in case you have to cut or repair something during your caving. A multipurpose folding knife is a perfect tool for any outdoor activities.
20 Best Caving Destinations in the World
1. Goa Gong — Indonesia
Admission Fee: IDR12,000 or US$0.82 per adult
Best Time to Visit: October to December
In Pacitan or City of 1,001 caves, you will find a rich cave system made of massive limestones filled with enormous stalagmites and stalactites. But there is one cave that the Pacitan takes so much pride in, the Goa Gong. The extraordinary Gua Gong was named after the traditional Javanese instrument, Gong. However, this is not because they found ancient Gongs in the cave. It's because when the stalagmites and stalactites are hit, they produce a resounding sound similar to of a gong.
2. Niah National Park — Malaysia
Admission Fee: RM20 or US$5 per adult
Best Time to Visit: November to February
Believed to be the birthplace of the oldest modern Southeast Asians, Niah National Park is one of Sarawak's pride. It is popular due to the abundant limestones where archaeologists uncovered paleolithic and neolithic burial sites, earthenware, ornaments, bone tools, food remains, and ancient paintings in the cave. But what is more spectacular is the epic size of the cave's mouth that spans to 60 meters high and 250 wide, making it one of the world's largest cave openings.
Today, tourists can visit the cave without a guide, and they can also witness countless swiftlets flying towards their nests and bats flying out at night.
3. Škocjan Caves — Slovenia
Admission Fee: EUR6 or US$7 per adult in an Education Trail
Best Time to Visit: September to November
Tour Available: Various guided tours from Park Škocjan Caves Slovenia
At the Kras Plateau of South-West Slovenia, the enormous limestone cave system of Škocjan is found. Here, you will see a gushing waterfall, gigantic Martel Chamber, collapsed doline, sinkholes as well as a river canyon that seemed to be swallowed by the cave. Aside from these, you can also see an abundant collection of many endangered and endemic species like the Cave Salamander. Also, there are archeological pieces of evidence that the cave was previously inhabited by prehistoric people during the Mesolithic period.
Today, visitors can take a thrilling exploration in this fascinating natural wonder through the Underground canyon, Reka river underground, or the Škocjan Education Trail. Make sure to take the scheduled guided tour to learn more about the cave as well as be safe.
4. Mammoth Cave — Kentucky, U.S.A.
Admission Fee: US$8 per adult for a Mammoth Passage Tour
Best Time to Visit: November to December and March to April
Tour Available: Various self-guided tours from National Park Service
With more than 400 miles of the Mammoth Cave explored, it is known as the world's longest known cave system. Although an additional cave system is still being discovered, it already has a five-level limestone labyrinth mapped out, which spans to more than 365 miles. Also, tourists can skip the laborious hike because they have bridges that make it accessible for tourists regardless of age. Moreover, this cave plays a significant role in archeological research about Native Americans, since they found mummified remains in the cave.
There are many self-guided tours that tourists can join. The Mammoth Passage tour runs for one hour and 25 minutes and will take you to about 0.75 miles of walk. This is recommended for beginners, handicapped, and family with children.
5. Cango Caves — Africa
Admission Fee: ZAR150 or US$9 per adult for a Heritage Tour
Best Time to Visit: October to December
Tour Available: Various guided tours from Cango Caves
Cango Caves is an underground cave network in the Cango Valley that has been sculptured by nature since the Precambrian era. It is particularly famous for its marvelous showcase of dripstone caverns that will lead you to vast halls of breathtaking stalagmites and stalactites. One of the main attractions in the cave is a 9m high stalagmite called Cleopatra's Needle.
Make sure to join the guided tours such as Heritage Tour or Adventure Tour to get the most out of your escapade. The Heritage Tour is for beginners and it runs for an hour. It explores the first six halls leading to the African Drum Room. While the Adventure Tour is more for experts because it runs for an hour and a half and it includes crawling into narrow tunnels.
6. Marble Cave — Chile
Admission Fee: CLP10,000 or US$13 per adult for a Marble Cave Boat Tour
Best Time to Visit: December to February
Tour Available: Guided Tours available at the lakefront of Puerto Rio Tranquilo
If you're looking for a unique cave to explore, come to Marble Cave. It doesn't have innumerable stalactites and stalagmites that you usually see in limestone caves. In fact, it is quite similar to Italy's Grotta Azzurra. The cave is located at General Carrera Lake and is made up of three formations such as the Cathedral, Chapel, and the Cave. It was formed through the mixing of melted glaciers and solid rocks. Slowly, after thousands of years, nature carved these caves with a spectrum of blue and yellow marbling in its formation.
In this Marble Cave Boat Tour, you will be taken to the core of the cave to appreciate its vibrant hues, an incredible tunnel system, and pristine waters. Another way to explore the cave is through a kayak tour (around US$51 per person), which allows you to paddle through the caves for three hours together with your group.
7. Feengrotten — Germany
Admission Fee: EUR12.50 or US$15 per adult for an all-season entry to Feengrotten and Grottoneum
Best Time to Visit: May to October
Tour available: Audio Guide from Feengrotten
During the 16th century, Feengrotten, also called the Saalfeld Fairy Grottoes, used to be a mine filled with black Alum Shale. But it was abandoned during the 19th century. However, when it was rediscovered after a century, surprisingly the dilapidated cave turned into a colorful grotto occupied by multi-colored mineral deposits. With this, Adolf Mützelburg turned the grotto into a tourist attraction and they added more lights to further emphasize the mineral deposits. Moreover, in 1937, scientists also found out the scientifically-proven health benefits of visiting the cave. So they created the Emanatorium, making Feengrotten one of the first healing caves in Germany.
Over the years, tourists visit the grotto not only because it is one of the world's most colorful grotto, but also because of its scientifically-proven health benefits.
8. Eisriesenwelt — Austria
Admission Fee: EUR14 or US$17 per adult for a Cave Tour without Cable Car
Best Time to Visit: July to August
Tour Available: Guided tours from Eisriesenwelt
Dubbed as the world's largest ice cave, Eisriesenwelt has a total length of 25 miles. This marvelous site will definitely give you another perspective of natural wonder. From frosted stalactites to icebound masses, you will see enormous landscapes that seemed to have been magically frozen.
Today, you can visit the ice cave by either taking the cable car or trekking for an hour and a half in alpine terrain. It will be strenuous, but once you join the guided tour that runs up to a little more than an hour, you will tell yourself that it was all worth it.
9. Grotta Azzurra — Italy
Admission Fee: EUR15 or US$18 per person
Best Time to Visit: June to September
Tour Available: Various guided tours with roundtrip transfers from Marina Grande to Blue Grotto from Capri
One of the highlights in the Capri Islands in Southern Italy is the Grotta Azzurra. The grotto was once a Roman marine temple during the reign of Tiberius, and most of the Roman statues found are now exhibited at Casa Rossa. Today, although the statues are no longer found in the grotto, there are still a lot of tourists wanting to see the cavern because of the natural azure blue light water. The azure blue light illuminates the water through the sunlight that enters the cave through the underground opening under the cave's mouth. So, make sure to visit them on sunny days, especially around 12 to 2 PM to get the most fascinating view of the water.
The grotto is only 60m long and it will only take you around five minutes to pass through it. However, it will take a while to get in as the boats need ample distance from each other because the strong waves might cause collisions.
10. Zhijin Cave — China
Admission Fee: CNY120 or US$18 per adult
Best Time to Visit: April to October
One of China's largest caves, Zhijin Cave occupies an expansive size of 2.7 square miles. It features a spectacular landscape of massive and bizarre karst formations. Inside, you will also marvel at the extraordinary works of nature. Some of them are the arhat-shaped stalactites and a flower-like transparent crystal. Don't forget to join guided tours to know more about this impressive natural wonder.
11. Tham Lod Cave — Thailand
Admission Fee: THB550 or US$18 per adult for a Guided tour with a Round Trip Rafting
Best Time to Visit: November to May
Tour Available: Guided Tours available from My Chiang Mai Tour
Tham Lod Cave is one of the accessible limestone caves in Thailand. With an expansive size of a mile, you will be rewarded with its stunning stalactites and its spitting image in the vast clear freshwater. You can also see towering columns and impressive rock formations naturally sculpted by nature. You may also occasionally see bats and swifts who are living in the cave.
In this tour, after taking the bamboo raft, you will later climb towards the inner cave on foot. Inside, you will see more impressive works of nature as well as learn about the Hoabinhian hunting tribe who used to reside in the cave during the 9,000 BC to 5,500 BC. After, you may also visit the surrounding village and temple.
12. Vatnajökull Glacier Cave — Iceland
Admission Fee: ISK16,900 or US$22 per adult for an Ice Cave Adventure Tour
Best Time to Visit: January to February
Tour Available: Various guided tours from Visit Vatnajokull
Vatnajökull Glacier Cave, also called the Anaconda Ice Cave and Crystal Ice Cave, amazes its visitors with its spectacular design. Upon entrance, you will see an arc that seemed like frozen waves waiting to crash against the current. But this wave-like arc is a crystal that glistens with the little sunlight it receives. Also, due to the density of the ice, they seem bluer and larger.
In the Ice Cave Adventure Tour, you will be guided by a local that will tell you about the history of Iceland's largest ice cave, as well as learn about the science behind the ethereal beauty of Vatnajökull Glacier. Apart from this, you will also take a super jeep ride in the vast glacier. It will take you around three to four hours including the transfers, but the tour inside the cave only lasts 30 minutes.
13. Carlsbad Cavern — New Mexico, U.S.A.
Admission Fee: US$23 per adult for a King's Palace Tour with Entrance Fee
Best Time to Visit: October to June
Tour Available: Various guided tours from Recreation
Carlsbad Cavern is one of the limestone caves in the Guadalupe Mountains. It has a long history of Native Americans settlement to Spanish colonization, American expansion, and the cultural conflicts in between, and to finally becoming a World Heritage Site. The captivating limestone cave in the Chihuahuan Desert tells an enthralling story within its uniquely formed fossil reefs, impressive soda straws, jaw-dropping draperies, mighty flowstone, and natural lily pads. Also, you will see an array of diverse animals and an array of lush vegetations within the national park.
Tourists can visit the Carlsbad National Park and explore the Carlsbad Cavern through the guided tours from Recreation. The trouble-free tour is the King's Palace tour that runs for an hour and a half. In this tour, the rangers will take you to the deepest portion of the cave allowed for tourists without arduously descending and ascending the steep cave formations.
14. Harrison's Cave — Barbados
Admission Fee: BBD60 or US$30 per adult for a Tram Tour
Best Time to Visit: January to April
Tour Available: Various guided tours from Harrison's Cave Barbados
Initially, Harrison's Cave was inaccessible due to the challenging natural entryway. However, in the 1970s, through the efforts of the Danish engineer Ole Sorensen and the Barbadians Tony Mason and Allison Thornhill, the cave was mapped out and became more accessible to the public. Since it was opened to the public, it never ceased to amaze its visitors with its countless stalagmites that are still growing up to this day.
Today, tourists can choose from different tours to explore Harrison's Cave. One easy way to explore the cave is through the Tram Tour that runs up to one hour. However, if you want a more real adventure, you can reserve for an Eco-Adventure Tour or a Walk-in Cave Tour.
15. Luray Caverns — Virginia, U.S.A.
Admission Fee: US$30 per adult
Best Time to Visit: September to December
Tour Available: Self-guided tours from Luray Caverns
You can find a lot of underground labyrinths in Virginia. One of its pride is the Luray Cavern which is the third most visited caves in the U.S.A., following Mammoth Cave and Carlsbad Cave which are also on this list. Inside, you will find different halls such as the Giant's Hall that houses towering columns, the Dream Lake — a wide and shallow lake that mirrors the stalactites, the Titania's Veil that showcases the stupendous calcite formation that looked like a cascade of flowing rock, and, of course, the Saracen's Tent, which is a collection of thin folded red rocks that seemed to produce light from its sides.
Today, visitors can do a self-guided tour in this well-manicured cave. Unlike other caves that will require you to crawl into small cave openings, you can explore Luray Cavern like you're exploring a park or a museum. Make sure to also visit the Cathedral, where you can see the electric church organ that is wired to bang against the stalagmites and stalactites. So when you press a key, you will hear literal rock music.
16. Fingal's Cave — Scotland
Admission Fee: GBP25 or US$33 per adult for a three-hour Staffa Boat Tour
Best Time to Visit: April to June
Tour Available: Various guided tours from Staffa Tours
Fingal's cave is famous for its hexagonal basalt columns that were formed after enormous lava stretched to the Atlantic Ocean and met with the battering waves against the cave. In 2001, this extraordinary work of nature was enlisted as a National Nature Reserve. Moreover, it was already visited by many prominent figures like Queen Victoria.
Today, tourists can marvel at nature's extraordinary masterpiece by joining tours to visit the inside of the cave or the surrounding islands.
17. Waitomo Glowworm Caves — New Zealand
Admission Fee: NZD55 or US$36 per adult for a one-hour Waitomo Glowworm Cave Tour
Best Time to Visit: November to April
Tour Available: Various guided tours from Waitomo Caves
Home to innumerable Arachnocampa Luminosa or glowworms, Waitomo Glowworm Caves is a surreal subterranean realm. As you take a silent boat ride to the cave, you will find yourself not only amazed by the innumerable turquoise-colored lights on the ceiling but also with its history and legends. Moreover, since most of the guides are descendants of the Maori chief who originally explored the cave, you will get a perspective that also touches preservation, sustainability, and environmentalism.
Aside from taking the boat to enter the cave, you can also see the glowworms much closer through the Ruakuri Cave Tour (NZD79 or US$52). Or, if you're looking for more thrill then you may join caving tours or rafting tours. The normal tours take around an hour or two, but for caving tours and rafting tours, they usually take three to seven hours depending on the tour you choose.
18. Puerto Princesa Underground River — Philippines
Admission Fee: PHP2,090 or US$43 per adult for a Day Tour
Best Time to Visit: March to May
Tour Available: Guided tour from Guide to the Philippines
One of the New 7 Wonders of Nature and listed as a UNESCO World Heritage Site in 1999, Puerto Princesa Subterranean River National Park, or more commonly called Puerto Princesa Underground River, should be on your bucket list. It stretches more than 8km long, but only more than 4km is allowed to be visited by tourists. But don't worry, because in that four kilometers slow boat ride, you will be able to appreciate the pristine waters and the breathtaking limestone formation inhabited by bats and swallows.
Tourists don't only find this day tour educational with the well-informed tour guides but also convenient because the day tour already includes pick-up and drop-off from the hotel as well as lunch.
19. Barton Creek — Belize
Admission Fee: US$85 per adult for a Barton Creek Canoe Halfday with optional Zipline and Waterfall or Botanical Garden with Butterfly Farm
Best Time to Visit: March to June
Tour Available: Guided tours from Mayawalk Tours
A remote cave in Belize, Barton Creek is where Mayans settled during the Classic period. It is believed to be used as a burial site since they found around 28 people interred. Aside from this, they also found thousands of pottery and artifacts on ten ledges. Today, you can take a calm canoe ride to see the spooky Mayan remains as well as the profuse number of cave stalagmites and stalactites. Also, you can explore the outside of the cave by riding a zipline or freshening up at the waterfalls.
Tourists can visit Barton Creek from different tour operators. But for Mayawalk Tours, aside from the tour inside the cave, it also includes an optional Zipline and Waterfall trek or a visit to Botanical Garden with Butterfly Farm.
20. Sơn Đoòng — Vietnam
Admission Fee: VND69,800,000 or US$3,007 per adult for a four-day expedition
Best Time to Visit: February to April
Tour Available: Guided tour from Oxalis Adventure
The world's largest cave by cross-section, Sơn Đoòng Cave is a massive cave system discovered by a local man named Ho Khanh in the 1990s. It spans an expansive size that could fit a 40-story New York City building, and it's also home to bizarre formations such as tremendous cave pearls, colossal stalagmites, and epic phytokarst. You will also find two cave ceiling collapses that allow sunlight to shine on the verdant greenery.
Today, tourists can only visit the Sơn Đoòng Cave through a four-day expedition by Oxalis Adventure. In this tour, you will paddle across broad underground rivers, trek through the underground rainforests, traverse to the two monumental cave ceiling collapses, and experience being officially a caveman in the world's largest cave's campsite. This is the only tour that is recommended for intermediate to expert cavers. However, Oxalis Adventure also offers tours for beginners to the surrounding caves and a national park.
Final Notes
Although there are caves that have similar formations, each cave is still unique in their own ways. Each natural wonder has its own compelling history, culture, and science that make each one unique, exciting, and mystical. By being up-to-date with information on the weather, clothes to wear, equipment to bring, difficulty level, as well as the risks that you will take in the adventure, you will be equipped in the caving escapade you are planning for.