Anti Theft Backpacks For The Frequent Traveller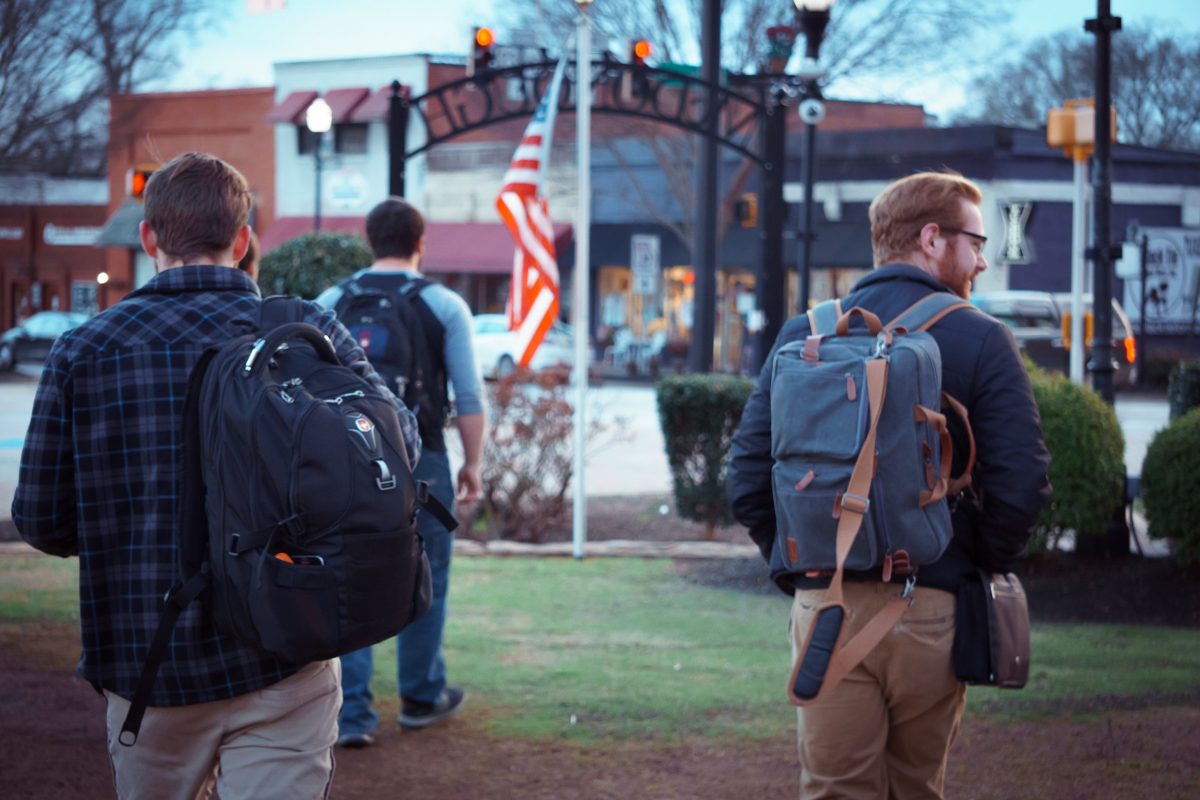 As you explore a new city or country, it's better to be mindful of your belongings and lookout for thieves. It's a reality that pickpockets exist in every crowded city. That's why you should consider buying yourself an anti theft backpack.
Having an anti theft backpack will save frequent travellers like you from losing money or important belongings. Nowadays, thieves have developed different ways of stealing from unsuspecting travellers. From the slashing of backpacks, puncturing of zippers, duplication of RFIDs, and a lot more.
When you think you're now wise to a trick, the hoodlums come up with more. We adapt and so do they.
That's why we made this list of the best anti theft backpacks for the frequent traveller in you.
Admittedly, most of these bags are expensive. But considering the benefits they bring, it's definitely worth it.
1.
Pacsafe Intasafe Anti Theft Laptop Backpack

You thought right. Of course, there'll be a Pacsafe backpack! They're one of the best manufacturers of anti theft backpacks out there.
The Pacsafe Instasafe Anti Theft Laptop Backpack has its signature eXomesh slash guard. This will make your bag impenetrable from knife slashes. The bag also has several interior compartments, making for an easier organisation for your items and necessities.
With an internal pocket made of RFID safe fabric, electronic thieves can no longer scan your e-passports, credit card, and other similar cards.
The Pacsafe backpack is 100% polyester with nylon lining on its inside. It comes with smart zippers with zip sliders that overlap. It comes in two colours: charcoal and navy.
A Roobar anti-theft anchor lock ensures you can lock different compartments at the same time. It also helps you secure your bag to a pole and have it remain there when you come back. As long as you just don't take too long.
2.
NOMATIC Anti Theft Backpack
The NOMATIC backpack is made from Kodra 500D Tarpaulin waterproof fabric. The bag features water-resistant zippers. Its capacity is expandable for when you've more items to carry with you.
The backpack has a removable organisation panel that gives more space when you're packing for trips rather than just transporting your laptop and stationery. Its normal size allows for a 15″ laptop and a 12″ tablet.
The NOMATIC backpack has a padded back panel. This makes it easier and comfortable for you to carry your bag. It features a retractable key leash, sternum strap, and a luggage strap that allows a cord to pass through and hold it in place.
The backpack was built for a sleek look with its magnetic side pockets.
3.
DYSU Anti Theft Backpack

The DYSU Backpack is made of water-resistant material to drain water off the bag when you are in a rainy area. You don't want items in a travelling backpack to get wet, do you?
The anti theft features don't include a lock. However, the zippers and pullers are ingeniously hidden close to your back. This will definitely baffle any thief trying to slip your zippers while you're a bit distracted.
The DYSU backpack has a lot of interior compartments. Some of which are made specifically for a laptop and tablet. It will also accommodate any other electronics you might want to take with you. It is also well-padded to provide protection for all these electronic items.
With a USB port and a built-in charging cable, you wouldn't have to find a coffee shop to charge up your gadgets as you explore a new city. Simply connect your power bank and charge your phone without having to open the bag.
4.
KOPACK Anti Theft Backpack

The KOPACK Backpack is one of the affordable anti theft backpacks. For the features it offers, it's definitely one of the best ones. The bag comes in two sizes – one that accommodates a 17-inch laptop, and another for a 15.6-inch laptop.
The bag has shockproof padding for these laptops, which is a relief for you if ever you accidentally drop your bag with a laptop in it.
This KOPACK backpack is also waterproof and has a slash-proof exterior. Its zippers are cleverly hidden, with lockable pullers.
This has also been dubbed a TSA friendly backpack for its 90 – 180-degree opening. It lets you pass through checkpoints easily as the professionals do their work with more ease. I bet everyone appreciates that.
The backpack has a padded and well-ventilated back panel for comfort even in hot weather. It also has two hidden pockets you can store important items in.
The bag has a USB cable for charging your phone and others. It also features an anti-puncture four teeth zipper on its main compartment.
5.
Bobby XL Anti-Theft Backpack

The Bobby XL Backpack is well made and sturdily built. The backpack is built to accommodate a 17-inch laptop and a 12-inch tablet.
Bobby XL is made with slash-proof material to keep your backpack safe from any unauthorised access knife slashing. It also reduces the risk of scratches on the bag and keeps your backpack sleek-looking.
This Bobby backpack is also made with waterproof material to keep your belongings dry in case it suddenly rains. This feature also makes it easier for you to clean the backpack's surface.
This anti theft backpack also has hidden zippers to frustrate unwanted thieves. It also features a USB port to connect your power bank and your phone while keeping the power bank in your bag.
This unisex backpack has a wide opening that will aid in accommodating all the items you'll require on your journey.
6.
Inateck Anti Theft Travel Backpack

The Inateck backpack is a very sturdy backpack built with the rigours of travel in mind. It accommodates all you need for a small trip while still being small enough for easy carry.
This anti-theft backpack is built with resistance to both water and abrasion. It has a well-padded and ventilated back panel. The lockable zippers help better secure your items. You also get to have a lot of hidden pockets to play with.
The backpack doesn't stop there with the pockets. We also have pockets, zippered pockets, on each shoulder strap and at the back panel as well. You know what this means, right? You can put those small items like your credit card that you need to access quickly.
The Inateck backpack can fit a 17-inch laptop and a 12-inch tablet comfortably in the padded compartments made available for them. This also ensures that those precious electronics are intact after a fall. For added ease in accessing the laptop, the backpack opens like a suitcase.
The backpack has different interior and exterior pockets for easy organisation. It also has a compression strap to keep your items from flopping around in the bag when it is not packed tight. All are covered with the free rain cover that comes with the backpack.
7.
Loaged Anti Theft Laptop Backpack

The Loaged Anti Theft Backpack is made of polyester and comes in four different colours. The backpack has a well-padded compartment for a 16-inch laptop and a USB port. It also has several pockets inside.
It also has a back strap to help secure it to your suitcase for added safety. The anti theft features of the Loaged backpack is considered quite ingenious and one of the best. It is even said to be better than a lock.
Steel hooks and buckles over its zippers are placed all over the main compartment and the front of the backpack. Though it'll take you long to lock and unlock, this will also make things harder for thieves who'd try not to draw attention to themselves.
8.
MODAR Anti Theft Laptop Backpack

The MODAR Anti Theft Backpack is made of water-resistant material to keep the rain from soaking your backpack and the item in it. You can easily fit a 16-inch laptop in this bag and carry up to 44 pounds of items
The bag features a USB port and a headphone jack for your music. Besides that, the anti theft backpack features a unique password code lock system that uses 3 digits, which you immediately have to change from its default of 000. The lock will hold your zipper pullers tight and close when used.
With the number of private pockets this backpack has, it also features pockets in its wide and adjustable shoulder straps. This is for added ease when using your e-passports and credit cards. Sadly, these pockets are not RFID safe so be careful.
Final Thoughts
Anti theft backpacks sure can be quite expensive. But we think it's something you must splurge on. It's better to buy a high-priced backpack and never have anything stolen rather than going for a cheap travel bag and lose your money in a country you're not familiar with. Right?
While choosing the best anti-theft backpack, you should make sure to pick one that has other features that will be of benefit to you. You should also add personal preferences, like colour and types of shoulder straps when making your choice.
With the right anti theft backpack, you can enjoy travelling without having to worry about your things. Once you got your bag, go ahead and travel the world. Maybe explore Vienna in Europe or see what India has to offer?