Top 15 Landmarks In Vienna, Austria You Don't Want To Miss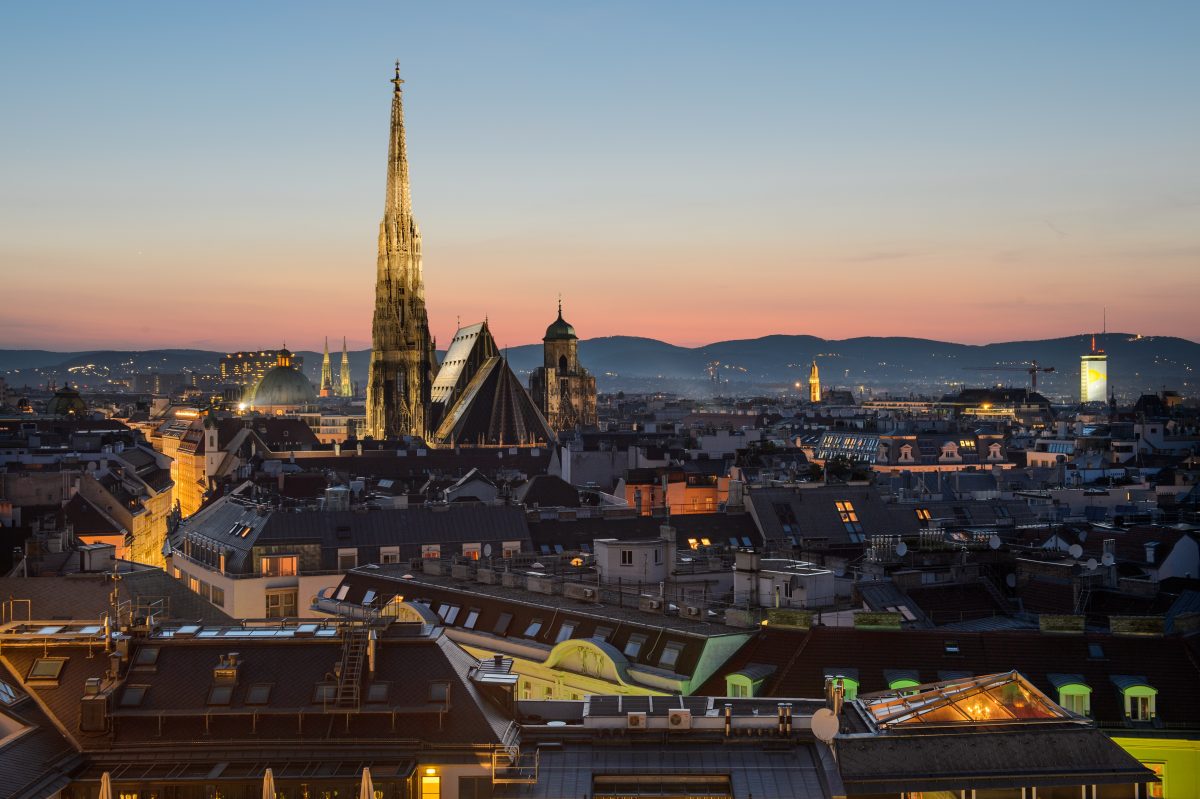 Cultural immersion for some, the heaven of arts and music for some others and an enchanting city break to all of us, Vienna has got what it takes to be your next destination. Whether you are a solo traveller, family or a couple, Vienna has got you covered.
With thousands of years of imperial history embedded on the streets, castles and museums, beautiful modern art galleries and exquisite cuisine, this city is definitely worth visiting. Here is a curious fact to get you buzzing — music plays a big role in Vienna. It is home to exceptional music artists such as Mozart, Beethoven, and to one of the most internationally renowned orchestras, The Vienna Philharmonic.
Ready to pack your bags? Here are some of the unmissable spots you must see on your next trip to Vienna:
Once a hunting lodge and later converted into the Imperial Summer Residence, the palace was purposely built to outcompete the French Versailles. This iconic symbol of Vienna is a themed park for history lovers. Among its 1441 rooms, you will find the exquisite apartments of Maria Theresia, the parlours in which Mozart used to play. Besides that, there are Chinese rooms and many other extravagantly decorated rooms with precious wall panelings, endless mirrors, and jaw-dropping crystal chandeliers.
But it does not end here, the palace also compromises a botanical garden that was first opened 1779 and a palm house with 3 climate zones with plants from rainforests from all over the world.
Want to know more? They have tours available to all tastes and pockets. Please note that prices range from €16 to €34 per person depending on the duration and the topic of the tour. Two of the most popular tours are the Imperial Tour which features the staterooms and the private apartments of Franz Joseph and Sisi and the Grand Tour covering 40 rooms from the time of Maria Theresia.
Opening Hours: The Palace is daily open from 8am to 6:30pm with opening times varying seasonally
Can you guess how big is Schonbrunn Palace is? Well, big enough to feature a zoo with more than 700 animal species from every continent. Considered to be one of the world's oldest zoos, it first opened in 1752 and it has been home to the first-ever birth of an African elephant in captive!
There are so many themes to explore, but my personal favourite is the Rainforest House which is brilliant if you fancy exploring a dense jungle habitat and eventually encounter Tarzan, or not! Leisure aside, Vienna Zoo is internationally renowned for its educational centres and contribution for zoology and veterinary research, how cool is that? Calling all families, take note of this attraction if you are travelling with children you will definitely want to explore this place!
Opening Hours: Nov-Feb 9am to 4:30pm / Mar-Oct 9am to 6:30pm
Ticket price: Adult €20 / Child €10


3.
St Stephen's Cathedral
Whether you have 24 hours or a full week in Vienna you must not skip St Stephen's Cathedral, the most important religious building in Vienna has to be on the top of your must-see list!
Stephansdom is a Roman Catholic cathedral built in 1147AD with prominent Romanesque and Gothic styles portrayed in its grand facade and astonishing interiors. Let me tell you that this is not just about religion, indeed if you are a fan of architecture, poetry, storytelling and art this is the perfect place to find more about ancient myths, to check out the famous Zahnwehherrgott aka Christ with a toothache, visit the Catacombs and ascend the 137m tall Southern tower.
Impressed? Well, here is a bonus fact for those who are heading to Vienna in December, the world-famous Vienesse NYE is marked by the sound of the Pummerin, Austria's largest bell which welcomes the arrival of the new year.
Opening Hours: 6am to 10pm Mon-Sat and 7am to 10pm Sun
Tickets: Prices range from €5 to €14.90 per adult and €2.50 to €3.90 per child
If you think Vienna is just about culture and education, let me tell about this magical place where all your childhood dreams come true! It's The Prater for sure, a public amusement park that has been open for business since 1766.
Vienna's Prater is home to the Giant Ferris Wheel 65m tall which is, in particular, a great way to get a beautiful panoramic view of Vienna. There is also a huge carousel that spins you 139 metres up in the air, a bowling centre and the iconic Chocolate Museum! What are you waiting for? The Pratter is an unmissable must-do suitable for all ages and bravery levels!
Opening Hours: Most amusements are open from 10am until 6pm to 10pm
Tickets: Free admission, however, the use of attractions is subject to different charges
5.
Kunsthistorisches Museum
The Museum of Fine Arts is one of the most important museums of art in the entire world and the largest in the country. It opened his doors to the public in 1891 and today it compromises of a collection of fine art from notable artists like Velazquez, Raphael, Rembrandt and many other brilliant minds.
The interior decoration is magnificent; floors of marble and walls of stucco featuring endless paintings, impressive sculptures, imperial armoury and rare coin collections are for sure, some of the things this unique museum has to share with us. Time is key if you want to get immersed, so plan your visit to the Kunsthistorisches Museum wisely and allow yourself plenty of time to admire this world of knowledge.
Opening Hours: The museum is opened from Tues-Sun 10am to 6pm and till 9pm on Thursdays
Tickets: €16 per adults, children below 19yrs old go in for free
The Imperial Palace lies in the heart of Vienna as it was once the principal political centre of the monarchy. Back in the 20th century, the Hofburg was home to major events such as the extravagant balls and meetings of the Congress of Vienna and also where audiences were held by Emperor Franz Joseph.
Nowadays it still of major political purpose as it compromises the offices of the Federal President, however, its main visitor attractions are the beautiful Imperial Apartments once occupied by Emperor Franz Joseph and his wife Elisabeth, The Sisi Museum and The Silver Collection.
Opening Hours: Sept- June 9am to 5:30pm / Jul-Aug 9am to 6pm
Tickets: €15 to €18 per adult and €9 to €10.50 per child
You are going to love this museum, as simple as that! From Monet to Picasso and a collection of 65,000 drawings are probably enough to fulfil your art cravings for the day. The Albertina is unmistakably considered one of the most monumental art museums in the whole world; it is home to one of the largest and most important print rooms that holds about 1 million old prints.
The building is dated back to the 17th century and has been home to notable people who brought with them paintings and rare objects from different parts of Europe that nowadays make a big section of the exhibitions. Although its painting collection is undeniable big, the museum also offers a huge selection of Photography and Architecture work and 20 sumptuously decorated Habsburg State Rooms available for visiting.
Opening Hours: Open daily from 10am to 6pm; closes at 9pm on Wednesday and Friday
Tickets: From €11 to €16 per adult, children under 19yrs old go in for free
The former summer residence of Prince Eugene, Belvedere Museum is listed as a UNESCO World Heritage Site. The Belvedere compromises of the Upper Belvedere and Lower Belvedere. Both of them features extensive artwork collections and endless galleries. The Marble Hall and Palace Chapel, as well as the garden, is open to the public for visiting.
In particular, the Palace Stable is a must visit. Opened in 2007, it gives you access to the Medieval Treasury and a complementary Gothic and Romanesque art collection to the Upper Belvedere. On top of that, the gardens around the palace are splendid, perfect to wind down after a busy day of walking but bear in mind that Viennese Summers tend to be very hot, so stay safe and hydrated especially if you are travelling with kids.
Opening Hours: Open daily from 9am to 6pm and closes at 9pm on Friday
Tickets: From €13.50 to €16 per adult and children under 18yrs old go in for free
Vienna is the capital of classical music, no one can deny! The building is located in Ringstrasse Boulevard. Its facades are decorated in Renaissance-style with a grandiose entrance featuring five iconic statues on top of each arch representing heroism, tragedy, fantasy, comedy and love.
Opened in 1869, it produces 50 to 60 operas per year and more than 350 performances. The Vienna Philharmonic and the Vienna State Ballet are closely related to the Staatsoper. If you want to go extra, why don't you check what music performances are on during your stay in Vienna? I'm sure you won't regret it!
The Guided Opera Tour lasts 40 minutes and is great to understand what happens behind the largest repertoire theatre. Additionally, you can also discover more about this building's history.
Tickets: Adults €9, pensioners above 65yrs old €7, children €7.50
10.
Wiener Rathaus, Vienna City Hall
You do find a city hall in every town you visit but few are as picturesque as Wiener Rathaus. Built in the 19th century in a Neo-Gothic style, it has served as the house office of the Mayor of Vienna. With a total of 4 main interior areas, you can find extravagant ballrooms, the People's Hall, political meeting rooms and the Vienna City Hall cellar. The Rathaus is definitely worth visiting.
Finish your day by enjoying a traditional Viennese cuisine in the historic Rathauskeller restaurant. The only way to visit the City Hall is by taking a free guided tour every Monday, Wednesday and Friday at 1pm.
If you need a break from the imperial charming and renaissance paintings, your best bet is to head down to the Hundertwasser House. This contemporary landmark built in the 20th century is a concept of expressionism created by the Austrian artist Friedensreich Hundertwasser. This building brings a funky modern freestyle vibe to the imperial streets of Vienna with trees and vibrant colours complementing this giant artwork.
After walking miles exploring Vienna, you will probably need to recharge your batteries. And there is nothing better than traditional street market food! The Naschmarkt is the city's oldest street market dated back to the 16th century where you can find more than 100 stalls and restaurants serving amazing authentic food and delicatessens!
Opening Hours: Monday to Friday 6am to 9pm, Saturday from 6am to 6pm and it is closed on Sundays.
13.
Austrian National Library
Founded by the Habsburgs in 1368, the Austrian National Library is the largest library in Austria collecting a total of more than 12 million items. Within the library, you can visit several departments holding different collections. My personal favourite, the Globe Museum, houses more than 250 objects. This includes terrestrial and celestial globes, the moon and other planets as well as astronomical instruments.
The Library is located in the beautiful Hofburg so this is the perfect occasion to get more of your trip and match two visits in one!
Opening Hours: 10am to 6pm daily, closes at 9pm on Thursdays. From Oct to May, the Library closes on Mondays.
Tickets: €3 per person. For the museums, fee ranges from €4 to €8 per adult, children go for free
Calling all lovers of modern art, the moment has arrived! The Leopold Museum holds the largest Schiele collection in the world and plenty of other magnificent art exhibitions by renowned Austrian artists to see.
Opening Hours: Monday, Wednesday and Friday 10am to 6pm, late opening on Thursday till 9pm and closed on Tuesday. Jun-Jul-Aug open daily.
Tickets: From €10 to €14 per adult, student and senior tickets available.
15.
Vienna National History Museum
Last but not least, the Naturhistorisches Museum Wien won't let you down. This is the perfect place to bring children to discover the wonders of our planet. Come solo to reflect and explore more on what you know about life on Earth. Besides that, visit with friends and family to debate opinions and share views.
There are endless rooms to explore with many dinosaurs skeletons, precious stones, meteorites and rare fossils to see. On top of that, the interiors of the museum will amaze you, the main staircase is impressively beautiful. It is definitely worth visiting!
Opening Hours: Thurs to Mon 9am to 6:30pm, Wed 9am to 9pm. Closed on Tuesday.
Tickets: €12 per adult, children under 19yrs old go in for free.
Which tourist destination in Vienna interests you the most? Let us know in the comments section below!
*This article was contributed by Ines M. Silveira.