Your Guide To Chiricahua National Monument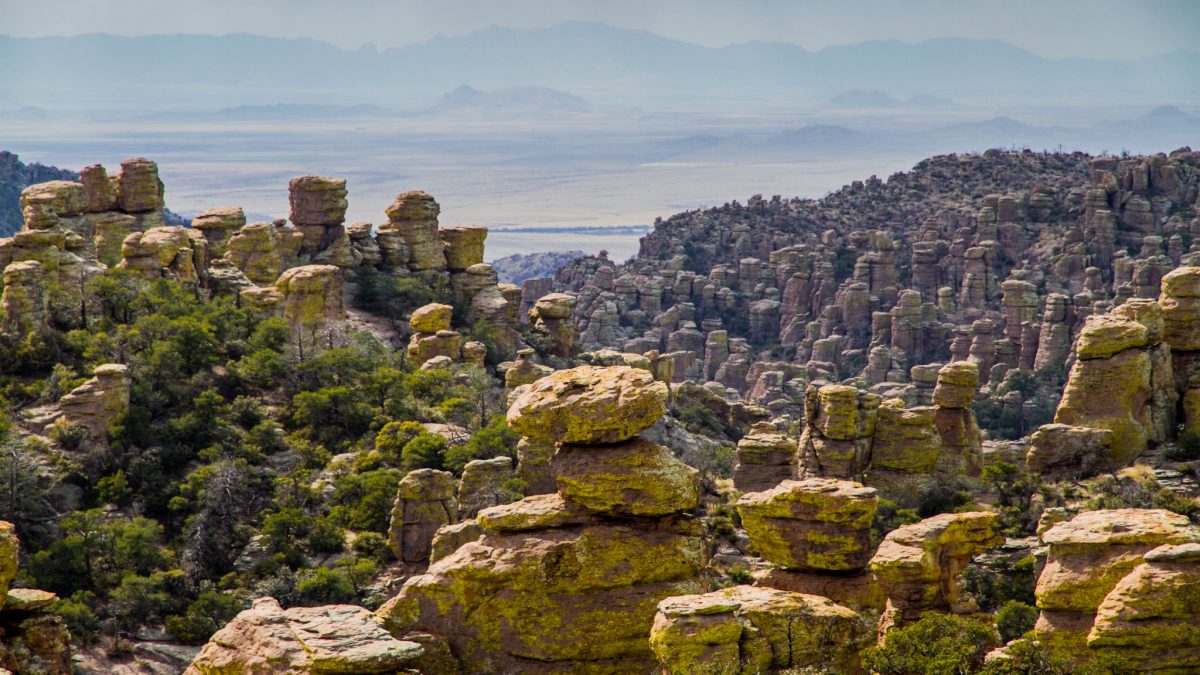 In Southeast Arizona, Chiricahua National Monument is famous for its stone hoodoos. This place has preserved the various sites for cultural interest.
Chiricahua National Monument was once known as the 'land of standing up rocks'. It is like a hidden gem of the National Park Service. During your drive to the park from the interstate, you'll be amazed to find various charismatic wildlife, mountain trees, and pinnacles. All these things make Chiricahua National Monument so eye-catching.
You can explore the natural beauty either on foot or by vehicle. An adventure and journey start here.
Directions To Chiricahua National Monument
This park may be off the beaten path, but the journey here is worth it. You can reach the Chiricahua National Monument in various ways.
By Car
Chiricahua National Monument is located 120 miles southeast of Tucson and 110 miles west and south of Lordsburg. If you are travelling by car, make sure to get gas as you will not get gasoline nearby.
There is limit set for vehicle length. Vehicles longer than 29 feet are not allowed in the visitor centre. In the instance that it is longer than the limit, park it in the nearby parking lots.
By Plane
If you plan to reach Chiricahua National Monument is by plane, then the nearest major airports are in Phoenix and Tucson. Many rental car options are also available from the airports.
Public Transportation
No public transportation is allowed to the Chiricahua National Monument.
Hiker Shuttle
This shuttle runs between September and May. No shuttle service is available in June, July and August. It leaves the visitor centre at 9.00 am and takes hikers to the Massai Point trailheads. You are advised to sign-up for the shuttle in advance to secure a seat.
Weather At Chiricahua National Monument
At the summit of Sugarloaf Mountain, Chiricahua National Monument is an area where you can enjoy different seasons. Before making your visit plan, check the average temperature and precipitation in that region.
Things To Do At Chiricahua National Monument
A visit to Chiricahua National Monument is full of adventures as it offers something to everyone. Various outdoor activities like wildlife viewing, star gazing, picnicking and day hiking, etc. can be performed in the mild climate of this park.
Silver Spur Meadow Trailhead
A hiking way from the visitor centre to Faraway Ranch Historic District helps you in discovering the human activities in the nearby area.
Natural Bridge Trailhead
Get access to this trailhead, a one-way hike from Bonita Canyon Drive for the 2-4 mile.
Echo Canyon Trailhead
From this point, you can have access to wilderness trails. There are several trails available for you to explore the rock formations in the park.
Short hike: Take the Echo Canyon Trail to the Echo Canyon Grottoes. This is a 0.8-mile round trip hike.
Medium hikes: Go from Echo Canyon Trail to the Hailstone Trail, followed by the Ed Riggs Trail. This is a 3.3-mile round trip hike.
Long hikes: Choose the network of trails from Echo Canyon Trailhead to the visitor centre, passing by iconic formations in the park. This is a 7.3-mile one-way hike.
Sugarloaf Trailhead
In this 1-mile trail to the top of the Sugarloaf Mountain, climbing is over 450 feet in elevation. After the hike, you can find a fire lookout tower at the trail end.
Faraway Ranch was home to Swedish immigrants, who promoted the establishment of the Chiricahua National Monument. The existing buildings are restored to their original appearances according to personal recounts and photographic records. You can join guided tours and discover more about the historical records and human activities yourself!
Visitors can picnic in the Chiricahua National Monument as there are trash cans, tables, and restrooms. However, the officials prohibit picnics in the Bonita Canyon area.
4.
Bonita Canyon Scenic Drive
Cypress, oak and pine forests are available to make Chiricahua National Monument a perfect place for a picnic. Mountain peaks, valleys and the Rhyolite Canyon can be viewed from this place.
Take a ride on the horses as they bring you to breathtaking views in the park. You can get proper information about group size limits and various guidelines for trail etiquette.
Camping At
Chiricahua National Monument
Many sites are available for visitors near Chiricahua National Monument and you can book your visit there online. March and April are the busiest months as visitors love to explore the beauty of this area in these months.
Campsite Reservations For Camping
You can reserve for camping in Chiricahua National Monument at any time as services are available 24 hours. Currently, the camping fee is $20 per site.
Regulations For Camping
Please read the instructions for a better experience during your visit to Chiricahua National Monument.
The maximum length for a motorhome is 29 feet.
There is a special place for people with disabilities, at site #8. Electricity is available only for medical use.
The maximum stay in the campsite of Chiricahua National Monument is limited to 14 days.
The capacity of each campsite is 8 people and 2 vehicles. You are allowed to set up two tents per site with the permission of the campground host. But use tent pads while setting tents.
Quiet hours are from 8 pm to 8 am, when no generator can be used.
Sites should not be left unattended for more than 24 hours.
Fires are only allowed in fire pit which must be at least six inches off the ground.
Regulations For Food Storage
Store all pet items, food, cooking appliances that can attract wildlife, in a hard-sided vehicle. If you don't have a vehicle, then all these things must be stored in a food locker.
Never burn waste products near the camp.
Use bear-proof trash cans for garbage.
Camping In Bear Country
Don't try to approach wild animals because it can be dangerous.
Don't let children play outdoors away from you.
Keep an eye on your pets. Otherwise, wild animals will be attracted towards them and you may lose your pet.
Giving human food to wild animals is prohibited because it is harmful to them.
If you find any bears, report it to the nearest visitor centre staff.
Group Camping
In the group site #26, a maximum of 24 people is allowed with 8 tents. Trailers are prohibited in Chiricahua National Monument. Each individual has to pay $3 as a fee for group campsite. Visitors can reserve the group site online at any time.
Preparation Before Visiting The Chiricahua National Monument
Vehicles longer than 29 feet are not allowed beyond the visitor centre.
Because there are no restaurants nearby, bring your own snacks and drinks.
There is no nearby gas station so check your gas gauge in advance.
Safety Tips To Make Your Visit Memorable
Park your vehicles only in designated areas.
Don't leave food for animals because it is unhealthy for them.
Officials only allow pets in certain areas of the park. This is not only for the safety of your pets and but also the protection of wildlife. Enquire in advance in which areas you are allowed to take your pet.
Don't leave pets unattended in the area of Chiricahua National Monument.
Bring along water, a map, and sturdy shoes, etc. Sunglasses, sunscreen, and a hat are also recommended for warm weather hiking.
As elevation can cause nausea, headache or tiredness, keep your first aid with you while visiting Chiricahua National Monument.
Now you're all set to explore the grounds of the Chiricahua National Monument!
Here are other beautiful national parks in Arizona, USA!