Seattle Travel Itineraries For Couples, Foodies & Active Persons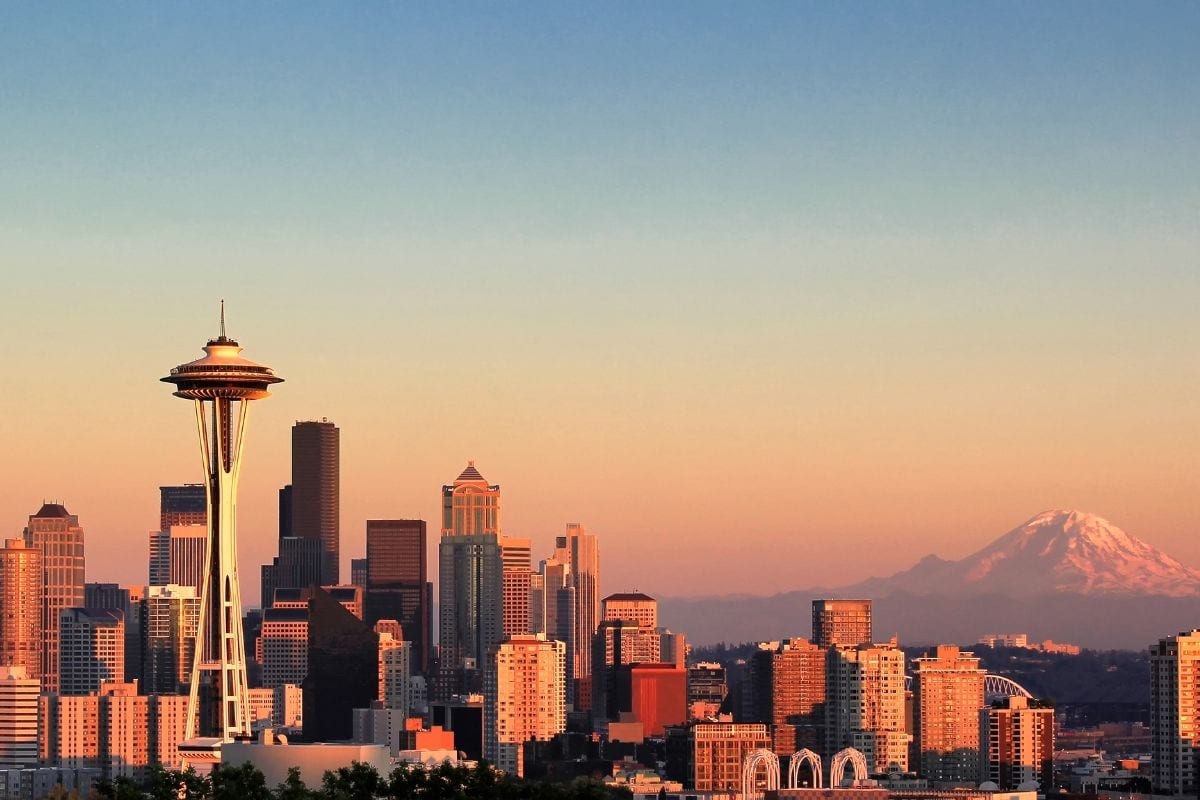 Couple Itinerary
Seattle, Washington, is a vibrant and romantic city that offers a wide range of activities for couples to enjoy. Whether you're looking for relaxation, adventure, or a mix of both, Seattle has something for every couple. Here is a curated itinerary to help you make the most of your time together in this beautiful city.
Day 1: Exploring the City
Start your day with a leisurely stroll along the Seattle waterfront. Take in the stunning views of Elliott Bay, admire the iconic Space Needle, and stop by the Pike Place Market to indulge in some local delicacies.
Afterward, head to the Seattle Art Museum to immerse yourselves in the world of art. From contemporary masterpieces to ancient artifacts, the museum offers a diverse collection that is sure to captivate both of you.
In the evening, treat yourselves to a romantic dinner at one of the city's top restaurants. Consider options like Canlis, known for its fine dining and stunning views, or the intimate and cozy Altura. End the night with a moonlit walk at Kerry Park, where you can enjoy panoramic views of the city skyline.
Day 2: Nature and Adventure
Embark on a day trip to explore the beauty of the surrounding area. Drive out to Olympic National Park, known for its lush rainforests, awe-inspiring mountains, and breathtaking coastal vistas. Take a hike along one of the many trails, picnic by a crystal-clear lake, or simply soak in the tranquility of nature together.
In the evening, return to Seattle and take a sunset cruise on Elliott Bay. Enjoy the stunning views of the city skyline as the sun sets over the water. Sip on champagne, hold hands, and revel in each other's company as you cruise along the serene waters.
Day 3: Wine Tasting and Relaxation
Head out to Woodinville Wine Country, located just a short drive from Seattle. This picturesque region is home to over 100 wineries and tasting rooms, making it a perfect destination for wine-loving couples. Spend the day exploring the vineyards, sipping on award-winning wines, and indulging your taste buds.
Afterward, pamper yourselves with a couples' spa treatment at one of Seattle's luxury spas. Relax and rejuvenate with massages, facials, and other decadent treatments designed to melt away any stress and leave you feeling pampered and rejuvenated.
In the evening, enjoy a romantic dinner at one of Seattle's waterfront restaurants. Savor delicious seafood while enjoying the views of the shimmering waters. End the night with a romantic stroll along Alki Beach, where you can watch the moonlight dance on the waves and make lasting memories together.
Seattle offers endless opportunities for couples to create beautiful memories together. Whether you're exploring the city, immersing yourselves in nature, or indulging in gastronomic delights, this romantic itinerary ensures that your time in Seattle will be nothing short of unforgettable.
Foodie Itinerary
Seattle is a culinary haven, with a diverse food scene that caters to all palates and preferences. From fresh seafood to international cuisines and innovative fusion dishes, the city has something for every foodie. Here's a food-centric itinerary to satisfy your taste buds during your trip to Seattle.
Day 1: Pike Place Market and Local Favorites
Start your foodie adventure at the iconic Pike Place Market, where you'll find an array of vendors offering fresh produce, artisanal cheeses, and delicious local specialties. Sample a variety of treats such as freshly shucked oysters, chowder, and mouthwatering pastries.
For lunch, head to one of Seattle's famous food truck parks, such as Fremont Sunday Market or South Lake Union's Food Truck Round-Up. Explore the different options and indulge in a variety of cuisines, from Mexican tacos to Thai street food.
In the evening, treat yourself to a delightful dinner at a renowned restaurant in Seattle. Check out Canlis for a fine dining experience and panoramic city views, or try the innovative and flavorful dishes at The Walrus and the Carpenter.
Day 2: International Flavors
Seattle is a melting pot of cultures, and you can explore its international flavors on this day. Start with a visit to the International District, also known as Chinatown. Sample authentic dim sum, Peking duck, and other Chinese delicacies at one of the many restaurants in the area.
For lunch, head to Little Saigon, where you'll find a variety of Vietnamese eateries. Try a traditional banh mi sandwich or indulge in a hearty bowl of pho.
In the evening, explore Capitol Hill and its vibrant food scene. Dine at a trendy fusion restaurant like Stateside, where you can savor the flavors of Southeast Asia combined with Pacific Northwest ingredients. Finish off the night with artisanal cocktails at one of the neighborhood's stylish bars.
Day 3: Farm-to-Table and Craft Beer
Explore the concept of farm-to-table cuisine in Seattle. Start your day with a visit to a local farmers market, such as the University District Farmers Market or Ballard Farmers Market. Immerse yourself in the vibrant atmosphere and sample fresh produce, artisan cheeses, and locally sourced products.
For lunch, visit a farm-to-table restaurant, such as Tilth or The Herbfarm. Indulge in dishes crafted with seasonal ingredients, sourced directly from local farms and producers.
In the evening, explore Seattle's vibrant craft beer scene. Visit microbreweries and taprooms in Ballard or Fremont, and sample a variety of locally crafted beers. Pair your beer tasting with delicious bar bites from food trucks or gastropubs in the area.
Seattle offers a gastronomic adventure for food enthusiasts. From exploring local markets and international flavors to indulging in farm-to-table cuisine and craft beer, this foodie itinerary will take you on a culinary journey through the vibrant and diverse food scene of the city.
Active Itinerary
Seattle is an active city, offering a plethora of outdoor activities and adventures for those seeking an active and energetic itinerary. From hiking to kayaking and biking, there are plenty of opportunities to get your adrenaline pumping while exploring the natural beauty of the Pacific Northwest. Here's an active itinerary to make the most of your time in Seattle.
Day 1: Urban Exploration and Biking
Start your day with an urban exploration of Seattle by renting bicycles and riding along the city's scenic bike paths. Pedal through popular neighborhoods like Ballard, Fremont, and Capitol Hill, taking in the sights and sounds of the city while enjoying a dose of exercise.
For lunch, grab a quick bite at one of the food truck parks or local eateries along your biking route. Sample delicious street food or freshly made sandwiches to refuel before continuing your active day.
In the afternoon, head to Discovery Park, located in the Magnolia neighborhood. This expansive park offers miles of walking trails, stunning views of Puget Sound, and opportunities for bird-watching. Take a leisurely hike to the lighthouse or explore the beach and tide pools.
Day 2: Water Adventures
Seattle is surrounded by water, making it the perfect destination for water-based activities. Start your day by kayaking on Lake Union or Puget Sound. Paddle along the shoreline, taking in the beautiful scenery and enjoying the tranquility of the water.
For lunch, pack a picnic and head to Alki Beach, where you can relax and enjoy your meal while soaking up the sun. Afterward, take a refreshing dip in the water or try your hand at paddleboarding.
In the afternoon, embark on a whale-watching tour from the nearby San Juan Islands. Observe majestic orcas and other marine wildlife in their natural habitat, creating unforgettable memories and a deep appreciation for the natural wonders of the Pacific Northwest.
Day 3: Mountain Adventure
Explore the breathtaking beauty of the nearby mountains on your final day. Take a day trip to Mount Rainier National Park, where you can hike along scenic trails, spot wildlife, and marvel at the magnificent glaciers and waterfalls.
For lunch, pack a hearty picnic and find a scenic spot to enjoy your meal surrounded by nature. Breathe in the fresh mountain air and take in the panoramic views as you refuel for more adventures.
In the afternoon, challenge yourself with a thrilling zip-lining experience in the nearby foothills. Feel the rush as you zip through the trees and soar above the forest canopy, enjoying an exhilarating and unforgettable adventure.
Seattle is a haven for outdoor enthusiasts, offering a wide range of activities to keep you active and engaged throughout your visit. From urban biking to water adventures and mountain excursions, this active itinerary guarantees an unforgettable and exhilarating experience in the Emerald City.