What To Do In San Francisco When You Visit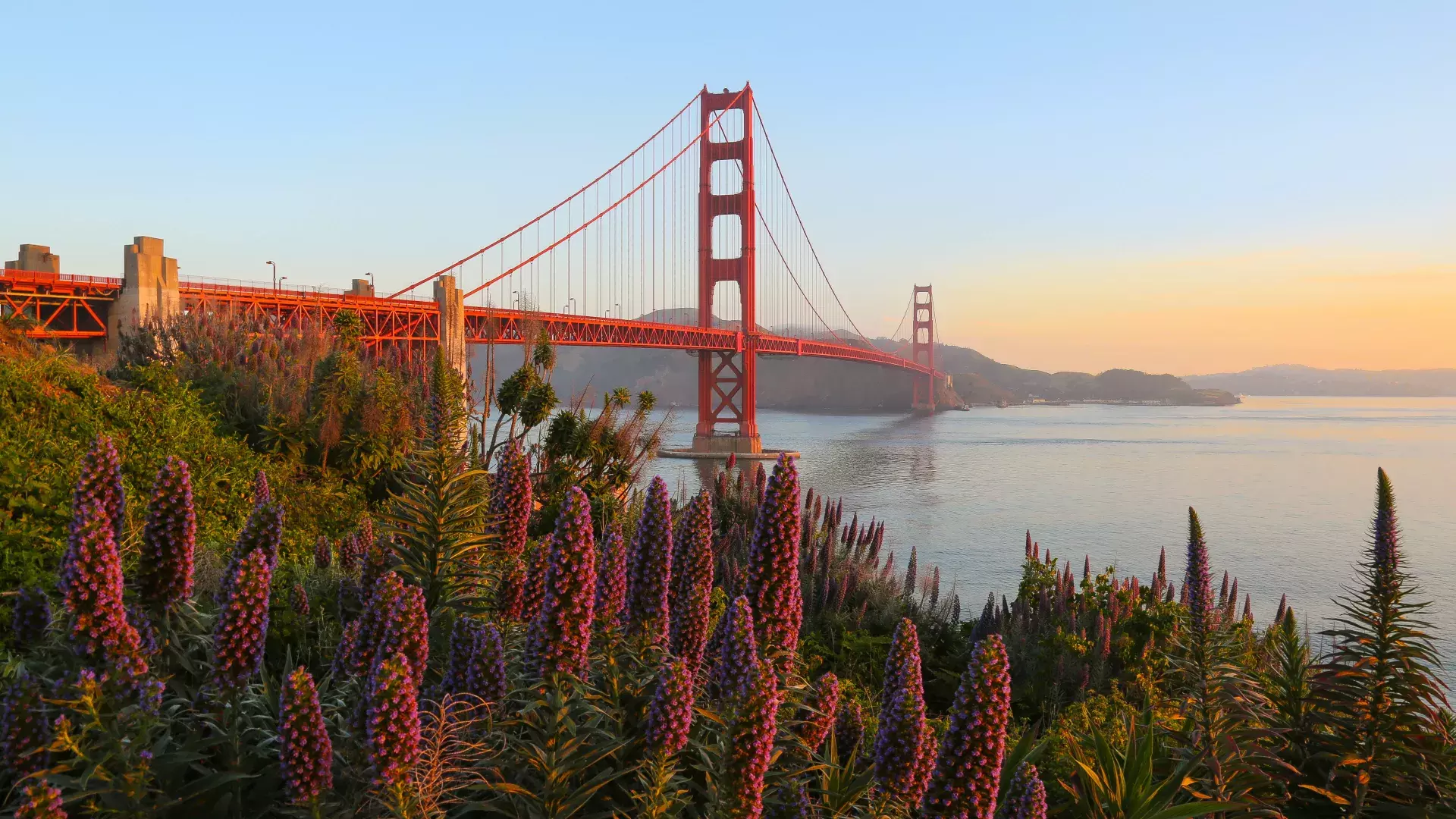 Introduction
Welcome to the beautiful city of San Francisco, where stunning landscapes, rich culture, and a vibrant atmosphere await you. As one of the most popular destinations in California, San Francisco offers a diverse range of experiences for visitors from all walks of life. Whether you're a history enthusiast, a food lover, an art aficionado, or an outdoor adventurer, this city has something to offer everyone.
Known for its iconic landmarks, such as the Golden Gate Bridge and Alcatraz Island, San Francisco is a city that seamlessly blends natural beauty with modern urban living. The city's unique geography, characterized by its rolling hills and breathtaking coastline, provides a picturesque backdrop for countless adventures and exploration.
Getting around San Francisco is a breeze, thanks to the city's efficient public transportation system. The iconic cable cars, buses, and historic streetcars make navigating the city a memorable experience in itself. Whether you choose to explore the city on foot, by bike, or by taking advantage of the public transportation options, you'll easily be able to access the many attractions and neighborhoods that make San Francisco so special.
From the famous Fisherman's Wharf to the historic Chinatown, San Francisco is filled with landmarks that are not only visually appealing but also hold significant cultural and historical importance. The city's eclectic architecture, influenced by various periods and styles, adds to its charm. The famous Victorian houses, including the Painted Ladies, are a sight to behold and a testament to the city's architectural legacy.
However, San Francisco is not just about landmarks and history. The city is also a haven for food enthusiasts, boasting an incredible culinary scene that combines diverse flavors from around the world. From seafood delicacies sourced from the nearby Pacific Ocean to innovative fusion creations, San Francisco's food culture is sure to delight even the most discerning palates.
For those interested in immersing themselves in the local culture and art scene, San Francisco offers a vibrant array of options. The city is home to numerous world-class museums, galleries, and theaters that showcase both contemporary and classic works. Whether you're interested in traditional art, modern installations, or live performances, you'll find an abundance of cultural experiences to indulge in throughout the city.
If outdoor activities and recreation are calling your name, San Francisco has plenty to offer in that regard as well. With numerous parks, including the iconic Golden Gate Park and Presidio, outdoor enthusiasts have ample opportunities to hike, bike, and enjoy picnics amidst stunning natural landscapes. The nearby coastal areas and beaches are perfect for surfing, paddleboarding, or simply soaking up the sun.
Shopping enthusiasts will also find themselves in retail heaven in San Francisco. From high-end designer boutiques to unique independent stores, there's a shopping experience for every taste and budget. The city also hosts a variety of local markets and artisanal shops where you can find one-of-a-kind treasures and locally made goods.
When the sun sets, San Francisco comes alive with a vibrant nightlife and entertainment scene. From trendy bars and clubs to live music venues and theaters, there's always something happening in the city after dark. Whether you're looking for a relaxed evening of cocktails or want to dance the night away, San Francisco has a diverse range of options to cater to all preferences.
For those who want to venture beyond the city limits, San Francisco is a gateway to numerous day trips and excursions. From wine tasting in Napa Valley to exploring the stunning coastal landscapes of Big Sur, there are endless opportunities to experience the beauty of Northern California.
Before embarking on your San Francisco adventure, it's always helpful to keep a few practical tips in mind. The city's weather can be quite unpredictable, so it's advisable to dress in layers and be prepared for sudden changes. Additionally, be sure to prioritize safety and be cautious of your surroundings, especially in crowded tourist areas.
With its unique blend of natural wonders, cultural experiences, and urban delights, San Francisco offers a memorable experience for every visitor. Whether you're a first-time traveler or a frequent visitor, this vibrant city will capture your heart and leave you wanting to come back for more.
Getting Around San Francisco
Getting around San Francisco is a breeze, thanks to the city's efficient public transportation system and pedestrian-friendly layout. Whether you're exploring the city's iconic landmarks or venturing into its diverse neighborhoods, there are several convenient options available to make your journey smooth and enjoyable.
One of the most iconic features of San Francisco's transportation system is its historic cable cars. These charming, vintage vehicles provide a distinctive way to traverse the city's hilly terrain while offering stunning views of the surroundings. Riding a cable car is not only a means of transportation but also a quintessential San Francisco experience that shouldn't be missed.
If you prefer a more traditional mode of public transportation, the city's bus network is extensive and covers almost every corner of San Francisco. The buses are an affordable and reliable way to explore the city, with routes that connect major attractions, neighborhoods, and residential areas. Be sure to check the schedules and plan your trips accordingly, as some buses may have reduced services during off-peak hours.
In addition to cable cars and buses, San Francisco also offers a light rail system known as the Muni Metro. This underground and surface-level rail system provides quick and convenient transportation along several routes, including downtown, the waterfront, and neighborhoods like the Castro and Sunset.
For those looking for a more eco-friendly and active way to get around, San Francisco is a bike-friendly city with numerous bike lanes and rental options available. Exploring the city on a bike allows you to cover more ground and gives you the freedom to discover hidden gems and scenic routes. Just be prepared for the city's steep hills and make sure to wear a helmet for your safety.
If you prefer to explore on foot, San Francisco's compact size and pedestrian-friendly streets make it an ideal city for walking. Many of the city's major attractions, such as Fisherman's Wharf, Union Square, and Chinatown, are within walking distance of each other. Exploring on foot allows you to soak in the city's unique charm at your own pace and stumble upon hidden gems along the way.
Another popular option for getting around San Francisco is to use ride-hailing services like Uber and Lyft. These mobile applications allow you to easily request a car and be driven to your desired destination. They offer convenience and flexibility, especially if you're traveling in a group or carrying heavy bags.
Finally, if you plan on venturing outside of San Francisco or exploring the surrounding areas, renting a car can be a practical option. Having a car gives you the freedom to explore at your own pace and visit nearby attractions such as the Muir Woods or the wine country in Napa Valley. However, keep in mind that parking in the city can be challenging and expensive, so it's advisable to check parking options and fees in advance.
Whether you choose to hop on a cable car, catch a bus, pedal your way through the city, or simply explore on foot, getting around San Francisco is a seamless experience. With its efficient public transportation system and options catered to different preferences, you'll have no trouble navigating the city and discovering its many wonders.
Exploring the City's Landmarks
San Francisco is a city renowned for its iconic landmarks that have become synonymous with the city's identity. From the majestic Golden Gate Bridge to the historic Alcatraz Island, there are numerous must-visit landmarks that showcase the beauty and history of the city.
One of the most recognizable symbols of San Francisco is the Golden Gate Bridge. Spanning 1.7 miles across the Golden Gate Strait, this suspension bridge is an architectural marvel and offers breathtaking views of the city skyline, the Pacific Ocean, and the surrounding natural landscapes. You can walk or bike across the bridge or simply admire it from viewpoints like the Golden Gate Bridge Welcome Center or Baker Beach.
Another historical landmark worth exploring is Alcatraz Island. Once a notorious federal prison, it now serves as a popular tourist destination. Take a ferry ride from Fisherman's Wharf and embark on a guided tour to learn about the island's captivating history and hear stories of infamous inmates like Al Capone. The view of the San Francisco skyline from Alcatraz is a sight to behold.
Fisherman's Wharf is not only the gateway to Alcatraz but also a landmark in itself. This bustling waterfront neighborhood is a vibrant hub of activity, bustling with seafood restaurants, souvenir shops, and street performers. Sample clam chowder in a sourdough bread bowl, watch the sea lions at Pier 39, or take a scenic cruise along the bay. It's a lively place to soak up the lively atmosphere and enjoy panoramic views of the bay.
No trip to San Francisco is complete without a visit to Chinatown. Explore the vibrant streets lined with colorful lanterns, traditional shops, and delicious eateries. The ornate Dragon Gate marks the entrance to the neighborhood, and once inside, you can find traditional Chinese temples, herbal shops, and the bustling Grant Avenue. Take a moment to appreciate the rich heritage and immerse yourself in the cultural experience.
The Painted Ladies are another eye-catching landmark in San Francisco. These Victorian houses, with their unique and colorful facades, are an iconic image synonymous with the city. Located near Alamo Square Park, they offer a picturesque view of the city skyline as a backdrop. Don't forget to capture a classic San Francisco postcard shot from the vantage point of the park.
For history buffs, a visit to the Palace of Fine Arts is a must. Built for the 1915 Panama-Pacific Exposition, this Greco-Roman-inspired structure is now a popular spot for photography, picnics, and leisurely strolls. The tranquil lagoon and the grand rotunda provide a serene and picturesque setting that transports you back in time.
Other notable landmarks in San Francisco include the Coit Tower, an Art Deco tower offering panoramic views of the city; Lombard Street, famously known as the "crookedest street in the world," with its picturesque curves and stunning gardens; and the Transamerica Pyramid, an architectural symbol of San Francisco's skyline.
Exploring the city's landmarks not only offers the opportunity to marvel at its architectural wonders but also reveals the rich history and cultural heritage of San Francisco. From the iconic Golden Gate Bridge to the historic Alcatraz Island and beyond, these landmarks shape the unique charm and character of the city.
Enjoying the Culinary Delights
San Francisco is a food lover's paradise, offering a diverse and innovative culinary scene that draws inspiration from all corners of the globe. From fresh seafood sourced from the nearby Pacific Ocean to flavorful creations crafted by talented chefs, the city is a hub for gastronomic exploration.
One iconic aspect of San Francisco's culinary scene is its seafood. Head to Fisherman's Wharf or the Embarcadero and indulge in the city's renowned Dungeness crab, clam chowder, or fresh oysters. Enjoy a seafood feast while overlooking stunning views of the bay, or opt for a casual fish and chips meal by the waterfront.
The city is also famous for its sourdough bread, a tangy and crusty bread that has become synonymous with San Francisco. Visit traditional bakeries like Boudin Bakery or Tartine Bakery to taste this local specialty in various forms, from classic loaves to artisanal sandwiches.
San Francisco's culinary scene goes well beyond seafood and bread. The city boasts a diverse range of cuisines influenced by its multicultural population. In the Mission District, indulge in flavorful and authentic Mexican dishes, from mouthwatering tacos to delicious burritos. Chinatown offers a wealth of options for dim sum, Peking duck, and other traditional Chinese delicacies.
For those seeking innovative and contemporary flavors, San Francisco is home to numerous Michelin-starred restaurants and trendy eateries. The city has become a hub for culinary experimentation, with chefs pushing boundaries and creating unique dining experiences. Discover hidden gems in neighborhoods like the Castro, the Fillmore, or North Beach, where you'll find hidden restaurants serving up inventive cuisine.
Farm-to-table dining is also popular in San Francisco, with many restaurants sourcing ingredients from local farmers and emphasizing sustainable practices. Visit farmers' markets, such as the Ferry Building Farmers Market, to sample the freshest local produce and artisanal products.
No culinary journey in San Francisco is complete without exploring the city's vibrant food truck scene. These mobile eateries offer a wide array of options, from gourmet burgers to fusion cuisine, and can be found in popular spots like SoMa or the Presidio. Grab a delicious meal-on-the-go and enjoy the city's street food culture.
San Francisco is also known for its thriving coffee culture. The city boasts numerous specialty coffee shops, where talented baristas craft artisanal brews using carefully selected beans. Explore neighborhoods like the Mission or Hayes Valley to find the perfect spot to sip on a velvety latte or indulge in a pour-over coffee.
Don't forget to save room for dessert! Satisfy your sweet tooth with San Francisco's famous Ghirardelli chocolate or indulge in a scoop of artisanal ice cream from Bi-Rite Creamery. The city is also home to a thriving craft beer scene, with plenty of local breweries offering unique and flavorful brews to quench your thirst.
Whether you're sampling seafood by the bay, savoring authentic ethnic cuisine, or indulging in cutting-edge gastronomy, San Francisco offers a culinary adventure like no other. The city's diverse flavors and culinary traditions make it a food lover's dream destination.
Experiencing the Vibrant Culture and Art Scene
San Francisco is a city renowned for its vibrant and diverse culture, offering visitors a rich tapestry of art, music, theater, and festivals to explore and enjoy. From world-class museums to street art, the city provides a cultural experience that captivates and inspires.
One of the highlights of the art scene in San Francisco is the San Francisco Museum of Modern Art (SFMOMA). This world-renowned museum showcases a vast collection of modern and contemporary art, including works by renowned artists such as Frida Kahlo, Andy Warhol, and Jackson Pollock. With its thought-provoking exhibitions and stunning architecture, SFMOMA is a must-visit for art enthusiasts.
Another essential stop for art lovers is the de Young Museum. Located in Golden Gate Park, this institution houses an impressive collection of American art from the 17th through the 21st centuries, as well as art from Africa, Oceania, and the Americas. The de Young Museum is not only known for its extensive art collection but also for its striking architecture, which offers panoramic views of the surrounding park and city.
If you're more interested in contemporary and experimental art, head to the Contemporary Jewish Museum or the Museum of the African Diaspora. These museums showcase thought-provoking exhibitions that explore cultural and societal themes through the lens of contemporary art.
Beyond traditional museums, San Francisco's art scene extends to its streets, with vibrant murals and street art adorning neighborhoods like the Mission District and the Lower Haight. Take a stroll through these areas to discover colorful and captivating works of art that tell stories of the city's history, culture, and social issues.
In addition to visual arts, San Francisco also boasts a thriving theater and performing arts scene. The American Conservatory Theater (ACT) is a renowned theater company that stages a diverse range of productions, from classic plays to contemporary performances. Catch a show at the historic Curran Theatre or the Orpheum Theatre to experience the city's vibrant theater culture.
For music enthusiasts, San Francisco offers an array of live music venues that cater to all genres and tastes. From iconic venues like The Fillmore and The Warfield to smaller intimate spaces like The Independent and Great American Music Hall, there's always a concert or performance happening somewhere in the city. Take the opportunity to experience the energy and talent of both well-established musicians and local emerging artists.
The cultural experience in San Francisco extends to the city's numerous festivals and celebrations. The San Francisco International Film Festival, held annually, showcases a diverse selection of films from around the world. The Carnaval San Francisco parade and festival celebrates the city's rich multicultural heritage with colorful costumes, lively music, and vibrant dancing.
As a city known for embracing diversity, San Francisco hosts Pride events that celebrate the LGBTQ+ community with a vibrant parade, parties, and cultural events. The Chinese New Year Parade, considered the largest celebration of its kind outside of Asia, takes place each spring, filling the streets with colorful floats, lion dancers, and fireworks.
Immerse yourself in the vibrant cultural and art scene of San Francisco, and you'll discover a city that pulses with creativity, expression, and celebration.
Outdoor Activities and Recreation
San Francisco's stunning natural landscapes and temperate climate make it an ideal destination for outdoor enthusiasts. From hiking trails with breathtaking views to scenic parks and coastal adventures, the city offers a plethora of outdoor activities and recreational opportunities.
One of the most iconic outdoor destinations in San Francisco is Golden Gate Park. Spanning over 1,000 acres, this urban oasis offers a variety of activities for visitors of all ages. Explore the park's beautiful gardens, including the Japanese Tea Garden and the Conservatory of Flowers. Rent a paddleboat or go for a leisurely bike ride along the park's paths. You can even visit the California Academy of Sciences, an acclaimed science museum that features a living roof, an aquarium, and a rainforest exhibit.
For those seeking a more adventurous experience, head to Lands End, a rugged coastal park located at the northwest corner of the city. Hike along the picturesque trails that wind through cypress and eucalyptus forests, leading you to breathtaking vistas of the Pacific Ocean and the iconic Golden Gate Bridge. Explore the Sutro Baths ruins, once a grand bathhouse complex, and enjoy the stunning views from the scenic lookout points.
If you're looking for a unique outdoor activity, consider biking across the Golden Gate Bridge. Rent a bike and embark on a memorable journey that takes you from San Francisco to the charming seaside town of Sausalito. Enjoy panoramic views of the city skyline, the bay, and the bridge itself as you pedal across this architectural marvel. Once in Sausalito, explore the charming waterfront and take a ferry back to San Francisco.
San Francisco's location also provides access to beautiful beaches and coastal areas. Ocean Beach, located on the western edge of the city, stretches for miles and is perfect for taking a leisurely stroll, flying a kite, or watching the surfers catch waves. Baker Beach offers a stunning view of the Golden Gate Bridge and is a popular spot for picnics and sunsets. For a more secluded beach experience, visit the tranquil and picturesque Marshall's Beach.
Outdoor enthusiasts will find paradise within reach as San Francisco is surrounded by natural wonders. Take a day trip to Muir Woods National Monument, a majestic forest filled with towering ancient redwood trees. Hike among these giants and experience the tranquility of nature. For breathtaking coastal landscapes, visit Point Reyes National Seashore, which offers stunning views, hiking trails, and opportunities for wildlife spotting.
For thrill-seekers, windsurfing and kiteboarding in the waters of the San Francisco Bay can provide an exhilarating experience. Crissy Field, located near the Golden Gate Bridge, is a popular spot for these water sports. Lessons and equipment rentals are available for those looking to give it a try.
San Francisco also has a vibrant community of runners and fitness enthusiasts, with numerous running routes, parks, and outdoor fitness classes available. Lace up your running shoes and take a jog along the Embarcadero, a waterfront path that offers stunning views of the bay and passes by the iconic Ferry Building. Join an outdoor yoga class in one of the city's parks or take part in a boot camp session, combining fitness and fresh air.
Whether you're seeking a leisurely stroll in a park, an adrenaline-pumping adventure, or simply the chance to soak in the natural beauty of the surroundings, San Francisco has countless opportunities for outdoor activities and recreation that will leave you feeling invigorated and connected to nature.
Shopping in San Francisco
San Francisco is a haven for shopping enthusiasts, offering a diverse range of shopping experiences that cater to every taste and budget. From designer boutiques to eclectic markets, the city provides a wealth of options for fashionistas, art collectors, and souvenir hunters.
The Union Square area is the heart of San Francisco's shopping scene and home to a myriad of high-end designer stores. Luxury brands such as Chanel, Gucci, and Louis Vuitton line the streets, making it an ideal destination for indulging in upscale fashion and accessories. Explore the multi-story department stores like Neiman Marcus and Saks Fifth Avenue or venture into nearby Maiden Lane for boutique shopping and European-inspired ambiance.
For those seeking unique and independent boutiques, neighborhoods like Hayes Valley, Fillmore Street, and Valencia Street in the Mission District are a shopper's paradise. Here, you'll find a mix of local designers, vintage shops, and one-of-a-kind stores that showcase the city's unique style. Discover hidden gems, trendy clothing, and accessories that reflect the local fashion scene.
San Francisco is also known for its thriving artisanal and craft markets where you can find locally-made goods. The Ferry Building Marketplace hosts a variety of artisan food vendors, independent bookshops, and shops specializing in gourmet products. The Renegade Craft Fair, held annually, brings together talented artists and makers to showcase their handmade creations.
If you're looking for a more eclectic and bohemian shopping experience, head to the Haight-Ashbury neighborhood. This iconic neighborhood, famous for its role in the 1960s counterculture movement, offers a mix of vintage clothing stores, record shops, and quirky boutiques. It's the perfect place to find unique clothing, accessories, and retro collectibles.
San Francisco's Chinatown is not only a cultural destination but also a vibrant shopping district. Explore the bustling streets filled with shops selling unique trinkets, traditional Chinese goods, and exotic herbs. Don't miss the chance to visit the oldest and largest Chinese antique store in the city, Gump's, which offers a curated collection of Asian-inspired home decor and jewelry.
For book lovers, San Francisco boasts numerous independent bookstores that cater to every literary taste. City Lights Books in North Beach is a historic landmark that played an integral role in the Beat Generation. Browse its shelves overflowing with poetry, literature, and progressive titles. Green Apple Books in the Inner Richmond is another beloved spot for bookworms, offering an extensive selection of new and used books in a cozy setting.
San Francisco is also known for its Sunday farmers' markets, offering a variety of fresh produce, artisanal products, and local crafts. The Alemany Farmers' Market, held since 1947, is one of the oldest and largest farmers' markets in the city and is an ideal place to soak up the local atmosphere while shopping for organic fruits, vegetables, and other treats.
Whether you're on the hunt for high-end fashion, unique local designs, artisanal goods, or charming souvenirs, San Francisco offers a shopping experience that caters to all tastes. So, grab your shopping bags and get ready to explore the city's diverse retail landscape.
Nightlife and Entertainment
When the sun sets, San Francisco comes alive with its vibrant nightlife and diverse entertainment options. From trendy bars and lively clubs to world-class theaters and live music venues, the city offers an array of choices to suit all tastes and interests.
The Mission District is known for its hip and eclectic nightlife scene. Dive into the neighborhood's energetic atmosphere and explore the numerous bars and lounges that offer unique cocktails, craft beers, and innovative mixology. Enjoy live music performances, DJ sets, and dance parties that showcase local talent and cater to a variety of musical preferences.
Hayes Valley, in addition to its boutique shopping, is home to a variety of bars and lounges that offer a stylish and sophisticated atmosphere. Sip on craft cocktails and fine wines while enjoying the neighborhood's chic ambiance. Many of these establishments also offer live jazz, acoustic performances, and other forms of entertainment to elevate your evening.
For those seeking a different kind of entertainment, San Francisco's theater scene is thriving. The Broadway-style theaters in the downtown area host popular shows and musicals that are sure to dazzle audiences. The SHN Golden Gate Theatre and the Orpheum Theatre are go-to destinations to catch touring Broadway productions.
San Francisco is also rich in comedy clubs, where you can laugh the night away with top-notch stand-up acts. Venues like The Punch Line and Cobb's Comedy Club feature a lineup of both emerging comedians and world-renowned talent. Be prepared for an evening of hilarity and memorable performances.
Live music enthusiasts will find numerous venues that cater to all genres and styles. The Fillmore is a legendary music venue that has hosted famous acts since the 1960s, while The Independent offers an intimate setting for alternative and indie bands. The Great American Music Hall, with its stunning interior, is a popular spot for diverse musical performances, spanning from jazz to rock to folk.
San Francisco's diverse LGBTQ+ community also contributes to the vibrant nightlife of the city. The Castro district is known for its lively bars and clubs that offer a welcoming and inclusive atmosphere. Enjoy drag performances, themed parties, and dance the night away at venues like The Castro Theatre or The Stud.
Another unique nightlife experience in San Francisco is the speakeasy culture. Hidden behind unassuming facades, these establishments offer a sense of nostalgia and mystery. Find your way to secret bars like Wilson & Wilson or Bourbon & Branch and indulge in crafted cocktails and a vintage ambiance.
Lastly, don't forget to explore San Francisco's annual festivals and events that offer entertainment late into the night. The Outside Lands Music and Arts Festival, held in Golden Gate Park, brings together renowned musicians, artists, and food vendors for a weekend of music, art installations, and culinary delights. The San Francisco International Film Festival showcases a variety of films from around the world, with screenings and events that continue well into the evening hours.
When it comes to nightlife and entertainment, San Francisco truly offers something for everyone. Whether you're looking for a stylish lounge, a laugh-filled comedy club, or an energetic dance floor, the city's dynamic nightlife scene is sure to keep you entertained well into the early hours of the morning.
Day Trips and Excursions
While San Francisco is a captivating city in itself, its location in Northern California also makes it a perfect base for exploring the surrounding areas. With a range of day trip options, you can venture beyond the city limits and discover the natural wonders and charming towns that await.
One of the most popular day trips from San Francisco is a visit to the idyllic Napa Valley. Known for its world-class wineries and breathtaking vineyard landscapes, Napa Valley offers the chance to taste exquisite wines and indulge in gourmet cuisine. Join a wine tour or hire a driver to explore the region's scenic beauty and enjoy the fruits of its fertile vineyards.
For those seeking rugged coastal beauty, a trip to the stunning Point Reyes National Seashore is a must. Just an hour's drive from San Francisco, this sprawling parkland offers dramatic cliffs, rolling hills, and sandy beaches. Hike along the trails to catch glimpses of wildlife, explore historic lighthouses, and take in the breathtaking views of the Pacific Ocean.
Muir Woods National Monument is another popular destination for a day trip. Just across the Golden Gate Bridge, the park is home to towering ancient redwood trees that create a serene and enchanting atmosphere. Take a leisurely stroll along the well-maintained trails and immerse yourself in the tranquility of these majestic giants.
If you're looking for a taste of coastal charm and dramatic scenery, head south to the picturesque town of Carmel-by-the-Sea and the stunning coastal drive of Big Sur. Meander along the winding Highway 1, soaking in panoramic vistas of cliffs plunging into the crashing waves below. Stop at the Bixby Creek Bridge for a photo opportunity and explore the charming shops and galleries of Carmel-by-the-Sea.
Another day trip option from San Francisco is a visit to the historic town of Sausalito. Located just across the bay, this quaint waterfront town offers stunning views of San Francisco's skyline, colorful houseboats, and charming streets lined with boutique shops and restaurants. Explore the town on foot or rent a bike to cycle along the scenic waterfront path.
If you yearn for adventure, consider a trip to Yosemite National Park. While it may require an overnight stay, the unparalleled natural beauty and iconic landmarks of Yosemite, such as Half Dome and Yosemite Falls, make it worth the longer journey. Marvel at the majestic granite cliffs, hike through breathtaking valleys, and be awed by the sheer beauty of this natural wonderland.
For a taste of history and a glimpse into California's past, a visit to the preserved Gold Rush town of Sacramento is a fascinating day trip option. Explore the Old Sacramento State Historic Park, stroll along the wooden boardwalks, and learn about the city's rich history at the various museums and historic sites.
These are just a few of the many day trip options available from San Francisco. Whether you seek natural beauty, charming towns, or historic experiences, the surrounding areas offer a diverse array of adventures to enhance your visit and create lasting memories.
Practical Tips for Visiting San Francisco
Visiting San Francisco can be an exciting and memorable experience. To make the most of your trip, here are some practical tips to keep in mind:
Bring layers: San Francisco's weather can be unpredictable, with chilly temperatures and foggy conditions even in the summer. Layer your clothing to adapt to the changing weather throughout the day.
Comfortable shoes: San Francisco is a city best explored on foot, so be sure to wear comfortable shoes for walking up and down the hilly streets.
Public transportation: The city's public transportation system is efficient and convenient, offering options like buses, historic streetcars, and cable cars. Consider purchasing a Clipper Card, a reloadable transit card that can be used on multiple modes of transportation.
Plan for the hills: San Francisco's iconic hills provide stunning views but can also be tiring to navigate. Consider taking breaks or using public transportation to navigate the steep inclines.
Be cautious of your belongings: As with any major city, be mindful of your belongings and avoid displaying valuable items. Keep an eye on your surroundings, especially in crowded tourist areas.
Parking: If you plan on driving, be aware that parking in the city can be challenging and expensive. Research parking options in advance or consider using public transportation or ride-hailing services instead.
Explore the neighborhoods: San Francisco is a city made up of unique neighborhoods, each with its own charm and character. Take the time to explore different areas, such as the Mission District, Haight-Ashbury, or North Beach, to get a taste of the city's diverse culture.
Try the local cuisine: San Francisco is a culinary hub, so don't miss the chance to indulge in the city's diverse food scene. From clam chowder in a sourdough bread bowl to international fusion dishes, there's something to satisfy every palate.
Reservations: If you have specific restaurants or attractions in mind, consider making reservations in advance, especially for popular or high-demand establishments.
Embrace the city's culture and diversity: San Francisco prides itself on its inclusivity and celebration of diversity. Embrace the unique aspects of the city's culture, from attending LGBTQ+ events to exploring its vibrant art scene.
By keeping these practical tips in mind, you'll be well-prepared to navigate the city, make the most of your time in San Francisco, and create lasting memories of your visit.
Conclusion
San Francisco is a city that captivates visitors with its breathtaking landscapes, rich culture, and vibrant atmosphere. From iconic landmarks like the Golden Gate Bridge and Alcatraz Island to its diverse culinary scene and thriving art scene, the city offers a plethora of experiences for every traveler.
Whether you're exploring the city's historic neighborhoods, immersing yourself in its diverse cultural offerings, or enjoying the outdoor activities and recreation available, San Francisco has something for everyone.
As you navigate the city, remember to take advantage of the efficient public transportation system, explore the various neighborhoods, and embrace the city's unique charm. From the hip bars and clubs to the world-class museums and theaters, you'll find endless entertainment options to suit your preferences.
Don't forget to indulge in the culinary delights of San Francisco, sampling fresh seafood, sourdough bread, and the diverse cuisine that reflects the city's multicultural heritage. And for those seeking outdoor adventure, embark on day trips to explore the nearby natural wonders, from the scenic vineyards of Napa Valley to the majestic forests of Muir Woods.
San Francisco is a city that leaves a lasting impression on visitors. It's a place where innovation, creativity, and diversity thrive, offering a unique and memorable experience that will stay with you long after you leave.
So, pack your bags, bring your sense of adventure, and get ready to delve into the vibrant energy and captivating beauty of San Francisco. It's a city waiting to be explored, with endless possibilities for discovery and enjoyment.