What To Do and See in Japantown San Francisco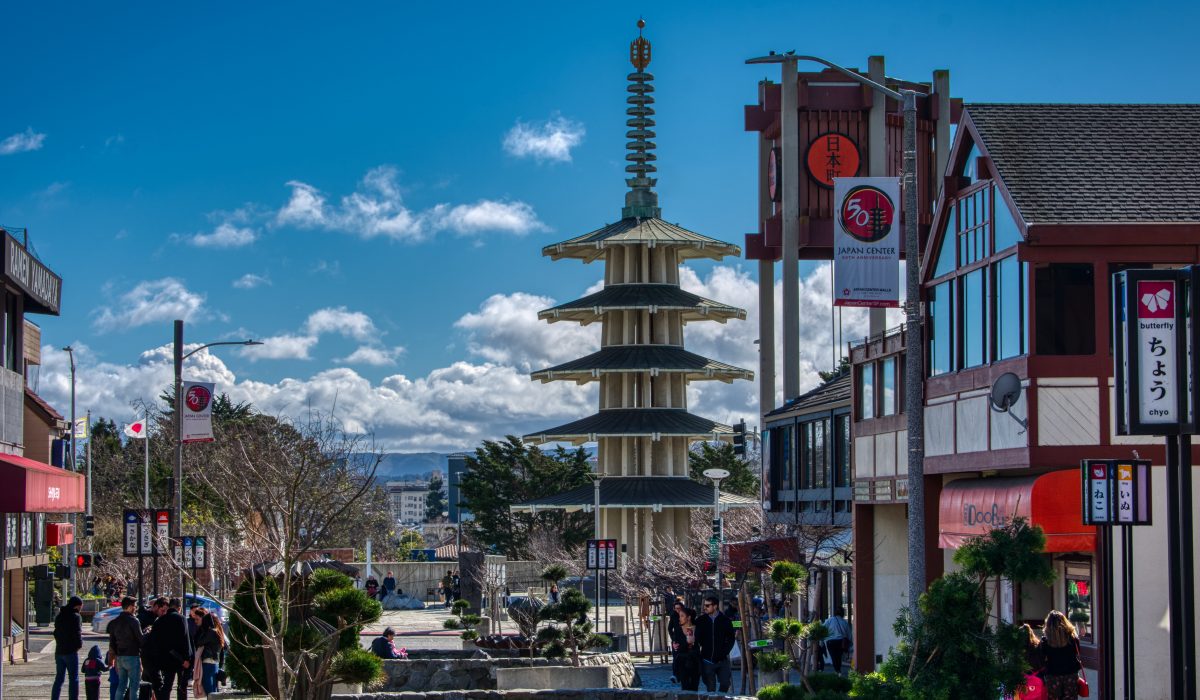 You don't need to travel to the cities in Japan in order to experience authentic Japanese culture. Japantown in San Francisco has been the focal point of the Japanese-American community in the Bay Area since 1906. Fondly dubbed as J-Town, the neighborhood is spread out six city blocks, making it the largest Japanese enclave in the United States. On top of that, it is one of three surviving Japantowns in the country – the other two being in San Jose and Los Angeles.
As you step foot onto Japantown in San Francisco's neighborhood, you'll be surrounded with restaurants, boutiques, and events that will immerse you in authentic Japanese culture. And if you feel a day isn't enough to explore the area, we found hotels near Japantown where you can stay. Discover the best ways to spend your time at Japantown with this guide!
Japantown San Francisco Shopping
1. Hang Out at the Japan Center Malls
Situated at the heart of Japantown, the Japan Center Malls in San Francisco is a shopping complex split into two buildings — the East and West Mall. Originally called the Japanese Cultural and Trade Center, it houses a plethora of diverse shops and restaurants. The East Mall is a bustling mecca of electronics, stationery, housewares to cultural items like kimonos, bonsai trees, and origami art. Meanwhile, the West Mall is a foodie's paradise with plenty of authentic Japanese food that, once you get a taste of any of its specialties, will immediately transport you across the Pacific. Take your time walking around these Japantown, San Francisco stores to explore, experience, and taste the wonders of Japan.
2. Browse Manga at the Kinokuniya Bookstore
Are you an avid reader of manga and anime? Scratch that otaku itch by browsing the aisles of Kinokuniya Bookstore. Located inside Japan Center Mall, this bookstore has been a favorite spot for Japanese-Americans and American Nipponophiles alike. It offers an array of titles ranging from novels, manga, and graphic novels. You can likewise find titles from Japanese and Japanese-American authors, including poetry, art and design, food, travel, and even children's books. The bookstore also has an extensive selection of anime merchandise. Besides these, Kinokuniya boasts a wide collection of stationery, pens, notebooks, stickers, and greeting cards.
3. Find Cute Japanese Things at Daiso
Located in the East Wing of Japan Center Mall, Daiso is a one-stop shop for everything affordable and adorable. This Japanese store is the equivalent to the Dollar Tree or 99 Cents Only Stores. Make no mistake, the quality of items you can find at Daiso in Japantown goes beyond anything you will find from other discount stores.
From houseware and kitchen supplies to skincare tools and Hello Kitty memo pads, Daiso offers all of these and more! Don't forget to check out the store's offering of Japanese snacks, including the iconic Pocky sticks. The best part? Majority of the Japanese items here cost less than two dollars! If you're looking for cheap yet unique and high-quality goodie bag fillers and stocking stuffers, you should definitely check out Daiso in San Francisco.
Japantown San Francisco Restaurants
4. Grab Revolving Sushi at Tenroku Sushi
A trip to J-Town isn't complete without trying authentic Japanese food from the number of Japantown restaurants. If you're in the mood for the best sushi in San Francisco, the Tenroku Sushi restaurant will certainly satisfy that craving. Located in Kinokuniya Mall, this sushi restaurant takes express service to the next level.
Besides its selection of tasty, fresh, and authentic sushi, the main attraction of Tenroku is its ordering system. All orders are delivered to customers via conveyor belts. Not only is this a speedy and convenient way to serve up meals, but it's also a delight to watch plates of sushi and other Japanese dishes pass by on a conveyor belt.
5. Slurp Ramen Noodles at Marufuku Ramen
You can never go wrong with a hearty bowl of ramen. Head over to Marufuku if you're craving simple yet exquisite cuisine. Its house special is the Hakata-style Tonkotsu ramen, made from artisanal noodles with savory broth and tender pork belly. Another crowd favorite thanks to its rich flavor is the chicken paitan ramen. Moreover, the menu of this Japantown ramen spot features a variety of rice bowls, appetizers, and premium beer. Line up early, since the waiting time to be seated for this Japanese restaurant can get quite long, especially during lunch and dinner rush. But trust us, the delectable dishes and welcoming ambiance are worth the wait!
6. Grab Ice Cream at Matcha Cafe Maiko
Besides savory dishes, Japantown San Francisco is also the top spot for Japanese sweet delights like matcha ice cream and mochi rice cakes. Matcha Cafe Maiko is a matcha lover's paradise with its offering of green tea treats, ranging from soft-serve ice cream and shaved ice to parfaits and iced and hot matcha drinks. All the ingredients used are imported straight from Uji, Japan, but the products are made in-house. As such, you are guaranteed authentic and quality taste. A crowd favorite is its matcha soft-serve ice cream served on a waffle cone, which you can get topped with edible 24k gold flakes!
7. Indulge in More Japanese Desserts at Uji Time
Craving for more sweets? Head on over to Uji Time at the Peace Plaza, where they offer traditional Japanese desserts but with a twist. The Japanese shop is famous for its soft-serve ice cream served on a fish-shaped cone—an innovative take on the traditional street food taiyaki, a fish-shaped pastry filled with sweetened red bean paste. Uji Time offers a variety of unique flavors for its ice cream, including green tea, purple yam, black sesame, lychee, and even tofu. While you're there, don't forget to try the cafe's selection of mochi ice cream glutinous rice cakes wrapped around ice cream. Besides ice creams, this Japanese store also offers puddings, cakes, and pastries.
8. Enjoy Authentic Japanese Cuisine at Kui Shin Bo
Loosely translated to "a person who loves to eat," Kui Shin Bo, located at the Peace Plaza, offers its guests an authentic Japanese culinary experience. Entering this Japantown restaurant, there's no denying that the place is rather small, but its menu is certainly extensive. The restaurant offers beloved Japanese classics like unagi, ramen, tempura, takoyaki, and okonomiyaki. Alongside these, the shop boasts one of the more innovative menus of sushi in Japantown with items such as sushi burritos. Meanwhile, if you're craving some noodles, try their thick and chewy udon. Regardless of what you're in the mood for, though, rest assured you'll get a taste of real exquisite Japanese cuisine.
9. Watch Japanese Chefs Slice and Dice Your Meal at Benihana
Another great place to get authentic Japanese food is at Benihana. Upon stepping inside the Japanese castle-like architecture of the building, you are instantly welcomed with the sights of the chefs in action. One of the more unique restaurants in San Francisco, Benihana, offers a hibachi Japan style of dining. Guests are seated at a communal table in groups and a personal chef will prepare your food right in front of you. Before you indulge in juicy steak, tender chicken, or fresh seafood, watch as talented chefs slice and dice your meal, creating one of the most entertaining indoor dining experiences. Compliment your meal with the restaurant's signature hot sake or a specialty cocktail.
More Things to Do in Japantown San Francisco
10. Visit the Peace Pagoda
Watching over the visitors shopping and dining at Japantown is the Peace Pagoda. Situated at the Peace Plaza, between the San Francisco shopping centers, this five-tier structure symbolizes friendship between the city and its sister city, Osaka, in Japan. Designed by renowned architect Yoshiro Taniguchi in the 1960s, it is meant to inspire peace and goodwill among people. As one of the area's main landmarks, you can find people stopping by and admiring its minimalist architecture. Other nearby sights to stop by include a twin origami-style fountain, a reflection pool, and a Japanese garden.
11. Walk the Historic Streets of the Japantown District
One of the best ways to take in the sights and learn the culture of Japantown, San Francisco, is by a self-guided walking tour. Start your journey at the Peace Plaza and wander around the bustling street of Buchanan Street and onto Post Street. Along these streets, you'll find historic buildings and structures preserved in time that showcase how the community shaped the neighborhood.
Read all about J-Town's history from the beginning to the present day from the plaques and murals on display. Learn about the neighborhood's history beginning when the Japanese community of San Francisco began settling into the Western Addition area after the Great Earthquake and Fire in the early 1900s. Discover the unjust treatment Japanese-American residents experienced during World War II and how they rebuilt their lives after the war. You may also join one of the guided walking tours If you want to learn more in-depth details about the neighborhood and the efforts put into its cultural and historic preservation.
12. Get Pampered at Kabuki Springs and Spa
Everyone needs some rest and relaxation after a tiring day. Walk inside the wooden doors of Kabuki Springs and Spa and reconnect with your body with a Japanese spa experience. Inspired by the traditional Japanese bathhouses, soak in a heated pool that will melt away the day's stress and aches. Take a dip into the spa's cold pool if you want to energize your body. Afterward, unwind in one of the spa's saunas or steam rooms. End your escape to relaxation by getting a massage, facial, and other body treatments that will further soothe, relax, and detoxify the body.
Note that there is a special schedule for the communal bath. Sundays, Wednesdays, and Fridays are the designated women's days. Meanwhile, the men's days are on Thursdays and Saturdays. During the designated women's and men's days, clothing is optional, so don't be surprised to see other patrons in their birthday suits. Tuesdays are meant for all genders, and all customers must wear bathing suits.
13. Catch a Show at the AMC Kabuki 8
Wondering what to do in San Francisco this weekend? Head over to the AMC Kabuki 8 theater and catch the latest blockbuster movies. Formerly known as the Kabuki Theater SF, this theater first opened its doors in 1960 and was the first authentic Kabuki theater in America. On top of that, it was the first multiplex in the city. Originally built for traveling Kabuki shows — a traditional Japanese dance-drama performance — it is now used as a standard movie theater.
Here, you can catch not only the mainstream hits but also hard-to-find indie films. And while it is mainly used as a typical cinema house, you can still catch Kabuki shows and other Japanese events held within its walls during festivals and celebrations. The theater is famous for its offerings of premium snacks and bar selection, so you can enjoy a nice glass of beer or wine as you kick back and enjoy the show.
14. Stroll Through Cottage Row Mini Park
Looking for things to do near Japantown with your furry companions? Just a short walk from J-Town, stretching from Sutter Street to Bush Street, Cottage Row Mini Park is a dog-friendly park that boasts narrow brick walkways and greenery. The park is most famous for the historic Victorian homes that line the east side. However, plenty of people head over to the park's Sutter Street frontage to visit the Japanese streetscape garden. The simple Zen rock garden commemorates the first generation of Japanese people who immigrated to the city. The area is a great place to walk your dog, enjoy a picnic, view flowering greenery, or simply catch some rays.
15. Watch Cherry Blooms Bloom at the Cherry Blossom Festival
One of the most anticipated events in Japantown SF is the Northern California Cherry Blossom Festival. This annual event isn't just J-Town's biggest celebration; it's also the largest Cherry Blossom Festival outside of Japan, with over 200,000 attendees each year. Showcasing the rich and vibrant Japanese traditions and heritage, the festivities span over two weekends and celebrate the blooming of cherry blossoms, as well as the arrival of spring. Not only will you enjoy the beauty of these flowers, but you'll also learn all about the history, culture, and customs of Japan through several programs as well.
The main highlight of this event, however, is the Grand Parade, a lively procession featuring traditional Japanese drummers, dancers, and colorful floats that will take to the streets on the final Sunday of the festival. The parade begins near San Francisco City Hall and will make its way to Japantown. With hundreds of participants each year, it's certainly a spectacle you wouldn't want to miss!
16. Celebrate Japanese Culture at the Nihonmachi Street Fair
When spring turns into summer, the next affair that the Japantown, San Francisco community looks forward to is the Nihonmachi Street Fair. What started as a four-booth event is now a two-day celebration that draws 30,000 visitors annually. To honor the cultural heritage of J-Town among the youth, this fair doesn't just host performances; it too fosters community outreach and services. The event encourages the youth to get hands-on experience serving the community while also preserving culture and diversity.
Moreover, while Japanese tradition is certainly at the core of this street fair, it likewise celebrates the other Asian-Pacific influences that envelop the city. As such, don't be surprised to come across Chinese lion dancing or ethnic Filipino dance performances during your visit.
Where to Stay in Japantown, San Francisco
From browsing the aisles of the best Japanese shops at a Japantown mall to learning all about the area's history and culture, there's no denying that this Japanese neighborhood has plenty of activities to do and attractions to see. If you can't fit everything in your itinerary into a single day or simply don't want to deal with Japantown parking, why not make it a weekend-long trip? And if you're looking for places to stay overnight or longer, we have got you covered as well! Here are the best places to stay in J-Town!
(Take note that prices per night depend on the season and are subject to change without prior notice.)
Kimpton Buchanan
Address: 1800 Sutter Street San Francisco, CA 94115
Price: Starts at $245 USD per night
The Kimpton Buchanan is a boutique hotel that marries understated luxury with a residential vibe that will make you feel right at home. Located on the corner of Sutter and Buchanan street, it's far away from the hustle and bustle of busier neighborhoods like downtown San Francisco and Fisherman's Wharf, but close enough to the city's pulse points. Stepping into the hotel, you immediately notice the Asian influence in its design, with its sophisticated decor with kanji script embellishments and muted colors on the wall.
Meanwhile, the spacious rooms come with minimalistic designs, perfect for a peaceful and quiet stay. The hotel offers several rooms that overlook Japantown, though the ones facing the Peace Pagoda and Plaza certainly have the best views. Some rooms even feature private balconies, so you can further appreciate the city's green hills sweeping across the background. While the Spa King and Patio Kings don't have the best views, they feature a deep Japanese soaking tub and private patio, respectively.
Hotel Kabuki
Address: 1625 Post Street, San Francisco, CA 94115
Price: Starts at $261 USD per night
Hotel Kabuki is a Joie de Vivre hotel that effortlessly blends modern Asian and Western design and influence. Its guest rooms and suites feature floor-to-ceiling windows that allow for plenty of natural light and gorgeous views of San Francisco. What's more, most rooms even come with private balconies. In terms of room motifs, each one features simple contemporary Japanese designs that offer both form and function. Thus, providing a quiet and breathable place to escape from the excitement of the city. All rooms come with spacious walk-in showers with porcelain, coffeemakers, and mini-refrigerators.
The hotel provides top-notch amenities and services, including a well-equipped gym, a courtyard garden, and a highly acclaimed restaurant and bar. Moreover, Hotel Kabuki is one of the best dog-friendly hotels in the Bay Area. The hotel also boasts a bar with an extensive selection of Japanese beers and other alcoholic drinks.
Queen Anne Hotel
Address: 1590 Sutter Street, San Francisco, CA 94109
Price: Starts at $189 USD per night
Housed in a Victorian Mansion from 1890, the Queen Anne Hotel brings lavish luxury to the heart of San Francisco. With a grand yet still welcoming atmosphere, this boutique hotel is the place to stay if you want to feel like royalty. Each room and suite features antique decor and furnishing that will immerse you in a bygone era. However, they still come equipped with all the modern-day luxuries you will need, including free Wi-Fi and flat-screen TVs. What's more, the large bay windows flood each room with natural light and provide stunning panoramic views of Pacific Heights. Some rooms even come with separate parlors and fireplaces.
Note that the Queen Anne Hotel is a popular ghost hunting site, with even several television shows exploring the paranormal history. As such, you might want to sleep with one eye open in case you have any spooky encounters.
Visit Japantown San Francisco Today
Once a home for Japanese immigrants, Japantown is now among the must-visit places to see in San Francisco, California. It offers delicious food, stunning Japanese-style architecture, and plenty of shopping opportunities. Whether you're seeking to reconnect with your heritage or simply looking for things to do in SF this weekend, you certainly can't go wrong by hitting up J-Town. Simply wandering along the streets of the Japanese neighborhood, you can already learn all about its history and culture.