Top 5 Floating Markets In Bangkok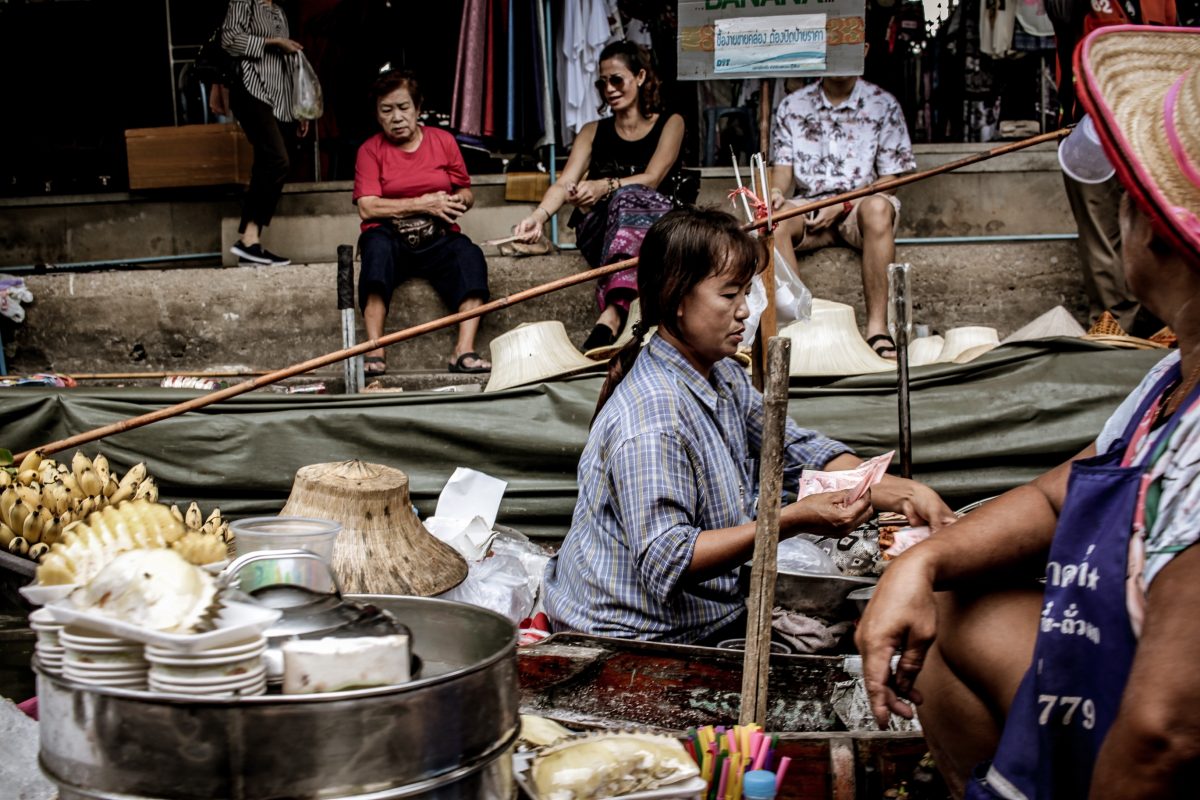 Bangkok is one of the most popular cities to visit in Asia and for good reasons. The unique Thai culture and its delicious cuisines have become a worldwide favourite. If you're planning to travel to Bangkok and explore its food culture, be sure to visit one of the best floating markets in Bangkok.
The floating market is different from other regular Bangkok markets. You'll be tasting famous Thai cuisines cooked specially for you on a floating boat!
In recent years, the floating market in Thailand has grown in its popularity. In fact, many countries around the world have followed suit, adopting its Thai-inspired floating market. Bangkok's floating markets are the best you can find in the country, making it a must-do Thai attraction for you. Where else can you experience the best floating market if not in the city known as the mecca of floating markets?
Check out more about this famous Bangkok markets and read our top 5 best floating markets in Bangkok below.
1.
Amphawa Floating Market, Bangkok
While Amphawa is not the biggest of Bangkok floating markets, it is the second most popular for a floating market tour in Bangkok. Local Thais like to go here for weekends and that is a good sign. If the locals love it, you must be in the right place!
Located around 50km from the centre of Bangkok, the Amphawa floating market is known for its barbeque-style seafood cuisines, cooked on a wooden floating boat. You can expect to find different kinds of seafood from shellfish to prawns to other variety of fishes. As far as the prices go, you'll get a good deal for a large amount of food. 300 baht can get you five large prawns!
After you are all done satisfying your belly with Thai food, why not try other famous Thai attractions? How about some shopping? Visit the old-style wooden shops that sell souvenirs and also delicious deserts!
TIP: If you want to be at the quieter side of the floating market, head over to the very end of the boardwalk, where you can find nice restaurants close to the Mae Khlong River.
Amphawa floating market open time: 11:00 – 21:00 (Saturday – Sunday).
Are you a curious traveller who is willing to try new things? Then this is the place for you to be.
You will find an array of local Thai cuisines such as Pad Thai and Hoi Tod at a low price (starting from 20 baht!). There will be a lot of food that might seem very strange to you. But hey, what's travelling without experiencing new things, right? Eat as the locals do. Ask for the local favourites and who knows. It could be your new favourite Thai food too!
If you're only into healthy food, don't worry. There are fresh Bangkok markets dedicated just to fruits and vegetables. If you think you know all about fruits, be ready for a surprise. You'll see fruits that you've never seen before!
The Khlong Lat Mayom is considered by some to be the best floating market in Bangkok because it's less touristy compared to other popular Bangkok markets such as the Damnoen Saduak. Your floating market Thailand trip wouldn't be complete without a visit to the Khlong Lat Mayom.
Khlong Lat Mayom floating market opening time: 9:30 – 16:30 (Saturday, Sunday & public holidays)
Out of all Bangkok floating markets, the Taling Chan is the place where you can soak in everything of Thai culture. Besides tasting delicious cuisines cooked on a floating boat, you can also ride along the river and get a much needed Thai food massage after a long day. The best thing is, all for a very cheap price (100 Baht – 200 Baht).
Must-try food here is the famous Som Tum and the seafood platter.
Moreover, Taling Chan is not as crowded as the other popular floating markets. That's good news for you travellers who are looking to get away from the tourist crowds.
Taling Chan floating market is just 12km from Bangkok. You can take the BTS sky train to Wongwian Yai and take a short ride by taxi.
Taling Chan floating market opening time: 08:00 – 17:00 (Saturday – Sunday).
As one of the oldest floating markets in Thailand, it's impressive how Bang Phli manages to keep it authentic, considering the ever-increasing popularity of floating markets in Bangkok. The Bang Phli floating market is more geared up to serve the locals than foreign tourists. With this in mind, be prepared to be lost in translation. But don't worry, this is one of the fun things you endure while travelling right?
You'll have the chance to learn some new Thai words too! Embrace it and make your floating market tour Bangkok a memorable one!
Try the different types of Thai noodles, seafood, and fresh fruits all at a very low price.
If you arrive early, you'll have the chance to see Buddhist monks collect alms from the locals on a floating boat.
To get there, take the BTS to Bearing and take the taxi to Bang Phli.
Bang Phli floating market opening time: 11:00 – 17:30 (Tuesday – Sunday).
This will be the most crowded market you'll experience in your floating market tour in Bangkok. Although it is very touristy, a trip to Damnoen Saduak is still a must. You can start your floating market tour in Thailand with Damnoen Saduak to get a feel of what the Bangkok floating market is all about. After all, the history here is rich.
The Damnoen Saduak is the longest canal in the country and was built by King Rama IV to link the Mae Klong River for transportation and trade, which is still performed until now!
Don't forget to bring your camera and get a snap of this place. There are a lot of areas worthy of pictures. Another must-do Thai attraction here is visiting Buddhist temples, located close by to the market.
The must-try food here is Thai's traditional meat and vegetarian dishes, dumplings and sweet seafood salads. Also, do try some unique sweets you won't find in any other Bangkok Markets.
As this is a very touristy place, prices tend to be higher. This will be a chance to practice your haggling skills. If you succeed, you can get half of the price!
Damnoen Sadauk floating market opening time: 06:00 – 00:00 (Monday – Sunday).