Khlong Lat Mayom Floating Market In Bangkok – All You Need To Know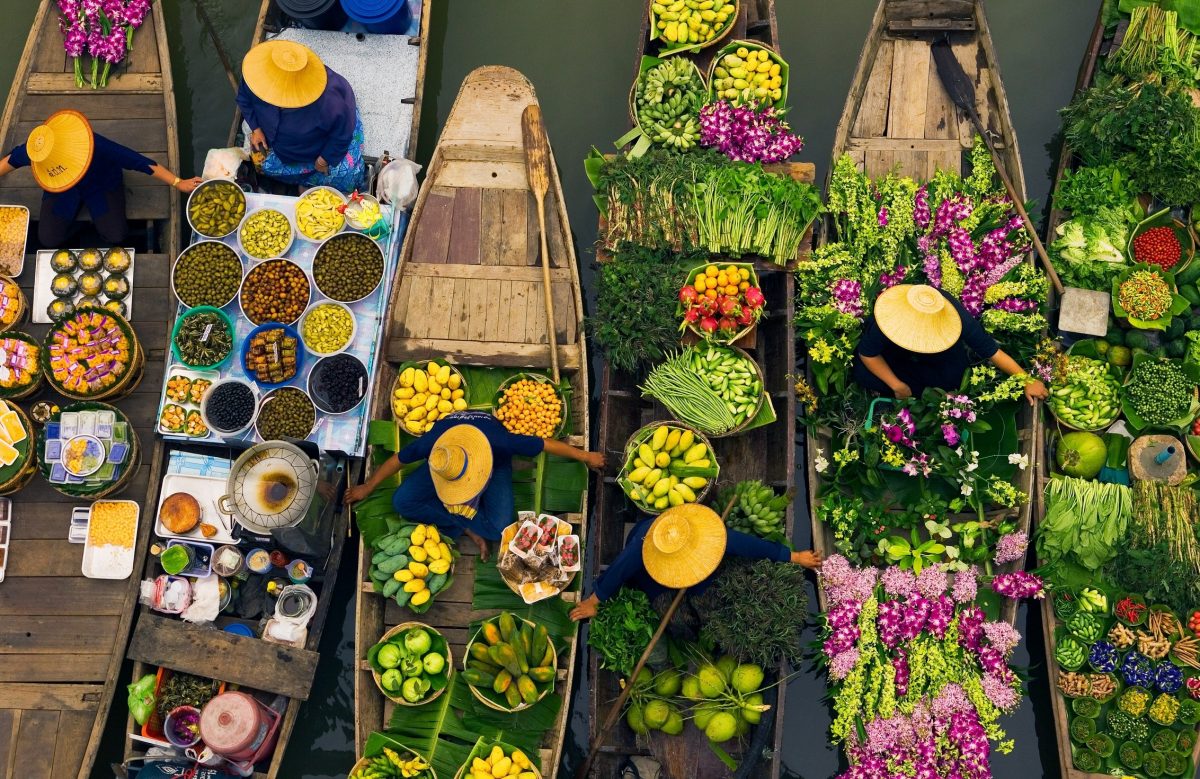 Floating markets are one of the biggest temptations for travellers in and around Bangkok. The Khlong Lat Mayom Floating Market is one such example, which is just 20 kilometres from Bangkok. This market is especially famous for its local drool-worthy food. Besides, if you have not tried the Thai salt-crusted grilled fish, your visit to Thailand is incomplete. To be honest, these are serious taste bud goals! Are you up for it?
Visiting the Khlong Lat Mayom Floating Market in Bangkok is one of the modest ways to experience the best of traditional Thai culture. If you are new to the concept, a floating market is a market, where buyers and sellers, are all on floating boats. Plus, you can buy loads of things from the usual fruits to the most locally made authentic Thai cuisine.
Don't be surprised if you see a fish being grilled on one boat, and some potted plants on the other. In fact, it's a complete paradise for the foodie in you! Come, let's explore one of the best Bangkok floating markets. We'll cover what you can do here and most importantly the food you can savour on.
But What's Unique About The Khlong Lat Mayom Floating Market In Bangkok?
As mentioned earlier, there are around 12 floating markets in and around Bangkok. But there's one unique thing about Khlong Lat Mayom, which makes it the best floating market in Bangkok, and that's the amazing food without any crowd or chaos. The pleasant atmosphere is another plus at this Thai attraction. The lush green area is a pleasant sight and makes for a perfect day with Thai highlights on your platter.
The Khlong Lat Mayom Floating Market Thailand, is not all about floating boats on the water. A major chunk of sellers is actually on the nonfloating platform. While the floating part of the market is reasonably quiet, or rather less crowded. However, the market still retains its authenticity and many locals use the canal for transport and shopping.
Here's What You Will Find At This Floating Market In Thailand
Though a complete marketplace on floating boats, the major product at the Khlong Lat Mayom Floating Market is food. And good food indeed.
In fact, food is the main culprit that pulls so many tourists to this best floating market in Bangkok. So, here are a few of the food items that you must definitely give a try once you are here at this Thai attraction.
The main food items available here are southern khao mok gai chicken biryani, northern khao soi curried noodles, etc. While the freshly grilled and steamed seafood is the main attraction. Moreover, the Thai salt-crusted grilled fish will leave you licking your fingers to the bones.
Though it might not look picture perfect for your Instagram and Snapchat stories, it's worth every bite you take. The best part, however, is that all the food is cheap in comparison to even Thai standards.
If you are a sweet tooth, you'll love the 'luk chup', a Thai sweet, and the ravishing palm sugar juice. Besides, you can take home the super cute bamboo tube cups, after you finish your drink.
Apart from food, other items available at this best floating market in Bangkok include fruits, flowers, locally made handicrafts, etc. You can even buy some pretty postcards and send it across to friends like the old days. Plus, even if you are done with the food and shopping part, you can enjoy a boat ride in the more secluded sides of the canal. It will be completely worth it.
One tip. Since it's a pretty spread out there in the market, you must scan the market completely, before you get onto the boat. You'll also find sitting area with bamboo tables, which is pretty much a food court. Besides, you must quickly grab your food, and then a table, as they are available on a first-come-first-serve basis.
Even better, however, could be a stroll along the sidelines of the floating market. The wooden houses and the canal view make a perfect backdrop for a tranquil walk. With such a variety of possible tasks in one place, Khlong Lat Mayom is truly the best floating market in Bangkok.
More Information About The Khlong Lat Mayom Floating Market, Thailand
Opening Hours
The Khlong Lat Mayom Floating Market does not open on weekdays. On the weekends, the market open time is 9 am to 4 pm. You must ideally go at around 10 am, for its the time when you will encounter the least crowd and the freshest of seafood.
How To Get To Khlong Lat Mayom Floating Market In Bangkok?
Located in the outskirts of Bangkok city, this Bangkok market is accessible in the following ways.
Firstly, you may hire a cab from Bangkok to the best floating market in Bangkok, i.e. Khlong Lat Mayom. The direct cab will charge you somewhere around 200-300 baht, one way, depending on your exact location.
Secondly, you may take a BTS to Wongwian Yai, from Bangkok. Wongwian Yai is the nearest station to the Khlong Lat Mayom Floating Market, and for the remaining distance, you'll have to hire a cab.
Lastly, another alternative is to hop on an orange air-con bus, which is accessible from a few locations in Bangkok, up till Taling Chan floating market. Subsequently, you'll have to grab another taxi.
Albeit, hiring a direct taxi is the best way to reach this amazing Thai attraction! Anyhow, you might feel uneasy travelling on the road, as all the signs and names are in the Thai language. In this case, you must go for guided tours to Khlong Lat Mayom or other Bangkok floating markets. These escorts are well versed with the area and will give you the best floating market tour in Bangkok.
A Brief History Of Khlong Lat Mayom Floating Market In Bangkok
Bangkok has originally been home to an extensive network of canals that served as waterways for transit. Floating boats were once one of the best ways to travel here. But subsequently, many of the canals were filled in to make way for roads, and the concept of floating markets also suffered an impact. However, some of the canals are still in place and used for transit by locals. Very few of the Bangkok floating markets are a testimony to those historical ways.
Many locals still visit these floating Bangkok markets for their daily grocery supplies and other shopping needs. While as a traveler, a Floating market tour in Bangkok is a must on your travel plan. Also, remember the dishes that we have mentioned when you are here. See ya!