6 Best Things To Do In Singapore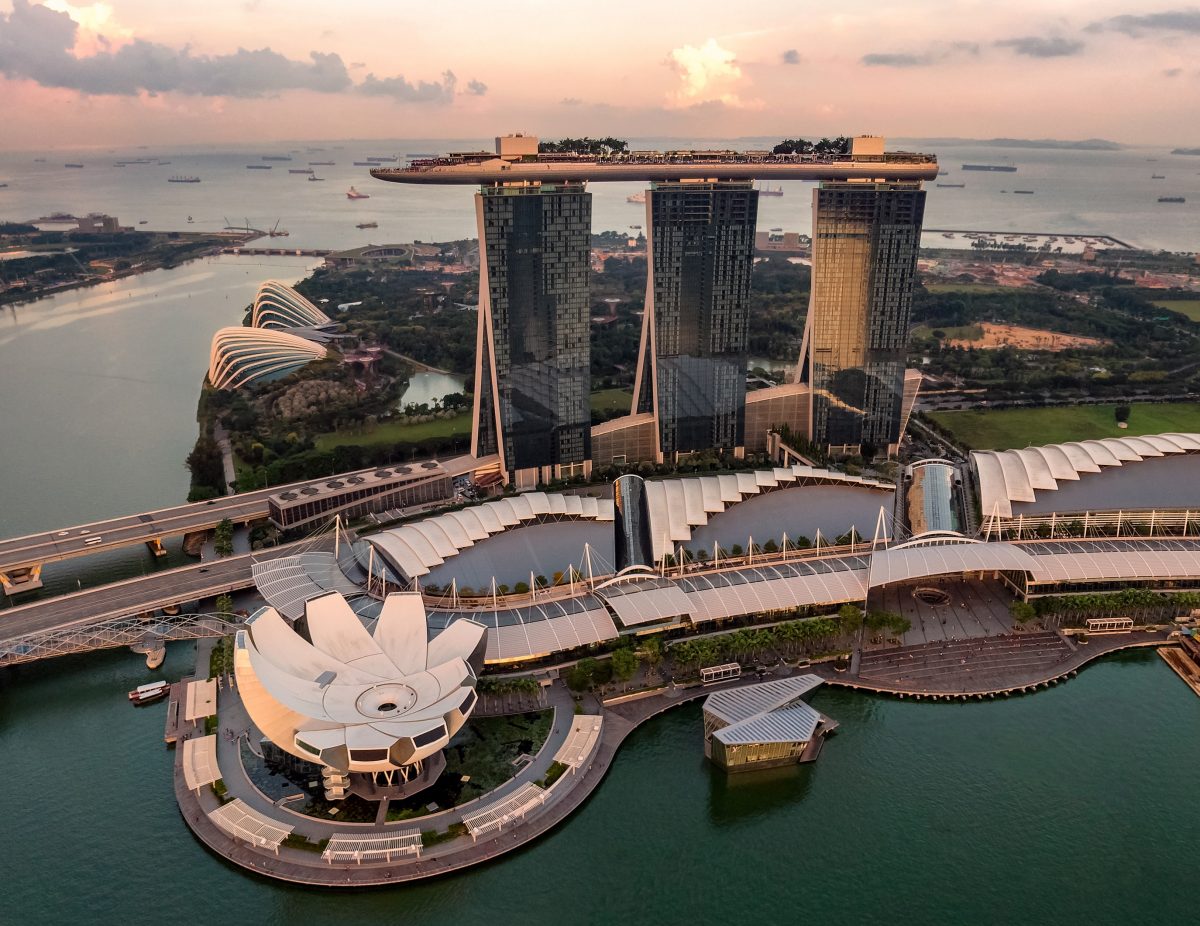 Singapore or Singapura is popular as the lion city and little red dot in South-East Asia. Don't be deceived by Singapore's size, this sunny island has everything one can need, and more!
An All-Inclusive Country
Singapore is the place to be if you want to holiday in a truly modern city, around loads of good food and fun things to do, like exploring the water park, open zoo and night safari, tree-top walks or simply, shop like there's no tomorrow.
Singapore truly is the lion city where one can shop, play, win and take home some of the best travel experiences ever! Besides being the powerhouse of innovative technology, industrial development and flourishing business, this unpredictable tiny country has an abundance of popular sights to effortlessly charm your first-time travel impressions.
Something for Everyone
It will undoubtedly take you more than one visit to tour Singapore, and that's okay because there's always a plethora of Singapore travel deals to cater to the likes of every budget traveller.
If you are the kind, that wishes to arrive into Singapore Changi Airport in style, pampered thoroughly in the air inside the Singapore Airlines Business Class, then to you, Singapore will be a sophisticated mirror to luxurious hotels. In addition to Michelin starred restaurants and opulent lifestyles of Singapore's crazy rich Asians. You may have your very own crazy rich Asian sequel.
Best of Both Worlds
Only when you visit Singapore can you find the best of both worlds. Firstly, you can experience the swank and opulence of Marina Bay Sands, The Fullerton near Merlion. Also the Ion Orchard Mall, Clarke Quay and the newest Jewel Changi Mall in Changi Airport.
And contrastingly, the simplicity and practicality of Singapore hawker centres. Getting around Singapore is very convenient because this city-state offers an amazing public transport system. However, if you are pressed for time and want to get around Singapore sights faster, you can always choose from popular south-east Asian cab services like, grab taxi Singapore, comfort delgro and gojek!
One Week to See Most Sights
Now, if you're wondering how many days to see Singapore, you'd be happy to know that you could do the most famous sights in Singapore in under a week, or two! With our Singapore guided tour, we hope we'll settle your queries on what to do in Singapore, what to see in Singapore and also, in addition to where to eat in Singapore.
Brace yourself for our virtual Singapore tour, enjoy and let us introduce you to the best things to do in Singapore!
1.
Strike a Pose at Merlion Park
A must-see Singapore attraction and the travel icon of Singapore. The Merlion Statue; with its unique half-fish, half-lion personality, is easily the most-identified visual of Singapore! Not to mention, the most popular Singapore attraction, erected to commemorate the origin of Singapore.
Singapore's Icon
It is a given that no trip to Singapore is complete without posing before the Singapore Merlion. So, don't hesitate to do so when you see this mythical symbol of Singapore. The Merlion is a reflection of Singapore's history. The fish's body represents Singapore's humble ancient existence as a small fishing village.
While the lion's head symbolises the country's original name, Singapura, which translates into Lion city from the Malay language.
Most Photographed in Singapore
Merlion proudly ranks as Singapore's most sought-after photo-op, you'll always find large crowds of tourists gathered here to pose with Merlion, in the excitement to capture and share a perfect Singapore postcard.
Try to get here earlier in the morning to be able to have the Merlion to yourself. Or for at least one perfect photo, without photo-bombers. Situated gloriously atop of Marina Bay, Merlion is an unforgettable Singapore icon, springing a fountain of water gracefully into the bay.
A Must-See Attraction
Aside from being a must-see Singapore attraction, Merlion Park is also one of the top free things to do in Singapore. If you feel hungry after your photo session, head to the nearby Merlion restaurants, and enjoy some food with a great view!
Merlion is also, a Singapore icon proximate to the other most popular attractions in Singapore, like the Esplanade, Marina bay sands hotel and MBS mall. Close by is also the Fullerton, CBD or Central Business District Singapore and one Fullerton hotel. Not far away nestles the Singapore Flyer, and a sundry of corporate and residential high-rise buildings, that make up a gorgeous Singapore skyline at night.
2.
Spend a day at Marina Bay Sands
Singapore's swanky Marina Bay Sands also called MBS, or identified as 'Singapore boat hotel', is an iconic luxury hotel and lifestyle destination, more like an integrated resort, that lets you experience the best things to do in Singapore. A brainchild of architect Moshe Safdie, MBS is a paradise for all kinds of travellers.
You're most likely to enjoy the whole of Marina Bay Sands from your capsule in the Singapore Flyer. Singapore Flyer, like the popular London Eye, is a slowing moving giant Ferris wheel, which also offers a luxurious 5-star hotel within a capsule should you wish to retire for the night cradling high up in the Singapore Ferris wheel.
Much to See at MBS
The beautiful DNA shaped Singapore Helix Bridge leads one into the opulent spaces of Marina Bay Sands. Once inside, you can choose to explore the showrooms of numerous high-fashion brands, or pick from a gastronomic selection of Michelin starred restaurants to local delicacies in the food village.
If you are dreaming of shopping in Singapore, then MBS is the place to begin. After you have shopped, you can relax and interact with art at the Marina Bay Sands Digital Light Canvas, which is also one of the top things to do with kids in Singapore.
Watch the Light Show
Absolutely nobody bids farewell to sunny island Singapore, without admiring the Marina Bay Sands light and water show; Spectra. Conducted to artistic perfection and soothing music, the MBS Light show is a symphony that is worth your time, and it's free! After you have watched the spectacular show, you can experience Venice in Singapore with the Sampan ride. Float along the Canal at The Shoppes at Marina Bay Sands in a beautifully crafted Chinese wooden boat.
Go Up to the Skypark
Or you can maybe head up to the Marina Bay Sands Skypark observation deck or just Marina observation deck, where you can enjoy an aerial view of Gardens by the Bay and the impressive Supertree Grove, or the sea that stretches from Marina South Pier to the Singapore Strait.
If you're in the mood for a drink, order yourself the popular Singapore Sling at Ce la vi Skybar. Also, just beside the Marina rooftop bar, you can indulge in a gourmet delight at restaurant Ce la vi Singapore. Satiate your soul with beautifully plated, delicious Asian, international and the locally-loved Singaporean cuisines. Breathe in the goodness, while you admire the stunning views of Singapore at night.
Admire MBS Infinity Pool
The Sands SkyPark is a 1-hectare roof terrace, that sits atop the three 56-story hotel towers of Marina Bay Sands Hotel! It is laced with Ce la vi restaurant and Skybar and the Marina observation deck on either end of the SkyPark pool or popularly also known as, the Marina infinity pool, the architectural marvel.
If you wish to pamper yourself further at one of the best hotels in Singapore, then stay at the iconic Marina Bay Sands Hotel during your Singapore travel, know that you can have an 'only in Singapore' infinity pool picture for to flaunt on Instagram.
The Marina Bay Sands Infinity Pool is the world's longest elevated pool and is accessible only by the guests of Marina Bay Sands Hotel. So, don't forget to make the most of your splurge, and pose like a star as you take a cool dip in the world's largest infinity-edge pool in Singapore, at that mighty height!
Play at the MBS Casino
Lastly, if you think you spent too much on your trip to Singapore, try your luck, for you may just win loads of Singapore Dollars at the Marina Bay Sands Casino!
The MBS Casino is a popular crowd-puller and is the best casino in Singapore. Because Marina bay resort is a Singapore casino hotel and opens 24 hours, the energy is always contagious. Don't worry about paying SGD to enter at the Marina Bay casino entry, because Sands Casino Singapore is free for foreigners! Marina Bay Sands, beside Marina Bay Singapore is a world inside the city-state! See it to believe it.
3.
Embrace Nature at Gardens by the Bay
Singapore is truly a country within a garden. At Gardens by the Bay Singapore (GBB Singapore), this thought becomes a reality. Gardens by the Bay is the best attraction of the Green Singapore tribe and has hosted more than 50 million visitors since the Singapore garden was first incepted. At no place else can you find one million, five hundred thousand plants, hailing from countries across the world, planted carefully as part of an integrated garden.
World's Top 20 for FB Check-In
Famous to present the unthought-of, Singapore garden city treats your eyes to the world's only. Partake in this Singapore garden festival and fall in love with nature all over again!
Don't forget to check into Gardens by the Bay Singapore when you arrive, for it is one of the World's top 20 most checked-in places on facebook! And no surprises there because it is a Singapore attraction that features high on things to do in Singapore with kids, friends, family and also if you wish to ruminate all by yourself.
Giant Greenhouses of Plants
At Gardens by the Bay, you can explore plant life that grows all around the world! Displaying diverse species in the cooled conservatories of Singapore's greenhouses to towering vertical gardens and waterfalls.
At this Singapore Garden, visitors can admire several nature-friendly exhibits like the vibrant flower dome, misty cloud forest, the supertree grove & OCBC Skyway, and the many gigantic art sculptures mindfully built in the expanses of the 250 acres that make up Gardens by the Bay.
Enjoy Garden Rhapsody Show
After you have been transfixed by the diversity of nature at GBB Singapore and marvelled at the enormous supertrees of the supertree grove, the retro highlight of the of Gardens by the Bay blooms.
Singapore Garden Rhapsody is a light and music show at the Supertrees in the premise of Gardens by the Bay. The Supertrees' array of multi-coloured disco lights are quick and whimsical and the music will recreate a 1970s disco hall. Nights at Gardens by the Bay in Singapore will surely charm you with Retro Fever.
4.
Befriend the Wild at Singapore Zoo & Night Safari
Prepare for a wildlife experience like no other when visiting Singapore! Singapore is a country that's committed to protect endangered animals and also preserve the balance between flora and fauna. Three main wildlife parks nestle proximate to each other as part of Wildlife Reserves Singapore.
4 Parks for Wildlife
The Singapore Zoo, Singapore River Safari and Night Safari Singapore. Whereas, Jurong Bird Park is a Singapore bird park that protects exotic species of birds like the Great hornbill, the Blue Cockatoo, the Lory and many more. Jurong Bird Park is a little further away from the other three wildlife parks.
These four Singapore wildlife parks are not just popular Singapore sights, but also one of the most popular Singapore tourist attractions. Singapore Zoo is an open zoo, that is ranked in as the 3rd best zoo in the world. At Singapore Zoo, you can get up close to some of the wildest animals in the world!
Get Up Close to the Wild
You can hear the African Lion roar from just a few meters away, feed the Giraffes, walk into the trail of huge flying bats, interact with hopping Orangutangs, and see so many unseen species. If you're tired of exploring on foot, you can take the tram rides and explore every geographic section within the park.
Nearby, you can explore Singapore River Safari, and learn all about the river habitats, and the mighty rivers they depend on for their existence. At River Safari Singapore, you can see some of the most fierce species of water species, and know how important rivers are to both living creatures, man and wild.
Find River Dwellers
See the big Gharial of River Ganges or the also, the world's most expensive pet fish; the Asian Arowana also called the dragonfish from River Mekong. Take a relaxing boat ride, amidst the mangroves, or make things more exciting by hopping onto the Amazon River Quest ride. If you're wondering what to do in Singapore at night? Why not try the Night Safari?
Enjoy Night Safari
At 7 p.m. when Singapore Open Zoo and River Safari Singapore close for the day, Night Safari Singapore awakes to entertain with the jungle sounds of the night creatures and dimly lit, night trails around the park.
At the entrance, a thrilling fire show will welcome you into Singapore Night Safari. Post the Night Safari fire show, head to the tram station for your audio-guided Night Safari tram ride.
See the laughing Hyenas, watch the Lions feed, and cheer as the Sambar hop around. After your tram ride, see the Creatures of the Night live animal show in the Night Safari amphitheatre. Clap as the night Owl makes its soundless flight. Volunteer to hold a snake, and make your child feed grape to jungle creatures.
Don't Miss the Walking Trails
The most lasting memory of Night Safari Singapore for us taking the walking trails across the parks and seeing the wild, in their natural surroundings. You can hear crickets and night creatures.
And smelling the musk of the raw, undisturbed scent of animals transcends the experience to the next level. We're sure you'll love your visit to Singapore Zoo, River Safari Singapore and Night Safari Singapore just as much as we did!
5.
Have Fun at Singapore's Sentosa Island
If you thought only the main island of Sunny Singapore contained all the must-do Singapore sights, think again. To experience Singapore like never before, you need to make your Singapore trip with kids a family favourite by visiting Sentosa island, the Singapore state of fun!
Spanning 49 hectares, Resorts World Sentosa (RWS), is Asia's premium lifestyle destination resort that's located at Singapore's resort island of Sentosa. Just a short ride away by the Sentosa Express Monorail, getting to Sentosa island is pretty easy. All you need is to get your Sentosa Express Ticket from VivoCity Mall, near Harbourfront MRT Station.
The State of Fun
Resorts World Sentosa in Sentosa Island has most of the fun things to do in Singapore if not all. And all of those fun things in Singapore can be enjoyed with your kids, as a family. There's the popular Universal Studios Singapore, a world of entertainment and recreations.
The fun things to do in Universal Studios are going on the Transformers ride, fear the Egyptian Mummy, meet Shrek and Fiona from Far, Far Away, and the Madagascar cast! Not to forget, visit Hollywood street, Jurassic Park and indulge in the variety of food!
Live it Up at Universal Studios
Then, have a splashing time on the thrilling slides at the Adventure Cove Waterpark, this is a Kids favourite in Singapore. At Dolphin Island, you can touch and feed Dolphins. You can explore Fort Siloso, and do the Fort Siloso Skywalk in Sentosa Singapore. Or experience the adrenaline of real skydiving at iFly Singapore, and experience skydiving in Singapore, without the fear of heights. Conquer the trails at Skyline Luge Sentosa, because it is one of the most most fun things to do in Singapore. Luge Skyride Sentosa will help your family see aerial views of Sentosa Island.
More At Sentosa
Explore the Lake of Dreams, pose with your favourite celebrities at Madame Tussauds Singapore and feel like you are deep sea diving in Singapore's marine realm when you visit the S.E.A Aquarium or the underwater world in Sentosa Singapore. To soak up on nature amongst the man-made marvels, you can head to Palawan islands and silos beach to hear the waves sing you a lullaby. When you're exhausted from a fun day at Sentosa Island, you can easily rush to your room at Resorts World Sentosa Hotel and call it a night!
6.
Shop at Orchard Road in Singapore
When in Singapore, do as the Singaporeans do! Spoil yourself silly by shopping the best of styles in the Singapore fashion scene. Head to the famous shopping street in Singapore; Orchard Road!
Orchard Road is by far the most popular shopping street in Singapore flaunting a host of luxury brands and also some of the coolest malls in Singapore. Ion Orchard Mall is the icon of Orchard Road, Singapore, amidst the other shopping malls in Singapore like orchard plaza, Somerset mall, tang plaza and Takashimaya Singapore.
A Trending Destination
Orchard road shopping is almost a trend on its own. Almost nobody can fly away from Singapore without setting foot on the busy lanes of Orchard road! Go in the morning, noon or weeknights, at all times you will be entertained by the numerous things to do on Orchard Road. Come weekends, and Orchard Road is packed with fashion-hungry Singaporeans. Especially at Ion Orchard Mall, Singapore's love for sophisticated fashion surfaces.
If you get hungry with all the Orchard Road Shopping, head to the multiple cool cafes on Orchard Road to grab a drink and grub. Like Orchard's Mall shopping, Orchard Road food is a selection of the finest tastes. If you ever thought money can't buy happiness, Orchard Road begs to differ. Only at Orchard Road in Singapore can you find happiness after all the buying and shopping!!
So wait no more, plan that trip to Singapore now! You don't keep happiness and fun waiting.