Top 10 Italian Islands You Must Visit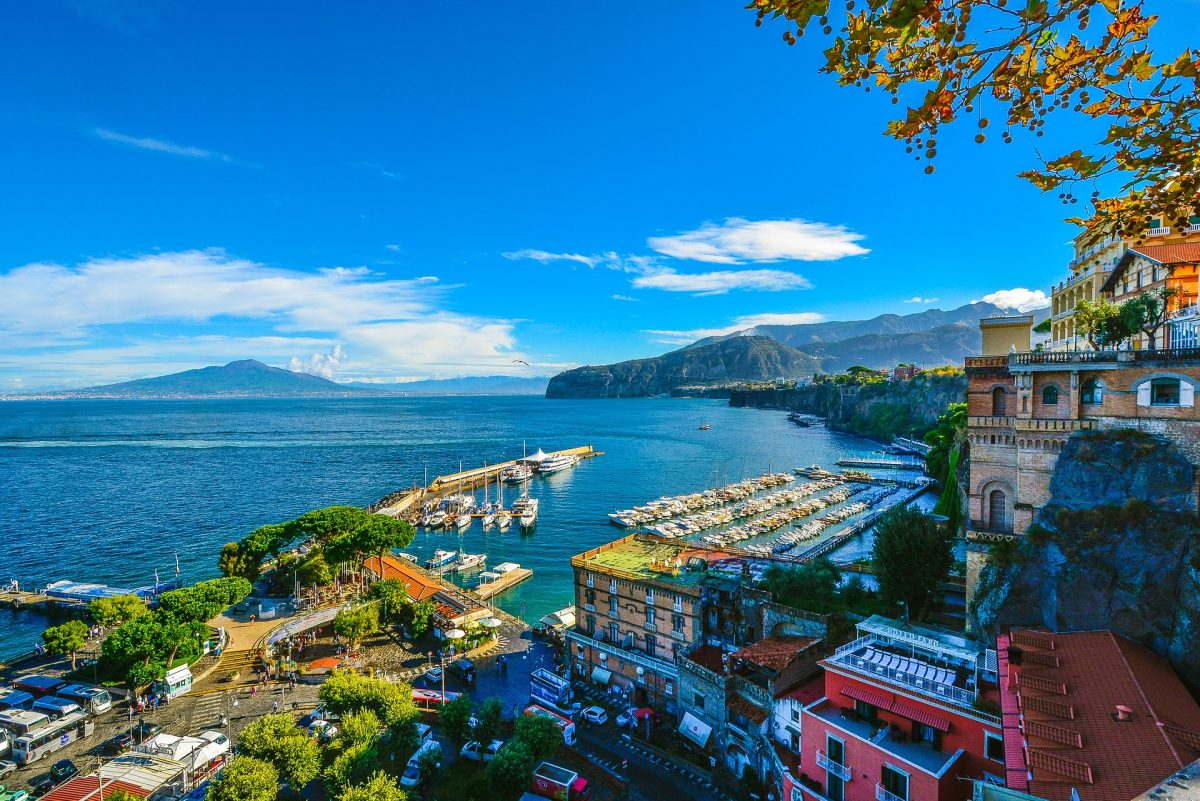 The Italian islands are a treasure trove of beauty and splendor. There's a reason why Italy is one of the most revered and classic vacation spots in all of Europe. The multi-cultural country is brimming with the finest of wines and pasta, a glamorous fashion scene, distinguished art, historic architecture and culture, dramatic scenery, stunning countryside, fierce volcanoes, lovely lakes, and gorgeous people (wink, wink).
But the dazzling shores of Italia certainly take the cake when it comes to the natural charm and breathtaking beauty of the country. White secluded beaches in Italy present the perfect opportunity to get tanned with a martini in your hand. With over 400 islands to boot, Italy islands are a beach lover's paradise dream come true.
But if you are wondering which beautiful island to pick out of the number of islands scattered around the Mediterranean coast, we have a perfect list ready. These are some of the best Italian islands to visit whether you love a quiet beach or are looking for the most happening parties after sundown.
1.
Capri – City with the best beaches
Hands down, the best Italian beach can be found at the coasts of Capri. Situated in the Bay of Naples, this short but gorgeous island will be the perfect backdrop for your pictures. The myths and history of this island are very rich as well. It is believed that sirens used to lure sailors into the deep blue-green waters with their melodious voice, so keep your eyes peeled and your ears shut!
Capri is one of the most popular and picturesque islands in Italy. The gorgeous garden villas on the clips of Anacapri town will be the perfect place to stay. When there, do take a ride in the Seggiovia chair-lift and enjoy the view from a different vantage point.
The island has a number of restaurants with mouthwatering Italian delicacies near the Mediterranean coast, so you will have easy access to good food while you are working on your tan at the beach. The beach clubs surrounding the coast also offers great food and delicious chilled cocktails.
You can explore the surrounding coves and grottos by boat. The magical blue waters surrounding the caves will make your trip even more special. Also, don't forget to pay a visit to the Villa Jovis, home to the Roman emperor Tiberius.
Pro tip: If you want to avoid the rush of tourist and want to relax in the sun, don't plan your trip in November, or from June to August.
2.
Sicily – The Mediterranean Paradise
The most famous out of all Italian islands is Sicily, no doubt, and for good reason. The historical significance of the region and the stunning beaches and crystal-clear water is impossible not to fall in love with. Songs have been composed on the beauty of Sicily, and Sicilian cuisine is also renowned the world over for its authentic and cultural allure.
From its architecture that is heavily inspired by cultures from around the globe, Sicily is thwarted by thousands of tourists every year to get up close and personal with its artistic charm and take Instagram-worthy shots with its orange sunset in the background.
When in Sicily, make sure you check out Syracuse, a historic city with rustic, old-world charm, Palermo, Catania and the highest volcano in Europe, Mt. Etna.
The coastline is beautiful, the sunsets breathtaking, and the white sand beaches are perfect for those who want to cherish the best of nature and culture on an exotic getaway. You must not miss Sicily when you are heading out to explore the most beautiful Italian islands! Early spring is the best time to visit Sicily, summers can be really, really hot! Don't forget to have a granita at one of the bars while you are here.
Pro tip: This island is one of the largest Italian islands. It is recommended to get a car hired and tour around. Apart from the stunning beaches, there are old towns included in UNESCO world heritage sites list and are featured in popular drama series and films, too.
3.
Tremiti – Island hopping adventures
Ever heard the term and wondered what is an archipelago? Well, we are about to solve that mystery for you. The archipelago is a collection of islands in an area. These islands are close to each other and perfect for island-hopping adventures.
The Tremiti island is an archipelago of three gorgeous and picturesque islands. The dark-blue sea surrounding the Tremiti islands bring out the beauty of the rugged cliffs, sandy coves, and thick pine woods. These islands are filled with natural beauty and are away from the hustle of the mainland, which gives you a chance to relax.
The first of the three islands you should hit is the rocky beach called Acquedotto. Enjoy nature and take some gorgeous pictures before making your way to the raw landscape of Punta del Cimitero. The steep cliffs on the northern side of this island are truly breathtaking, so take a moment to let it all in. After you have taken plenty of pictures, head south to explore the spooky and mystical caves, Grotta del Ferrario.
Legend says that pirates were regular visitors of this islands, so keep an eye out for anyone with an eyepatch and a peg leg. Isola Caprera will be your final stop, and this island is spectacular. This remote island is perfect if you want to relax and get away from the tourist rush.
The small lighthouse on the island is a perfect spot to take in the beautiful view. Tremiti islands are three of the prettiest islands in Italy so make sure you add them to your itinerary.
4.
Sardinia Islands – Architecture and Historic Paradise
Pack your bags and get ready to explore one of the biggest islands of Italy. This island is pretty big, so make sure you plan to stay here for more than a couple of days so you can see all the hot spots. It will be impossible for you to see the entire island, even if you stay there for a week. To help you out, we have picked out a few must-see places to help you get the ultimate Sardinia island experience.
There is, of course, the sunny beach with dazzling turquoise waters, but that is not all. Sardinia island offers you other exciting activities like camping, climbing, and hiking. The hilly inland provides you solitude and gives you a chance to relax in a calm and beautiful environment. It is truly one of the grandest islands of Italy.
Apart from these, Sardinia Island is also rich in history and architecture. If you are a history buff, make sure you explore the medieval castles and Roman ruins. Sardinia island also plays host to the largest canyon in Europe, Gola di Gorropu. Other must-see places on the island include the incredible La Pelosa Beach which is perfect for snorkeling, visit the historical sites in Cagliari, the archeological gem Tharros, and the Dunes of Piscinas.
5.
Stromboli – Explore the majestic volcanic mountains
Stromboli host, not one, not two, but three active volcanoes in Italy. Yes, and you can actually see them when you visit this island. The unique thing about this island is there are no cars allowed in it, which makes it uncontaminated and serene. You will be able to enjoy the natural beauty of this gorgeous island and breathe in the fresh air, which is impossible to find nowadays. Another thing that draws people towards this island is the black sand beaches with volcanic pebbles. Ficogrande and Forgia Vecchia beaches attract a lot of tourists because of this quality.
This is a perfect place for you if you are an adventurer and hiker. If you are lucky, you will get to see the lava emerging from one of the volcanoes, as well. One of the three volcanoes on this island is the most active in the world and has been constantly erupting for the past 2000 years. Yikes!
But trust us, seeing the Lighthouse of the Mediterranean up-close is one of the things you will cherish, so make sure you don't skip Stromboli island.
6.
Ponza – Enjoy the peace and surreal rock formations
Ask any local which island is a must-see in Italy, and they will say Ponza. Though it is not so popular with the tourists, it's a local favorite. Ponza is the perfect place for you to unwind and relax, away from all the rush of tourists. The clear blue waters of this island are so beautiful and pure that you will forget about all your worries and tensions.
This island is simple yet enchanting. You can rent a boat and explore the surrounding coves of the island. It could get pretty hot in the summer so make sure you have plenty of sunscreens and stay hydrated.
The food on this island is to die for. Whether it is the delicious rich pasta or a cheesy and scrumptious pizza, you will not leave the restaurant unsatisfied.
7.
Giglio – Enjoy the constant sunny weather
Are you craving bright sunny mornings and beautiful clear waters? Then head towards Giglio because this island has more sunshine that you can soak up. This island is known to be one of the most striking islands in Tuscany. The best part is, it hardly ever rains here, so you can get your quota of fun in the sun on Giglio.
It is not just the clear waters that allure the tourists towards Giglio, but also the history and cuisine. Head over to Giglio Castello to explore the medieval village. While there, do try panficato. This sweet cake made from dried fruits will be the best thing you have ever tasted.
8.
Elba – the third largest island in Italy
Elba ranks third in the biggest island race in Italy, and the word used to describe it is spectacular. The clear blue waters and rugged mountains surrounding it is like paradise. This island is also famous for sheltering Napoleon when he was in exile.
If you are a fan of water sports and crave adventure, then you will be right at home at Elba. The water and land activities on this island will keep you entertained from dawn to dusk. The waters in this island are perfect for snorkeling as it houses some of the rarest sea creatures. You will get to see strikingly beautiful and colorful corals and fishes. As for land sports, you can enjoy mountain biking, windsurfing, and climbing.
After a long day of fun, you can unwind with a glass of Elba Aleatico wine and fresh seafood dinner.
9.
Salina – lush Italian island
Salina is one of the greenest islands in Italy. This pretty island will give you a chance to reconnect with nature and see hundreds of plant species. After seeing the serene beauty of this island, you wouldn't want to leave it. This picturesque island will be the perfect backdrop for your gorgeous pictures.
After spending the day surrounded by the green paradise, you can hit the town and visit boutiques and catch up on your vacation shopping. The food in Salina is also tasty and mouthwatering. They have the best pasta. Pair it with the sweet dessert wine Malvasia delle Lipari and you will be licking your fingers.
Pro tip: If you want to have a relaxing time and avoid tourist rush, avoid visiting in the summer season.
10.
Procida – the smallest island in Italy
Procida may be the smallest island in the Bay of Naples but is definitely worth a visit. There is a reason it made the top ten list, folks! This island will serve as a perfect backdrop for your Instagram-worthy pictures. The colorful fishing village and the pastel-colored houses will look striking in pictures.
Another thing that attracts tourists to Procida is the black sand beaches. After you have had your water fun, put on your walking shoes and explore this lovely island on foot. Make sure you pay a visit to the medieval village of Terra Murata overlooking the Mediterranean and the 11th-century era church Abbazia di San.
Final Thoughts
These are the top picks of the best islands to visit for a beachy Italian vacation, though there is so much to see and do in Italy that one trip is definitely not enough. There is endless fun on these, and the food is mouthwatering. You will get to see such amazing and historical spots and also get a great many Instagrammable pictures. Italy is for everyone, truly – what are you waiting for? Pack those bags and head to the Italian Islands for your dream vacation.