30 Best Things To Do In Tallahassee, FL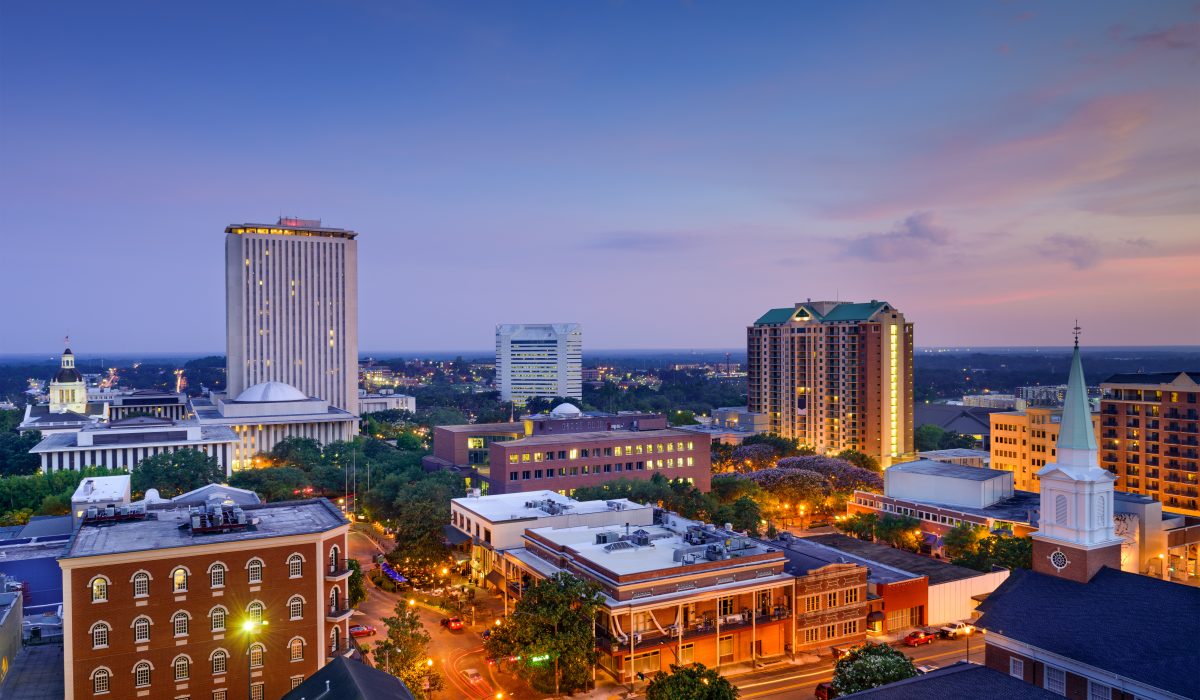 Wonder what to do in Tallahassee for your next Florida day trip? Take a step back in time by touring the city's number of historic landmarks and museums. Enjoy quality bonding time with the whole family by visiting the plethora of family-friendly attractions, parks, and nature trails. Take a food tour of all the best eateries the city has to offer. Afterward, catch a show at one of the movie theaters in Tallahassee. Truly, the capital city of Florida offers plenty of sights to see and activities to do for visitors looking for both quick day trips and cheap weekend getaways. Continue reading to discover all the exciting and unique things to do in Tallahassee!
Family-Friendly Things to Do in Tallahassee
1. Tallahassee Museum
For those looking for things to do in Tallahassee that caters to the whole family, look no further than the Tallahassee Museum! A favorite destination for people of all ages, it features a wide variety of exhibits that showcase the cultural and natural history of the city.
One of the major highlights of the 52-acre museum is its Wildlife Florida exhibit. Here, visitors can observe native animals, such as the rare Florida panther and red wolf, in their natural settings. Meanwhile, at the Big Bend Farm, guests can interact with farm animals like cows, chickens, and sheep, as they get a glimpse of what rural life was like in the 1880s.
Dinosaur lovers of all ages can head over to the Twentieth Century Dinosaurs exhibition and marvel at the magnificent sculptures of these prehistoric creatures by renowned sculptor Jim Gary. There's even an aerial adventure course on the premises that will have thrill-seekers overcoming obstacles and ziplines!
Website: www.tallahasseemuseum.org
2. Wakulla Springs Park
Just a short drive from south of Tallahassee, you'll find Wakulla Springs Park. Here, you and your whole family can take in the striking beauty of the largest and deepest freshwater spring in the country. Snorkeling in Florida is a very popular activity especially at the beaches with their crystal clear waters. The Wakulla Springs Park can easily join that list thanks to the large and deep springs.
If you're not up for diving into the water, take a guided boat tour and marvel at the beauty of the ancient cypress swamps surrounding the springs. Spot diverse wildlife that lives within the area, including manatees, alligators, turtles, and a vast variety of wading birds. Meanwhile, if you want to have some fun on land, the Wakulla Springs State Park hiking and equestrian trails are your best bet.
Website: www.floridastateparks.org/WakullaSprings
3. St. Marks National Wildlife Refuge
Encompassing 68,000 acres of property, St. Marks National Wildlife Refuge is home to a diverse range of wildlife, including alligators, coyotes, bobcats, salamanders, and butterflies. However, it's best known for being a great place for birdwatching. Guests from all around the state visit the wildlife refuge each year to spot different species such as the bald eagle, red-cockaded woodpecker, wading birds, and shorebirds. The refuge is open to fishing all year long, so don't forget to bring your best fishing rods with you on your visit.
Website: www.fws.gov/refuge/st_marks
4. The Challenger Learning Center
Located in Downtown Tallahassee, the Challenger Learning Center offers fun and educational things to do with kids in Florida. Get to know more about the technology and science behind NASA space missions through an immersive experience as scientists, engineers, and astronauts in the center's space mission simulator. There's even a NASA-inspired Mission Control room and an orbiting space station, making the experience feel as real as it can be. Meanwhile, the learning center's IMAX theater and planetarium provide guests with a better understanding of our Earth and the cosmos by screening science documentaries and shows.
Website: www.challengertlh.com
5. Tallahassee Automobile Museum
Avid fans of vintage cars can head over to the Tallahassee Automobile Museum and admire its exhibit of 160 automobiles. The museum's collection includes rare and historic automobiles, such as the horse-drawn hearse used for former president Abraham Lincoln. You can find several Batmobiles on display from different movie and television series adaptations, as well. Moreover, the museum doesn't just feature antique cars, it also houses the largest private Case Knife collection in the world. Other items of interest on display include motorcycles, boats, Native American artifacts, and even sports memorabilia and dolls. Truly, there's something for everyone at this Tallahassee museum!
Website: www.tacm.com
6. Cascades Park
Looking for free things to enjoy around Florida's capital? Why not visit one of the Tallahassee parks that blends art, music, entertainment, and history? Situated along South Gadsden Street, Cascades Park is a 24-acre park offering loads of fun activities for all ages! Little ones can frolic and splash around the Imagination Fountain, an interactive fountain with 73 jets. When night falls, the fountain provides a magnificent light and water show that the whole family can delight in.
Another highlight of the park is its Capital City Amphitheater, which hosts an array of Tallahassee events each year, ranging from concerts to plays. Meanwhile, if you are after peace and tranquility, Cascades Park has that too. It features a number of trails ideal for hiking, walking, and jogging. There are memorials dedicated to the Korean War and the African American community in the area, dating back to the Civil War.
Website: www.talgov.com/parks/parks-cascades.aspx
7. Tom Brown Park
Located in the eastern part of the city, Tom Brown Park is the perfect spot for families to engage in a variety of sports. Spanning 255 acres, it's one of the largest parks in Tallahassee and has several baseball and softball fields, tennis courts, and a disc golf course. Furthermore, it's home to a 10,000 square feet pump track with plenty of thrilling twists and turns that provide riders of all skill levels pure adrenaline rush. Besides these recreational activities, families can sit back and relax in one of the picnic areas, while the kids have fun on the playgrounds. Additionally, there are plenty of dog-friendly areas and nature trails within the park grounds for your furry friends.
Website: www.talgov.com/parks/parks-tombrown.aspx
8. Urban Air Trampoline and Adventure Park
Looking for exciting things to do in Tallahassee with your kids? Urban Air Tallahassee is the ultimate indoor playground for kids and kids at heart. And while it's complete with runway and wall-to-wall trampolines, Urban Air is so much more than just a trampoline park. The entire family can challenge themselves by taking on several rope and obstacle courses. Experience laser tag like never before with Lazer Fury, a unique laser shooting game that will have you spinning upside down and swaying side to side. Try your hands at wall climbing or enter virtual reality for even more exhilarating adventures!
Website: www.urbanairtrampolinepark.com/locations/florida/tallahassee
9. Tallahassee Farmers Market
Originally established in the 1930s, the Tallahassee Farmers Market is the city's oldest farmers' market. For decades, it's been the go-to source of residents in the area for locally grown and produced goods. Products found at the market range from fresh produce and meats to freshly baked goods, jams, and honey. Many of the vendors offer free samples, too! Additionally, you can find an assortment of handcrafted soap, lotions, and other body products available.
Website: www.tallahasseefarmersmarket.com
10. Florida State University's Museum of Fine Arts
The crown jewel of Tallahassee's art scene, the Museum of Fine Arts at the Florida State University, is home to over 6000 objects, ranging from historical artifacts, contemporary artworks, and sculptures. The museum has an impressive holding of works from artists such as Salvador Dalí, Francisco Goya, and Pablo Picasso. Some art projects by students can be found in the museum in rotating exhibitions, too.
Website: www.mofa.fsu.edu
Romantic Things to Do in Tallahassee For Couples
11. Goodwood Museum & Gardens
What was once a cotton and corn plantation in the 1800s, Goodwood, is now a favorite among couples looking for romantic spots in Tallahassee. The 21-acre property features gardens with lush foliage and 18 historic structures. The main house, which now serves as a museum, boasts a classic antebellum style and still features its original furniture and decor. Stepping inside provides visitors a look at the charm and splendor of the Old South. Besides the main house, there are also a few cottages and greenhouses scattered along the property. Meanwhile, the grove of live oak trees outside provides a picturesque backdrop for any event. Touring the gardens is free. Though you will need to pay an admissions fee to enter the main house.
Official Website: www.goodwoodmuseum.org
12. St. Marks Lighthouse
Erected in the 1830s, the St. Marks Lighthouse is the second oldest lighthouse in the state. It has weathered storms and survived wars. It still stands tall and serves as a navigational beacon for travelers along the St. Marks River. More recently, though, the 88-foot tower has become a favorite destination among those searching for romantic things to do in Tallahassee, Florida. Visitors can take a tour of the tower and hear all about the historic tales that surround it. Stick around until the evening to see it flash its beam out to the sea.
Website: www.fws.gov/refuge/St_Marks/visit/lighthouse_history.html
13. Lichgate on High Road
Tucked away between college apartment complexes along the busy High Road, Lichgate is a seemingly fairytale-like land out of time. A long dream of former Florida State University professor Laura Jepsen, Lichgate became her home since it was built in the 1960s. Visiting the property is certainly among the unique things to do in Tallahassee. Wandering the grounds feels like entering a world of storybook magic with enchanting woods, an English Tudor-style cottage, and even a labyrinth.
Spend a dreamy afternoon on the soft lawns surrounded by perennials and daffodils while enjoying a romantic picnic or reading a book. Don't forget to stop by the magnificent, hundreds of years old oak trees dating back to the Elizabethan era. The grounds are open daily from dawn to dusk, while the cottage is open to scheduled tours.
Website: www.lichgate.org
14. Bradfordville Blues Club
Surrounded by old majestic oak trees covered with Spanish moss, the Bradfordville Blues Club takes you back in time and away from the urban pulse of the city. A renowned blues spot throughout the South, it offers its visitors a unique taste of the Tallahassee nightlife. Featuring regular acts of blues, soul, and R&B, it's the premier joint for people looking to enjoy live music in a truly authentic atmosphere. Indulge in cold beer and delicious Southern food while you're inside or soak up the romantic scene that the nightly bonfire outside the club offers.
Website: www.bradfordvilleblues.com
15. Alfred B. Maclay Gardens State Park
Visiting state parks is among the best yet cheap vacation ideas out there. And you certainly can't go wrong by heading over to the Alfred B. Maclay Gardens State Park. During spring, it turns into the ultimate romantic destination for couples with its picturesque garden paths lined with brick walkways and hundreds of azaleas and camellias. Spanning over 1,100 acres, couples can stroll through the botanical garden or head over to Lake Hall for an afternoon dip in the water. Afterward, enjoy a picnic along the lakeshore.
Meanwhile, if you and your significant other have an affinity for horseback riding, the Lake Overstreet portion of the park challenges you on a five-mile-long trail for hiking, biking, and horseback riding. The scenic views of North Florida will take your breath away. Apart from all that hiking, of course!
Website: www.floridastateparks.org/maclaygardens
16. Lake Ella and Fred Drake Park
Another park worthy to add to your list of romantic places to visit in Tallahassee is Fred Drake Park. Situated along Lake Ella in Central Tallahassee, couples can stroll through paved walking trails, watch the beautiful fountains, or feed the geese and ducks roaming freely. Stop by on the west bank of the lake, where you'll find several cottages converted to shops and cafes. What's more, every Thursday, the lake hosts Food Truck Thursday, a free weekly event that features live music and local food trucks.
Website: www.visittallahassee.com/partners/lake-ella/
17. Lofty Pursuits
Walking inside Lofty Pursuits feels like stepping back in time with its vintage interior design, and old-fashioned soda fountains. Established in 1993, Lofty Pursuits is a toy store turned candy shop that offers handmade Victorian hard candies, ice cream, and milkshakes. It's the ultimate destination for couples with a sweet tooth! On top of that, it has a wide selection of classic diner meals. After getting your fill, roam around the area and browse exhibits on display, including an impressive Yo-Yo collection.
Website: www.loftypursuits.com
18. Painting with a Twist Tallahassee
Looking for unique things to do with your partner on your next date night? Skip the typical dinner and a movie, and try your hands at creating your own masterpiece while sipping on a glass of wine at Painting with a Twist. Located in Downtown Tallahassee, the establishment provides an intimate and relaxed atmosphere for couples. You and your significant other will be provided with everything needed to unleash your artsy ideas. And even if you're not a seasoned artist, don't worry because you'll have instructors guiding you through the entire process.
Website: www.paintingwithatwist.com/studio/tallahassee
19. Proof Brewing Company
Treat your taste buds with flavorful artisan beers at Proof Brewing Company. Boasting a wide selection of craft beers, hand-crafted cocktails, and boutique wine, it's the ideal date spot for beer lovers. The brewing company features a modern, yet intimate tasting room that will help you unwind after a day filled with exciting adventure. Take your drinks with you outside onto the covered patio or garden to enjoy the pleasant Tallahassee weather. On top of Proof Brewing's excellent selection of beers and wines, it serves innovative Southern cuisine, as well.
Website: www.proofbrewingco.com
20. SouthWood Golf Club
Pack your favorite pair of women's and men's golf shoes and head over to the Southwood Golf Club for a round of golf. Nestled along Grove Park Drive, this upscale golf club was designed by PGA Tour legend Fred Couples and architect Gene Bates. The passion for the game that Couples and Bates share is reflected in the course's beauty. Featuring rolling hills and oak trees covered in Spanish moss, the golf course provides a challenging yet enjoyable golf experience for players of all levels. Novices at the game can book a session with a golf professional to help them learn everything they need to know about the sport.
Besides the courses, Southwood Golf Club boasts a 7,200-square foot clubhouse. It overlooks the 9th green and 18th green and houses a restaurant, a gift shop, and an events hall. Tucked amidst the grand oak trees, you'll find quaint cottages that you can rent if you're planning for a romantic overnight trip.
Website: www.southwoodgolf.com
Fun Things to Do in Tallahassee, FL By Yourself
21. Mission San Luis de Apalachee
Built during the 17th century, Mission San Luis de Apalachee was declared as a U.S. National Historic Landmark in 1966. It offers its visitors a glimpse into what it was like in the area before the arrival of Europeans. Explore restored churches, convents, and forts as you learn more about the Apalachee natives and their culture. Many historic relics and artifacts that were retrieved during the 1980s are also available for viewing. These include the likes of 300-year-old religious artifacts, weapons, jewelry, pottery, and ceramics. Moreover, visitors can stroll through the gardens and fields or take part in one of the workshops in Mission San Luis de Apalachee.
Website: www.missionsanluis.org
22. Florida State Capitol Complex
At the heart of Downtown Tallahassee, the Florida State Capitol Complex serves as the headquarters of the state's government. The complex comprises several historic buildings, including the 22-story new Capitol building, Historic Capitol Museum, House of Representative, and the Senate Chambers. Get a glimpse of where state laws are made, as well as exhibits on the state's government and American history. There are also numerous artworks displayed throughout the building and a dedicated art gallery on the 22nd floor.
Website: www.floridacapitol.myflorida.com
23. Florida Historic Capitol Museum
Learn all about Florida history and its state capital at the Florida Historic Capitol Museum. This grand building with a stained-glass dome and candy-striped awnings houses exhibits the Sunshine State's political history. Walk through the former capitol building and admire the photographs and audiovisual displays of events that helped shape the state. Additionally, visitors can step inside the former House and Senate Chambers, Governor's Suite, and Cabinet Meeting Room. The building is just a few miles away from Florida State University. As such, it's one of the top historic places to stop by when touring the campus.
Website: www.flhistoriccapitol.gov
24. AMC Tallahassee 20
Locals frequent the AMC, the movie theater in Tallahassee to catch all the latest blockbuster and indie movies. Besides IMAX screens and a Dolby Cinema, it's also one of the few theaters out there to feature a Sensory Friendly Film program. The monthly program caters to individuals with autism, so they can enjoy all the latest films comfortably. On top of movie screenings, it hosts global theatrical performances and concerts. Kick back, relax, and enjoy a show on AMC's signature reclines with seat warmers, as you munch on delicious buttery popcorn.
Website: www.amctheatres.com/movie-theatres/tallahassee/amc-tallahassee-20
25. Lake Jackson Mounds Archaeological State Park
Over eight centuries ago, the land surrounding Lake Jackson was home to Native Americans. Nowadays, it's one of the most important archaeological sites in the state and a quintessential destination for individuals who want to learn about the ancient history of Florida. The grounds are home to miles of nature trails and important sites, including six of the seven known earthen temple mounds. What's more, the area is abundant with native trees and plants and offers plenty of wildlife viewing and bird-watching opportunities. On your visit, you may be able to spot deer, squirrels, and a wide variety of bird species. Moreover, you can enjoy a light snack or meal on one of the picnic tables or at the pavilion that overlooks two of the largest mounds.
Website: www.floridastateparks.org/parks-and-trails/lake-jackson-mounds-archaeological-state-park
26. Downtown Market
Situated in the middle of Downtown Tallahassee, the Downtown Marketplace is a bustling scene with local vendors lining the streets selling fresh homegrown produce. Sample delicious baked goods, cheese, and jams as you take in the beauty of the flowers and native plants on display. Furthermore, it's a fantastic place to kick-start your souvenir shopping, thanks to the wide variety of handmade crafts and jewelry available. Aside from being a destination for some serious retail therapy, the marketplace is also a spot where local musicians and other artists showcase their works. You can find live musical performances and poetry readings taking place in the area.
Website: www.tallahasseedowntown.com/downtown-marketplace
27. Bradley's Country Store
Though you might be used to the bustle of city shopping, complete with flashing signs, buying from a modest country store could be an exciting change of scenery. Just north of Tallahassee, you'll find a barn-type structure along Centerville Road that serves up old-time favorites since the 1920s. Bradley's Country Store has been providing the Tallahassee population and tourists with the best country sausages in the state since 1927.
Now operated by the third and fourth-generation Bradleys, this family-owned business still uses the same methods to create sausages, grits, cornmeal, and hoop cheese. The store holds such significance in many hearts that it was even recognized on the National Register of Historic Places in April 1984.
Website: www.bradleyscountrystore.com
28. Railroad Square Art Park
Admittedly, Tallahassee isn't known for its art scene, but the art district is still worth visiting. Housed in a former World War II-era industrial warehouse park, Railroad Square Art Park is now the core of the city's creative scene. Nestled between Florida State University and Florida A&M University, the 10-acre area features over 70 art galleries, studios, and shops with vintage clothing and locally made items. On top of that, the eclectic square boasts an authentic pinball arcade, a theater, and an indoor rock climbing gym! It's also a great place to visit if you're looking to listen to some live music while munching on food and drinks served by the many cafes and beer gardens within the area.
Website: www.artdistrict.com/railroad-square
29. The Knott House Museum
Located along Park Avenue, near the Trinity United Methodist Church, the Knott House is another one of the museums in Tallahassee worth visiting. Built in 1843, it is among the historic places in the city with ties to the Civil War. It served as headquarters for the Union Army and was where the Emancipation Proclamation was read in 1865. The building was restored to its former grandeur in 1928, adorned with Victorian-era furnishings, and is now a museum history lovers adore.
Website: www.museumoffloridahistory.com/about/the-knott-house-museum
30. Governor's Square
Crafting a list of things to do on Sunday? Why not opt for a little bit of retail therapy at Governor's Square? Since 1979, it has been the city's main shopping mall. Aside from housing over 100 retail stores and dining options, it hosts a number of different entertaining events each year. As such, don't forget to check its website and calendar when planning your next visit.
Website: www.governorssquare.com
Discovering the Wonders Tallahassee Has to Offer
The Sunshine State of the United States has something for everyone. Despite the rather small Tallahassee population of fewer than 200,000 residents, the city still offers plenty of activities to do and places to explore. Looking for free things to do in Tallahassee by yourself? Head on over to one of the many public parks or museums! On the hunt for romantic date night locations? The city has a myriad of options to choose from, including spots in the bustling Tallahassee nightlife and art district! And of course, we can't forget about all the family-friendly things to do in the city! The capital of Florida is brimming with exciting activities perfect for families.