27 Amazing Things to Do in Syracuse, NY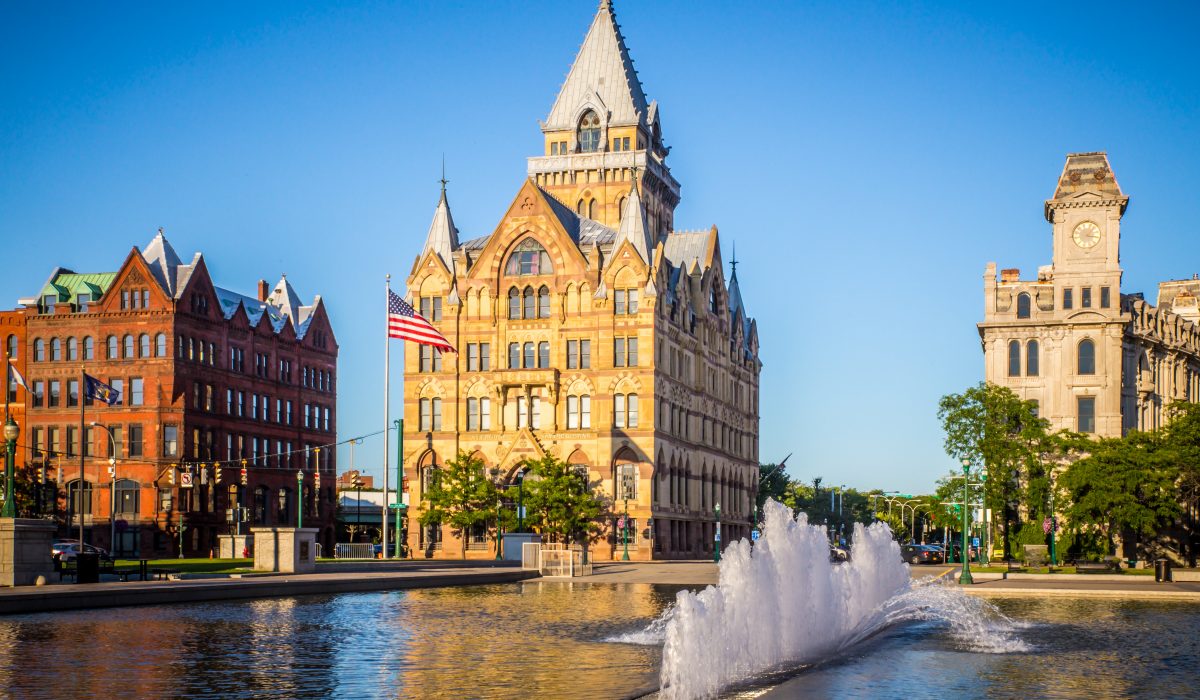 A thriving city with plenty of fun opportunities, the list of things to do in Syracuse, NY is endless. While it may seem far away from the hustle and bustle of New York City, there's always something going on in this East Coast city. Named after the historic Sicilian city, Syracuse is situated in the heart of Onondaga County, New York. As the fifth-largest city in the state, it offers plenty of tourist attractions from art houses to wildlife parks. Moreover, it also has a number of natural wonders since it's located in the picturesque Finger Lakes region.
Whether you're looking to go hiking, want to enjoy some retail therapy, or check out museums, there are plenty of things to do in Syracuse, NY. The picturesque natural landscape behind the charming facades of establishments provides the perfect balance of urban excitement and rural adventure. Read on to discover the best of Syracuse!
Things To Do in Syracuse, NY By Yourself
1. Live Out History in Erie Canal Museum
One of the best things to do in Syracuse, NY alone is visiting the Erie Canal Museum. Housed in the last remaining Weighlock Building in America, where canal cargo was once weighed, the museum offers information about the historic Erie Canal. Become enlightened as you walk through several extensive exhibits, and learn more about the impact of canal building on the country. There's even a canal boat replica you can step aboard on to truly get a feel for what they were like.
2. Learn About the Syracuse Salt Industry at the Salt Museum
Discover more about the industry that made the city prosperous at the Syracuse Salt Museum! The City of Syracuse supplied the entire nation with salt for much of the 19th century. Located on the shore of Onondaga Lake, the Salt Museum is brimming with historical facts and artifacts like boil blocks and wooden barrels. Learn all about how locals "mined" salt from the salt springs on the southern end of the lake. Moreover, the building is constructed from timbers taken from the old salt warehouses back in the day. As such, you immediately get an old-time rustic sense once you step inside.
3. Check out Niagara Mohawk Building
The Niagara Mohawk Building is one of the best remaining examples of Art Deco architecture in New York, and arguably in America. And you can find it just along Erie Boulevard in Syracuse. Designed by architects Melvin L. King and Bley & Lyman, it was once the headquarters of the nation's largest utility company in 1932. Nowadays, it's part of the National Grid Company. This historic landmark sees plenty of visitors, especially during major festival events in the city when it is illuminated in various colors. Even without going inside, passing by this building to study the blend of different materials and various designs thrown together should be one of the things to do in Syracuse, NY you shouldn't miss.
4. Shop at Destiny USA Mall
As the largest shopping mall in New York, there are plenty of activities you can enjoy in Destiny USA. It houses not only retail and outlet brands but also entertainment and gaming experiences for all ages. From the go-kart race track and rope course to the trail of mirror mazes and glow-in-the-dark mini-golf, there's always something fun that's waiting for you. Afterward, relax and fill yourself up at the mall's extensive dining options. For those looking for things to do in Syracuse at night, you'll be glad to hear that the mall also offers a vibrant nightlife scene of live music and comedy nightclubs.
5. Catch a Show at the Landmark Theatre
New York City may be home to Broadway, but Syracuse also offers theater fans a place of their own at the Landmark Theatre. Built in 1928, it is one of the last remaining Depression-era theaters in the county and was listed in the National Register of Historic Place in 1976. Its architectural design alone is stunning, however, their offering of live culture is what will truly captivate you. The historic theater has hosted performers from the likes of Josh Groban to David Copperfield, and a slew of Broadway touring shows, such as Cats and Hamilton. So, if you're looking for things to do in Syracuse, NY today, head on over to the theatre's website and check whether you can book a seat.
6. Visit the Onondaga Historical Association Museum
For history buffs looking for educational things to do in Syracuse, NY, head on over to the Onondaga Historical Association Museum. Situated in downtown Syracuse, the Onondaga Historical Association offers a wonderful learning experience about the county's rich history. The association provides free access to permanent exhibits for locals and tourists alike. This includes exhibits on the Underground Railroad and the Jewish community's contributions to the city. It also hosts numerous temporary exhibits about the city and county.
7. Get Fresh Local Goods at the Central New York Regional Market
Whether you're a foodie or a bargain hunter, your next stop should definitely be the Central New York Regional Market. Open all year round, the Central New York Regional Market has two major markets. The farmer's market, which is open every Thursday and Saturday, is filled with fresh and local goods from surrounding counties. Thus, this makes it the one-stop shop for an ever-growing community looking for healthy and fresh food options. From farm-fresh produce and meat to delicious baked goods, you'll surely find something to munch on. Moreover, not only are you getting quality food, but you're also supporting local farmers, as well.
Discover old and new treasures at the Flea Market — a must-visit for fans of all things vintage and unique. Open every Sunday all throughout the year, an assortment of antique furniture, handmade goods, musical instruments, and other collectibles wait for you here.
8. Bargain at the City Market Syracuse
Wondering what to do in Syracuse on a budget? Head on over to the City Market. Another gem for treasure seekers, this flea market showcases local vendors and their works. It features one-of-a-kind items such as hand-sewn clothing, furniture, and decorative objects. You can also find a selection of pre-loved antique and vintage objects for the taking. The market is open every second Sunday from May to October. Nevertheless, it's still the place to be for those who want to take home collectibles and crafts that can only be found in the city.
9. Visit the Harriet May Mills House
Another treat for history nerds out there, this historic structure was home to suffragist and political activist Harriet May Mills and her family. As part of the National Women's Rights History Trail, you can learn about the life of one of the prominent feminists of the era. During her lifetime, Harriet May Mills fought for political equality for women, not just in the state but country-wide as well. In 2002, the building was listed in the National Register of Historic Places for its significance in local, state, and national history.
10. Catch a Game at the Carrier Dome
If you've ever been to Syracuse before, you'll know how the locals take sporting events seriously. And the next time you're in the city, make sure catching a game is on your list of things to do in Syracuse, NY. More specifically, catch one at the Carrier Dome. As the largest dome stadium in the Northeast, it has a 50,000-seat capacity and all major sporting events are held here.
Located on the campus of Syracuse University, it is home to the college's football, basketball, and lacrosse teams. It has also hosted a slew of different sporting events, such as boxing matches, NFL exhibition games, and even motorsport events. Besides sporting tournaments, the dome also hosted concerts for the likes of Frank Sinatra, Taylor Swift, and U2.
Romantic Things To Do in Syracuse For Couples
11. Go Hiking at Green Lakes State Park
Are you looking for cheap weekend getaways for you and your partner? One of the recommended things to do in Syracuse, NY includes the great outdoors at the Green Lakes State Park might be something you could enjoy. Famous for its "Caribbean blue" waters, this park circles around two lakes, the Green and Round Lake—truly a magnificent view to behold. Both are glacial lakes surrounded by an upland forest. The striking blue-green appearance of the water is thanks to the natural mineral and sulfur content. You can get a closer look at the water by renting kayaks, rowboats, or paddle boats. There's even a designated swimming area where you can take a dip in the crystal-clear water.
12. Culture Yourself at the Everson Museum of Art
You can never go wrong taking a leisurely stroll in a museum while taking in the beauty of all the artworks. The Everson Museum of Art is an excellent choice for both art lovers and novices alike. As the first museum dedicated to American art, it has an extensive collection of pieces ranging from paintings, sculptures, ceramics, and even video art. Its modern and contemporary exhibits display dynamic and meaningful artworks that inspire curiosity and encourage learning.
13. Walk the Historic Streets of Downtown Syracuse
Wondering what to do in Syracuse for your next date night? Don't just limit yourself to one spot. Head on over to Downtown Syracuse for an endless list of cafes, restaurants, shopping boutiques, and entertainment hubs. What's more, it is also a hub of history. Downtown Syracuse is home to several historic districts, including Armory Square, Forman Park, Hanover Square, Clinton Square, and Columbus Circle. You can find over 20 buildings listed on the National Register of Historic Places in this neighborhood.
14. Take a Boat Tour at Skaneateles Lake
Just a short 30-minute distance from downtown Syracuse, you'll find Skaneateles Lake. As one of the most beautiful and cleanest bodies of water in the U.S, you and your partner will certainly enjoy the scenic view. And what better way to do so than partaking in one of the boat tours by Mid-Lakes Navigation? The company has been offering sightseeing tours on Skaneateles Lake and the Erie Canal since 1969. It offers several packages that suit any budget, but its one-hour sightseeing cruise seems to be the most popular.
15. Picnic at the Pratt's Falls Park
There's no shortage of the best waterfalls in the US and you can visit one of them on your next trip to Syracuse. Located in Pratt's Falls Park, just a short drive from Downtown Syracuse, you'll find this stunning waterfall that's surrounded by a scenic trail perfect for couples who love hiking.
Don't forget to bring a well-stocked picnic basket with you, too, so you can enjoy a light meal while gazing at the beauty of the nearly 140-feet waterfall. There are even picnic tables and grills available, on a first-come, first-use basis. Unleash your inner Katniss Everdeen, as you shoot targets on the archery range available for public use. Just remember to bring your own equipment and target.
16. Hike Through the Clark Reservation State Park
The Clark Reservation State Park is a geologic wonder in Syracuse city. Break a sweat with your partner as you explore the rugged cliffs and rocky outcrops that this county park has to offer. Take in the scenic view of the wetland and a glacial plunge basin lake at the top. Adding to the list of romantic things to do in Syracuse, NY, is woodland and meadow open for those who prefer relaxing nature walks. You can even go fishing and birdwatching! Without a doubt, the Clark Reservation State Park is a true outdoor paradise.
17. Drink Craft Beer at Now & Later
If you and your partner are beer lovers, you both are in luck! Syracuse has a plethora of breweries, including the Now & Later Brewing Company. Located at Tipperary Hill, this brewing company offers a variety of craft beers. On top of its selection of great beer and delicious food, you'll also get an excellent bar experience. The interior exudes a unique rustic and calm vibe that will help you unwind after an exciting day of adventure. The bar also hosts live musical performances from local artists. If you are visiting during the warmer weather, the outside seating is the perfect spot. It provides an inviting atmosphere that makes hanging out with the locals amongst the fun things to do in Syracuse, NY.
Bonus: The Upside-Down Traffic Light
Just a few blocks down from Now & Later, you can find Syracuse city's famous upside-down traffic light. A rather quirky tourist spot, the history of this particular traffic signal goes back to the 1920s. When it was first installed in 1925, the Irish portion of the city saw it as a preference for the British. So they kept breaking the red light. With the repeated vandalism, there eventually came a decision to reverse the positions of the traffic signal, which was unfortunately overruled. As such, the residents just continued to break the red bulb again and again. Nowadays, the same traffic light still stands, with the green above red.
18. Go Skating at the Clinton Square Ice Rink
What's more romantic than two people holding hands as they glide on an ice rink? If you visit around wintertime, you can enjoy just that on the Clinton Square Ice Rink. The city uses the fountain, which was once part of the Erie Canal, as an ice rink for its residents when the water freezes over. First opened in 2001, the rink typically opens in late November and runs until early March. For only five dollars, you get 90 minutes of skate time. You can bring your own figure skates or rent a pair for another five dollars. With these rates, going skating is certainly one of the cheap things to do in Syracuse while making winter memories along the way.
19. Follow the Trails at the Beaver Lake Nature Center
Craving for more nature on your list of fun things to do in Syracuse, NY? Then get lost in the beauty of the Beaver Lake Nature Center. Just a short 15-minute northwest drive from downtown Syracuse, this Nature Center has nine miles worth of trails and a 200-acre glacial lake. Filled with over 200 bird species and 800 plant varieties, it is a nature lover's paradise. There are over 400 natural programs to enjoy, including guided bird walks, tree identification, and canoe tours.
Fun Things To Do in Syracuse With Your Kids
20. Interact with Wildlife at the Rosamond Gifford Zoo
Watch the look of sheer bliss on your children's faces as they see and interact with all sorts of wildlife. Home to over 700 animals, the Rosamond Gifford Zoo is amongst the best zoos in America and definitely one of the top things to do in Syracuse for families. The zoo offers both indoor and outdoor exhibits. The indoor exhibits include a tropical rainforest habitat and a number of exhibits dedicated to marine life. Meanwhile, the outdoor exhibit allows visitors to lay their eyes on animals, including wolves, camels, and even dragons! Or at least Komodo dragons.
21. Grab a Hearty Meal at Dinosaur Bar-B-Que
A list of what to do in Syracuse isn't complete without a shout-out to the first-ever Dinosaur barbeque place to open in history. While the city isn't famous for its BBQ, there's no denying the impact this restaurant has on its residents. Originally a biker's joint, Dinosaur Bar-B-Que is now a staple among locals and tourists. It offers an all-star lineup of BBQ pork ribs, rib-eye steak, chicken wings, spicy shrimp boil, and Dino sliders. On top of the soulful menu, this restaurant is also famous for its weekly lineups of blues musicians performing live.
22. Discover More at the Museum of Science & Technology
The Museum of Science and Technology (MOST) is home to several interactive exhibits for kids and kids-at-heart. This hands-on science museum educates just as much as it entertains. As such, it's certainly among the top things to do in Syracuse, NY for kids. Visitors can walk through jumbo replicas of the human anatomy and explore fun-filled obstacles at the Science Playhouse.
MOST also house the city's first-ever permanent life-sized dinosaur exhibit! Travel back in time to the age of the dinosaurs and discover more about these extinct species and their characteristics through interactive stations and animatronics. Furthermore, MOST also host an IMAX theater and planetarium, which adds more educational fun for visitors.
23. Family Bonding at the Onondaga Lake Park
Dubbed as the Central Park of Central New York, The Onondaga Lake Park is an ideal spot if you're looking for things to do with your kids in Syracuse. Besides its gorgeous scenery, there are also tons of amenities for the whole family to enjoy. There's a volleyball court, bocce court, and a setting for softball and kickball, perfect for athletic families.
You can also rent bikes and skateboards to use on the 16,900-square feet skate park, complete with pipes, grind rails, and spines. There are even smaller playgrounds for young ones available on the premises. Your family can also enjoy some recreational watercraft, such as canoeing, kayaking, and fishing. Undoubtedly, there are just so many things to do at Onondaga Lake Park with your family. Additionally, the park is also pet-friendly with plenty of dog parks for your furry friends to roam around in.
24. Watch a Lively Show at Syracuse Stage
The theater offers an immersive experience for audiences of any age. If you're looking for things to do in Syracuse for families, catching a stage production should be definitely on your list. Within the grounds of Syracuse University, the Syracuse Stage has produced a plethora of shows since 1974. Each season, the stage sees a mix of new plays and bold interpretations of the classics. Past shows include Peter Pan, Mary Poppins, and many more. 70,000 patrons can watch stories unfold, taking them away from reality for a few hours in the theater. Besides showcasing local and international talents and stories, Syracuse Stage also hosts workshops, both for writing and acting.
25. Indulge in Mouthwatering Food at Stella's Diner
A favorite among locals, Stella's Diner provides mouth-watering all-American food perfect for the all-American family. From diner staples like burgers and fries to classic American dishes like spaghetti and meatballs and pot roasts, a visit to Stella's will leave your belly full. Other specialties that the diner offers include omelets, tuna melts, casseroles, and seafood platters. This classic American diner not only offers the comfort of familiar food, but the cozy atmosphere makes it even better. Once you step inside, you'll be greeted with vintage signs and Betty Boop cartoons!
26. Learn the Ropes at WonderWorks at Destiny USA
Just a short drive from Stella's, you'll find yourself at Destiny USA mall. If you're looking for fun things to do in Syracuse with your kids, why not enter the world of WonderWorks. Home to over a hundred interactive science exhibits, this indoor amusement park is the perfect way to spend time with your family. It offers all sorts of fun and exciting activities, such as playing laser tag and experiencing zero-gravity.
One of the major highlights of WonderWorks is its ropes course. The Canyon Climb ropes course is the tallest in the country, reaching 70 feet. It offers three challenging levels of ropes with over 80 obstacles. From swinging steps to a tremor bridge, this ropes course will surely test your strength. If your child isn't ready yet to face the 70-foot challenge, there is a ropes course for kids available. The Sky Tykes feature ten child-friendly obstacles that will have them climbing, jumping, and exploring in order to conquer.
27. Discover Native Culture at the Skä·noñh-Great Law of Peace Center
The State of New York is abundant with Native American history and culture. And the area of Syracuse is no exception. Discover more about the Haudenosaunee people and their history at the Skä·noñh—Great Law of Peace Center. Located along the banks of Onondaga Lake, this Native American museum explores the unique culture of the indigenous people that lived in the area. Visitors also get a chance to learn more about the group's resistance, resilience, and survival over the years.
Why You Should Visit Syracuse
With so many things to do in Syracuse, NY, this underrated city actually holds tons of appeal, especially for people searching for the best cheap vacation ideas. A city with a rich history, Syracuse offers locals and tourists alike the metropolitan excitement. This is thanks to its myriad of eateries, cultural, athletic, and artistic locations. And alongside these establishments, you can take in the beauty of Mother Nature and partake in several outdoor activities in the surrounding natural landscapes.