Top 11 Things To Do In Rotorua, New Zealand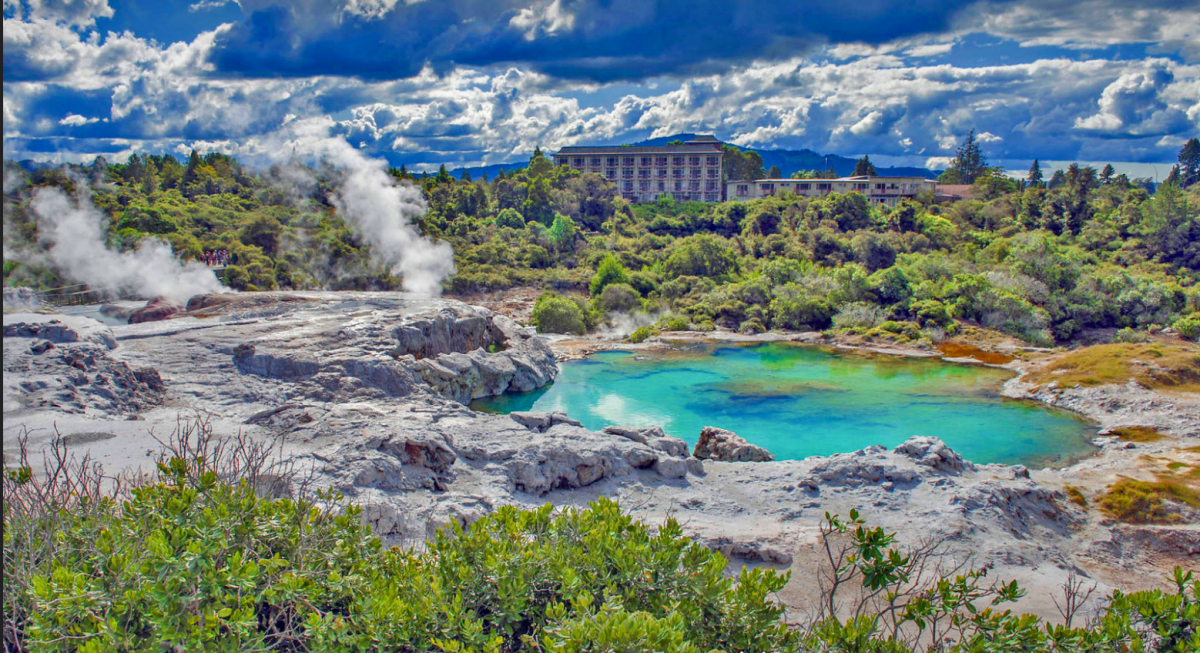 A sovereign island country in the Pacific Ocean, New Zeland is made up of two land masses and small islands. Its distinct biodiversity of animal and plant life is one amazing thing that helps create its natural beauty. Also, there are many New Zealand points of interest. For example, tourists can visit popular sites where ' Lord of the Rings' trilogy was filmed; dive in your fantasy at Hobbiton in Matamata. Many have visited different cities for a relaxing vacation. However, others have gone exploring challenging activities including parasailing and even skydiving in New Zealand.
Among the many cities of New Zealand, Rotorua is a major destination for tourists. Situated on the North Island, the city is popular for its geographical features and geothermal activities. There are many things to do in Rotorua.
Though a trip to Rotorua is superb for everyone, it will be one of the best visits for those who love exploring. Also, along with its natural wilderness, it has amazing geographical landscapes. From hiking and climbing mountain peaks to its bustling cities, Rotorua offers the best of both worlds; shopping in the city, and adventures in the wilderness. Rotorua is the tourism hub of New Zealand's North Island. So, tourists who want a relaxing vacation or a place with a vast amount of activities, Rotorua is THE city to be in.
1.
Feel The Heat Of Earth's Geothermal Wonders
Known for its geothermal activities, many people visit Rotorua to observe this wondrous phenomenon. With extraordinary landscapes and incredible geothermal attractions, each volcanic valley and geyser have their own unique features. It's located within the Pacific Rim of Fire; the region with of the world's most active geothermal field. This is where most volcanic eruptions occur. For example, Pohutu Geyser erupts to a height of 30 meters; at least twenty times per day. Pohutu Geyser is one of Rotorua's famous geysers. It once erupted non-stop for more than 250 days. Also, it's the world's youngest geothermal system.
Being a geothermal location, many geysers here are too hot to approach. However, tourists will not be disappointed because Rotorua does have geothermal areas that can be experienced up close. These areas hold a variety of geysers, hot springs, boiling mud pools, and hissing craters. An iconic photo spot not to be missed is the Champagne Pool at Wai -O-Tapu Geyser. Its name is from the abundance of carbon dioxide, hence making it like a glass of bubbling champagne. Tourists who arrive at a certain time of the day can observe geysers in Wai -O-Tapu discharge. Also, one of the most popular geothermal areas is the Waimangu Volcanic Valley. Here, there are heated mud pools and steaming silica terraces. For tourists who want to bask in the geothermal ambiance, there are walkways for visitors to view the craters safely.
2.
Visit A Traditional Māori Village
Most people who travel have a desire for adventure. Traveling allows the exploration of a new culture, its traditions, and encounters with the local people. Likewise, New Zealand is no different. It has a unique culture that has been around for generations. In Rotorua, there's a Māori village where tourists receive cultural experiences. Known as Whakarewarewa Village, the Tuhourangi and Ngati Wahiao tribes welcome tourists to experience their culture. Also, most people do also learn about the village's heritage. Awarded the title of 'Most Cultural Experience', the Māori village offers tourists an authentic experience of the Māori community.
Located in the spectacular Rotorua forest, visitors can also join different activities. Some of these activities include ceremonial rituals, taste traditional foods, and observe cultural performances. In addition to that, the village cultural activities include traditional Māori tattooing and seeing warriors train for war. The Māori village has an hourly guided tour that includes a performance of the Haka dance by the Te Pakira cultural group. However, the first thing most people will encounter during the village tour is to be greeted by a Traditional Māori welcome ceremony. Then, from there, the tour continuously offers exciting, interactive hands-on cultural activities. On top of that, tourists can observe how local residents use geothermal energy for cooking. No one should miss this authentic opportunity when in Rotorua.
Duration: 3 hours
Cost: From $120 per person
3.
Boat Rides On Lake Rotorua
Being right next to Rotorua Lake, there is no way anyone can resist having an amazing time in or on the lake. This includes jetboating, a day trip, kayaking, fishing and more. For an adrenaline rush that doesn't involve sugar, take a jetboat ride. Here, riders can live dangerously by going as fast a 90km/h. Splashes of water during the ride's exhilarating turns and 360-degree spins is one thing many people look forward to. While wildly riding the boat, tourists can enjoy a unique glimpse of the spectacular scenery around the lake. Most of the jetboating experiences offered are over an hour. Hence boaters aren't rushed; they can take their time to view the magnificent scenery. Rotorua also has the most amazing two-and-a-half hour Thermal Safari tour; the world's only river jet tour that allows riders to step off of their jet boat and onto geothermal land.
However, some tourists want a relaxing day, while others have young kids to care for. Rotorua hasn't forgotten about these people, for there are also boat rentals for a relaxing time on the lake. Depending on the tourist, there are many types of boats to choose from. For example, boat types like a canoe or airboat are best for fishing and chilling on the lake while yachts are for a smooth and relaxed sail.
Price range: From $115 – $220
Running fast and furious in New Zealand, Tutea Falls is one of the best rafting regions in New Zealand. Rotorua has the world's highest commercially rafted waterfall made naturally for adrenaline junkies. Not for the faint-hearted, this waterfall has an epically awesome 7-meter drop with a 50% chance of landing upright when reaching the bottom. The wild and dangerous ride does have areas where rafters can view New Zealand's native scenery down the beautiful Kaituna River. Tutea Falls' wild river rafting, however, is not only for experts. Inexperienced people who want a great adventure can also raft it out; expert guides who know how to raft the falls are available.
In addition to the 7-meter waterfall drop, this rafting ride has two more waterfalls that are brief, but fun. Along with those waterfalls, the adventure glides through steep canyons and 14 amazing rapids. Don't worry about what to bring or wear. Wetsuits, helmets, lifejackets, paddles, and splash jackets are included with local guides. The Tutea waterfall experience is a thrill seeker's ultimate adventure and a total 'must-do' adventure while in Rotorua. Visitors should grab this chance to have a splash of fun.
Note: The age minimum is 10 years (for safety)
5.
Encounter Wildlife in National Parks
Wildlife is an important part of the ecosystem. With many species in New Zealand, Rotorua is home to some of the world's most amazing wildlife. These species include kiwi birds, kakapo, and New Zealand sea lion. Rotorua's famous wildlife sanctuaries are Paradise Valley Springs and Rainbow Springs. Here, visitors can see fascinating animals, birds, and more. The wildlife New Zealand attractions are why parents bring their children to Rotorua.
Paradise Valley Springs Wildlife Park is beautifully maintained. Here, families like to interact with wild animals found in New Zealand. Animals that may spring up are deer, sheep, and wallabies. There's also a pride of African lions who call Paradise Valley their home. However, they're in an enclosed area and fed at 2:30 PM daily. During this time, visitors can watch the lions eat their meals.
Rainbow Springs National Park offers a fun-filled day for families. Here, visitors can learn about New Zealand's fascinating ecology and meet interesting creatures. Types of wildlife that can be seen are trout, reptiles, and native birds. Also, there are tours that include the popular National Kiwi Hatchery Aotearoa; the world's largest kiwi hatchery. Not to be missed, it's one of the unique things in Rotorua.
6.
Watch an interactive animal show at Agrodome
There are many things to do in New Zealand. Known for its farm animals, it's no surprise one main attraction involves hours of fun on a real farm. New Zealand's most famous sheep farm, Agrodome, offers a unique experience of farm life to all city dwellers. It offers some of the most fun family activities in Rotorua. A favored activity includes the world-famous Farm Show which stars talented animals and the visitors themselves. Visitors will learn amazing facts about the breeds of New Zealand's sheep. The show includes opportunities to feed the farms' baby lambs and hand-milk a cow. After the show, the Farmyard Nursery is open for all to meet the cutest baby animals. They're available for cuddles and are photogenic.
Also, if visitors want to explore all of Agrodome's 350-acres, they should join the Farm Tour. During this tour, visitors have the opportunity to hand-feed a diversity of friendly animals. These animals include sheep, cattle, deer, llamas, ostrich, and alpacas. Furthermore, visitors will have a chance to sample delicious kiwifruit juice and honey that are grown on the land.
Tours depart daily at: 10.40am, 12.10pm, 1.30pm and 3.40pm.
7.
Explore the Rotorua Museum

A museum and art gallery rolled into one, the Rotorua Museum Te Whare Taonga o Te Arawa is one place tourists ought to visit when in Rotorua. Located inside the tranquil Government Gardens, it's a popular venue to learn about New Zealand. What many tourists don't know is that the museum was once an old Bath House building. This Tudor style building was opened in 1908. It is New Zealand's first major investment in the tourism industry. Their exhibitions tell stories of Rotorua's cultural history from its pre-European era to the present. Also, people who love nature may be able to see a number of endangered kārearea (falcons) as the Government Gardens; New Zealand's first falcon project. To this day, museum volunteers are still feeding the falcons every day.
Though small parts of the museum are closed due to an earthquake, there are many places in the vast building to explore; including the Government Gardens. Famous for their FREE daily tours, it's an interesting part of Rotorua that should be visited at least once. The tours include the history of the bathhouse, battles and historical sites around the gardens.
Fun Fact: The Rotorua Museum is the most photographed building in New Zealand.
8.
Parasail a Katoa Lake Rotorua
Everyone likes an outdoor adventure while on vacation. Many people would love to experience flight like a bird; something outside of an aircraft. Combined with a sail and boat, parasailing has been made just for that purpose. This outdoor adventure is one of the greatest ways to see Rotorua in a completely different view. Here, parasailors can see every inch of Lake Rotorua and its shores from the air. On this exciting activity, all parasailors have to do is sit back, chillax and let the speedboat and parasail pilot do the rest.
Launched from a flight deck of a 26-foot parasail vessel, parasailors can have an exhilarating 12-minute parasailing experience 400 feet over the beautiful Lake. Staying safe and dry, prior experience isn't needed. A fantastic activity for all ages, Rotorua has the best Parasailing adventure in all of New Zealand. However, there is a minimum weight of 50kg and a maximum weight of 200kg.
Note: Parasailing operates all year round weather permitting.
No visit to Rotorua New Zealand is complete without a walk through the Redwoods. This peaceful trail in the Whakarewarewa State Forest is perfect for all visitors. The Redwoods, also known as "Redwood Memorial Grove", is popular for recreational use. It consists of mountain bike tracks, hiking trails, and the infamous Redwoods Treewalk canopy.
The Redwoods Treewalk canopy is situated a few hundred feet over the forest floor. However, it's difficult to fall; for there are a few tested and proven safe suspension bridges built between these strong trees. The Redwoods Treewalk is a 700-meter walkway that has twenty-eight suspension bridges among the majestic 117-year-old Redwood trees. Starting and ending at the Redwoods Visitor center, the track passes through the breath-taking California Redwoods towering over 70 meters high. An interesting feature along the track includes a boardwalk that passes over an ancient geothermal pond. This outdoor adventure through Rotorua's best forest is every nature lover's dream.
10.
Rotorua Maori Hangi Dinner And Performance
Another one of New Zealand tourist attractions lies in Tamaki Maori Village. Voted as one of the top 10 traditional experiences in the world, tourists who visit Rotorua New Zealand should never miss the Rotorua Maori Hangi Dinner and Performance. Totally authentic, visitors are immediately be captivated by the stories, performances, and displays of weaponry and combat given by the village locals. Also interactive, all visitors can join in the performances and fun. For example, many people find excitement in learning the Haka; a type of ancient Māori war dance traditionally used on the battlefield.
Price: $130
Time and experience: Priceless
Relax and unwind in the peaceful shores of Lake Rotorua at the Polynesian Spa; a world-famous luxury retreat. With an all-natural mineral bath, this is one place that will always help relax sore muscles after a fun day of adventure and exploration. Specializing in a range of health and wellness treatments, Polynesian Spa has all you need for a relaxing time. Offering various spa treatments, there's something to help relax all muscles.
Known as one of the top 10 spas in the world, it combines ancient healing practices with modern techniques. Visitors have exclusive access to both acidic and alkaline natural mineral springs. With a mix of the two, aches and pains are gone while also leaving the visitor's skin smooth and healthy. With 28 mineral pools to choose from, bathing in the Polynesian Spa is extra relaxing without crowds of people. Peaceful and quiet, just relax and enjoy the scenic views; let the Spa do the rest!