31 Fun Things to Do in Baton Rouge, LA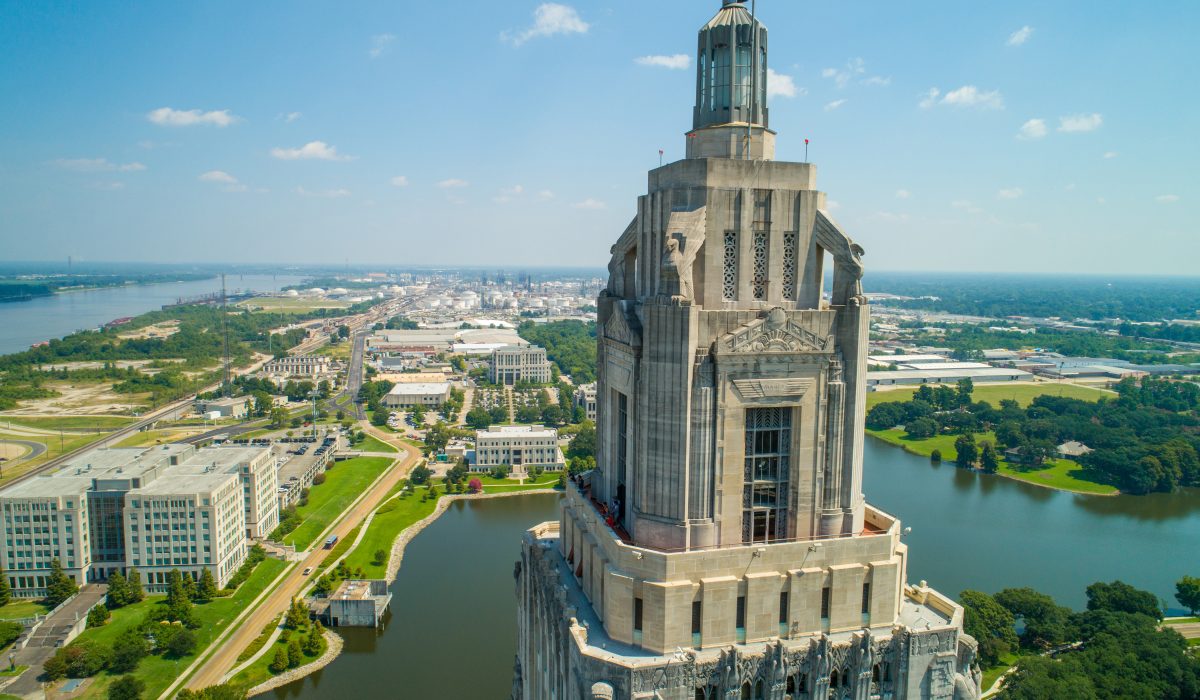 There is practically an endless list of fun things to do in Baton Rouge, Louisiana. Residing along the eastern bank of the Mississippi River, Baton Rouge is a melting pot of different activities characteristic of the classic Southern charm and hospitality. As Louisiana's capital city it is among the state's major cultural, economic, educational, and tourist hubs. Home to many museums, art galleries, historical places, and other tourist attractions, it's a great destination for people looking for quick and cheap weekend getaways in the American South.
Interested in taking a trip down to the Red Stick city? Here are the best sights to see and things to do in Baton Rouge today!
Things to Do in Baton Rouge for Couples
1. Immerse Yourself in Art and Culture at LSU Museum of Art
While Baton Rouge has a string of different museums and art galleries, the Louisiana State University (LSU) Museum of Art (MOA) is the city's only dedicated art museum. Housed on the fifth floor of the Shaw Center for the Arts, visiting LSU MOA is certainly one of the things to do in Baton Rouge for adults who enjoy art.
Its permanent collections and exhibits have over 6,500 objects. This ranges from paintings and sculptures by Louisiana local and regional artists to Chinese jade artifacts and European decorative pieces. Moreover, the museum hosts different rotating exhibitions from artists across the globe. Spread across 13,000 square feet, the immense space is a great spot for couples who want to immerse themselves in different artistic styles and concepts. Plus, there's no shortage of things to talk about in a room full of inspiring pieces!
2. Relax with Nature at LSU Hilltop Arboretum
Donated by Mr. Emory Smith to the LSU campus in the early 1980s, the arboretum serves as a sanctuary for students and visitors. Spread across 14 acres, the LSU Hilltop Arboretum is home to 150 species of trees, shrubs, and flowers. It's a popular area for couples looking to take a leisurely promenade through nature while in the middle of the city.
In particular, it's among the best places to visit in May in Baton Rouge thanks to the arboretum's wildflower meadow, which is in full bloom around springtime. Relax as you take in the stunning views of the surrounding natural landscape. This includes a pond filled with different aquatic plants that you can admire atop the elevated wooden boardwalk. You can even bring a furry companion with you, as long as they're on a leash at all times.
3. Conquer Heights at UpTown Climbing
Besides simple dinners and quiet movie nights, rock climbing is an excellent indoor date idea. UpTown Climbing is the premier rock climbing gym in Baton Rouge. In fact, it is Louisiana's largest indoor rock climbing gym. You and your partner can conquer over 60 rope stations, including a 90-foot rock-climbing wall. The gym is a favorite among locals thanks to its friendliness to novice climbers, with staff guiding them throughout their first time.
Meanwhile, more experienced climbers will appreciate the facility's speed wall and crack climbing station. There's also a bouldering terrain available wherein you can perfect your technique! After breaking a sweat, you can cool off in the gym's yoga room or play a round of ping-pong in the lounge area.
4. Support Local Merchants at Red Stick Farmers Market
Red Stick Farmers Market is an open-air pop-up market with four locations spread throughout the city. It features locally sourced and produced products, ranging from fresh fruits and vegetables to artisan bread and homemade pies. Native plants, herbs, and seasonal food products are likewise available. Visit each tent and stall to fill up your shopping bags, sample delicious baked goods and sweets, or simply walk around until something catches your eye. The best part? Red Stick Farmers Market operates year-round every Thursday and Saturday, between 8:00 am and 2:00 pm.
5. Explore Perkins Rowe
Located in the heart of Baton Rouge's shopping district, Perkins Rowe is a dining, shopping, and entertainment hub. It has something for everyone, however, it's surely the ultimate date spot for couples. You and your partner can explore 375,000 square feet worth of stores, boutiques, restaurants, and services. The vibrant area is filled with plenty of cool things to do in Baton Rouge. Enjoy good food and wine at one of the bistros, indulge in nitrogen ice cream, or get your caffeine fix from one of the cafes. Afterward, shop to your heart's content at the string of boutiques spread across the area. Alternatively, sit back and enjoy the show at the Perkins Rowe movie theater. If you're lucky, you can even catch free concerts with live music from local artists.
Things to Do in Baton Rouge at Night
6. Wine and Dine at Solera
Having a romantic dinner at Solera is one of the best things to do in Baton Rouge at night for couples. This Spanish-inspired restaurant serves up the delectable tapas, which you can pair with their selection of Spanish wine and cocktails. Besides tapas, the menu features hearty meals, including sandwiches, burgers, and paellas. Furthermore, another reason why Solera in Baton Rouge continues to be a favorite restaurant for many locals is its unique atmosphere. Its bar and sunroom boast a lively, rustic atmosphere wherein you can enjoy riveting conversations. Meanwhile, the main dining area offers more privacy and intimacy for guests.
7. Experience Downtown Baton Rouge Nightlife
Planning to go out tonight? While New Orleans is what most people consider as Louisiana's party town, Baton Rouge's nightlife is not something to overlook. Right along Downtown Baton Rouge is Third Street, a hotspot of partygoers enjoying the city's bustling and vibrant nightlife. You can dance the night away at an energetic dance club or have a laid-back evening at a pub. Alternatively, you enjoy a beer while watching a game at a sports bar. Besides being a popular spot for bar crawls, the street is a mecca for many looking to enjoy live music with regular performances from local artists.
8. Catch a Game at LSU Tiger Stadium
Calling all football fans! Watching an exciting football match at the LSU Tiger Stadium is certainly among the things to do in Baton Rouge you shouldn't miss out on. Dubbed the "Death Valley," over 100,000 fans fill in the stadium on game days to show their support for the LSU Tigers football team. Besides sporting events, Tiger Stadium has also served as a concert venue for renowned musicians such as Taylor Swift, Carrie Underwood, Blake Shelton, Tim McGraw, and Rascal Flatts.
Not visiting on game day? Tour the premises of the massive football stadium instead! Get an up-close-and-personal look at the iconic areas within the stadium. This includes a walk through the locker rooms, the chute, and the room where the team's championship trophies and other memorabilia are housed.
9. Watch a Show at Shaw Center for the Arts
Wondering what can couples do in Downtown Baton Rouge? Spend your next date night at the Shaw Center! The epicenter of the city's art scene, it houses art galleries, a theater, and several dining options. Within the center's premises is the Manship Theater, the city's premier theater venue. Here, you and your partner can catch live music performances, dance concerts, drama productions, and film showings. Meanwhile, at the mezzanine level of the theater is an open-air exhibition space that's home to a vibrant and diverse collection of artwork from local and national artists. After a show or leisurely stroll through the gallery, enjoy dinner at one of the center's dining options. Craving for fresh seafood, Japanese food, or juicy steak? Or maybe you just want a freshly brewed cup of coffee? Well, the center has it all for you!
10. Play Arcade Games at Main Event Baton Rouge
Looking for fun things to do in Baton Rouge with kids at night? Thanks to its 100 exciting games, Main Event is the ultimate indoor playground for kids and kids at heart. From interactive puzzle games and shuffleboard tables to bowling lanes and mixed reality experiences, you will surely create lasting memories with your family.
Get a heart-pumping experience battling it out in the laser tag arena. Defy gravity as you conquer the ropes course equipped with elevated tightropes, swinging bridges, and suspended balance beams. Relax and unwind at the billiards table while watching sporting games. Bond with the whole family at the bowling alley or mini-golf course. Additionally, Main Event features a VR gaming station, an escape room, and several karaoke rooms. Feeling hungry? Rest and recharge at the on-site bar and restaurant!
Things to Do in Baton Rouge With Kids
11. Make a Splash at Blue Bayou Water Park
Planning to have some summer fun in Louisiana with kids? Besides hitting up the best Louisiana beaches, head over to the Blue Bayou Water Park to beat the summer heat. Home to over 20 water slides and rides, it's the perfect place in Baton Rouge to cool off with the whole family. Little ones can relax and float upstream along the lazy river or splash around the pirate-inspired water playground. Meanwhile, older kids can experience the thrill of going down the world's largest in-line water slide. Challenge your friends and family in a race to the finish line as you descend down the tallest and fastest water racer in the world! All of these and more await you here at Blue Bayou.
12. Spend the Day at Dixie Landin'
Located just next door to Blue Bayou Water Park, Dixie Landin' is an amusement park that promises a good time thanks to its collection of thrilling rides. The park has rides for the whole family to enjoy, including classic amusement park staples such as a carousel, bumper cars, train rides, and three roller coasters. Older kids will surely love the thrill of free-falling from the drop tower, swinging back and forth on the pendulum ride, and soaring above ground on the exhilarating swing ride. Furthermore, the entire family can take in the breathtaking view of the Dixie Landin' and the surrounding areas of the city from the top of the park's 90-foot tall Ferris wheel.
13. Go Kart Racing at Celebration Station
Another popular family-friendly tourist attraction in Baton Rouge is Celebration Station. It offers both indoor and outdoor attractions that guarantee fun for all ages. Inside, you'll find a video arcade wherein you can play air hockey, racing games, shooting games, and more. Step outside and perfect your swing at the batting cages, race to the finish line at the go-kart tracks, or score a hole-in-one at the mini-golf courses. Moreover, bumper cars and a mechanical swing are available on the premises for more exciting activities. The on-site restaurant is a great place to re-energize yourself while you dig in to fresh pizza, fries, burgers, wings, and many more delicious meals!
14. Satisfy Kid's Curiosity at Louisiana Art & Science Museum
Is your little one interested in the arts and sciences? If that's the case, a visit to the Louisiana Art and Science Museum is definitely a must! It's home to several exhibits, including a permanent art collection, interactive and hands-on galleries for kids, and a state-of-the-art planetarium. Truly, the museum has a little something for everyone. The science section features permanent exhibits on the solar system and ancient Egypt with a real-life mummy. Meanwhile, the arts section holds 4,000 artworks and artifacts from local and international artists.
Another highlight of the museum is the Pennington Planetarium equipped with a 60-foot domed theater. Here, guests can learn about celestial bodies, galaxies far, far away, and the overall universe. In addition, the museum likewise hosts lectures, workshops, classes, and other programs that encourage its visitors to better understand and appreciate the fields of art and science.
15. Marvel at the USS KIDD
The USS KIDD is among the top must-see sights in Baton Rouge. It first took to sea in 1943 and served during World War II until it was decommissioned in 1946. Nowadays, the vessel is part of the veterans' museum wherein curious visitors can explore its decks and interiors, all the while learning about the United States naval history. It is one of the four Fletcher-class destroyer ships that was converted into a museum for this purpose, although only the KIDD retained its original configuration. Throughout the museum, you'll find a variety of artifacts that commemorate veterans and military history. What's more, you can even spend a night aboard the historic ship!
16. Take a Tour of The Capitol Park Museum
Louisiana is a state brimming with interesting history and unique culture. And if you want to learn more about it, add visiting the Capitol Park Museum to your itinerary of things to do in Baton Rouge. The museum is home to several exhibits that tell the story of how the Bayou State came to be, starting from the arrival of colonialists on the land up until the Civil War. There's even a dedicated exhibit on Black history and civil rights experience throughout the South. Aside from these, it has a section on the state's musical history, as well. A particular highlight is an exhibit dedicated to the legendary jazz icon Louis Armstrong.
17. Learn and Play at Knock Knock Children's Museum
Another museum you should stop by during your visit to the city is the Knock Knock Children's Museum. Home to 18 different interactive exhibits, kids and kids-at-heart can foster creativity and encourage learning through play. Children can unleash their inner artists in the Art Garden. Buckle up and rev up your engine at the Go-Go Garage. Or let their imagination run wild at the Story Tree. Moreover, the unique and interactive play space will help instill values, such as responsibility, confidence, and independence, through immersive role-playing activities. Kids can run their own grocery stores, become master chefs, and be a captain of their own ships sailing through the Mississippi River!
18. Meet Different Animals at Baton Rouge Zoo
A visit to at least one of the best zoos in the U.S. is a must for many families going on vacation. And since the Baton Rouge Zoo opened its doors in 1970, it has been a hit with families from all over the state. It houses over 800 animals, ranging from massive rhinoceros and wild jaguars to small frogs and domesticated rabbits. Most of these majestic creatures come from all around the globe, such as the Mediterranean donkey or the Palawan peacock. You can explore the 140-acre zoo on foot or hop aboard the zoo's train ride to discover all about the animal kingdom.
Unique Things to Do in Baton Rouge
19. Say Hi to Mike the Tiger
One would think that the zoo is the only place you'll find a tiger in the city. But for one Bengal Tiger, that isn't the case. Mike the Tiger, the official mascot of Louisiana State University, resides in his own compound near the LSU Tiger Stadium. Spanning 15,000 square feet, the tiger habitat features lush greenery, a live oak tree with a mesh canopy overhead, and a pool and stream system. There's even a waterfall in the background! Besides being one of the more unique things to do in Baton Rouge, it's cheap too, since there's no cost to visit Mike the Tiger.
20. Witness Wildlife at Bluebonnet Swamp Nature Center
A trip to a swamp doesn't sound like the most glamorous activity, but it's certainly a unique one. The Bluebonnet Swamp Nature Center spans nearly 103 acres of land. Enjoy the fresh air while you explore over a mile of gravel paths and boardwalks that wind through the swamp. Marvel in the beauty of towering canopies along two distinct forest types. Don't forget to keep an eye out for the different species of wildlife that call the swamp home. Animals you can spot on the grounds include armadillos, squirrels, foxes, coyotes, deer, and otters. What's more, hundred different species of migratory birds are seen within the swamp throughout the year.
21. Marvel at the Antebellum Structure of Magnolia Mound Plantation
Built in the late-18th century, the Magnolia Mound Plantation House is one of the few surviving vernacular architectures influenced by early West Indies and French settlers in the South. Nowadays, it serves as a unique landmark that embodies southern Louisiana charm. Many history buffs and architecture lovers visit the plantation to marvel at the French Creole architectural style of the main house. Both the exterior and interior of the house have been authentically restored, including the original furnishing and decoration. The main house is now used as a museum with the goal of highlighting the lifestyle of the French Creoles settlers, whose fascinating culture has greatly influenced modern-day southern Louisiana.
22. Travel Back in Time at LSU Rural Life Museum
Another one of the sights to see in Baton Rouge history buffs shouldn't miss is the LSU Rural Life Museum. Dedicated to preserving Louisiana's rural past, this museum comprises 32 meticulously preserved outbuildings and a wide collection of artifacts from the 18th and 19th centuries. Spread across 25 acres, the museum is divided into three sections: the Working Plantation, the Folk Architecture, and the Exhibit Barn. Each of these sections allows for guests to get a glimpse of how the working class of the time went on about their days.
23. See Different Art Pieces Along the Arts District of Baton Rouge
Baton Rouge has an art scene that will surely satisfy art enthusiasts. Besides the museums and art galleries mentioned above, Louisiana's capital city has many more to offer! Interested in fine arts? Book a tour of the Ann Connelly Fine Art gallery in Mid City South to marvel at its collection of fine paintings and sculptures. Meanwhile, those looking for cheap things to do in Baton Rouge can head over to the Baton Rouge Gallery. Located at the historic City Park, it's a great place for contemporary art lovers. Besides being home to contemporary art exhibits, the gallery hosts special film showings too. The best part? The entrance is absolutely free! Head over to Brew Ha-Ha if you want to enjoy a cup of freshly brewed coffee while gazing at artworks. Don't forget to try their famous cake balls while you're there!
24. Stroll Through Spanish Town
Baton Rouge's Spanish Town is the city's oldest neighborhood dating back to 1805. Due to its rich history and diverse culture, the historic district was registered as part of the National Register of Historic Places in the late 1970s. The area is home to a mixture of new and old structures blending together to illustrate the city's past and present. A simple walk around its narrow streets offers you a chance to gaze at the wide variety of architectural styles of the buildings. Plenty of history and architecture lovers take time to admire the classic style of Pino House along North Street. Believed to be built in 1823, it's the oldest surviving structure in the neighborhood. After admiring the area's old-time architecture, grab a quick bite at one of the neighborhood's strings of cafes and restaurants.
Free Things to Do in Baton Rouge
25. Hang Out at North Sherwood Forest Community Park
North Sherwood Forest is a quaint community park located on the northern end of East Baton Rouge Parish. It's a great place to visit for people on the hunt for fun, yet free things to do in Baton Rouge. Spanning 133 acres, there are plenty of walking and biking trails. There's also a three-acre lake on the property wherein you and the whole family can spend a day fishing. So, don't forget to bring your best fishing rods! Kids will surely love spending time on the playground and spray pad, while teens can enjoy a game of ball sport on the park's basketball, tennis, and multi-purpose courts.
26. Visit the Louisiana State Capitol
Wondering what is the number one attraction in Louisiana? The answer, of course, will depend on who you ask. Many people may say it's the eclectic neighborhood of the French Quarter in New Orleans or the state's number of bayous and swamps. However, for fans of history and politics, it's the Louisiana State Capitol building. Soaring 450-feet high, it's the tallest capitol building in the country with 34 floors. It's among the unique ones with its art déco style of architecture, as well. It is located in downtown Baton Rouge and houses the state's senate, congress, and the Office of the Governor. Both self-guided and guided tours are available. What's more, there's an observation deck on the 27th floor, which has spectacular views of the city.
27. Step Inside the Old State Capitol Building
A trip to Louisiana's Old State Capitol Building should certainly be on your list of things to do in Baton Rouge. The Gothic architecture of the old capitol building is a sight to behold, and not just from the outside. Inside, you'll find stained-glass windows, a stained-glass dome ceiling, and cast-iron spiral staircases. Within the walls of the century-old building, you can learn all about the state's rich cultural and political history through a wide range of exhibits. The best part? Touring the museum is free of charge!
28. Tour Around the Old Governor's Mansion
Just east of the Old State Capitol is the Old Governor's Mansion. Nicknamed Louisiana's White House, it is another one of the historic places to visit in the city. Built in 1930, the Georgian-style mansion served as the residence of nine Louisiana governors. A symbol of Louisiana's history, the Mansion was listed on the National Register of Historic Places in 1978. It opened its doors to the public in 1999 and is now a historic house museum filled with furnishings and artifacts from the previous residences. It features elegant French wallpaper, crystal chandeliers, floor-to-ceiling windows, and a marble staircase. The grand ballroom is likewise a stunning part of the mansion that captivates anyone who steps inside.
29. Learn About the Civil War at Old Arsenal Museum
Built in the early 1830s, the Old Arsenal Museum is among the historic places to visit in Baton Rouge. It was once part of the state's largest military complex, serving as an arsenal compound during the 19th century. After careful restoration, the building is now a museum that houses several exhibits on the military history of the South, including the Battle of Baton Rouge and the Civil War. After a tour of the museum, take a moment to pay tribute to lives lost during these battles at the museum's own park — Louisiana Veterans Memorial Park. Previously known as Old Arsenal Park, the park features several busts and plaques commemorating the state's war heroes.
30. Enjoy an Afternoon at Independence Community Park
The Independence Community Park is one of Baton Rouge's most popular parks thanks to the number of activities it offers. Located in East Baton Rouge Parish, it provides plenty of things to do for the local community and visitors. The park is particularly popular among families. Kids can enjoy themselves on the playground under the canopy of majestic oak trees. Stroll through the park's botanical garden and admire its diverse collection of local flora and tropical plants. There's a butterfly garden too! It's home to an array of flowers and plants that naturally attract different species of wild butterflies.
31. Experience Baton Rouge's Mardi Gras
Many are familiar with the New Orleans-style Mardi Gras, but Baton Rouge has its own unique way of celebrating the holiday. And a visit to the city during Mardi Gras weekend should definitely be on your list of things to do in Louisiana. The festivities actually start weeks prior to the main event, with a string of parades rolling through the city streets. Thousands of spectators flock to Downtown Baton Rouge to watch colorful themed floats, marching bands, and dancers. The entire family will surely enjoy the delicious food, funky costumes, and other exciting activities. There's even a dedicated parade for dogs! Make sure to get there early to enjoy a day full of fun and excitement.
Fun Things to Do in Baton Rouge Today!
Is Baton Rouge worth visiting? Absolutely! From romantic places to visit to family-friendly parks and attractions, the Red Stick city has plenty of fun and exciting activities for everyone. What's more, its unique and colorful history makes it one of the must-visit cities in Louisiana. We hope with this guide you're no longer wondering what to do in Baton Rouge.