20 Best Places for Bouldering in the U.S.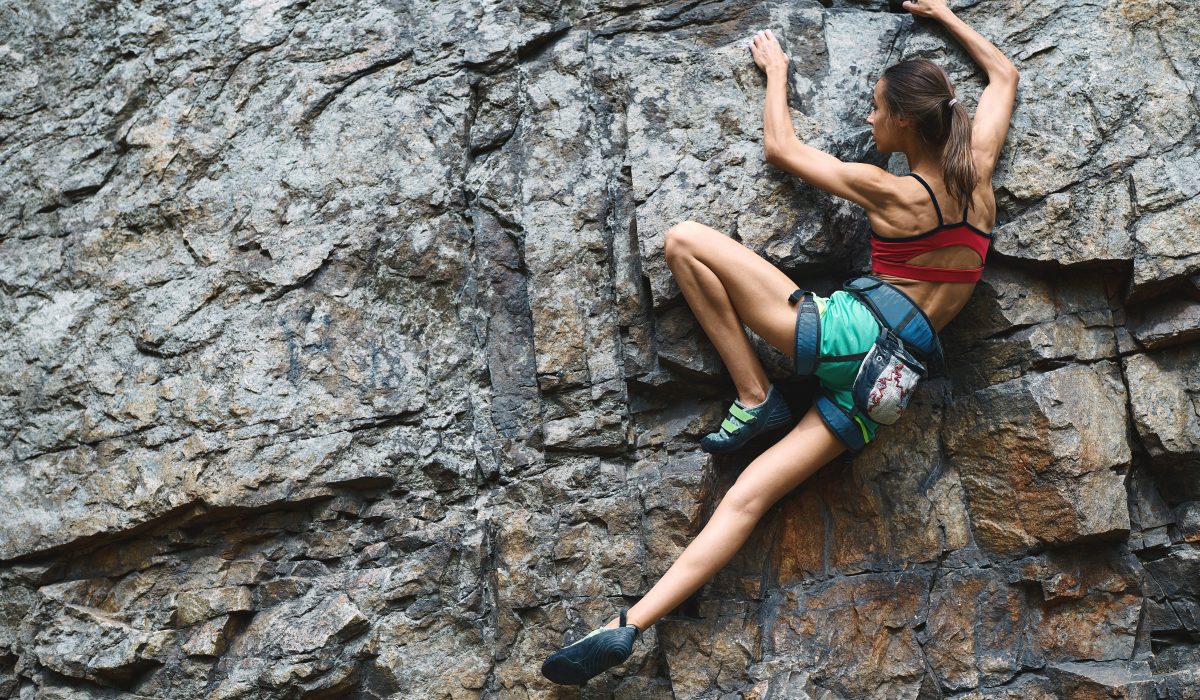 Outdoor activities have been garnering a lot of attention, especially during the pandemic. Whether you're camping in Yosemite or cycling in the best U.S. trails, make sure to maximize your next outdoor escapade by adding bouldering into your itinerary.
What is Bouldering?
Unlike your usual rock climbing, bouldering doesn't use harnesses or ropes. With this form of rock climbing, you will only rely on your own balance, strength, and a bag of chalk wrapped around your waist to get you to the top.
So, where can you do bouldering? Aside from outdoor boulders, cliffs, or rock mountains that you can climb, there are also indoor bouldering or indoor climbing gyms available across the U.S. Some people prefer to go to an indoor bouldering gym because it is safer. It has a crash pad below, you are in a heat-controlled room, and you are supervised by gym staff. Most likely, it will be impossible for you to break your bones here because that's also something the gym owner tries to avoid. Some people start with gym bouldering before doing outdoor bouldering, perhaps to practice or muster the courage against their fear of heights.
Outdoor bouldering is usually done by expert climbers. Although you may bring crash pads and be supervised by a more expert climber, there are some things that you cannot control, such as the unpredictable weather, rough and breakable rocks, and challenging routes. However, despite these, we know how rewarding it is to climb outdoor boulders, and preparing for them is the only way you can avoid casualties.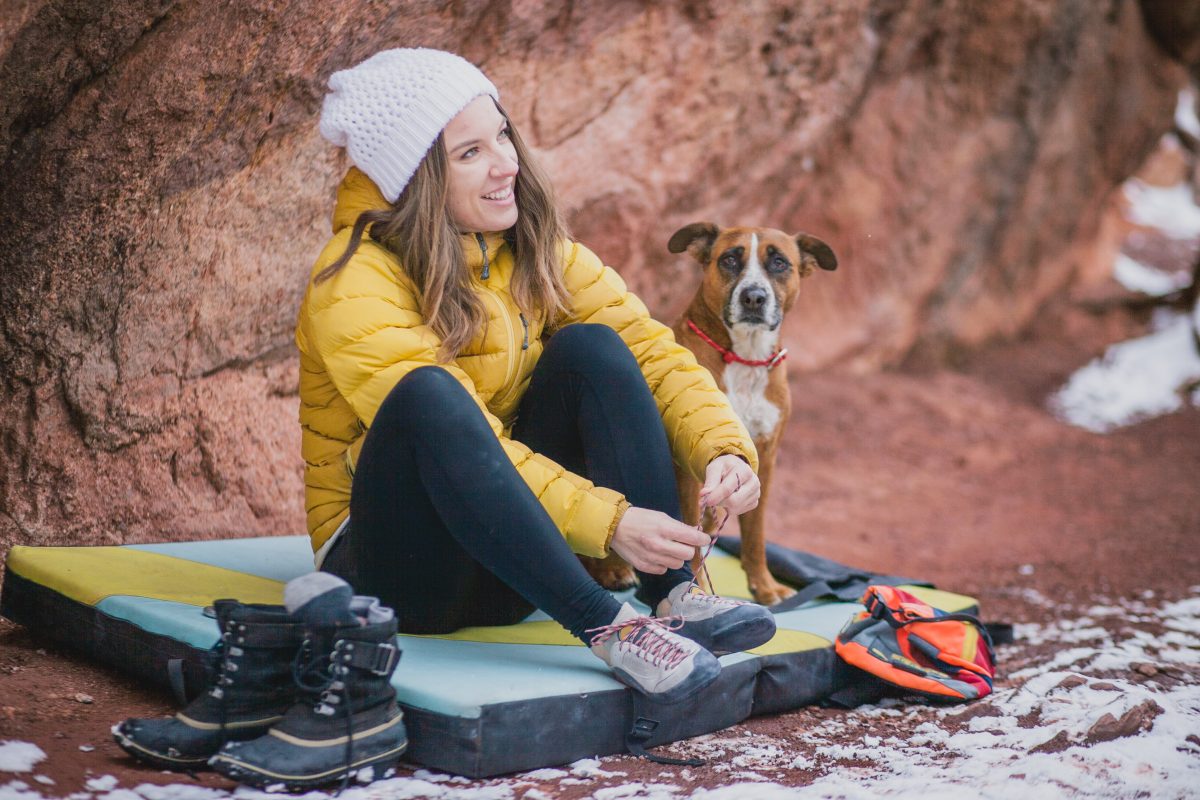 What to Bring when Bouldering
If you are going to an indoor gym, you will just need your climbing shoes since floor mats and chalks are already provided. Moreover, you can also rent gears on-site. But if you're doing outdoor bouldering, there are other things that you have to bring. Although these may vary due to the weather, height of the rock, difficulty level, and your physical condition.
Here are some of the things you have to bring when bouldering:
Crash Pad
Since there will be no harness or ropes attached to you, a crash pad will lessen the impact when you fall. Make sure to use a crash pad that is thick enough you wouldn't feel the rocks underneath. A standard crash pad is six-feet wide and four-inch-thick.
Cambered or Hook Toe Shoes
Depending on the kind of boulder you're going to climb, you can choose from either cambered and hook toe shoes. Cambered shoes are those with a bent sole and quite pointed shoes. This is recommended for intermediate climbers because its tip lets you balance and keep a foothold especially in steep cracks and overhanging terrain. Whereas the Hook Toe is for advanced climbers because it has a more bent sole and pointed tip. This allows you to have a stronger foothold in a more arched position because of its hook-like tip.
Chalk bag with loose chalk
Chalks are essential to keep your hands dry when clinging to the rocks. Those who boulder usually just put one big chalk bag on the ground, but sometimes when it's a long climb, they wear a chalk bag.
Water
Just like any other sport, you will need a lot of energy to boulder. So, make sure that you replenish your energy by drinking enough water your body needs.
Helmet
Although there is a crash pad on the ground, a helmet adds an extra protection that you need for bouldering not only in case you fall but also when you reach the top. There are times when there will be debris falling from erosion especially on edgy mountains. So, make sure to wear a climbing helmet to lessen any injury.
What to Wear when Bouldering?
Similar to the essential things you have to bring when bouldering, what you wear will also be dependent on many factors. Usually, you can wear any top that you're comfortable in. Perhaps wear a tank top over a sports bra or wear a breathable and dry-fit shirt. But for the bottom, make sure to wear sports leggings that go down to your calves or your ankles. If you're going to wear sports shorts, it may get uncomfortable because it will keep on moving up because of your movements. Also, you might scratch your legs against the rocks. So to be safe, just wear sports leggings that are stretchable and comfortable.
Best Places for Outdoor Bouldering in the U.S.
1. Smith Rock State Park — Oregon
Admission Fee: US$5 per car for a Day Pass
Best Time to Visit: September to June
From molten lava to a natural wonder, the rock formations at Smith Rock State Park have formed after the eruption of the nearby volcanoes 30 million years ago. Today, the ridges of the rock formations rise up to 600 feet. Aside from appreciating the magnificent and enormous rock formations, the park also entices climbers to pay homage to the birthplace of U.S. Sport Climbing.
In Smith Rock State Park there are 10 Bouldering Areas to choose from. But the most popular bouldering areas are the Bivy Bouldering Area. In the Bivy Bouldering Area, there are two locations that you can climb, either the Bivy Wall or the Gorilla Cliff. The Bivy wall has a difficulty grade of V0-V3, which still on the easy side of the spectrum. Meanwhile, the Gorilla Cliff has more challenging routes.
If you're planning to camp at the Bivy Bouldering Area, there is a walk-in campground called "The Bivy" that is on a first-come, first-served basis.
2. Rifle Canyon — Colorado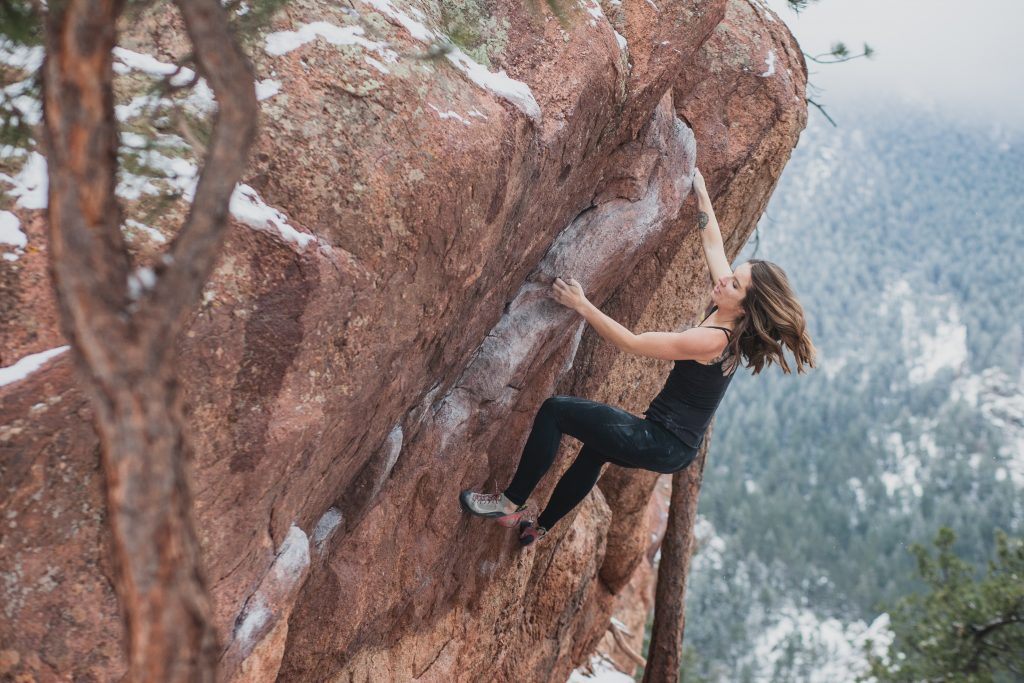 Admission Fee: US$5 per car for a Day Pass
Best Time to Visit: September to December
Rifle Mountain Park is one of the best limestone mountain parks in the U.S. and it has stupendous mountains with an elevation of 6,500 feet. During winter, it becomes a winter wonderland because its canyons are covered with snow and the once gushing waterfall turns frozen. But the park is not only well-visited during winter. With its towering mountains, it provides enough shade and sun for almost all seasons, making it a heaven on earth for climbers.
Since 1980s, Rifle Mountain Park was already a well-known climbing destination. Its limestones have more than 400 routes, ranging from beginners to one of the most advanced routes in the U.S. If you want to challenge yourself and find out which level are you in bouldering, head to Rifle Mountain Park now!
3. Rumney Rocks — New Hampshire
Admission Fee: US$5 per car for a Day Pass
Best Time to Visit: May to October
The Rumney Rocks are part of the White Mountains National Forest and it boasts a series of cliffs that beginners to expert climbers can ascend. The rocks are metamorphic rocks called Schist, and they have features like aretes, cracks, and corners that will test out your climbing skills.
Most climbers who do bouldering at Rumney Rocks are challenged by the climbing style of Face Climbing. Although this may be a bit easier since you will not rely on techniques that much, it can also be difficult since the rocks are irregularly-shaped that you will need to focus more on your body position as you climb up.
4. Indian Creek — Utah
Admission Fee: US$7 per car for a Day Pass
Best time to visit: March to June
One of the best climbing locations in the U.S., the Indian Creek is the visualization of your outdoor bouldering stereotype. You can find a lot of massive rocks and jaw-dropping canyons everywhere you look, all waiting for you to conquer.
The Indian Creek displays enormous sandstones with elongated splitters, complicated off-widths, and wide fissures that can fit your body. There have been a lot of climbers testing the strength with effective routes and techniques since the 1960s. But it was only later when it started getting more attention in bouldering. Perhaps, it's because the rocks have various-sized hand cracks that make it hard for people to use the routes they don't fit in. But regardless, just make sure that you don't climb the rocks when it just rained since sandstones get brittle when wet.
5. Minnewaska State Park Preserve — New York
Admission Fee: US$10 per car for a Day Pass
Best Time to Visit: September to December
Minnewaska State Park Preserve boasts a number of gushing waterfalls, placid lakes, verdant forests, and cutting edge cliffs. With its idyllic view, many visitors rush to the park to engage in outdoor activities while satisfying their aesthete.
Apart from these, it is also home to huge slabs of quartz that entices a lot of climbers to scale. The most-visited bouldering location at Minnewaska State Park Preserve is the Peter's Kill Climbing Area. It has cliffs filled with cracks that rise up to more than 70 feet and its grounds are purely rainforest. Although this climbing area entices more expert climbers, you can expect that it's going to be an invigorating experience only for intermediate to expert climbers.
6. Joshua Tree National Park — California
Admission Fee: US$30 per car for a 7-day pass
Best time to visit: October to November
Joshua Tree National Park is a place where two distinct deserts meet: the Mojave and Colorado. With this, it displays a wide array of plants and animals in addition to its extraordinary geologic feature.
The famous climbing areas in Joshua Tree National Park are Roadside Rocks Bouldering, Barker Dam, The Outback, and Planet X. But among the list, Barker Dam is the most well-known because it is where you will find the Gunsmoke Traverse. It is particularly loved by most climbers because it's a massive L-shaped boulder with few crimps to cling to. Moreover, it usually receives direct sunlight so you can expect clinging into scalding rocks aside from the scorching heat in the desert.
7. Shenandoah National Park — Virginia
Admission Fee: US$30 per car for a Day Pass
Best Time to Visit: September to December
Shenandoah National Park displays a mix of limestone and granite slabs surrounded by immaculate valleys covered with lush forest. It is also home to an exceptional ecosystem where thousands of living creatures can be found. From black bears to insects, you can find a lot in the park. But one of the distinct animals you can only find in the park is the Shenandoah salamanders.
Today, many climbers are attracted to Shenandoah National Park especially those who find climbing trad lines fulfilling. You can find a number of climbing areas in the park. But some of the popular areas are the Little Stony Man Cliffs, Old Rag Mountains, and Bearfence Mountain. The Little Stony Man Cliffs have one of the highest peaks in the park with over 100 feet so you can explore more on top-roping or leading.
8. Yosemite National Park — California
Admission Fee: US$35 per car for a Day-Use Climbing
Best time to visit: May or September
It's no secret that Yosemite National Park is a magnificent bouldering location. Aside from its spectacular Yosemite Falls, it's also home to numerous promontories, such as the Half Dome and El Capitan, and the sub-alpine meadows Tuolumne Meadows.
Here you will be able to experience different climbing styles — from beginner's climbing style, single pitch trad climbing, wherein you will just ascend and descend within a single rope length, to more advanced climbing styles, such as multi-pitch trad climbing wherein you will swap from one rope to another, and aid climbing wherein you will use an aider or a softer but durable ladder to build your route.
When you climb in any of the bouldering areas in Yosemite National Park, make sure to read the Yosemite climbing regulations to learn about the rules and safety precautions in the park.
9. Red Rock Canyon — Nevada
Admission Fee: US$15 per car for a Day Pass
Best Time to Visit: December to June
Encompassing more than 195,000 acres, the Red Rock Canyon has abundant rock formations that amaze every spectator. In the park, you can find almost 200 million-year-old red Aztec Sandstones dotted with iron concertions. Apart from this, you can also find a limestone that was formed over 500 million years ago.
For climbers who are looking for adventurous boulders that will allow you to practice sports or trad climbing with single or multi-pitch routes, Red Rock Canyon is waiting for you. Some of the popular bouldering areas are Jenna's Jewelry and Pork Chop, which have a V3 grading. But there are also bouldering areas for beginners, such as the Plumber's Crack and the Spreader. The Plumber's Crack is only 25 feet tall and it only requires technical strength in pushing yourself up the chimney.
10. Devils Tower National Monument — Wyoming
Admission Fee: US$25 per car for a 7-Day Pass
Best Time to Visit: March to May or September to December
Not much is known about how the Devils Tower was originally formed — aside from it was made from a rare igneous rock, making it one of the largest columnar jointing in the world. The Devils Tower's columns boast a gobsmacking height of 800 feet from the base and spread ten feet in width. Some of the columns are hexagon-shaped, while the rest are just irregular shapes that still bewilder scientists.
The Tower's peak reaches more than 5,000 feet and countless splitter cracks that are about five to 10 feet envelop the columns. With this, climbers can engage in multi-pitch routes that are traditional and near-vertical climbing. The Devils Tower is very steep and it requires a lot of strength and endurance. Even after 100 feet and up, it's still steep but it's more stable. Although the Devils Tower can be intimidating, with preparation and determination, even beginners can climb up the tower.
Just avoid climbing them in June because, after all, the Devils Tower is still a sacred monument for most Native Americans. And most of their sacred ceremonies are held during this month.
Best Places for Indoor Bouldering in the U.S.
11. Climb So Ill — Missouri
Admission Fee: US$18 per person for a Day Pass at the Power Plant
Open Hours: Monday to Friday (11:00 AM – 10:00 PM), Saturday (10:00 AM – 8:00 PM), and Sunday (10:00 AM – 6:00 PM)
Upon entering the Climb So Ill in Missouri, you will be welcomed by its creatively designed space. Its walls scream vibrant colors and unique forms, especially with the Eye-conic Bouldering walls and 60˚ Training Walls.
Moreover, they also offer various classes that will help you master the art of bouldering. Apart from the normal climbing classes that will introduce you to the activity, they also have Fitness and Yoga that will help you shape up your body for bouldering. Lastly, they also have a class called Warrior's Way, which is a more intensive training to give you the mental fitness to boulder under pressure, handle your fears, and master bouldering.
12. Momentum — Texas
Admission Fee: US$20 per adult for a Day Pass at Silver Street
Open Hours: Monday to Friday (6:00 AM – 4:00 PM), Saturday (8:00 AM – 8:00 PM), and Sunday (10:00 AM to 8:00 PM)
There are various Momentum gyms in the U.S. They originated in Utah and branched out to Texas and Washington. However, the biggest gym that they have is the one in Houston, Texas. It stretches to 43,000 square feet, which is twice as big as their original gym in Sandy. They are also the first one in the U.S. to use the modern indoor climbing design of putting colorful grips.
Apart from these, there are also other reasons why climbers flock to Momentum. We are all aware of the number of outdoor bouldering areas in Utah and how they challenge a lot of outdoor boulderers. Well, you can skip the Utah heat and still be up for action. In Momentum, their walls are inspired by the canyons and crags of Utah. So you can find symmetrical boulders and overhangs that will surely challenge you just like in any outdoor mountain rocks in Utah.
13. Vertical World — Washington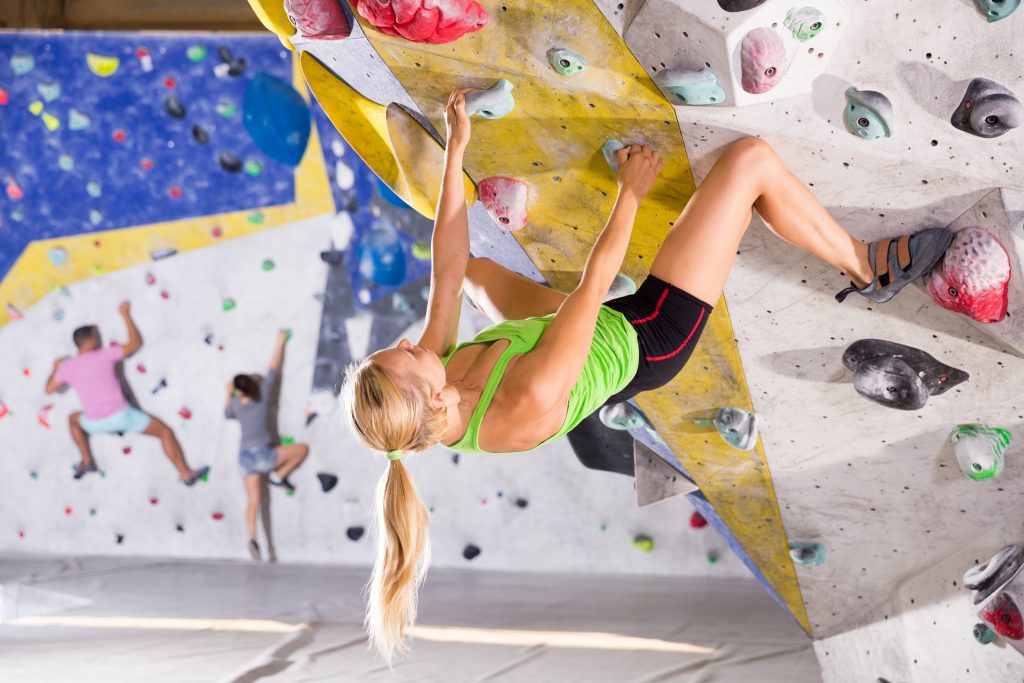 Admission Fee: US$20 per person for a Day Pass
Open Hours: Monday, Wednesday, and Friday (9:00 AM to 10:00 PM), Tuesday and Thursday (6:00 AM to 10:00 PM), Saturday (8:00 AM to 8:00 PM), and Sunday (8:00 AM to 6:00 PM)
The pioneer of indoor climbing in the U.S., Vertical World opened its doors in 1987 in Elliot Avenue, Seattle. Today, they already have three gyms across Washington. During its humble beginnings, its walls are just plywood panels studded with glued rocks. But now, it displays extensive and symmetrical walls with durable irregular grips where beginners and experts alike can practice their bouldering.
Aside from these, they also offer more than just climbing classes. They also conduct fitness and yoga classes that further help climbers' with their overall fitness status for bouldering. Also, you can organize thrilling group events such as birthday parties, school or church groups, corporate events, private parties, and youth camps in Vertical World.
14. Planet Granite — Oregon
Admission Fee: US$22 per person for a Day Pass at Portland
Open Hours: Monday to Friday (6:00 AM to 11:00 PM), Saturday (8:00 AM to 8:00 PM), and Sunday (8:00 AM to 6:00 PM)
Planet Granite is one of the major team players in the U.S. rock gym industry. Either you are at the central, western, or eastern U.S., you can satisfy your fitness appetite with its vibrant and stimulating 30,500 square feet walls.
In its biggest gym in Portland, Oregon, you can find a wide array of adjustable cracks, overhangs, slabs, vertical 3D walls, and off-widths as well as more than 200 routes for beginners and expert climbers to unlock. Moreover, it has a yoga and fitness studio that can help maintain a physique that is bouldering-ready.
15. Movement Climbing + Fitness — Colorado
Admission Fee: US$22 per person for a Day Pass at RiNo
Open Hours: Monday to Friday (6:00 AM to 11:00 PM), Saturday (8:00 AM to 8:00 PM), and Sunday (8:00 AM to 6:00 PM)
Movement Climbing + Fitness is a multi-branched indoor climbing gym in Colorado. Their flagship gym is in Boulder, Colorado; while they have two bigger gyms in Denver, Colorado. But their biggest gym is the RiNo, which has walls that span up to 40,000 square feet. Beginners and expert climbers can also master the craft with its more than 250 boulder challenging routes. Also, similar to other indoor climbing gyms, they also offer bouldering, fitness, and yoga classes to gear up the climbers for those gym-to-crags transitions.
On top of these, Movement Climbing + Fitness also partnered with Improper City, making the indoor climbing gym be side by side with a cafe, food truck park, and beer garden. With this, climbers will still be able to enjoy the vibrant sceneries. This time, though, it's not lush forests in vast valleys, but watching people enjoy their time at the cafes or beer garden, or the rustic design of the food truck park.
16. Metro Rock — Massachusetts
Admission Fee: US$22 per person for a Day Pass
Open Hours: Monday, Wednesday, and Friday (10:00 AM to 11:00 PM), Tuesday and Thursday (7:00 AM to 11:00 PM), Saturday and Sunday (9:00 AM to 10:00 PM)
Metro Rock is another multi-branched gym across Massachusetts, Vermont, and New York. Inside its gym, you will see 26,000 square feet of walls that have a good mix of chimneys, slabs, overhangs, and roofs. Similar to other indoor climbing gyms, they also offer climbing classes to both newcomers and expert climbers.
But what sets Metro Rock apart is that their route setting is similar to outdoor climbing and not competition-style. In fact, they also use an app called Kaya that not only shows you a map of the climbed routes but also allows you to track your progress.
17. High Point Climbing & Fitness — Tennessee
Admission Fee: US$24.50 per person for a Day Pass with gears included
Open Hours: Monday, Wednesday, and Friday (6:00 AM to 10:00 PM), Tuesday, Thursday, and Saturday (10:00 AM to 10:00 PM), and Sunday (10:00 AM to 8:00 PM)
Perhaps when High Point was thinking about what should set them apart from other indoor climbing gyms, they took the brainstorming too far. Aside from the symmetrical indoor walls that stand as tall as 30,000 square feet and a spectacle of auto-belay walls, top-roping room, lead-climbing pit, and angled boulder areas, they also have an outdoor climbing wall made of the transparent panel that has illuminated backlights at night.
Here, you will get a glimpse of how outdoor bouldering feels like with the unpredictable weather and grips and bolts emulating outdoor crags. Also, it's particularly popular because their in-house climbing school is facilitated by pro climbers Lisa Rands and Wills Young. So, for sure, you will literally learn from the experts.
18. Brooklyn Boulders — Illinois
Admission Fee: US$25 per person for a Day Pass at Lincoln Park
Open Hours: Monday and Wednesday (7:00 AM – 9:00 PM), Tuesday, Thursday, and Friday (12:00 PM – 9:00 PM), and Saturday and Sunday (9:00 AM to 6:00 PM)
Established in 2009, Brooklyn Boulders started its humble beginnings in New York City as the first climbing gym in the city. It's particularly known for its urban and hippy gym designs with its walls designed with graffiti. In fact, in Somerville, it even has a co-working space.
Brooklyn Boulders is a good opportunity to hone your bouldering skills with its overhangs, symmetrical traverse wall, and standing boulders. Aside from these, you can further build endurance with their fitness, yoga, and pilates classes, or recover through their Normatec and HyperIce machines.
You can find Brooklyn Boulders in various locations. They have two in New York, two in Illinois, and one in Massachusetts.
19. Stone Summit — Georgia
Admission Fee: US$25 per person for a Day Pass with gears included
Open Hours: Monday and Wednesday (6:00 AM to 10:00 PM), Tuesday, Thursday, and Friday (11:00 AM to 10:00 PM), Saturday (10:00 AM to 8:00 PM), and Sunday (11:00 AM to 6:00 PM)
You can find the three indoor climbing gyms of Stone Summit in Georgia, one in Kennesaw, and two in Atlanta. If you think that you are already geared for a bouldering-only gym, you can head to their Stone Summit Midtown, which is in the lower level Atlanta. Inside, you will feel ecstatic with its enormously colorful wall where climbers can experience solving more than a hundred bouldering problems.
Aside from these, they also offer fitness classes that range from pilates, abs, and yoga, as well as climbing, belaying, and bouldering lessons. If you are still hesitant to do bouldering, we suggest coming to Stone Summit Midtown so that you will be pushed to your limit and train to be more adept with bouldering. With their bouldering-only facility and 45-minute bouldering class, for sure you will have a new perspective on bouldering after a session.
20. Earth Treks — Virginia
Admission Fee: US$26 per person for a Day Pass at Crystal City
Open Hours: Monday to Friday (6:00 AM to 11:00 PM), Saturday (8:00 AM to 8:00 PM), and Sunday (8:00 AM to 6:00 PM)
Founded in 1997 by a former Outward Bound instructor, AMGA guide, and high-altitude mountaineer, Chris Warner, Earth Treks can be found in various locations in Maryland and Virginia. From its humble beginnings as an outdoor school in Maryland, Earth Treks became one of the best indoor climbing gyms for many reasons.
First, it has an immense size that allows climbers to have the freedom to explore different routes. In fact, their biggest is the one in Crystal City, which spans up to 45,000 square feet. Second, they have extraordinary landscapes of slabs, overhangs, and top-outs. They also have facilities that will further mold athletic skills by joining yoga and fitness classes. Lastly, they have a commendable education system that does not only allow beginners to learn climbing without being intimidated but also they designed their classes to equip climbers to take on the challenge of outdoor climbing.
Final Thoughts
We can all agree that bouldering is one of the extreme sports in the world. It's a good thing that a lot of indoor climbing gyms resurfaced to allow people to get a glimpse of bouldering without being too intimidated by its risks. So whether you're here to have fun or to make it your own sport, we hope that this helped you jumpstart your research. Also, keep in mind that just like any other sports, bouldering will be challenging. However, just like in any other sports, preparation and perseverance will take you a long way.