Everything You Need To Know About The Brooklyn Botanic Garden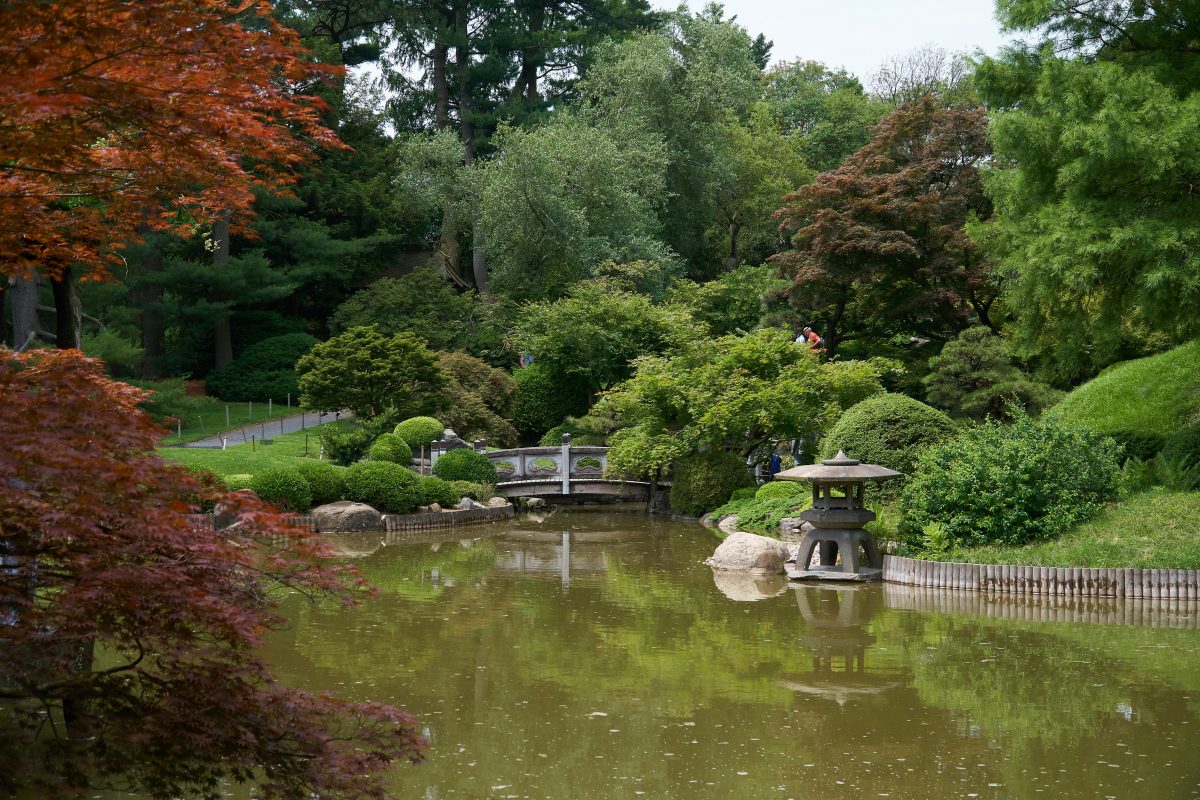 The Brooklyn Botanic Garden is a big, green oasis of New York City located up to 45 minutes with public transport from Central Park.
In truth, the garden complex is more than just green, which you'll realise as soon as you enter its grounds. A myriad of colours and fragrances will keep washing over you as long as you are around.
And long it will be since the Brooklyn Botanic Garden consists of dozens of gardens and conservatories in which you can examine over 18,000 plant species native to regions all over the world.
The Brooklyn Botanic Garden is a 52-acre property over a hundred years old. Whether you are curious about bonsai trees, rare plants, the evolution of plants or which herbs you can put in your next meal, the Brooklyn Botanic Garden is the right place for you.
1.
The Brooklyn Botanic Garden Survival Guide
Before finding yourself in the big world of plants and insects, take a free itinerary guide at the entrance of the Brooklyn Botanic Garden. If you visit the Brooklyn Botanic Garden for more than a stroll, make use of the on-site WiFi.
Supposing you wish to have the Botanic Garden of Brooklyn for yourself as much as possible, the garden is typically the calmest from the opening until midday. In general, the busiest times are from noon to mid-afternoon, especially on weekends.
Before visiting, make sure to eat well since you cannot bring anything except water and baby bottles. Otherwise, resort to Yellow Magnolia Café, serving salads and sandwiches, or Yellow Magnolia Canteen, where you can have lunch.
Visitors on a special diet have a range of vegan and vegetarian meals on offer at both establishments.
Is smoking a habit you wish to get yourself rid of? If so, you have the best chances of that by spending the entire day in the Brooklyn Botanic Garden because smoking is outlawed here.
2.
Highlights Of The Brooklyn Botanic Garden, New York City
When you enter the Brooklyn Botanic Garden from the Eastern Parkway Entrance, Cherry Esplanade will be a cobblestone's, if not boulder's, throw away. Named after Japanese cherry trees, Cherry Esplanade is especially beautiful in April, when the trees blossom.
Before proceeding further, note that you may sit on the grass only in this section of the garden.
Travellers visiting NYC in June should visit the Cranford Rose Garden, boasting more than 1,000 rose species in various colours, shapes, and sizes. In June, all of them blossom at once, attracting a myriad of butterflies.
Steinhardt Conservatory is the right place for visitors interested in unique forms of art and journey back in time. Bonsai Museum exhibits trees in curious shapes, shaped according to Zen Buddhism to represent earth and heaven as a whole.
Many Bonsai trees of the botanic garden are more than a hundred years old, the oldest being 300 years old.
Steinhardt Conservatory's Trail of Evolution traces the evolution of plants since the earliest times. Before proceeding further, visit the adjacent Aquatic House exhibiting aquatic plants, orchids, and ferns.
In the Japanese Hill-and-Pond Garden, you will traverse bridges over ponds and admire waterfalls and glass lanterns while walking among ginkgoes, elms, oaks, magnolias, and other trees. The best time to visit this section of the Botanic Garden of Brooklyn is from April (cherry trees blossom) and May.
If you are more western-oriented, take a tour of the formal, Italian-style Osborn Garden.
3.
Brooklyn Botanic Garden Festivals That Blow Out Of Mind
You may not know it yet, but you don't want to miss the following festivals and events taking place in the Brooklyn Botanic Garden:
Sakura Matsuri is a two-day annual event taking place in April in the Brooklyn Botanic Garden. It is the highlight of the celebrations related to cherry blossoming, featuring demonstrations and cultural and entertainment performances introducing Japanese culture.
Chile Pepper Show, taking place by the end of September, introduces, well, hot peppers. Fire breathers that perform might as well have eaten these right before the show.
Joking aside, food tastings for visitors with, more or less, delicate taste buds and musical performances, some staged by mariachis, are a few good reasons to visit the Brooklyn Botanic Garden during the Chile Pepper Show.
Making Brooklyn Bloom, held in spring, gathers botanists who share gardening tips through communication and attending workshops and presentations.
4.
Children-Friendly Activities At The Botanic Garden Of Brooklyn
Little naturalists are welcome to uncover the secrets of the natural world of woodlands, marshes, and meadows in the Discovery Garden. If sticking fingers in the dirt aren't what you taught your kiddos to do, let them wander the woodland section.
Woodland is the biggest section of the Brooklyn Botanic Garden's Discovery Garden, featuring platforms at strategic viewpoints and boardwalks meandering through evergreen and deciduous trees.
Supposing your kids are more gardeners than naturalists, encourage them to plant and harvest their favourite fruits and vegetables in the Children's Garden.
The garden stages the Ghouls & Gourds festival come Halloween. There is plenty of fun during the occasion that involves the participation of strange insects and long-shank giants.
Eerily smiling pumpkins and workshops are a few welcome extras.
5.
Botanic Garden Of Brooklyn Info, Tips, And Tricks
Brooklyn Botanic Garden brims with plants regardless of the season. Visitors holding William Shakespeare in high regard should visit the namesake garden at the Brooklyn Botanic Garden. There, plants mentioned in the maestro's plays are on display.
There are enriching free guided tours you can take part in for the price of the admission. Just consult the official website for available tours and acquaint yourself with seasonal highlights, insects and curious features of the Botanic Garden of Brooklyn.
Visitors dealing with disability issues can navigate most of the garden via paved pathways. Please note, though, that some paths are narrow, steep, or uneven. Attendants helping visitors with disabilities don't pay admission.
If your curiosity is limitless or passion for beautiful things powerful, look after the Titan Arum flowering plant. In both cases, you will feel a strong smell that goes beyond anything you have ever smelled.
After that, hurry to the Rose Garden as quickly as possible to recover.
If you wish to spend more time within than outside the garden walls, buy the ticket online. You may need to queue at the Brooklyn Botanic Garden's ticket office for over an hour.
General admission fees are 15 USD for adults and 8 USD for seniors (65+) and students (12+), while younger children don't pay. If you aren't a child, arrive on Friday before noon to benefit from free entry.
The summer hours of the Brooklyn Botanic Garden are from 8 am (10 am on weekends) to 6 pm, while winter hours are from 8 am (10 am on weekends) to 4:30 pm. Specialty gardens (Rose, Discovery and a few others) close earlier.
Most of the time, you are more likely to find a place onboard a rocket flying to the moon than a place to park your car at the Brooklyn Botanic Garden's parking lot.
The situation is pretty much the same for the surrounding streets. Hence, resort to public transport when coming to the Brooklyn Botanic Garden.
6.
Getting To The Brooklyn Botanic Garden
If you go to the garden from the NYC downtown (Manhattan or Central Park), taking the subway is most convenient. Metro lines 2 and 3 take you to the Eastern Parkway-Brooklyn Museum station, which is next to the Botanic Garden of Brooklyn.
Subway lines 4 and 5 take you to the nearby Franklin Avenue station. Lines Q, B, and S operate to a bit distanced Prospect Park station during workdays. Also, note that subway lines 4 and 5 replace lines 2 and 3 during weekends.
Brooklyn Botanic Garden is near some great attractions, which you can visit while you are around.
Brooklyn Museum, housed in a grand neoclassical building, exhibits works of art that originated throughout America, Africa, and the Pacific Ocean. There is also an art collection that originated in Islamic nations.
Brooklyn's "Triumphal Arch" is the centrepiece of Grand Army Plaza, paying homage to the Union soldiers of the American Civil War (1861-65). Take a peek inside the arch to see the relief depicting Lincoln and Grant, the leaders of the Union.
Bailey Fountain is another highlight in the plaza. Refer to the calendar of events before visiting the adjacent Brooklyn Central Library. The venue stages free and affordable concerts, workshops, and lectures year-round.
To spend some redundant calories, put on your running shoes and visit the nearby Prospect Park. Horseback riding, playing football or basketball, and boating are a few alternatives.
If local flora interests you in particular, visit the Native Flora Garden in the Botanic Garden of Brooklyn. The oldest garden exhibits plants native to the surrounding area of New York City.
Aside from the public, the Brooklyn Botanic Garden is open for private events. The glass-walled Palm House is an excellent place for weddings, while the red gate in the Japanese-style garden is a fantastic spot for taking wedding photos.
Brooklyn Botanic Garden is particularly serene in winter when the admission is free during workdays.
You may want to bring a Selfie Stick to capture a picturesque moment with those wonderful flowers waving at you!