A Surprisingly Awesome Staycation In Downtown Brooklyn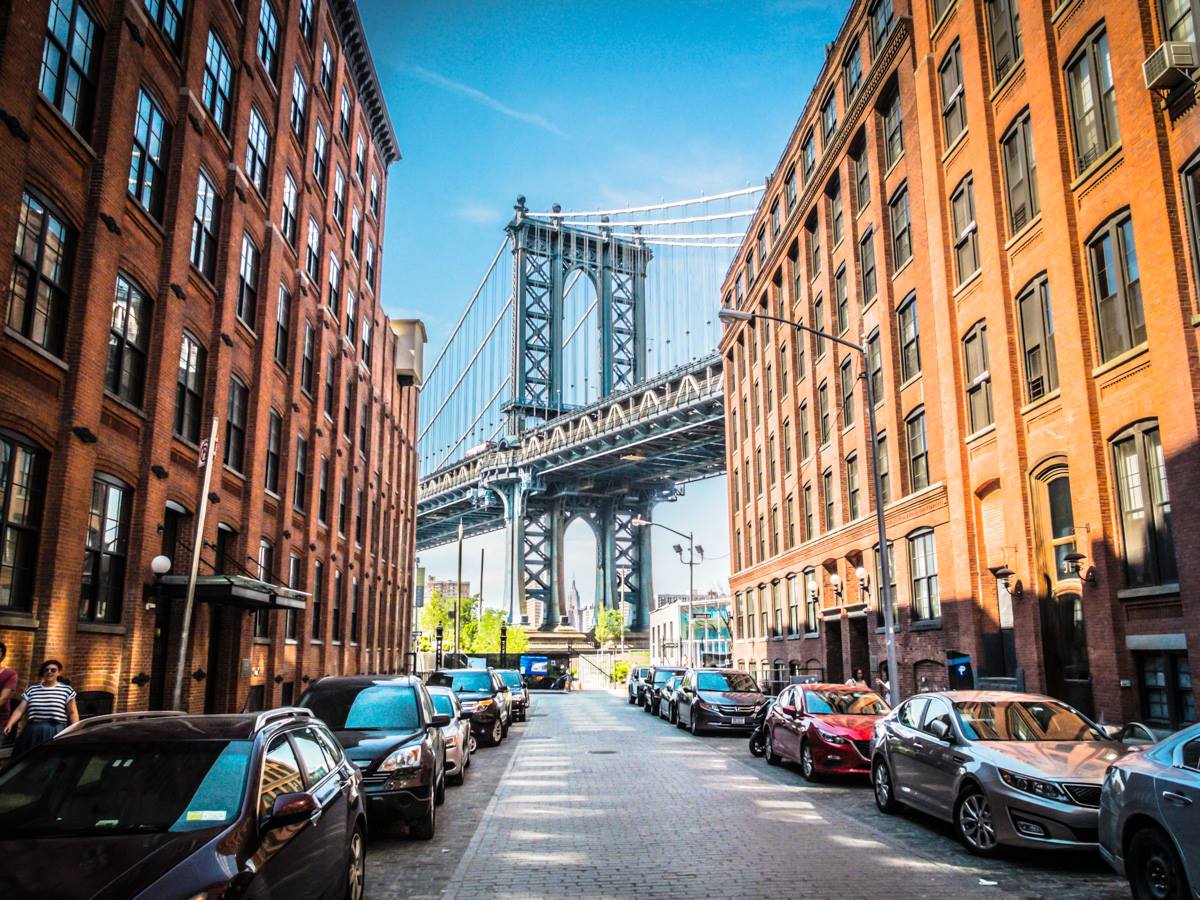 Introduction
Welcome to downtown Brooklyn, the vibrant and eclectic neighborhood that offers a surprisingly awesome staycation experience. Nestled in the heart of one of New York City's most diverse boroughs, downtown Brooklyn delivers a unique mix of culture, entertainment, and relaxation, making it the perfect destination for those looking for a memorable getaway without leaving the city.
Whether you're a native New Yorker or visiting from out of town, downtown Brooklyn has something for everyone. From exploring the diverse neighborhoods to indulging in culinary delights, immersing yourself in art and culture to discovering hidden gems, downtown Brooklyn offers a wealth of experiences that will leave you in awe.
Located just a stone's throw away from iconic landmarks like the Brooklyn Bridge and Brooklyn Botanic Garden, downtown Brooklyn is a melting pot of cultures and influences. Its vibrant streets are lined with historic brownstones, trendy boutiques, and a plethora of dining options, making it an ideal destination for a staycation.
So, whether you're planning a weekend getaway or a longer vacation, join us as we uncover the secrets of downtown Brooklyn. Get ready to explore the neighborhoods, tantalize your taste buds, enrich your mind, and indulge in a staycation experience that will leave you wanting more.
Exploring the Vibrant Neighborhoods
One of the highlights of a staycation in downtown Brooklyn is the opportunity to explore its diverse and vibrant neighborhoods. From the historic charm of Brooklyn Heights to the trendy atmosphere of DUMBO (Down Under the Manhattan Bridge Overpass) and the artistic vibes of Gowanus, each neighborhood has its own unique character and attractions.
In Brooklyn Heights, stroll along the tree-lined streets and admire the beautifully preserved brownstones. Take a leisurely walk along the scenic Brooklyn Promenade, offering breathtaking views of the Manhattan skyline. Don't forget to visit the Brooklyn Historical Society, where you can delve into the borough's rich history and learn about its transformative journey.
Head over to DUMBO, where cobblestone streets and converted warehouses set the scene for a hip and happening neighborhood. Explore the vibrant art galleries, independent boutiques, and enjoy breathtaking views of the Manhattan Bridge. Don't miss out on a visit to Jane's Carousel, a fully restored and whimsical 1920s carousel located in the stunning Brooklyn Bridge Park.
Gowanus, known for its artistic charm, is home to numerous art studios, galleries, and live performance venues. Immerse yourself in the local art scene by visiting the Gowanus Canal Conservancy or catching a show at The Bell House, a popular entertainment venue hosting live music, comedy shows, and more.
For a taste of the Caribbean, head over to Flatbush, known for its vibrant Caribbean community and culinary delights. Explore the local marketplaces, savor delicious Caribbean cuisine, and embrace the vibrant culture of the neighborhood.
Whether you're looking for history, art, or a unique cultural experience, downtown Brooklyn's neighborhoods have something for everyone. Take the time to explore their distinct flavors and immerse yourself in the diverse atmosphere that makes this neighborhood so special.
Dining and Culinary Delights
Downtown Brooklyn is a flourishing foodie destination with a diverse culinary scene that caters to all tastes and preferences. From trendy cafes to cozy bistros and upscale dining establishments, you'll find an array of options to satisfy your palate.
Start your day off with a hearty brunch at a local hotspot like Della's Kitchen, serving up classic American comfort food with a modern twist. Indulge in their famous avocado toast or savory pancakes, paired with a freshly brewed cup of Brooklyn-roasted coffee.
For lunch, explore the vibrant food halls like DeKalb Market Hall or Time Out Market, where a variety of vendors offer an assortment of cuisines from around the world. Sample mouthwatering dishes from local favorites like Katz's Delicatessen, Juliana's Pizza, or Jianbing Company.
When the sun sets, downtown Brooklyn truly comes alive with its bustling dinner scene. For a sophisticated dining experience, book a table at Olmsted, a Michelin-starred restaurant that showcases a farm-to-table concept with innovative dishes using locally sourced ingredients.
If you're in the mood for something more casual, grab a slice of New York-style pizza from Juliana's or Grimaldi's, both iconic pizzerias located near the Brooklyn Bridge. The crispy thin crust and gooey cheese will transport you to pizza heaven.
No visit to downtown Brooklyn is complete without exploring its rich cultural diversity, and that includes trying the diverse range of international cuisine on offer. From authentic Mexican street food at Gran Electrica to mouthwatering Thai dishes at Pok Pok, you'll find flavors from all corners of the world.
End your culinary journey with a sweet treat from one of the local dessert spots. Grab a scoop of artisanal ice cream from Ample Hills Creamery, known for their imaginative flavors, or indulge in decadent pastries from Almondine Bakery.
Whatever your food cravings may be, downtown Brooklyn has a dining experience to satisfy every palate. Immerse yourself in the flavors and indulge in the culinary delights that make this neighborhood a true food lover's paradise.
Cultural and Artistic Experience
Downtown Brooklyn is a thriving hub of culture and creativity, offering a multitude of artistic experiences that will engage and inspire you. From world-class museums to cutting-edge galleries and immersive performances, this neighborhood is a haven for art enthusiasts.
Start your cultural journey by visiting the Brooklyn Museum, located at the edge of Prospect Park. With a vast collection spanning ancient art to contemporary works, the museum offers a diverse range of exhibitions that explore history, culture, and social issues. Don't miss the iconic Egyptian galleries or the stunning Elizabeth A. Sackler Center for Feminist Art.
For contemporary art lovers, head over to the Brooklyn Academy of Music (BAM), a renowned performing arts venue that presents an eclectic mix of theater, dance, music, and film. Catch a thought-provoking play, a mesmerizing dance performance, or a cutting-edge film screening.
Immerse yourself in the local art scene by exploring the numerous galleries that pepper the streets of downtown Brooklyn. One must-visit is the Invisible Dog Art Center, housed in a former factory space and known for its innovative exhibitions and multidisciplinary events.
Another cultural gem is the BRIC House, a vibrant arts and media organization that hosts exhibitions, performances, and screenings. From photography exhibits to live music concerts, BRIC is a hub for creativity and community engagement.
Don't forget to check out the outdoor murals and street art that adorn the walls of downtown Brooklyn. Take a stroll along the Bushwick Collective Wall, a graffiti-covered block that serves as a canvas for local and international street artists.
Wrap up your cultural experience by catching a show at the iconic Brooklyn Academy of Music (BAM), a venue known for its avant-garde performances and innovative programming. From cutting-edge theater productions to experimental dance performances, BAM offers a diverse array of artistic experiences that push the boundaries of traditional art forms.
Whether you're a lover of classical art, contemporary works, or immersive performances, downtown Brooklyn is the perfect destination to indulge in a rich and diverse cultural experience.
Hidden Gems and Local Hotspots
While downtown Brooklyn is known for its popular attractions, it's also full of hidden gems and local hotspots just waiting to be discovered. These lesser-known spots offer a unique and authentic experience that allows you to immerse yourself in the local culture and vibe.
One such hidden gem is the Brooklyn Heights Promenade, a picturesque waterfront promenade that offers stunning views of the Manhattan skyline and the iconic Brooklyn Bridge. It's the perfect spot to take a leisurely stroll, have a picnic, or simply sit back and enjoy the breathtaking scenery.
If you're a coffee lover, make sure to visit the cozy and charming Café Pedlar. Tucked away on Clinton Street, this local hotspot offers a selection of artisanal coffee, delicious pastries, and a warm and inviting atmosphere that makes you feel right at home.
For a dose of history and literature, head to the Brooklyn Historical Society Library. This hidden gem houses a vast collection of books, documents, and photographs that tell the story of Brooklyn's rich past. Take a quiet moment to browse through the shelves and dive into the borough's fascinating history.
Escape the bustling streets of downtown Brooklyn and venture into the serene oasis of the Brooklyn Botanic Garden. This hidden gem features a variety of stunning landscapes, including the famous Cherry Esplanade, where blooming cherry trees create a breathtaking display of color each spring.
If you're a fan of vintage finds and unique treasures, a visit to the Brooklyn Flea Market is a must. This sprawling market features a wide range of vendors selling vintage clothing, antique furniture, handmade crafts, and much more. Get lost in the maze of stalls and discover one-of-a-kind treasures.
For the beer enthusiasts, make your way to Other Half Brewing Company. Nestled in an unassuming industrial building, this hidden gem is a haven for craft beer lovers. Sample a selection of their innovative brews and immerse yourself in the local beer scene.
No staycation is complete without experiencing the local entertainment scene. Make your way to Roulette Intermedium, a non-profit arts organization that features experimental music, dance, and multimedia performances. Catch a show that pushes the boundaries of traditional performances and embrace the avant-garde.
These hidden gems and local hotspots offer a glimpse into the authentic and vibrant soul of downtown Brooklyn. Take the time to explore beyond the popular attractions and uncover the lesser-known treasures that make this neighborhood truly special.
Outdoor Activities and Parks
When it comes to outdoor activities and parks, downtown Brooklyn has plenty to offer. Whether you're an avid nature lover or simply looking to enjoy some fresh air, there are numerous parks and outdoor spaces that cater to all interests and ages.
One of the must-visit outdoor destinations is Prospect Park, a sprawling oasis in the heart of Brooklyn. Designed by the same creators of Central Park, this expansive green space boasts lush meadows, serene lakes, and winding trails. Take a leisurely bike ride, have a picnic on the grassy lawns, or join a game of soccer or frisbee with friends.
For a more unique outdoor experience, head to Pier 2 at Brooklyn Bridge Park. This waterfront park offers a variety of recreational activities, including basketball and handball courts, a roller-skating rink, and a rock climbing wall. Take in the stunning views of the Manhattan skyline while enjoying some fun-filled outdoor activities.
Another hidden gem is the Brooklyn Heights Promenade. This scenic promenade offers panoramic views of the East River and downtown Manhattan. Take a leisurely stroll along the pathway, breathe in the fresh air, and soak in the breathtaking scenery. It's an ideal spot for photography enthusiasts or those seeking a peaceful escape from the bustling city.
If you're visiting with family, make sure to check out the Pier 6 Playground at Brooklyn Bridge Park. This playground is a paradise for children, featuring multiple play areas, a water play space, and a massive sandbox. Kids can climb, swing, and slide to their heart's content while parents relax and enjoy the riverside views.
For those who enjoy outdoor fitness activities, head over to Cadman Plaza Park. This park offers a variety of fitness equipment, including pull-up bars, parallel bars, and sit-up benches. Get your workout in while enjoying the open space and people-watching.
Lastly, don't miss the opportunity to explore the Botanic Garden at Brooklyn Botanic Garden. This 52-acre garden is a tranquil escape from the city, featuring a variety of themed gardens, including the Japanese Garden, Rose Garden, and Shakespeare Garden. Take a leisurely walk among the blooming flowers and immerse yourself in the beauty of nature.
With its diverse range of parks and outdoor activities, downtown Brooklyn provides ample opportunities to connect with nature, enjoy recreational pursuits, and rejuvenate in the great outdoors.
Relaxation and Spa Retreats
When it's time to unwind and indulge in some much-needed relaxation, downtown Brooklyn has a variety of spa retreats and wellness centers to help you rejuvenate both your body and mind. From luxurious spas to holistic wellness experiences, you'll find a tranquil haven to escape the stresses of everyday life.
Step into Bliss Spa, located in the heart of downtown Brooklyn, and surrender to a world of ultimate pampering. Enjoy a range of rejuvenating treatments, from revitalizing facials to therapeutic massages, all designed to melt away tension and leave you feeling refreshed and restored.
For a holistic wellness experience, visit Maha Rose Center for Healing. This serene space offers a variety of healing modalities, including acupuncture, reiki, and sound baths. Reconnect with your inner self and find balance through these ancient healing practices.
If you're looking for a true urban retreat, check out The Phoenix Resort Spa. This luxurious spa offers a range of treatments, including hot stone massages, body wraps, and full-body exfoliation. Let their skilled therapists pamper you, and unlock a state of pure relaxation.
For a unique spa experience, visit Shapehouse, where you can indulge in an infrared sauna session. This modern wellness studio combines the benefits of infrared heat therapy with the relaxation of a spa environment, helping detoxify your body while promoting relaxation and stress reduction.
Another retreat for relaxation is Aire Ancient Baths. This historic space offers a unique experience inspired by ancient bath traditions. Immerse yourself in thermal baths, soak in saltwater pools, and indulge in a range of treatments that will transport you to a state of pure serenity.
If ultimate relaxation is on your agenda, head to the St. George's Holistic Spa. This oasis of calm offers a wide range of treatments, including aromatherapy, reflexology, and deep tissue massages. Let their skilled therapists take you on a journey of tranquility and peaceful rejuvenation.
No matter which spa retreat you choose, downtown Brooklyn offers a variety of wellness havens to cater to your needs. It's time to let go of stress, unwind, and embrace the blissful serenity that awaits you in the heart of the city.
Entertainment and Nightlife
When the sun goes down, downtown Brooklyn comes alive with an exciting array of entertainment options and vibrant nightlife. Whether you're in the mood for live music, comedy shows, or dancing the night away, there's something for everyone to enjoy.
Start your evening at the Barclays Center, a world-class sports and entertainment venue that hosts major concerts, sporting events, and performances by top artists. Catch a live concert or cheer on your favorite sports team as you immerse yourself in the electric atmosphere.
If you're a fan of live comedy, make sure to visit the Bell House. This popular venue hosts a variety of comedy shows, stand-up performances, and live podcast recordings throughout the week. Laugh the night away as you enjoy the comedic talents of both established and up-and-coming comedians.
For those who enjoy a more intimate setting, head over to Pete's Candy Store. This cozy neighborhood bar features live music performances by local artists, covering a range of genres from folk and indie to jazz and blues. Sip on craft cocktails while enjoying the soulful tunes in a laid-back and friendly atmosphere.
If you're in the mood for some dancing, make your way to Output, a renowned nightclub that attracts top DJs and electronic music artists from around the world. With its state-of-the-art sound system and impressive lineup, Output promises an unforgettable night of music and dancing.
For a unique and alternative nightlife experience, check out House of Yes. This eclectic venue offers a variety of immersive performances, art installations, and themed parties. Get ready to embrace your creativity, let your inhibitions go, and join in the fun-filled festivities.
For a more casual vibe, visit The Montrose, a neighborhood bar known for its extensive drink menu and relaxed atmosphere. Enjoy a game of pool, grab a drink with friends, and unwind as you soak in the lively ambiance of this local hotspot.
Downtown Brooklyn truly offers a diverse and lively nightlife scene that caters to all tastes and preferences. Whether you're in the mood for live entertainment, dancing, or simply enjoying a drink with friends, you'll find plenty of options to make your evenings exciting and memorable.
Shopping and Retail Therapy
If you're a shopaholic or simply in need of some retail therapy, downtown Brooklyn offers a diverse and dynamic shopping scene. From trendy boutiques to department stores and unique specialty shops, there's no shortage of options to find that perfect item or indulge in a day of shopping.
One of the main shopping destinations in downtown Brooklyn is Fulton Street Mall. Stretching for several blocks, this lively pedestrian street is lined with a mix of department stores, national retail chains, and small independent shops. Explore the latest fashion trends, browse through specialty stores, and discover unique treasures.
For a more upscale shopping experience, head over to City Point, a modern shopping complex that boasts a variety of high-end retailers. From fashion and beauty to home decor and technology, you'll find a wealth of options to satisfy your shopping desires.
If you're looking for unique and locally-made products, be sure to visit Artists & Fleas. This popular marketplace hosts a curated selection of local artists, designers, and vintage collectors, offering a wide range of handmade and one-of-a-kind items. Whether you're searching for handmade jewelry, vintage clothing, or unique home decor, you're sure to find something special here.
Another shopping hotspot is Atlantic Terminal Mall, conveniently located adjacent to the Barclays Center transportation hub. This multi-level shopping center is home to a variety of retailers, including major department stores, specialty shops, and a food court offering a range of culinary delights.
Don't forget to explore the local boutiques that scatter the streets of downtown Brooklyn. From trendy fashion boutiques to quirky gift shops, these boutique stores offer a curated selection of unique and stylish items that you won't find anywhere else.
For bookworms or those looking to expand their literary collection, visit Greenlight Bookstore. This independent bookstore offers an extensive selection of books across various genres, including a curated collection of titles by local authors and emerging voices.
If you're in the mood for some retail therapy with a touch of luxury, make your way to City Point where you'll find a mix of high-end and designer stores. From upscale fashion boutiques to gourmet food shops, this shopping complex is a haven for those seeking a more sophisticated shopping experience.
With its diverse range of shopping destinations, downtown Brooklyn offers something for every shopper. Whether you're in search of the latest fashion trends, unique accessories, or locally-made products, you'll find plenty of options to indulge in a day of retail therapy.
Conclusion
A staycation in downtown Brooklyn is a delightful and surprising experience that offers a wealth of attractions and experiences. From exploring the vibrant neighborhoods and indulging in culinary delights to immersing yourself in the local art scene and discovering hidden gems, there is no shortage of things to see and do in this dynamic neighborhood.
Whether you're seeking relaxation and rejuvenation at a spa retreat, enjoying the vibrant nightlife and entertainment options, or embarking on outdoor adventures in the beautiful parks, downtown Brooklyn has something to offer everyone. It's a neighborhood that seamlessly blends history, culture, and modernity, creating a unique and captivating atmosphere.
Whether you're a local looking for a weekend getaway or a visitor eager to explore the diverse offerings of New York City, downtown Brooklyn offers a staycation experience that will exceed your expectations. From the historic charm of Brooklyn Heights to the trendy vibe of DUMBO and the artistic energy of Gowanus, every corner of downtown Brooklyn holds surprises and treasures waiting to be discovered.
So, pack your bags and embark on a staycation adventure in downtown Brooklyn. Immerse yourself in the vibrant neighborhoods, savor the culinary delights, embrace the rich culture and arts scene, and explore the hidden gems and local hotspots. Downtown Brooklyn is ready to welcome you with open arms and a wealth of experiences that will leave a lasting impression.